Found May 11, 2013 on Pirates Prospects:
PLAYERS:
Francisco Liriano
,
Jose Tabata
,
Jordy Mercer
,
Starling Marte
,
Travis Snider
,
Michael McKenry
,
Clint Barmes
,
Jon Niese
,
Jason Grilli
,
Mark Melancon
,
Bryan Morris
,
Justin Wilson
,
Tony Watson
,
Andrew Brown
,
Brandon Inge
,
Brandon McCarthy
,
Jose Contreras
,
Jordany Valdespin
,
Neil Walker
TEAMS:
Pittsburgh Pirates
,
New York Mets
,
Arizona Diamondbacks
Francisco Liriano retired the first seven Mets hitters en route to a nice debut. If the Pirates make a run for the playoffs, a real run in which they are keeping pace with the Reds and the Cardinals, look back at this game. Look back at Saturday's 11-2 win over the New York Mets and see the where it all started to come together. The hitters set season highs in hits and runs, and the pitchers set a season high in strikeouts. If the Pirates make a run for the playoffs, it will be because Francisco Liriano is at least a shade of the dominant pitcher he once was. Liriano generated 18 swings-and-misses in his Pirates debut, his most since last July, on the way to striking out nine Mets hitters. The left-hander started off sitting 93 miles per hour on his fastball and tuned his off-speed stuff for eight whiffs with the slider and seven whiffs with the changeup. Control issues showed up in the form of a four-pitch walk and five-pitch walk, but neither runner scored. Liriano exited in the sixth inning, partly because of the large Pirates lead, but he had completed the task well. His final line: 5.1 IP, 6 H, 1 ER, 2 BB, 9 K on 90 pitches. He did not give up many hard-hit balls and threw 63% strikes for the highest percentage in his last eight starts. The Mets are in the lower-half of offensive teams in the National League, but Liriano looked sharp to start his 2013 season. Top-Notch Hitting If the Pirates make a run for the playoffs, it will be because some of the young hitters have reached a level close to their potential. Jose Tabata, Jordy Mercer and Starling Marte are among the pre-prime players the roster is filled with, and they helped supply the offense Saturday. The day belonged to Mercer. He ripped a high fastball for a home run in the 5th, then followed it up with a no-doubter off the bottom of the second deck in the 8th. Here's hoping he's still with the team when they return to Pittsburgh. Tabata had a season-best day as well, smacking a home run to left-center and a double off the wall on the way to a four-hit afternoon. If he can continue to hit lefties (his career numbers are a bit better vs. RHP), we may have found Travis Snider's platoon partner. Marte racked up a pair of singles to remain the NL leader in base hits. Jordy Mercer picked up his second and third home runs in the last eight games. (Photo Credit: David Hague) If the Pirates make a run for the playoffs, it will be because they get run production from seemingly unexpected places. The seventh and eighth hitters, Michael McKenry and Clint Barmes, combined to rack up four hits and drive in five runs at the bottom of the order. Three of those RBI came with two outs to extend the hurt on Mets starter Jonathon Niese. The Bucs ended up with a season-high 16 hits and 11 runs on the afternoon, a vision of what is possible when the offense comes together. The offensive outburst was surprising given the Pirates' struggles against left-handed starters this season (.200 average, .586 OPS as a team entering Saturday). Bullpen Strong Again If the Pirates make a run for the playoffs, it will be because the young relievers lock down the late innings to set up shop for the more experienced Jason Grilli and Mark Melancon. Rookie Bryan Morris did not allow an out and struck out three Mets hitters in the 6th and 7th, and fellow rookie Justin Wilson retired the side 1-2-3 in the 8th with two strikeouts. Tony Watson had a hiccup in the home run he allowed to Andrew Brown, but struck out two himself. It was all a part of a season-high 16 strikeouts by Pirates pitching. That number also ties the second-most strikeouts by a Pittsburgh pitching staff in a nine-inning game over the last century. (A brief aside: the Pirates' performance was the 10th time this season a team has struck out 15+ hitters in a nine-inning game. Between 1925 and 1953, only nine total teams accomplished that feat. Imagine that. MLB teams have done in six weeks what it used to take more than 28 years to do. This is, indeed, the strikeout era. Thanks to Baseball-Reference's Play Index.) If the Pirates make a run for the playoffs, you will see the team chemistry come together like it did Saturday. Brandon Inge kept Mercer loose by slapping him in the face at a mound meeting. Arizona's Brandon McCarthy, a smart analytical player, told a SABR conference that Inge's knack for keeping the young players loose provides a real benefit to the team. Morris (apparently) stood up for teammate Jose Contreras by hitting Jordany Valdespin, who pimped his solo home run Friday night with a bat flip. The reliever was rewarded with high-fives from Pirates teammates. Does Inge really provide 12 wins just by keeping the dugout comfortable? Of course not. Should Morris really be plunking guys that celebrate Major League home runs? Probably not. But those moments are what the players care about and where they mesh. Naturally it is easier to dole out fist-pounds and play carefree when you are ahead by nine runs, but I'm not going to completely rule out the idea that this Pirates team could have some good chemistry that leads to positive results. Where To Next? There are 126 games to play, three and a half months to go and a lot more this Pirates team has to prove before we will consider them real contenders instead of a squad that is peaking early once again without staying power. Right now, though, the Bucs are 20-16 against a tougher-than-average schedule and just a half-game behind the second Wild Card spot. The pieces are starting to come into place. Liriano is here, Neil Walker will be back soon, Marte is hitting like a batting champ, the complementary players are providing pop… If the Pirates make a run for the playoffs, it sure looks like it would be an exciting run to watch.
Original Story:
http://feedproxy.google.com/~r/Pirate...
THE BACKYARD
BEST OF MAXIM
RELATED ARTICLES
Francisco Liriano could be a difference maker for the Pirates. Francisco Liriano will be making his Pittsburgh Pirates debut today, going up against the New York Mets. The Pirates agreed to sign Liriano over the off-season to a two-year, $12.75 M deal. Shortly after the agreement, Liriano broke his right (non-throwing) arm. That delayed the signing, and eventually resulted in a re...
Francisco Liriano is set to come off the disabled list and make his Pittsburgh Pirates debut Saturday against the New York Mets. The left-hander has been sidelined all season while recovering from a broken right arm. He made five minor league rehab starts - three for Triple-A Indianapolis - and struck out 33 with four walks in 21 2-3 innings. He was 2-1 with a 4.15 ERA. Pittsburgh...
Table of Contents Here's the table of contents for today's edition of the Daily Notes. 1. Brief Review: Francisco Liriano's First Start 2. Today's MLB.TV Free Game 3. Today's Complete Schedule Brief Review: Francisco Liriano's First Start Introduction Talented and also mercurial left-hander Francisco Liriano made his major-league season debut yesterday (Saturday) against...
I am guessing that Major League Baseball players think that going to the minors to rehab can be somewhat of a nuisance. They probably have guys on the minor league team asking for photo opps, autographs, tips…etc. Still players need to get back into the swing of things so they are forced to play a quick stint in the minors. For Pittsburgh Pirates pitcher Francisco Liriano he made...
The Francisco Liriano Saga has been a long and strange one without Liriano ever even throwing a pitch for the Pirates. Today, he'll finally make his first start for the Bucs. Even if Liriano hadn't missed the season's first six weeks recovering from a broken humerus in his right (non-throwing) arm suffered under weird circumstances over Christmas, I'd tell you that...
Francisco Liriano has been activated for his start today. As expected, the Pittsburgh Pirates have activated left-hander Francisco Liriano from the 15-day disabled list. To make room on the 25-man roster, they have optioned Duke Welker to Triple-A. Welker was recalled earlier this week to add some bullpen depth after Jeanmar Gomez joined the rotation, but didn't make an appearance...
Thursday has become podcast day on the site. For the last three weeks I've gotten together with Tom Bragg and James Santelli to record the Pirates section of the podcast, and for the last two weeks I've also recorded sections of the show with John Eshleman and John Dreker. It's a lot of work, but it's also a lot of fun and a nice change of pace from the usual writing articles...
The Pirates couldn't have asked for a much better game on Saturday afternoon, as they blew out the Mets behind an offensive explosion and a strong performance from Francisco Liriano. Liriano is the big story, as the lefty was making his Bucco debut. We didn't really know what to expect – his rehab numbers were encouraging, but those usually mean very little. He's got the...
Francisco Liriano made his Pirates debut today and was far better than expected.  He pitched 5 and one-third innings, giving up just one run.  Jordy Mercer hit 2 homeruns and Jose Tabata was 4-for-5 as the Pirates beat the Mets for the second day in a row, this time by a score of 11 to…
Pirates (19-16) at Mets (14-18) 1:10 PM–Citi Field, New York MLB.com Gameday TV: ROOT The Pirates and Mets meet up in an early afternoon game today, which is good news for folks in Pittsburgh because the Pens play tonight at 7. As a result, ROOT can finally pull off a Bucs and Pucks doubleheader. Pregame news:  If you haven't heard yet, catcher Tony Sanchez is in New York ...
A slew of roster moves coming? First things first Francisco Liriano is going to make his debut.  To clear his spot the Pirates sent Duke Welker back to AAA.  Welker didn't pitch at all for the Pirates.  Despite being up by five runs last night the Pirates used three bullpen arms, potentially making one unavailable…
Mets hope Niese can get back on track for Banner Day. First pitch slated for 1:10 PM. To get started just enter your email address and desired username: Name E-mail Related Posts:Game Chatter: Jonathon Niese vs. Cole Hamels (4/28/13)Game Chatter: Jon Niese vs. Tim Hudson (5/05/13)Game Chatter: Matt Harvey vs. Scott Diamond (4/13/13)Game Chatter – Jonathon Niese vs. Vance Worley…Game...
MLB News

Delivered to your inbox

You'll also receive Yardbarker's daily Top 10, featuring the best sports stories from around the web. Customize your newsletter to get articles on your favorite sports and teams. And the best part? It's free!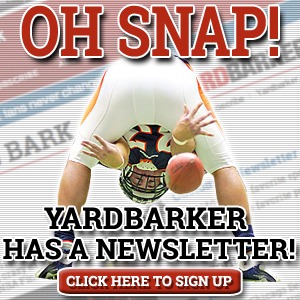 Latest Rumors
The Backyard

Today's Best Stuff

For Bloggers

Join the Yardbarker Network for more promotion, traffic, and money.

Company Info

Help

What is Yardbarker?

Yardbarker is the largest network of sports blogs and pro athlete blogs on the web. This site is the hub of the Yardbarker Network, where our editors and algorithms curate the best sports content from our network and beyond.