Found April 15, 2012 on isportsweb.com:
Follow me on Twitter @jim_krug
All positives garnered from a surprising opening series victory over the cross-state rival Philadelphia Phillies was quickly forgotten after a Western massacre that would make even General George Custer sympathetic. Over the Pirates' current 5-game losing streak at the hands of the Dodgers and Giants, the Buccos amassed only:
7 runs (1.4 per game)
27 hits (5.4 per game)
…the worst of which was clearly the series-opening 5-0 loss to the Giants, in which pitcher James McDonald and his one hit was the only event that stood in the way of a SP Matt Cain no-hitter. First, let's highlight what positives there are, then churn through the negatives.
Positives
McCutchen; Image credit mlblogspittpeas
1. CF Andrew McCutchen is already earning his 6-year contract extension in a big way, batting .345 with what's become a career-standard .820 OPS. Solid.
2. INF Casey McGehee hasn't disappointed in his Pirates' debut, batting .300 with an .800 OPS through six games.
3. Even though it was only 6 at bats, C Michael McKenry has 2 hits, including a home run. As C Rod Barajas' obsolescence becomes more apparent as the season wears on, expect McKenry to share the starting duties, perhaps with some C Jake Fox thrown into the mix from AAA.
4. As a team, the Pirates are batting an unfathomable .180 with a .475 OPS. How is that a positive? Simply because there's no way possible any team is that bad. For comparison, the lowest team batting averages in MLB history belong to the Washington Senators in 1888 (.207, NL) and Chicago White Sox in 1910 (.212, AL).
5. The Pirates have had a tough, tough stretch of mound opponents to open the season. Many teams would struggle when facing Roy Halladay, Cliff Lee, Clayton Kershaw, Chad Billingsley, and Matt Cain. Even Vance Worley and Barry Zito are no slouches.
Negatives
1. Let's be 100% honest here: Out of their 8 regulars, the Pirates have ONE hitter (Andrew McCutchen) that would start on any team in the league. One. They have one player in 2B Neil Walker that would start on probably half of the teams in the league, and 4 other players (INF Casey McGehee, OF Alex Presley, Garrett Jones, 1B Matt Hague [before his unnecessary demotion]) that would perhaps start on some of the league's worst teams (Oakland, San Diego, Houston).
And until 3B Pedro Alvarez shows that he has a pulse (and can hit an offspeed pitch), the Pirates have him and 3 other players (C Rod Barajas, SS Clint Barmes, and OF Jose Tabata) that wouldn't start anywhere. This a pretty terrible offensive ballclub, but this writer's been arguing that all offseason.
2. There's so little power on this team that one almost wonders how it's even possible. The only players to EVER hit 20+ HR in a MLB season are McCutchen (2011), Jones (2010), McGehee (2010), McLouth (2008) and Barajas (2005), although Barajas last accomplished the feat 7 years ago (and in typical fashion, it was accompanied by a .306 OBP). While having five 20+HR players doesn't seem bad on the surface, four of them are at the points in their careers where they're either bench players, or are platooning.
3. I hammered GM Neal Huntington all offseason for what I considered incredibly ill-advised free agent signings of Barmes (2 years, $11MM) and Barajas (1 year + option, $4-7.5MM). Both players are clearly past their primes, demonstrating significant agre regression, and have always had huge issues reaching base (Barmes, .301 career OBP; Barajas, .287 career OPB <– how is that even possible?).
To date, the pair has posted the following:
Barmes 2 for 23, .087 BA, .342 OPS
Barajas 1 for 20, .050 BA, .195 OPS
Coming soon to a AAA stadium near you; Image credit sbnation
4. The Pirates inexplicably sent 1B Matt Hague to the minors to make room for Charlie Morton, despite the pitching staff holding its own, and mopup pitcher Jared Hughes only logging 2.0 IP to date. Whether Hague ever has enough power to be a true MLB firstbaseman remains to be seen, but he's a career .302 hitter in the minors, whose HR production actually increased as he ascended to AA and AAA. Platooning Hague with Garrett Jones (.848 OPS against righties over the past 3 seasons) seems like a natural fit.
5. Although the offensive/defensive dependency dynamic isn't as pronounced in baseball as it is a sport like football, continued poor production from Pirates' hitters will eventually take its toll on the pitching staff, which has been a strength so far this young season. Without run support, pitchers naturally press and become tentative on the mound, knowing they can't make a mistake. This could play particular hell on a pitcher like big offseason acquisition A.J. Burnett, who enjoyed sizeably more run support with the Yankees than he will with the Pirates.
In Summary…
Pittsburgh's only played 5% of the season so far. On a positive note, that's a small sample size…but many fans are arguing that this regression was apparent since August of last season. And frankly, you can't even really call it a "regression", because that presumes the offense was effective at some previous juncture. If the Pirates wish to continue pimping their "collection of young arms", then at some point, they need to assemble a competent, productive group of hitters necessary to provide them with offensive padding while they hone their craft at the MLB level.
I don't believe the Pirates will continue to bat .180 as a team. But their offense is very likely to be a detriment all season long, which will quickly take its toll on the pitching staff. Neal Huntington's offseason failure to address an ineffective offense is of serious concern.
Thanks for reading.
Original Story:
http://isportsweb.com/2012/04/15/pitt...
THE BACKYARD
BEST OF MAXIM
RELATED ARTICLES
Chris Young is off to another strong start, and there's good reason to believe he can keep it going against the Pittsburgh Pirates. Young has keyed the Arizona Diamondbacks' best start in four years heading into the opener of a 10-game homestand Monday night against the Pirates. Having a hot bat out of the gate is nothing new for Young. He hit .302 with three homers and...
The Pirates stopped their skid and picked up a much needed win on Sunday thanks to some strong pitching, a little bit of offense, and insurance runs provided by some awesome bunts. Yep, awesome bunts. Let's start with another unlikely contributor: Kevin Correia. Through nine games, Correia has pitched two of the three best outings by Pirates starters, and has been the best of the...
Later tonight, the Pirates will take on the Diamondbacks. Pittsburgh is unlikely to start Pedro Alvarez because Joe Saunders is scheduled to take the mound for Arizona. Alvarez as a platoon player isn't what the Pirates envisioned for him back on Draft Day 2008, but the reality is more grim. There are slow starts, and then there are 1-for-19 with 12 strikeout starts. Why is Alvarez...
The Pirates face off against their old friend Ryan Vogelsong this afternoon, as they try to break out of a road-trip-long slump and get a positive result for the first time in a week. The Pirates have made a full losing turn of the rotation this week, so Kevin Correia takes the ball this afternoon to try and start a losing streak that started with him on Tuesday.Of course, the loss...
Pittsburgh Pirates Live Game Chat ©2012 Raise the Jolly Roger. All Rights Reserved..
It looked like the Pirates were ready to build some momentum coming off an encouraging victory on Sunday, but they weren't able to sustain their early surge and fell right back in to their giant offensive slump. The Bucs jumped out to a quick lead in the first, but were only able to score once on three hits and a walk. Joe Saunders was not sharp early on, but Neil Walker's RBI...
Today's postgamer is going to be pretty brief, in part because 1) I'm sick, 2) I prefer to write about games that were fun, and 3) Psych is beckoning to me from my Netflix account. But here goes: Ryan Vogelsong looked great. He got touched up for a couple runs in the second inning, but ended up getting 12 straight outs after that. Bruce Bochy had told us in Spring Training that...
Pirates (3-6) at Diamondbacks (6-3) 9:40 PM EST–Chase Field, Phoenix Here is the MLB.com Gameday TV: ROOT Sports The Bucs are in the desert this week to finish out their west coast swing against the defending NL West champs. Mini minor league update: Shortstop Alen Hanson is off to a ridiculous start in West Virginia – he's hitting .404 with 4 homers. Gregory Polanco also...
I'm going to say something out of the ordinary for me.  Kevin Correia has to stay in the rotation. I can honestly say that I didn't have him pegged for the first win of the season.  Oh well, I still think he is a marginal pitcher. First Pitch: 9:40 PM EST Where to Watch:  Root [...]
Pirates News

Delivered to your inbox

You'll also receive Yardbarker's daily Top 10, featuring the best sports stories from around the web. Customize your newsletter to get articles on your favorite sports and teams. And the best part? It's free!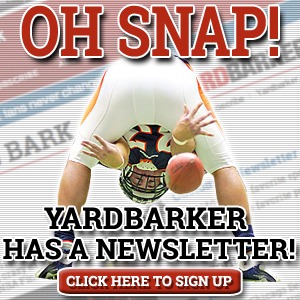 Latest Rumors
The Backyard

Today's Best Stuff

For Bloggers

Join the Yardbarker Network for more promotion, traffic, and money.

Company Info

Help

What is Yardbarker?

Yardbarker is the largest network of sports blogs and pro athlete blogs on the web. This site is the hub of the Yardbarker Network, where our editors and algorithms curate the best sports content from our network and beyond.