Found January 01, 2013 on isportsweb.com:
(Opening image Tony Sanchez; image credit boston.com) The 2nd in a 6-part series, the 2008 draft recap can be found here. After an impressively deep draft debut that featured a high-impact bat in 3B Pedro Alvarez, and at least 6 of the first 10 picks eventually reaching the Majors, fans were excited about the prospects GM Neal Huntington and the Pirates would select in 2009.  Unfortunately as we will see, 2009 opposed the 2008 class in many ways.   1st round (4th overall): C Tony Sanchez Having the luxury of picking within the top 5 for the 2nd year in a row, Huntington came close to repeating former-GM Dave Littlefield's gaffe of taking RP Daniel Moskos in 2007.  In both cases, the Pirates had the 4th overall pick, in prime position to draft marquee talent.  And in both years, they selected players that were late-1st round selections at best. Sanchez; Image credit pirates.mlb.com The Pirates claimed that they overdrafted Sanchez due to "signability" ($$$), defensive skills that were already near-MLB ready, and high character.  And to Sanchez's credit, he excelled in 2009 (.949 OPS between three levels) and 2010 (.870 OPS at A+), earning him the distinction of Baseball America's 46th-best prospect heading into 2011.  Many fans thought the Pirates found a diamond in the rough that others overlooked. But Sanchez's prospect stock began to slip that year.  He struggled offensively (.241 BA, .658 OPS), and for the 2nd year in a row, failed to gun down at least 25% of potential base stealers (22% in 2011, 15% in 2010).  Further, Sanchez's character was called into question, as he gained the wrong type national media attention after calling out an Eastern League umpiring crew on Twitter, and then poking fun at citizens of Altoona the same week. As a 24-year old repeating AA here in 2012, Sanchez's numbers rebounded to a .277 BA and .760 OPS.  He threw out 27% of would be base bandits, though questions of his behind the plate abilities lingered.  Promoted to AAA in June, Sanchez's defensive numbers increased (31% CS), but his offensive production waned (.233 BA, .724 OPS). Perhaps the best gauge of how the Pirates value Sanchez internally is to note their recent free agent signing of C Russell Martin.  Martin hasn't posted above a 100 OPS+ since 2008, and not only did the Pirates sign him to a 2-year deal, but they wanted Martin for 3 years- a contract length which he declined.  Clearly, if the Pirates felt Sanchez was ready to transition from AAA to MLB, they would've only pursued a 1-year free agent option at best.   1st round supplemental: SP Victor Black Owners of a rare supplemental pick, the Pirates missed on this selection by drafting an arm in Black who was removed from starting duty after posting a 9.64 ERA through only two starts at Single-A West Virigina in 2010.  Owner of one of the most erratic windups in minor league ball, Black may have resurrected his career with an impressive season out of AA Altoona's pen in 2012.  Black terrorized Eastern League hitters to the tune of a 1.65 ERA and obscene 12.8 K/9.  But for Black to be a future fixture in the Pirates' bullpen, he'll have to dramatically improve on his career 4.7 BB/9, which is unacceptable for a reliever at the Major League level.  Despite his newfound potential as a late-inning reliever, to only have that ceiling out of a 1st round supplmental choice is disappointing.   2nd round: SP Brooks Pounders Much like Black, fans groused at the chunky 255 lb. Pounders as being an overdraft for the 2nd round, and so far, the fans appear vindicated.  After struggling with the Pirates and being all but moved to the bullpen (a deathmark for a prospect), Pounders was traded to Kansas City in 2011 for INF Yamaico Navarro, who himself was traded this offseason to Baltimore for SP Jhondaniel Medina.  Even in his draft year 0f 2009, Pounders started in less than half of his appearances, which seems to be setting the bar incredibly low for a 2nd round pick.   3rd round: CF Evan Chambers Any stock the 5'10″ Lakeland, Florida product had was lost during a disappointing 2012 that saw the now-23 year old compile a .585 OPS between High-A Bradenton at AA Altoona.  Chambers's once-strong OBP dropped to .332, and his batting average didn't clear the Mendoza line (.191).  Prospects can certainly rebound from poor seasons, but considering Chambers wasn't a very strong one to begin with, it's unlikely he'll be a part of the big league club's future.   4th round: SP Zack Dodson Dodson; Image credit buriedtreasure The first of multiple prep pitchers that the Pirates lured away from colleges by offering above-slot money (at least until that ability ended in 2012, thanks to Bud Selig), Dodson's results have yet to be particularly impressive.  Repeating Low-A in 2012, the lefty's ERA increased substantially (2.56 –> 4.86), while his K/9 remains a middling 6.3.  One of the bonuses of drafting high schoolers- as opposed to collegiate prospects- is that their development timetable is more forgiving.  Despite already being in the Pirates' system for 4 years, Dodson will only turn 22 in late July of 2013.  If he can begin the year with a strong showing at High-A Bradenton, he could factor into the club's future yet.   5th round: SP Nathan Baker Nearly identical in frame to the 6'2″, 190 lb. Dodson, this 6'3″, 190 lb. southpaw has posted similar career numbers to date as well.  But being drafted out of college resulted in a faster track for Baker, who strung together a 4-7, 4.94 ERA campaign at AA Altoona this past season.  Having just turned 25- and likely to repeat AA next season- it's unlikely there's much ceiling left.  At best, Baker may have an opportunity in the Pirates' bullpen sometime in 2014.   6th round: SP Zack Von Rosenberg Hailed as a steal when the Pirates robbed him from a commitment to LSU for a $1.2MM signing bonus, Von Rosenberg has highlighted the organization's frustrations in attempting to develop raw high school arms.  Rated the #41 prospect in the entire 2009 draft, the imposing 6'5″ righty has yet to show consistent dominance, although he's maintained a solid 2 BB/9 : 7 K/9 ratio.  Like Dodson, the 21-year old could restore his prospect status with a promising 2013 at High-A.  But another down year (career 11-22, 4.73 ERA) could sink his prospect status for good.   7th round: SP Trent Stevenson Different round, different player, same disheartening story.  After showing flashes of potential in rookie leagues, Stevenson hung up between A and High-A ball in 2011, and those struggles contined in 2012.  After only 11.2 IP this season (9.26 ERA), the 6'6″ righty retired from professional baseball.   8th round: SP Colton Cain Infuriating Texas Longhorn fans when the Pirates snuck the 6'3″ lefty away with a bold $1.125MM signing bonus (unheard of for the 8th round), Cain had a name and build scouts loved.  Von Rosenberg and Cain highlighted what initially appeared to be a very strong prep class for GM Huntington.  Colton fared slightly better at Low-A West Virginia than his peers in 2011, though he didn't build on those numbers at High-A in 2012.  His walks fell slightly, but his ERA rose.  And like these other arms, Cain's K/9 seems stuck around 6.0.  That's a vital barometer, because #1 and #2 starters at the MLB level generally post K/9 above 8.0 throughout their minor league careers.  Pirates' fans will never see Cain don the uniform, as he was shipped back his homeland as part of the Wandy Rodriguez trade with the Houston Astros this past July.   9th round: 2B Brock Holt Will he flash the "Z" in Boston?  Image credit sbnation Like INF Jordy Mercer and Chase D'Arnaud selected the year before, the undersized Holt (5'10″, 170 lb.) didn't have a plus tool in any one area, yet ascended the minor league ladder quickly with solid performances at every level.  Owner of a career .317 BA and .808 OPS in the minors, Holt posted a respectable 92 OPS+ during his rookie debut with the Pirates in 2012.  Unfortunately, the Rice University product also had 4 errors in the field over just 14 games, which may have led to his inclusion in the Joel Hanrahan trade with the Red Sox last month.  Fans that followed Holt's rise through the minors were frustrated at his inclusion in the deal, as the package of prospects received from Boston was questionable at best.   10th round: C Joey Schoenfeld Only playing 35 games over 3 seasons, the Pirates the 6'2″ backstop in 2011.  He posted a career-high .730 OPS for the GCL Pirates in 2010.   Late round surprise: SP Phil Irwin (21st round) If he is only organizational filler, nobody has told Phil Irwin yet.  Never posting higher than an ERA of 3.35, Irwin owns career minor league marks of 28-16, 3.02 ERA, 1.6 BB/9, and 8.0 K/9.  Irwin had his best professional season in 2012, facing his toughest competition to date.  One of the only Pirates' SP farmhands to strike out batters at a high rate, Irwin is one of those players that may just sneak up on people, if ever given an opportunity at the back of the Pirates' rotation.  Despite only 3 average-grade pitches, Irwin has made the most of his opportunities.   Missed opportunity: Pick 'em. With the selection of Tony Sanchez with the 4th overall pick, it means that the Pirates missed out on a bounty of MLB-ready talent.  The obvious name that jumps out is OF Mike Trout, who is probably the most dynamic young player in the game today.  But the LA Angels didn't even pick Trout until 25th that round, so one could argue that a lot of teams overlooked his superstar potential. Other excellent choices were SP Zach Wheeler, SP Mike Minor, SP Mike Leake, SP Jacob Turner, RP Drew Storen- and folks, those were just in the top 10 picks. Overall Draft Class Recap Considering the amount of eventual MLB talent that came from this first round (seriously- take the time to click through some of these players- it's unreal), drafting Sanchez 4th overall was a huge missed opportunity on the Pirates' part.  To his credit, Sanchez has reached out to fans via social media, and has been an entertaining player to follow in his quest for the Majors.  It's certainly not his fault that the Pirates drafted him so highly.  But his few strengths (defensive skills, high character) have been called into question, and the Pirates have made the internal decision to entrust catcher to an underperforming free agent instead. Beyond Sanchez, the most troulbing aspect of the 2009 draft is the number of flameouts of highly-touted prep arms, once reaching low-A or high-A.  In this author's opinion, there are only 2 possibilites: 1.  The Pirates- and the majority of colleges and organizations- overjudged the potential of these players in their pre-draft scouting reports.  Their shortcomings manifested upon facing stiffer A-ball competition. 2.  The players did have great ceilings, but the Pirates' staffs at their A-ball locations- and/or the development philosophies of the organization on the whole- were ill-fitted to manifest their talents. Although the primary media focus always falls upon the players selected, that's really only the first step on the long, peril-filled road to the Majors.  If an organization does not have the proper people and practices in place to mold high-ceiling prospects, the picks themselves become much less relevant. So did Neal Huntington and the Pirates rebound with their 2010 draft class?  We'll find out soon.  Thanks for reading.        
Original Story:
http://feedproxy.google.com/~r/isport...
THE BACKYARD
BEST OF MAXIM
RELATED ARTICLES
Pedro Alvarez did some good things for the Pittsburgh Pirates in 2012. The third baseman batted .244 with 30 home runs and 85 RBI. Alvarez told PiratesDugout.com's George Von Benko he is hoping to build off his 2012 showing.
In Venezuelan League playoffs last night, Darren Ford went 0-for-4, as his team dropped their opening playoff game 8-1. Ford was the only Pirates player in Venezuela to play yesterday. In the Dominican, Felix Pie and Alex Valdez saw their playoff struggles continue as their team dropped to 0-5 in the round robin tournament. Valdez went 0-for-3, dropping his average to .105 in 19...
I'll admit it. I wanted no part of Pedro Alvarez last season. He entered the year in a timeshare at 3B with Casey McGehee and stepped to the plate just 62 times in April. Through two months Alvarez had hit just eight homers, not nearly enough to justify rostering him and his .206 average. Something happened in June, though, as Alvarez batted a good-enough .262 that month with seven...
I'm sure in a lot of leagues where people know a thing or two about a thing or two Starling Marte will be one of the things they know a thing or two about. Since it's still relevant, let's see what I said last year about him, "The Pirates equipment manager, Buffalo Bill, has to start making a uniform made from Jose Tabata's skin. Put the lotion in the basket...
With no Winter League action on the schedule for yesterday or today, it's time to switch to postseason  coverage for four of the five leagues still playing. The lone exception is the Australian Baseball League, which still has four weeks left to it's schedule. The League in Puerto Rico wrapped up on Sunday, with Ivan DeJesus taking home the league's batting crown with his...
In Winter League playoff action from the Dominican last night, Kris Johnson allowed three runs(two earned) over 6.1 innings, taking his first loss of the season. Johnson was coming off a brilliant performance eight days ago, but he seemed off with the extended layoff between starts. He allowed nine hits, after giving up just 11 hits over 27 innings during the DWL regular season....
Last year A.J. Burnett had his best season since 2005. That's fact, not opinion. Probably not coincidentally, 2005 was also his last season in the National League before extended stays in Toronto and New York that resulted in six disappointing seasons in the Junior Circuit. It's one thing when a player has a player has a throwback season without any changes in their peripherals...
Pirates News

Delivered to your inbox

You'll also receive Yardbarker's daily Top 10, featuring the best sports stories from around the web. Customize your newsletter to get articles on your favorite sports and teams. And the best part? It's free!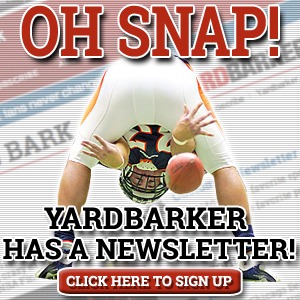 Latest Rumors
Best of Yardbarker

Today's Best Stuff

For Bloggers

Join the Yardbarker Network for more promotion, traffic, and money.

Company Info

Help

What is Yardbarker?

Yardbarker is the largest network of sports blogs and pro athlete blogs on the web. This site is the hub of the Yardbarker Network, where our editors and algorithms curate the best sports content from our network and beyond.