Found September 25, 2012 on SF Giants Nirvana:
PLAYERS:
Angel Pagan
,
Marco Scutaro
,
Pablo Sandoval
,
Buster Posey
,
Hunter Pence
,
Brandon Belt
,
Gregor Blanco
,
Brandon Crawford
,
Hector Sanchez
,
Joaquin Arias
,
Aubrey Huff
,
Xavier Nady
,
Tim Lincecum
,
Madison Bumgarner
,
Matt Cain
,
Barry Zito
,
Ryan Vogelsong
,
Sergio Romo
,
Javier Lopez
,
Jeremy Affeldt
,
Santiago Casilla
,
George Kontos
,
Jose Mijares
,
Guillermo Mota
,
Clay Hensley
,
Eli Whiteside
,
Emmanuel Burriss
,
Brett Pill
,
Ryan Theriot
,
Melky Cabrera
,
Bruce Bochy
TEAMS:
San Francisco Giants
The Giants have clinched the NL West, and now some important decisions lie ahead with the playoffs looming. Specifically: who is going to be on the postseason roster? A lot of it is fairly obvious, and we can get those names out of the way immediately, with a little help from MLB Depth Charts:
Those are the names that strike me as very safe bets to make the postseason roster.
Now, let's move on to the pitching. We know at this point that the Giants are going to put all five starters on the postseason roster:
…and the really obvious choices from the bullpen are:
The Giants will carry either 11 or 12 pitchers, so I'd have to guess George Kontos and Jose Mijares will nab two of the remaining spots. In fact, I'll go as far as to guess that the Giants will carry 12 pitchers, because Bochy sure loves him some bullpen flexibility. Guillermo Mota or Clay Hensley would presumably be vying for that final spot, and I'd imagine Mota is the preferred choice. Hensley was worthless in August before being placed on the DL with a groin injury, and hasn't done anything impressive in a few appearances since returning. Plus, for what it's worth, Mota has been used in more than his fair share of important situations over the past month. So let's tack those names on in bullet-point form…
George Kontos
Jose Mijares
Guillermo Mota
For those of you keeping score at home, we're at 24 spots so far. That leaves — carry the four, multiply by the square root of π …one remaining spot, which will be handed to a position player. That will go to… Eli Whiteside? I can't see the Giants going with three catchers. Emmanuel Burriss? If he could do anything other than run, I'd buy it, but…he can't. I just don't see why they'd find a place for a guy who's slugging .222. Brett Pill? Maybe. But I'm going to guess Ryan Theriot, even though he has been used sparingly of late. Just a hunch, but I'm guessing he has the upper edge over Pill, if only because he can play second base. So, here, have a bullet point, Mr. Theriot:
You might notice Melky Cabrera is absent from this list. Even if the Giants do decide to use him in the playoffs, it would be on the NLCS roster, rather than the NLDS roster (because the suspension, of course, continues through the first five games of the postseason). Perhaps they'll go that route. That's what I'd like to see, personally. I'd rather the Giants have Melky on the roster than…say, Ryan Theriot. But that's probably not going to happen:
The club is not commenting on Cabrera's situation, but all indications are that upper management has zero interest in the All-Star Game MVP playing another game in orange and black.
Based on our conversation with Bruce Bochy…without a decision being made…it definitely sounds like Cabrera will not be on playoff roster
So there you have it, my official NLDS roster prediction. And, assuming the Giants make it to the NLCS, I'm guessing they'll leave off Melky and continue to stick with this group of guys. After all, they have played quite well in the post-Melky era.
Original Story:
http://feedproxy.google.com/~r/Splash...
THE BACKYARD
BEST OF MAXIM
RELATED ARTICLES
The race to the NL West title is over! Your San Francisco Giants have been on a tear, and weren't stopping till they stamped their ticket to the 2012 playoffs! This NL West Championship is the Giants second in a three year span. I'm sure you didn't forget about them winning the NL West in 2010, did you? Let's hope this year has the same ending results as it did in 2010 ...
On August 15, Major League Baseball suspended San Francisco Giants outfielder Melky Cabrera 50 games after Cabrera tested positive for testosterone, a substance banned under MLB's Joint Drug Policy.  The suspended began immediately. Including the Giants' game that day against the Washington Nationals, San Francisco would play 45 games from the time of Cabrera's suspension...
The San Francisco Giants third basemen, Pablo Sandoval, made a catch with a flavor that will last.  A Padres' hitter launched a pop fly that was almost out of play, but the Panda came into rescue it.Sandoval's mouth was full the whole time with a bubble gum, and a fan in the stands almost got a mouth full of Sandoval's cleats. Having your at-bat end on a play like that...
SAN FRANCISCO -- The San Francisco Giants have no plans to bring back suspended outfielder Melky Cabrera for the postseason if the club is still playing when he is eligible to return. Manager Bruce Bochy said Tuesday that he and general manager Brian Sabean are meeting to finalize their 25-man roster for the best-of-five division series. Cabrera would be allowed to play in the NLCS...
After being left off the postseason roster for the San Francisco Giants' 2010 World Series run, Barry Zito will be included on this year's playoff team. Bruce Bochy has yet to announce his postseason rotation, but if Zito continues to pitch like he has over the past few weeks, a playoff start seems probable. In the Giants' final home game before the NL division series...
The San Francisco Giants have no plans to bring back suspended outfielder Melky Cabrera for the postseason if the club is still playing when he is eligible to return. Manager Bruce Bochy says he and general manager Brian Sabean are meeting to finalize their 25-man roster for the best-of-five division series. Cabrera would be allowed to play in the NLCS if the Giants advance that...
Obviously Melky Cabrera is not injured.  The whole world knows where he is.  He failed a drug test with elevated levels of testosterone, created a fake website to try to hide his drug usage, and was ultimately suspended by Major League Baseball for 50 games.  While he is not injured, his suspension has acted much like a trip to the disabled list.  The Giants have had...
Are you ready for the playoffs? Well, if the Giants are going to cash in, us small, poor webcomic creators are going to try and cash in, too, by selling you some gear.  Can you hold it against us? Check out our two new shirts for the postseason!  The first captures the uniting spirit between our two San Francisco teams, as one team powers for the World Series, and the other for...
(Eds: With AP Photos.) By JANIE McCAULEY AP Baseball Writer Marco Scutaro is no castoff or misfit. Not even close. It just so happens he is having a major impact as part of San Francisco's run into the playoffs - the 2012 version of Cody Ross, if you will. Scutaro does it all: reliable defense, timely hitting, mentoring of younger teammates. The Giants plucked Ross off waivers...
SAN FRANCISCO (AP) -- Matt Cain pitched seven innings and had two hits and an RBI to lead the San Francisco Giants to a 6-0 win over the Arizona Diamondbacks on Wednesday night. Brandon Belt added three hits, Pablo Sandoval singled twice and drove in two runs, and Marco Scutaro extended his career-best hitting streak to 14 games while helping Cain to his career-best 16th win. It...
This is going to be one of those years when so much attention is paid to one awards race (the American League MVP, of course), we kind of forget there are other things going on. It's too bad, because I think the National League race is a lot more interesting. The AL race is one we've been through before, almost every year lately -- sabermetrics guys vs. old-school guys, narrative...
Although there is little on the line for the remainder of the regular season, the NL West-champion San Francisco Giants realize it's still important to play with the same intensity as if they were fighting for a playoff spot. This is especially true for Tim Lincecum, who is trying to earn a spot in the postseason rotation. Lincecum looks to win three straight starts for the...
Giants News

Delivered to your inbox

You'll also receive Yardbarker's daily Top 10, featuring the best sports stories from around the web. Customize your newsletter to get articles on your favorite sports and teams. And the best part? It's free!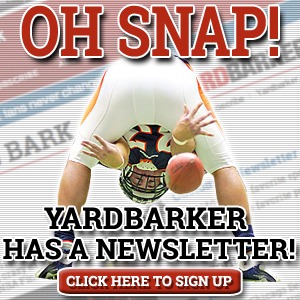 Latest Rumors
The Backyard

Today's Best Stuff

For Bloggers

Join the Yardbarker Network for more promotion, traffic, and money.

Company Info

Help

What is Yardbarker?

Yardbarker is the largest network of sports blogs and pro athlete blogs on the web. This site is the hub of the Yardbarker Network, where our editors and algorithms curate the best sports content from our network and beyond.