Found September 28, 2013 on Fox Sports Arizona:
PHOENIX -- When the season started, the Diamondbacks were counting on a rookie center fielder to move into the starting lineup and make an impact. One did. That it was A.J. Pollock rather than Adam Eaton was a pleasant surprise -- and another testament to their depth.Eaton was listed on the NL All-Star ballot, a group chosen with the team's input, but his elbow injury in spring training opened a roster spot for Pollock, who never looked back. Pollock leads National League rookies with 12 stolen bases and is tied for the lead with 28 doubles. His defensive WAR is in the top five of all major league center fielders.The emergence of Pollock and return to health of Eaton give the D-backs outfield options as they look to an uncertain 2014, with questions surrounding Cody Ross' recovery time from a fractured hip and the possibility of a trade that would add power. The Diamondbacks ended the season with Pollock, Eaton and Gerardo Parra spending most of the time in the outfield, with Martin Prado and Willie Bloomquist also taking turns in left."It will be interesting with our outfield to see how they all they fit," manager Kirk Gibson said.It appears safe to say Pollock and Eaton figure in their plans moving forward. Pollock carved out a niche for himself this season by first taking advantage of the opportunity that presented itself and and then making adjustments at the plate as the league got a longer look at him. Gibson has called Pollock the D-backs' best center fielder."I wanted to come into the year and turn some heads and show that I belong up here," Pollock said. "I wasn't sure if I was going to the big leagues or not, but fortunately I got to come up here."Sometimes, that is all it takes."I think so. Getting a chance and time. Baseball is big on timing. Some stuff happens, and you have to step up. If you are ready, then you will be good. If you are kind of just the background person, you might get weeded out."Pollock was prepared. He had two home runs and six RBIs in his sixth start, a 10-2 victory over the Pirates on April 10, and he had nine doubles in his first 55 at-bats. As opponents began throwing more breaking balls, he adjusted his approach. Like Paul Goldschmidt, Pollock makes extensive use of video to study pitcher tendencies. He is hitting .269 with eight homers and 37 RBIs in 439 at-bats. Only three NL rookies have driven in more runs. "I feel like I've kind of learned from some mistakes and smartened up as the year went on and gotten tougher at-bats as the year went on," Pollock said.Gibson appears to be a believer."He's an interesting talent for us to evaluate for the future," Gibson said. "I like the way he works, his openness to try to get better. He's improved a ton. He's not looking at learning tomorrow; he's looking at learning today. He goes and gets the ball. He gets good reads. He moves around well."You can see he's had a lot of improvement at the plate. He's tinkered with his swing. What he's done, he's watched how they've pitched him and what he can't cover, and he's worked in the cage and talked a lot about how he can handle more pitches. I think he will figure it out and things will come easier. How good he can be, we'll see about that. But he has good actions."Eaton's season was more frustrating. He missed the first three months with an elbow strain that he suffered in spring training and aggravated late in his first rehab assignment, costing him another month in recovery. In the last two months, he has shown signs of being the top-of-the-order table-setter the D-backs envisioned, with two four-hits games and a three-hit game in a 10-day span of late August. He is hitting .255 with three homers and 22 RBIs. A disruptive force in the minors with 44 stolen bases last year, he has not been in a position to run as much this season and has only five steals. That number should improve next year."Here's a guy who had a great year in Triple-A (Reno) last year, and we expected him to be ready right out of the get-go, and he wasn't," Gibson said. "He comes back late in the season, everybody has been playing, and there's a lot to catch up. Adam is very critical of himself. He just has to stay focused on the process. He's doing fine. He wants to be way better. It kills him that he can't be better."It remains to be seen how the D-backs will use Pollock and Eaton, whose arm appears to be back at full strength now, just as doctors told him it would be. Whatever happens, Eaton said he will be more himself in 2014. "It was a learning process. It was anything but smooth. It was anything but nice," Eaton said. "Getting hurt right off the bat didn't help. Once I got back, I was trying to find everything. I just couldn't find anything. We saw glimpses of it here or there, but it wasn't anything consistent, and that's what I pride myself on -- being consistent."It's coming around. It's here or there. It's been a struggle. It's been a grind. I don't believe the type of player I have shown this year is the type of player I am. I think this offseason is going to be a special one for me. It's going to be better next year. "I've always been determined, but this showing I have had this season is not who I am. It's going to change."Follow Jack Magruder on Twitter
Original Story:
http://www.foxsportsarizona.com/mlb/a...
THE BACKYARD
BEST OF MAXIM
RELATED ARTICLES
SAN DIEGO -- Kevin Towers and Kirk Gibson plan to meet Monday to evaluate player personnel and the coaching staff, the object being to make sure the two groups mesh. Part of the discussion will involve "particular players we need to get to. Things we need to work on," Towers said."What are the strengths of our staff? What are the weaknesses of our staff? Do we have...
Patrick Corbin walked off the mound for the final time this season, his head down in disappointment. ''But I told him to keep his head up,'' manager Kirk Gibson said. ''He had an outstanding year for us.'' The last half-season, though, was not so good, culminating with Friday night's 8-4 loss to the Washington Nationals. After opening the season...
After a lopsided loss in their latest game in San Diego, the Diamondbacks still need at least two victories in their final four contests to finish this season with a winning record. Red-hot Paul Goldschmidt will try to lead his club to the first of those wins in Thursday's series finale against the Padres while extending his hit streak to 16 games. A visit to San Diego isn...
For the first time this season, the Arizona Diamondbacks have a losing record. Arizona's losing streak reached four on Saturday night in a 2-0 loss to former Diamondback Dan Haren and the Washington Nationals. The defeat dropped Arizona's record to 80-81. The Diamondbacks need to win Sunday's season finale to match last year's .500 record. The team is limping to...
The Spanish play-by-play announcer for the Arizona Diamondbacks who was arrested for allegedly threatening his wife with a knife has pleaded not guilty. Maricopa County prosecutors say 53-year-old Miguel Perez Quintana entered his plea Thursday. His next scheduled court date is a Nov. 13 initial pretrial conference. Quintana was arrested July 15 on suspicion of aggravated assault...
The Spanish play-by-play announcer for the Arizona Diamondbacks who was arrested for allegedly threatening his wife with a knife has pleaded not guilty. Maricopa County prosecutors say 53-year-old Miguel Perez Quintana entered his plea Thursday. His next scheduled court date is a Nov. 13 initial pretrial conference. Quintana was arrested July 15 on suspicion of aggravated assault...
Arizona's Trevor Cahill was long gone by the time Thursday's game was decided. The San Diego Padres prevailed 3-2 in 11 innings over the Diamondbacks on Alexi Amarista's RBI single. Cahill worked 6 2-3 innings, giving way with Tommy Medica on third with two outs in a tie game. Cahill, who had won five straight starts, allowed two runs and five hits before being relieved...
For 17 years, FOX Sports Arizona has been the standard bearer for local sports television programming and coverage, and that tradition was cemented once again when the network was recently honored with 13 Emmy Award nominations by the Rocky Mountain Southwest Region. Todd Walsh already has won two Emmys as the best sports anchor and will now be vying for a third as he was once again...
While Patrick Corbin has enjoyed a breakout campaign in 2013, he's fallen off the pace down the stretch. Stephen Strasburg has been steady all season, but he doesn't have much to show for it. Corbin and Strasburg match up in their final starts of the year Friday night as the Arizona Diamondbacks open a three-game home set against the Washington Nationals. Leading the team...
PHOENIX (AP) -- A.J. Pollock beat out a run-scoring infield single in the eighth inning and the Diamondbacks sent Davey Johnson into retirement on a losing note with a 3-2 win over the Nationals on Sunday. After losing the series' first two games, the D-backs scratched out a pair of runs off Ryan Mattheus (0-2) in the eighth inning to finish the season at .500 (81-81). Martin...
The Arizona Diamondbacks ended the season with one final rally, sending Washington manager Davey Johnson into retirement with a loss. It wasn't enough to wipe away the disappointment of season that started with so many expectations. A.J. Pollock beat out an infield single to drive in the go-ahead run and the Diamondbacks ended a mediocre season on a high note, beating the Nationals...
Diamondbacks News

Delivered to your inbox

You'll also receive Yardbarker's daily Top 10, featuring the best sports stories from around the web. Customize your newsletter to get articles on your favorite sports and teams. And the best part? It's free!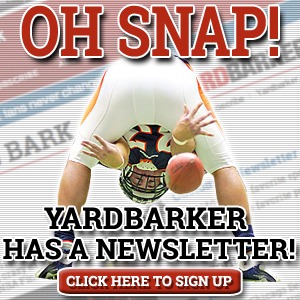 Latest Rumors
The Backyard

Today's Best Stuff

For Bloggers

Join the Yardbarker Network for more promotion, traffic, and money.

Company Info

Help

What is Yardbarker?

Yardbarker is the largest network of sports blogs and pro athlete blogs on the web. This site is the hub of the Yardbarker Network, where our editors and algorithms curate the best sports content from our network and beyond.