Predicting the weirdest MLB injuries of 2017
Boston Red Sox third baseman Pablo Sandoval hopes to remain healthy and finally perform at a high level in Beantown.
Aaron Doster/USA TODAY Sports
Baseball always seems to have strange injuries. Already this spring, Cincinnati Reds pitcher Raisel Iglesias injured his elbow and hip falling down in shower. And who can forget Trevor Bauer's infamous drone-related injury during the 2016 postseason?

Welcome to the Yardbarker roundtable, where we can't help but recall some of the more ridiculous ways MLB players have been injured. Think: beating a water cooler with a bat in the dugout, jumping on home plate in celebration or even making dinner. So we asked our panelists:
Can you predict the weirdest injury of the 2017 season and who may be at the greatest risk? 
Phillip Barnett: Imagine this lede: Pablo Sandoval is out for the remainder of the season after mangling his hand in the garbage disposal reaching for a dropped doughnut.
Shiloh Carder: I'm waiting on the injury where contact was trying to be avoided at second base or home plate. I mean, we've banned the crashes at the plate (which I've been in favor of) for injury concerns, but what if someone shreds a knee or ankle trying to avoid the contact? If you want ridiculous, I cannot come up with one because the best ones happen organically.
David Matthews: While attempting a combination bat-flip and pop-up slide (don't ask) to be produced as a Snapchat story, Yasiel Puig will tear a hammy or rotator cuff. This will pave the way for Cody Bellinger to slide into his place in the lineup and become the latest Dodger to win Rookie of the Year and further turn the Dodgers into the West Coast Yankees.
That or Corey Kluber misses a few weeks after a bow hunting accident.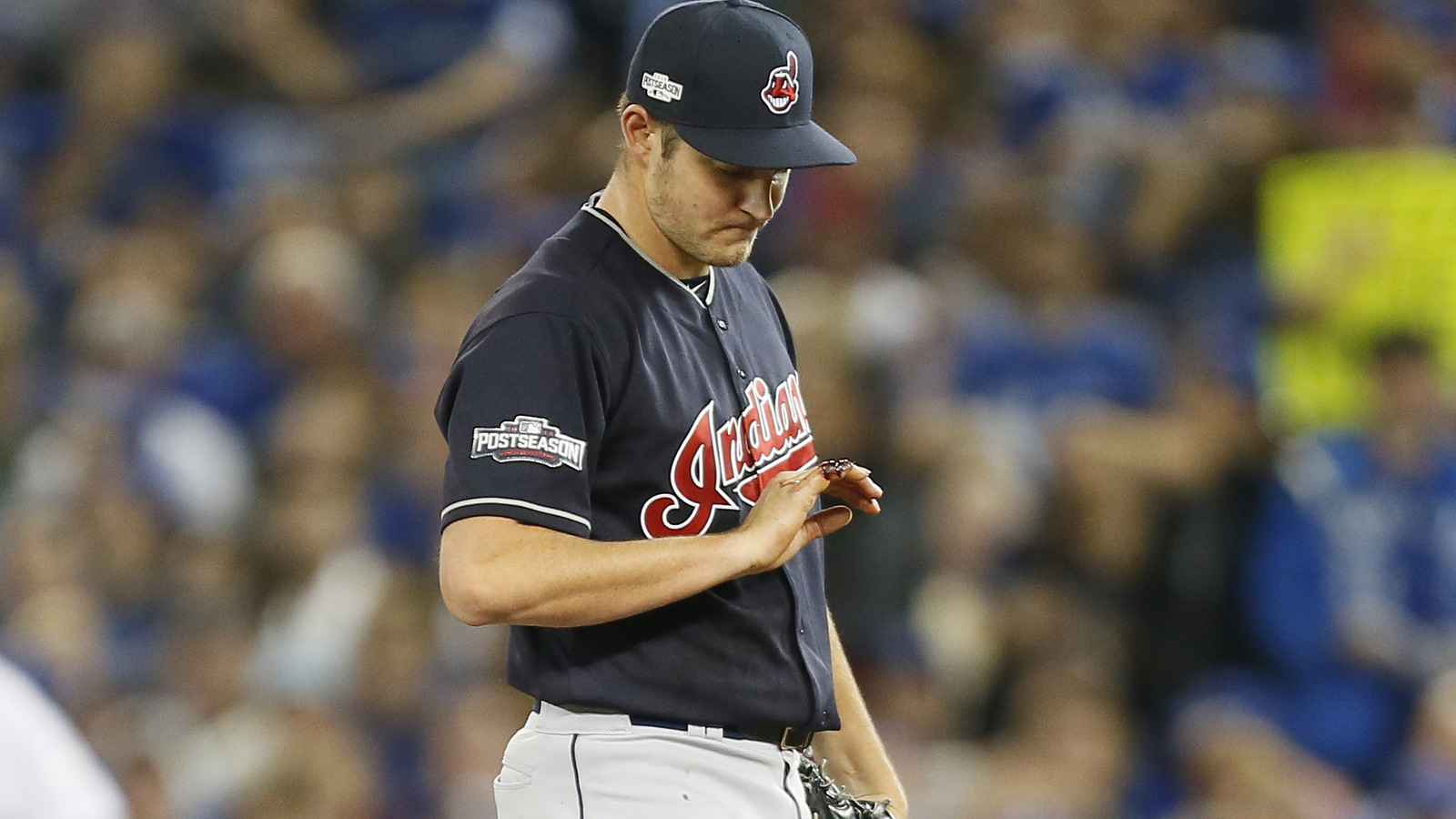 Will Cleveland pitcher Trevor Bauer top his drone-related injury this season?
John E. Sokolowski/USA TODAY Sports
Demetrius Bell: People have been warning against it for years and multiple players have injured themselves doing it recently, but I guarantee you that someone is going miss a month or two due to a freak injury while sliding into first base. Like, not just a broken finger or two. Someone is going to break his hand and miss a sizeable amount of time because he's doing the dumbest thing you can do on the basepaths. Nothing good comes from sliding into first, but we'll probably keep on seeing it because that's the beauty of baseball.
Jamie Neal: It'll be a repeat offender; repeat offenders never learn the first time. Let's go with Trevor Bauer and say it has something to do with a selfie stick this time. I mean, the drone was geeky enough; how can he possibly one-up that?
Matt Whitener: I would imagine that the Detroit Tigers brass would not not be too pleased if Michael Fulmer, who professed his love of plumbing in the offseason, got injured by a stray wrench underneath a sink on his off day. That would easily be the worst encore to a Rookie of the Year campaign ever.
MORE FROM YARDBARKER:
MORE FROM YARDBARKER
MLB News

Delivered to your inbox

You'll also receive Yardbarker's daily Top 10, featuring the best sports stories from around the web. Customize your newsletter to get articles on your favorite sports and teams. And the best part? It's free!