As recently as a year ago, Andrew Friedman was the resident genius in baseball. This was especially true when it came to building a farm system. It's a lot easier to build a farm system when you have one of the top picks in the draft every season. Since 2008, they have not picked in the top twenty at any time because of their success on the field. They have been able to have some success, but the numbers of brilliant prospects has reached a minimum. For his efforts, Friedman has done a good job of making sure that a pipeline of pitching continues to flow through Tampa Bay. Timothy Beckham was the last number one overall pick and the last position player of consequence to be drafted. He has performed okay, but his second elicit drug positive test seriously cut into his progress. He probably is not a shortstop and it will be interesting to see if anything happens with him.     Age LV How BP BA MLB POS C Justin O'Connor 20 A D NR NR 18 NR 1B Philip Wunderlich 23 A+ D NR NR NR NR 2B Ryan Brett 20 A D 11 NR 13 NR 3B Richie Shaffer 21 A D NR NR 15 NR SS Hak Ju Lee 21 AA T 2 2 1 9 OF Mike Mahtook 22 AA D 6 10 4 NR OF Drew Vettleson 21 A D 10 9 6 NR OF Josh Sale 21 A D 18 NR 12 NR P Taylor Guerrieri 19 A D 3 4 2 NR Justin O'Connor– Catcher One of the common characteristics of the Rays system is that they are often willing to wait five years or more for players to develop. At 20, O'Connor has plenty of time according to that timeline. He has the ability to do it, but it isn't showing up in the numbers quite yet. It's a pity since the Rays are struggling behind the plate at the big league level. He can be the catcher of the future if he puts it all together. Philip Wunderlich– First Base Friedman's reputation took a hit when they brought Carlos Pena back into the fold in 2012. The move was supposed to work out for them as Pena could produce upwards of 30 home runs and 100 RBIs. Instead, he failed to reach the Mendoza Line at the plate. Wunderlich didn't make their top twenty, so they will need to find an answer again in 2013. Ryan Brett– Second Base Brett was one of the second basemen that we featured throughout the season. He produced some good numbers in A ball especially in the stolen bases department (48). He produced enough power numbers to give them hope for the future. Ben Zobrist has been manning that position (as well as some others), but they could use an everyday option. That means they either need some help at some other positions or they need Brett to continue to develop. Richie Shaffer– Third Base Shaffer was one of the late additions from this draft. To prove the point from above, he was taken in the first round with the 25th pick. His .893 OPS is promising even if it only came in short season ball. His ability to draw walks seems to be his best talent moving forward. The five year plan seems easy enough with Evan Longoria manning third base for the foreseeable future. Hak-Ju Lee– Shortstop Lee did not have the season that the Rays would hope, but with the shortstop position being one of the many they have scrambled at, they are hoping he could become the mainstay at that position. He is still the prize from the Matt Garza deal and he has done enough each season to prove they made a good decision to pick him up. He could become a candidate as soon as this next Spring. Mike Mahtook– Outfield Mahtook was a first round pick in the 2011 draft, and he has advanced fairly far for a Tampa Bay Rays farm hand. He has already made it to AA despite being only 22 years and not producing a ton in the numbers department. He has a good arm for right field, but he will need to distinguish himself offensively before he can get the call up to the big leagues. Drew Vettleson– Outfield Here is another high draft pick (sandwich round 2010). He has similar skills as Mahtook but he has not been promoted through the system quite as quickly. Still, he produced 15 home runs and 20 stolen bases this past season. What might be just as impressive was his ability to draw more than 50 walks in addition to hitting for a decent average. Like most of their prospects, they will take their time with him. Josh Sale– Outfield Sale was the Rays top pick in 2010 and was off to a good start in his pro career before testing positive for methamphetamine and an amphetamine. In terms of how that effects him moving forward, it shouldn't create questions about his ability. If he can give them a full season of production then things can move back to normal. Taylor Guerrieri– Pitcher Guerrieri was taken in the first round in 2011 by the Rays. As a younger arm, they were going to keep him under wraps a little bit more as is their style. He can dial up the fastball to 97 MPH if need be. They can afford to be patient because they also have Chris Archer, Enny Romero, Blake Snell, and Alex Torres as well. Next year, Guerrieri should be playing a full season.      
Original Story:
http://www.hardballchat.com/2012/09/p...
MORE FROM YARDBARKER
MLB News

Delivered to your inbox

You'll also receive Yardbarker's daily Top 10, featuring the best sports stories from around the web. Customize your newsletter to get articles on your favorite sports and teams. And the best part? It's free!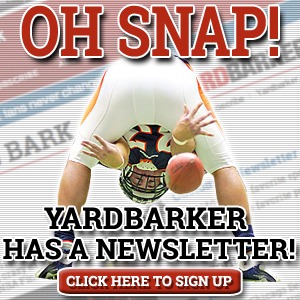 Latest Rumors
Best of Yardbarker

Today's Best Stuff

For Bloggers

Join the Yardbarker Network for more promotion, traffic, and money.

Company Info

Help

What is Yardbarker?

Yardbarker is the largest network of sports blogs and pro athlete blogs on the web. This site is the hub of the Yardbarker Network, where our editors and algorithms curate the best sports content from our network and beyond.