Found June 29, 2012 on Obstructed View OLD:
PLAYERS:
Brett Jackson
,
Starlin Castro
,
Anthony Rizzo
,
Alfonso Soriano
,
David DeJesus
,
Marlon Byrd
,
Tony Campana
,
Joe Mather
,
Reed Johnson
,
Mark Reynolds
,
Jack Cust
,
Adam Dunn
,
Drew Stubbs
TEAMS:
Chicago Cubs
,
Boston Red Sox
,
Baltimore Orioles
,
New York Yankees
,
Chicago White Sox
,
Cincinnati Reds
In the first part I skipped over Brett Jackson, but we'll talk exclusively about him in this part. In many ways Jackson is the most advanced hitter not on the MLB Cubs. It's entirely possible he's the most advanced hitter in the organization with a couple obvious exceptions: Starlin Castro and Anthony Rizzo. Jackson is a weird player and one that's difficult to project moving forward, but before we talk about that we have to find a place for him to play.
The outfield is currently made up of regular starters in LF and RF. Alfonso Soriano and David DeJesus have basically started every game. CF has been more of a revolving door. Marlon Byrd opened the season in CF before being traded to Boston. Tony Campana and Joe Mather have done of the most work since. Reed Johnson is still hanging around the team too. The outfield situation is full right now, but that can be easily fixed. None of the players the Cubs have are guys they're going to have when they contend so any and all of them can go one way or another.
We've talked about Soriano and how the Cubs would have to pay a very large chunk of his salary to complete a trade. The Cubs have been willing to do this for over a year and still have found no takers. Joe Mather and Reed Johnson are irrelevant. Mather can play the infield and you're not going to hold Jackson back because of Reed Johnson. You just simple DFA Johnson and move on with life. Or you could DFA Mather, but I'm guessing the Cubs like his ability to play the infield. They might like his ability to play CF and hit right handed too.
Brett Jackson has shown he can hit both lefties and righties in the minor leagues, but we should expect the typical splits from him in the big leagues. It might be nice to have a righty who can play CF to spell Jackson on occasion. Maybe the Cubs just want to play him every day. I don't know. It's not a big deal either way.
While the Cubs are probably stuck with Alfonso Soriano they could trade David DeJesus and getting rid of one or both of Mather and Johnson isn't going to be too difficult. Tony Campana gets to stick around as the extra outfielder who can steal meaningless bases for the Cubs.
If you look at Jackson's wOBA, wRC+, ISO, BB% and a few other stats you see a guy who could potentially become a superstar at the big league level. He's been a very good hitter everywhere he's played. He's taken a lot of walks, hits for power, steals bases, plays a quality defense at a premium position and is still only 23 years old. But then you look at his strikeout percentage.
It was about 24% in his two stints at AA, which is more than worrissome. We'd expect it to go up at AAA and then again at the MLB level and we're hopeful that he can figure out a way to make a little more contact. At AAA, though, that's where the strikeout rate got way out of control. It was 29.8% last year and so far this year it's 33.9%. His walk rate has also taken a small hit, but I'm really not that worries about that.
From 2000 through 2011 only 13 times did a qualified batter strikeout more than 30% of the time. The good news for Jackson is at the top of that list is Mark Reynolds (2010, 2009, 2008). In those 3 years Reynolds was at 35.4%, 33.7% and 33.3%. Reynolds' 2011 season is also 7th on the list. Jack Cust is 4th, 5th and 12th. Jose Hernandez is 6th, 8th and 9th. Ryan Howard is 10th, Adam Dunn is 11th and Drew Stubbs is 13th. Those 13 have combined for 27 fWAR so you can still be productive despite striking out a ton.
However, only Mark Reynolds' 2010 season is higher than Jackson's current strikeout rate and that's in AAA. Current strikeout rate is more representative of a person's true skill level at 150 or more plate appearances than past strikeout rate. Jackson has 327 this year and over 200 last year so it's more than reasonable to estimate his true talent strikeout rate in AAA at about 31-32%. We're entering unchartered territory here. That's already higher than all but one player over the last 12 seasons. Realistically, his strikeout percentage is going to increase at the big league level and it may be safe to say that we're talking about a guy who is going to strikeout more frequently than any hitter has over the last 12 years. Any hitter who had the qualified number of plate appearances, which is important because we are hoping Jackson can have that many PA in a season (not this season of course).
Those 13 hitters who struckout at least 30% of the time also had an average walk rate of about 12%. Jackson's walk rate at AAA has been about 11%. Jose Hernandez's 3 seasons among those 13 really brings the average down though. The non-Hernandez group walked about 13% of the time. You can see that the guys who struckout a lot tended to also walk a lot. Jackson has shown that ability in the minors though it has dipped so far this year. Like I said earlier, I'm actually not that concerned about it. I think Jackson will take his walks.
About the only thing I can say for sure about Jackson and his strikeouts is that he's going to have a very low batting average. If that's your thing, you're probably not going to like him very much. The average batting average of the 13 who struckout at least 30% was about .240. Jackson is likely to be on the high end of the strikeout percentage. The fewer balls you put in plays means the fewer number of ball in play hits you get. Unless Jackson cuts down on his strikeouts significantly, he's going to hit for a low average. Unfortunately for him, many fans still evaluate how well a player is performing by their batting average.
We could be looking at a guy who hits about .235/.325/.425. That's not bad by any means. It's pretty decent production for a CF at the big league level. The hopes of him becoming a star may have faded as his strikeout rate grew, but he can still be a valuable player despite the strikeouts. Striking out as frequenly as he does is not good, but they aren't the only stat.
Original Story:
http://www.obstructedview.net/comment...
THE BACKYARD
BEST OF MAXIM
RELATED ARTICLES
Jon Heyman of CBS Sports says the Cubs are willing to pay part of Ryan Dempster's remaining contract in the right trade. Cubs starter Ryan Dempster, who allowed no runs in his three June starts, should be one of the most coveted pitchers on the trade market this July. And to make him even more enticing as a trade target, the Cubs are willing to pay part of his $14-million salary...
    Earlier this week Anthony Rizzo made his much anticipated debut for the Chicago Cubs after being acquired from the San Diego Padres for pitcher Andrew Cashner back in January. The reaction from many Cubs fans might have been "It's about time". Between last season and early this season the 22-year old played 163 [...]
In just his second AB in his first professional game, 19-year old SS David Bote (Cubs 2012 18th round draft pick out of Neosho CC) blasted a three-run home run off the LF scoreboard, carrying the AZL Cubs to a 5-4 victory over the AZL Angels in Arizona League action this evening at HoHoKam Park in Mesa, AZ. Bote also walked and stole a base, and he made a nice defensive stop...
As one who ordinarily dislikes slack moments, I tend to plan things down to the second. It's a practice that often leaves little margin for error and sometimes results in small mishaps. Because as much as you try, you can't fully allow for externalities. One of those is the Chicago Transit Authority, not a sturdy peg on which to hang a daily calendar. The online tracker...
WWE Champion CM Punk attended the Strike Zone Celebrity Bowling Tournament on Wednesday night in Chicago, hosted by former Chicago Cubs player Kerry Wood. Punk spoke to the Chicago Tribune at the event and had this to say about his upcoming WWE DVD set: "Obviously, I'm biased but I think mine is the best. Mine starts way different than anyone else's and ends way different than...
There were a ton of MLB teams in the derby for Cuba defectee Jorge Soler, and the Chicago Cubs won the spending battle to get him. Now that Anthony Rizzo is up at the Major League level, Soler gets to become the next big name to be "franchise savior." Soler, 20, joins the Cubs organization after playing for Cuba at several international tournaments, including the 16-under COPABE...
When the Cubs visited Houston a month ago, the Astros were a few games below .500 and the buzz around the team was relatively positive. Few Astros fans expected the team to be very good, but they were outperforming expectations and were at least watchable. The new, saber-inclined management stole Jed Lowrie from the Red Sox in a reverse Ed Wade move, trading an overvalued Veteran...
Anthony Rizzo hit his first homer with the Cubs, a two-run go-ahead shot in the fifth inning, and Chicago beat the Houston Astros 3-2 Saturday for its fourth win in five games. Matt Garza (4-6) struggled but got the victory by working 5 1-3 innings. Five Cubs relievers combined to allow one hit and no runs over the final 3 2-3 innings with Carlos Marmol pitching the ninth for his...
- Former WWE superstar John Morrison will be a judge for this week's Tournament of Nerds show, which premieres this Sunday (7/1) on Youtube's Nerdist channel. A preview for the show, which includes "adult language" not suitable for children, can be seen here. - WWE Champion CM Punk attended the Strike Zone Celebrity Bowling Tournament on Wednesday night in Chicago...
Paul Maholm is winless in his last eight starts for the Chicago Cubs, while Houston Astros starter Bud Norris has failed to win in his last four. Both pitchers, however, have had some success against the other's club, and they'll oppose each other Friday afternoon in the opener of a three-game set at Wrigley Field. Maholm (4-6, 5.38 ERA) is 11-6 with a 3.31 ERA in 20 career...
Sure, I can sit here and regurgitate the news of the week as I normally do, or, I can try to change it up, get a little creative and try to have some fun. Because talking about this 2012 Cubs is just too hard, and I do not want to do it right now. So, in its first installment, here is: "Rambling from June 29th, 2014 (also my 35 birthday) … • Do you really think Rizzo can...
MLB News

Delivered to your inbox

You'll also receive Yardbarker's daily Top 10, featuring the best sports stories from around the web. Customize your newsletter to get articles on your favorite sports and teams. And the best part? It's free!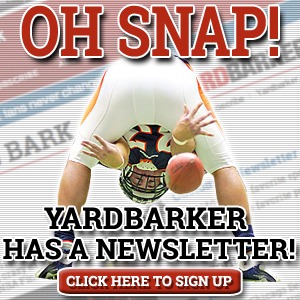 Latest Rumors
The Backyard

Today's Best Stuff

For Bloggers

Join the Yardbarker Network for more promotion, traffic, and money.

Company Info

Help

What is Yardbarker?

Yardbarker is the largest network of sports blogs and pro athlete blogs on the web. This site is the hub of the Yardbarker Network, where our editors and algorithms curate the best sports content from our network and beyond.