Found February 23, 2012 on Fox Sports West:
Reporting from Tempe, Ariz. -- Albert Pujols is the focal point of the Angels' 2012 marketing campaign, which kicked off in late January with 70 billboards throughout Southern California, 20 of which refer to the former St. Louis Cardinals star as "El Hombre," The Man. One little problem: Pujols would prefer not to be called "El Hombre." The slugger asked the St. Louis media and fans in 2010 to refrain from using the nickname because he felt it was disrespectful to Cardinals Hall of Fame member Stan "The Man" Musial, and those feelings have not changed now that Pujols is in Anaheim. "I feel the same way," Pujols said before Wednesday morning's workout in Tempe Diablo Stadium. "I had nothing to do with the billboards. They haven't talked to me about it." Would Pujols be OK with the Angels using the nickname in future campaigns? "I haven't made that decision, so I haven't talked to them about it," Pujols said, "but I prefer they not use that." The Angels did not consult with Pujols or his agent before launching the campaign, but Tim Mead, vice president of communications, and Robert Alvarado, vice president of marketing and ticket sales, said the team does not normally seek approval from players about how they will be portrayed in ads. "I haven't experienced any resistance from players in the past about things like this," Alvarado said. "It's all complimentary." Mead added that "El Hombre" has a different meaning to fans in Southern California than it does in St. Louis. "His sentiments in St. Louis were out of respect and deference to someone else," Mead said. "He was saying, 'I'm not The Man, Stan Musial is.' We're marketing Albert Pujols, Angels baseball. I think there's a tremendous difference in context." However, Pujols said he respected Musial not just for his accomplishments on the field but for what he has done for his country. Musial, a three-time National League most valuable player who had 3,630 hits, served in the Navy during World War II and last February was awarded the Presidential Medal of Freedom for his lifetime of achievement and service. "That's something you have to appreciate," said Pujols, who during his 11 years in St. Louis developed a close relationship with Musial. If Pujols' feathers were ruffled, they shouldn't be for long. The billboards, which cost the Angels 200,000 to lease, will come down in late March after a two-month run. "That's typically our media strategy," Alvarado said. "We do a lot to gear up on the front end of the year to create a lot of buzz. Once the season starts, the buzz is created on the field." Alvarado also said the team would check with Pujols before using him in future marketing efforts. "I'm sure there will be a conversation between Tim and Angels President John Carpino and Albert and his team," Alvarado said, "and we can see how they want to proceed." Mike Scioscia addresses Bobby Abreu issue Angels Manager Mike Scioscia said he does not expect Bobby Abreu to be a distraction in camp, even though the veteran outfielder told an ESPNdeportes.com reporter he would prefer to be traded if he doesn't have an everyday role. "You don't get too many guys more professional than Bobby, so I don't anticipate that being an issue," Scioscia said Wednesday, a day after Abreu made his comments. "I think if there are some issues, I'm sure that his agent will work through them with Jerry Dipoto, Angels general manager. "Bobby fears he's going to be a bench guy who plays once a week," Scioscia said. "I definitely see him getting playing time and having value." Dipoto refused to be drawn into a back-and-forth exchange. "I'm not going to answer any questions other than to say we've discussed Bobby's circumstances with Bobby and his agent, Bobby has talked to Mike and I, and this is an internal matter," Dipoto said. Etc. The Angels signed relief pitcher Jason Isringhausen to a minor league contract. The right-hander, 39, appeared in 39 games for the New York Mets last season, posting a 3-3 record, a 4.05 earned-run average and seven saves in 11 chances. He has 300 saves, third among active pitchers.
Original Story:
http://www.foxsportswest.com/02/23/12...
THE BACKYARD
BEST OF MAXIM
RELATED ARTICLES
COMMUNICATION BREAKDOWN
Albert Pujols remains adamant that he not be referred to as "El Hombre," a moniker he disliked in St. Louis due to his respect for Stan "The Man" Musial. Sadly, the Angels have already rolled out billboards featuring the nickname.
If baseball fans ever wanted to hate a team because of its name, the sheer stupidty of doing business as the "Los Angeles Angels of Anaheim" would suffice. Yet 10 years ago, it seemed this n'er do well franchise was becoming a force to be reckoned with: with one of the game's brightest young managers, deep pockets, and a stocked farm system, the Angels seemed poised to challenge...
So the Los Angeles Angels have decided to build their marketing plan around their newly acquired superstar, Albert Pujols.  A move that we can all agree is smart.  But if we're going to point out their smart decision, we also have to point out that the Angels have also made a very dumb one.  They decided to place 20 billboards around Southern California with a picture of Albert...
Albert Pujols is the focal point of the Los Angeles Angels' 2012 marketing campaign, which kicked off in late January with 70 billboards...
Yadier Molina will become a free agent following the 2012 MLB season with the St. Louis Cardinals, and he has already made it clear to everyone involved that he will not negotiate a long term deal once the regular season begins. That may not resonate well with cardinals fans, who saw Albert Pujols go the exact same route last season, only to leave for greener pastures...
The February 21st, 2012 edition of daily news for the Los Angeles Angels ...
The February 23rd, 2012 edition of daily news for the Los Angeles Angels ...
The National League MVP race looks to be pretty wide open this season.  Two of the top candidates from the past six years are now in American League.  The 2011 winner will likely miss the first 50 games due to a failed drug test.  Since 2006, Albert Pujols has won three times along with Ryan Braun taking the award home
We now interrupt your round-the-clock coverage of Albert Pujols taking batting practice at training camp to bring you this very important distraction. I have to be honest, I've been so bogged down providing roster analysis and player profiles for the last several weeks that I feel the need to shake things up a bit.  This will probably be the least important thing you read about...
LOS ANGELES (CBS) - When the Los Angeles Angels acquired Albert Pujols, it set off a chain reaction throughout Orange County and put everyone on the team on notice that the direction was changing a little. However, it also meant that some players were going to be left out. With Pujols taking over at first base, Mark Trumbo moving to third base, Albert Callaspo platooning with him...
Although the runner-up for American League rookie of the year last season, he has been forced out of first base because of the team's acquisition of Albert Pujols, but looks at learning to play third base as a challenge.Dec. 8 was a day of celebration for the Angels. That's when they signed first baseman Albert Pujols, considered one of the greatest hitters in baseball history.
MLB News

Delivered to your inbox

You'll also receive Yardbarker's daily Top 10, featuring the best sports stories from around the web. Customize your newsletter to get articles on your favorite sports and teams. And the best part? It's free!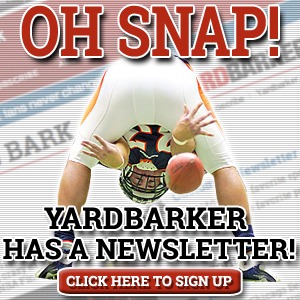 Latest Rumors
The Backyard

Today's Best Stuff

For Bloggers

Join the Yardbarker Network for more promotion, traffic, and money.

Company Info

Help

What is Yardbarker?

Yardbarker is the largest network of sports blogs and pro athlete blogs on the web. This site is the hub of the Yardbarker Network, where our editors and algorithms curate the best sports content from our network and beyond.