Found March 15, 2012 on Fox Sports Florida:
PORT CHARLOTTE Getting cut in spring training was never anything like this. Before a crowd of smiling and cheering spectators, the Tampa Bay Rays' roster got trimmed in a most unusual fashion Thursday morning with the hair of players, coaches, staff and manager Joe Maddon cascading onto the Charlotte Sports Park boardwalk. Donning yellow T-shirts with the message "Fortune Favors The Bald, the Rays parted with their locks in a symbolic show of support for children batting cancer with all proceeds benefitting the Pediatric Cancer Foundation and the Vincent Lecavalier Pediatric and Blood Disorders Cancer Center at All Childrens Hospital. In all, 37 uniformed Rays and another 34 members of the front office took their seats in a handful of barber chairs lining the boardwalk and gladly did their part to help raise funds for pediatric cancer research. Leading the way was Maddon, whose wavy, auburn-dyed hair was among the first to be shorn. Team barber Wilbur Bonilla calmly mowed through Maddons mop a frequent topic of discussion and target of ribbing over the past few months until only a layer of close-cropped white hair covered his head. Thats a nice melon, quipped pitching ace James Shields, moments before saying goodbye to much of his thick, curly brown hair. Maddon even poked a little fun at his recent hairstyle. All this other hair shenanigans has been going on long enough, he said as Bonilla ran electric clippers over his scalp. Fans quickly gave Maddon the thumbs up when he displayed his clean-cut look, more in line with his familiar flat-top look he sported prior to growing his hair out last year. His kidding aside, the two-time AL manager of the Year has enthusiastically embraced the head-shaving mission, ever since the idea was broached to him over the winter by Tampa Bay Lightning captain Vinny Lecavalier. Maddon quickly got his players and other members of the organization involved, with the list of volunteers growing all week long and culminating with the surprise front-office participation Thursday of owner Stuart Sternberg, president Matt Silverman and executive vice president of baseball operations Andrew Friedman. The primary thing is that were doing this for pediatric cancer thats the reason why were out here, the Rays skipper said. The moment Vinny Lecavalier asked, I wanted to jump on board with this. But I thought it would be a great time to get the rest of the group involved get our players involved in the cause and (show) empathy for the victims as well as the family members, because it impacts everybody. From that perspective, I thought it was obviously worthwhile. The selfish side of things is the galvanizing effect it could have on a group of players and team. As for his new, streamlined hairstyle, Maddon remarked, I was about ready for something different, so it all came at the right time. Its getting kind of cold outside. Two hours earlier, Maddon spoke to the media on the field about the impending event and the growing list of by Rays players pledging to join in. We have a couple on the fence still, he said. We have more recruits this morning, but I think there are going to be some game-time decisions. Indeed there were, as the expected two dozen or so Rays planning to lighten their load on top mushroomed. Players streamed in non-stop along with coaches like Dave Martinez, Tom Foley, Jim Hickey, Derek Shelton and Don Zimmer. I dont have to go to Jupiter now (for the Marlins trip) that was the trade-off, Martinez joked. It feels good, added Foley, his salt-pepper coif cut short. Westy (equipment manager Chris Westmoreland) is gonna have to hand out new hat sizes. Minutes later, Sternberg worked his way into the crowd wearing a yellow T-shirt, ready to let the clipping commence. It feels nice, nice and cool, he remarked when the job was done. I dont think youd want to do this in January, but it works this time of year. And how did he think his manager looks with the new do? After that look he had going on, great, Sternberg said, smiling. Star third baseman Evan Longoria came into camp sporting a buzz cut, but he showed up to get an even closer trim. Were here to support the people who are battling through this, Longoria told Rays play-by-play man Dewayne Staats, who was roaming through the pack to do instant commentary and impromptu interviews. Shields took a peek at himself in a hand-held mirror. I feel nice and refreshed, he said. Like I said, its a good cause. This is what its all about. This is what the Rays are all about. And its nice to come out here and do this. It was especially nice for the children dealing with cancer and their families a number were in attendance Thursday, such as Donna Desantis of Palmetto and her three young children, including 6-year-old Matthew, suffering from acute lymphoblastic Leukemia. To see the players and the Rays support our children like this is just amazing, she said. Its such a hard thing for the children to go through and experience the changes and the sickness and the hair loss. So for them to see their idols doing this so valuable. Desantis immediately wanted to bring Matthew and her kids to the event when she read about it, but she wasnt sure what steps to take. So a friend Mark Bursik went on to his Twitter account and took a shot at tweeting Maddon a message to ask if Desantis could bring her children. To Bursiks surprise, Maddon tweeted back and helped pave the way to make it happen. I did talk to several families and thats really emotional, Maddon said. I met one grandmother out there, and being a grandfather, I get it. Her grandchild and her child are being impacted Its an emotional thing and touches everybody, so Im really proud of our guys and the front office. The Rays werent the only ones supporting the mission Thursday. The club invited members of the public to participate as well, getting their hair shaved off for a donation of 100. By mid-afternoon, more than 5,000 had been raised in on-the-spot donations and donations at pcfcutforacure.org combined, and more money was being raised by encouraging the public to text "CUT" to 50555 to make a 10 pledge. I think that any time Joe Maddon steps up for a cause, people follow him, but Ive never seen anything like this before, said Nancy Crane, executive director of the Pediatric Cancer Foundation in Tampa. The players, the staff and the management of the Rays really reach out for a cause. They have good hearts. This is an important time of the season for them, but to take off those blinders for a little while is really incredible. Were very, very fortunate and honored. For Maddon and the Rays, you could say it was a shear pleasure.
Original Story:
http://www.foxsportsflorida.com/03/15...
THE BACKYARD
BEST OF MAXIM
RELATED ARTICLES
PORT CHARLOTTE, Fla. Reid Brignac looks at the numbers attached to his name from 2011 and still has trouble making them all add up. His offensive struggles the .193 batting average, the five total extra-base hits for the entire season followed a promising rookie season with the Tampa Bay Rays and a highly touted minor-league career as a shortstop with a big-league future. But...
BALD IS BEAUTIFUL
Seventy-one members of the Rays organization, from executives to players, including manager Joe Maddon and star Evan Longoria, had their heads shaved for the Tampa Bay charity Cut for a Cure.
When Joe Maddon announced last week that he would be shaving his head to pay tribute to children with cancer, he vowed to recruit as many of the Rays players and front office members as he could to participate with him. From the look of it, Maddon did a tremendous job. The head shaving commenced Thursday morning as several Tampa Bay players, coaches, and front office workers went...
Tampa Bay Rays outfielders B.J. Upton and Desmond Jennings escaped serious injury after colliding while chasing a fly ball during a spring training game in Port Charlotte, Fla., against the cross-state rival Marlins on Wednesday. According to a report on ESPN.com, both players were chasing a fly ball by Miami's Austin Kearns in the bottom of the fourth inning when they collided...
The Tampa Bay Rays were, almost literally, all in on raising money for pediatric cancer research. Manager Joe Maddon hatched the idea to shave his head, and invited his team to join him, in an effort to raise money and awareness for the Pediatric Cancer Foundation. Oh, they joined him all right: Seventy-one Rays in all, including players and lcub personnel, succumbed to the razor...
There aren't many mainstream writers out there that are willing to tackle sabermetric concepts with players, so I have to give Marc Topkin from the the Tampa Bay Times a tip of the hat for mentioning BABIP to Jeremy Hellickson. Not only did he mention a sabermetric statistic to a player, but he brought one up that makes Hellickson look bad: "Yea, I just got lucky on the mound...
Tampa Bay Rays' star outfielders BJ Upton and Desmond Jennings were involved in an outfield collision in today's game against the Miami Marlins. Austin Kearns hit a fly ball to deep left center, and both outfielders chased after the ball. Right when it appeared that Upton had made the catch, Jennings collided with him and the ball fell free. Kearns went all the away around...
Author: Andrew SwansonAs a 7 foot tall outfielder who kills Yankees and Red Sox by the hundreds with fireballs from his eyes and bolts of lightning from his arse, Sam Fuld burst onto the fantasy baseball landscape with a 4-6 performance against the rival Sox, including two doubles and a home run. The legend of Sam Fuld spread across the internet like a sneezing Panda video on YouTube...
Author: Andrew SwansonThe Tampa Bay Rays have been busy this offseason, trading Matt Garza to the Cubs and Jason Bartlett to the Padres for a handful of prospects.  Although the loss of Garza may upset some Tampa fans, it likely opens the door for the highly touted Jeremy Hellickson to become part of the team's starting rotation.  Hellickson was drafted right of high school...
PORT CHARLOTTE, Fla. (AP) -- Spring training invitees Juan Pierre and Joel Pineiro helped their cases for making the Phillies, with solid starts for a Philadelphia split squad in a 6-6 tie with the Tampa Bay Rays on Wednesday. Pierre, a speedy outfielder, had two hits, two RBIs and scored twice -- all in the first two innings for the Phillies. Pineiro started for Philadelphia, allowing...
MLB News

Delivered to your inbox

You'll also receive Yardbarker's daily Top 10, featuring the best sports stories from around the web. Customize your newsletter to get articles on your favorite sports and teams. And the best part? It's free!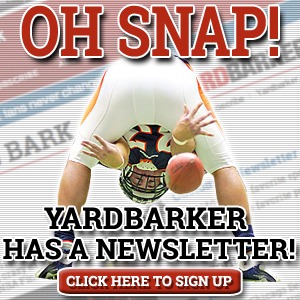 Latest Rumors
The Backyard

Today's Best Stuff

For Bloggers

Join the Yardbarker Network for more promotion, traffic, and money.

Company Info

Help

What is Yardbarker?

Yardbarker is the largest network of sports blogs and pro athlete blogs on the web. This site is the hub of the Yardbarker Network, where our editors and algorithms curate the best sports content from our network and beyond.