Posted March 27, 2013 on AP on Fox
PLAYERS:
Joe Maddon
,
Evan Longoria
,
James Shields
,
Wade Davis
,
BJ Upton
,
Carlos Pena
,
James Loney
,
David Price
,
Yuniel Escobar
,
Kelly Johnson
,
Wil Myers
,
Jeremy Hellickson
,
Alex Cobb
,
Matt Moore
,
Fernando Rodney
TEAMS:
Tampa Bay Rays
,
Baltimore Orioles
,
Boston Red Sox
,
Kansas City Royals
,
Atlanta Braves
,
Houston Astros
,
New York Yankees
,
Toronto Blue Jays
The budget-conscious Tampa Bay Rays relish the challenge of finding ways to remain competitive in the rugged AL East. Three playoff berths and one trip to the World Series over the past five seasons speak to the type of job manager Joe Maddon and executive vice president of baseball operations Andrew Friedman have done despite operating within the constraints of one of the lowest payrolls in baseball. That's not easy while playing nearly half your games against the New York Yankees, Toronto Blue Jays, Baltimore Orioles and Boston Red Sox - teams with much deeper pockets. ''In our opinion, it's the toughest division in all of professional sports,'' said Friedman, who faced the task of replacing several key players this winter while the Blue Jays were spending generously to improve a roster that could be poised to battle to Rays, Yankees and Orioles for supremacy in the East. ''You can debate who's going to be first through fifth, but I think there's a very legitimate argument that's there's going to be five teams who win 81 or more games,'' Friedman said. Despite making a huge commitment by signing star third baseman Evan Longoria to a $136.6 million, 10-year deal that added six seasons and $100 million to the slugger's contract, the Rays will start this season with a payroll of just over $60 million - a meager number that owner Stuart Sternberg says is still above the team's means, considering Tampa Bay ranked last in home attendance in 2012. Nevertheless, Friedman made several moves that he and Maddon are confident will help the Rays withstand the loss of pitchers James Shields and Wade Davis, outfielder B.J. Upton and first baseman Carlos Pena and return to the playoffs after a one-year hiatus. James Loney was signed as a replacement for Pena, Desmond Jennings shifts from left to center field to make up for the loss of Upton defensively, and one the best young pitching rotations in baseball - led by AL Cy Young Award winner David Price - figures to keep Tampa Bay near the top of the standings. Maddon thinks the addition of shortstop Yunel Escobar and second baseman Kelly Johnson will improve the middle of the infield defensively. Plus, the Rays are confident the jewel they got in the big trade with Kansas City, young outfielder Wil Myers, will soon be in the majors in a big way. ''Andrew understands the ramifications of running a payroll well above our means - what it means to the future, and what it means relative to what we've done in the past,'' Sternberg said during his annual visit to spring training. ''But obviously, if there's a move to be made that we feel significantly improves the team and puts us in a position play September baseball that's meaningful, then we're going to do everything we can to make that happen.'' Price went 20-5 with a 2.56 ERA a year ago and will be counted on even more with Shields, the franchise's career leader in wins, starts and innings pitched, now in Kansas City. He has plenty of help, though, with right-handers Jeremy Hellickson and Alex Cobb and lefty Matt Moore eager to take some of the burden off the ace of the staff. Not that Maddon is looking for anyone to carry more than his fair share of the load. ''I'm not a big believer in stepping up. I'm not a believer in that phrase. I'm more a believer in a guy's natural maturation, ascending to the next level and become a starting pitcher who's able to pick up 20 or 25 more innings this season,'' Maddon said. ''I don't want them to think they have to do great. Just be good. Be yourself. I don't think that's a reach with any of these guys.'' A solid bullpen is anchored by Fernando Rodney, who posted a club-record and career-high 48 saves in 50 opportunities while setting a major league record for a reliever working a minimum of 50 innings with a 0.60 ERA last season. After helping the Dominican Republican sweep through the World Baseball Classic this year, the 36-year-old closer seems poised to have another good season. ''It's going to be nearly impossible to repeat that, but I think he can be pretty close,'' Maddon said. Just as important will be keeping Longoria in the lineup. The three-time All-Star was limited by a partially torn left hamstring to just 74 games last season. The Rays struggled offensively and defensively in his absence, going 47-27 with their star in the starting lineup, compared to 41-44 without him. Maddon hopes to keep Longoria fresh by giving him occasional days off and also utilizing him periodically as the designated hitter. ''Our goal definitely is not to be watching everybody else play at the end of the year,'' the manager said, adding that keeping Longoria healthy will be one of the keys to having a shot at playing deep into October.
Original Story:
http://msn.foxsports.com/mlb/story/Ra...
THE BACKYARD
BEST OF MAXIM
RELATED ARTICLES
TERRIFIC IN TROPICANA
Tampa Bay Rays pitcher David Price announced on Twitter that he'll be on the lookout for fans in Rays gear and will be giving away 100 tickets to the season opener.
For the Tampa Bay Rays, this past offseason was one of addition and subtraction, of gains for the future and losses for the present. On the plus side, they locked up third baseman Evan Longoria with a handsome six-year, 100 million extension that solidifies the former junior college transfers place as an elite presence in the major leagues. However, they lost center fielder B.J....
Jamey Wright signed a minor league deal with the Tampa Bay Rays over the winter. On Tuesday it was announced that the 38-year-old had won a spot in the bullpen to start the season. Wright has made several teams opening day rosters after being a non-roster invitee to start the spring. The Rays figure to use Wright in low pressure situations. This spring the right-handed Wright has...
It's pretty sad that a perennially competitive team like the Tampa Bay Rays can't even sell out on Opening Day. Rays pitcher and last season's Cy Young award winner David Price, is doing everything within his power to ensure that his team has strong home support when they open up their season against the Baltimore Orioles on Tuesday. In a story via Yahoo Sports, Price went...
If you've been following BC, the name Laura McKeeman should ring a bell. We crowned her the next Erin Andrews back in 2011. Then she became Miss Florida 2012. Then, to cap it all off, she left her post with the Rays and became the sideline reporter for the Padres. Kelly Nash is her replacement in Tampa. Lets just say the Rays didn't miss a beat. Nash, who used to cover the University...
By ANDREW ASTLEFORDFOXSportsFlorida.com World Baseball Classic champion? Check. Premier major-league closer? Check. Someone who can cut the rug? Check. Tampa Bay Rays closer Fernando Rodney is versatile in more ways than one. Hes a force on the mound, no doubt, having earned 48 saves with a 0.60 ERA last season. His skills translate to the international stage, where he helped lead...
SARASOTA, Fla. (AP) -- It's unusual for an opening day starter to have his final outing of spring training come against the first opponent of the season. David Price, however, is not a typical pitcher. The reigning AL Cy Young Award winner breezed through four scoreless innings Thursday night as the Tampa Bay Rays and Baltimore Orioles tied 4-4 in a game called after 10 innings...
CLEARWATER, Fla. (AP) -- Freddy Galvis homered and drove in three runs to lead the Philadelphia Phillies over the Tampa Bay Rays 10-1 Tuesday. Galvis, who hadn't played an inning in the outfield in six professional seasons, made his first start of spring training in left field, a position where the Phillies do not have a set opening-day starter. The 23-year-old Galvis, usually...
As the Phils get close to finalizing their 25 men roster before heading north, the batters support a good performance by the pitching staff, as they crush the Rays, 10-1. The Rays scored first in the third as, with one man on, and with two men out, Sean Rodriguez hits an RBI double, scoring Jason Bourgeois, who had earlier singled, giving the Rays a 1-0 lead, before going on to third...
PORT CHARLOTTE, Fla. (AP) -- Colby Rasmus hit a grand slam that capped a six-run rally in the eighth inning off Kirby Yates and the Toronto Blue Jays defeated the Tampa Bay Rays 6-1 Wednesday. Jeff Niemann, still uncertain whether he will be in Tampa Bay's rotation to open the season, made a final statement in his favor, pitching six scoreless innings of two-hit, no-walk ball...
Strong offensive performances from Freddy Galvis and Domonic Brown today led the Phillies to a 10-1 victory of the Tampa Bay Rays in Clearwater. Brown continues to bat like an All-Star and new outfielder Galvis hit like an outfielder to give the Phillies a win. Brown just continues to rake...
MLB News

Delivered to your inbox

You'll also receive Yardbarker's daily Top 10, featuring the best sports stories from around the web. Customize your newsletter to get articles on your favorite sports and teams. And the best part? It's free!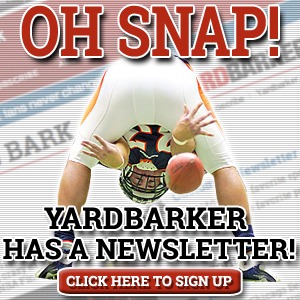 Latest Rumors
The Backyard

Today's Best Stuff

For Bloggers

Join the Yardbarker Network for more promotion, traffic, and money.

Company Info

Help

What is Yardbarker?

Yardbarker is the largest network of sports blogs and pro athlete blogs on the web. This site is the hub of the Yardbarker Network, where our editors and algorithms curate the best sports content from our network and beyond.