Found March 21, 2013 on Fox Sports Florida:
PLAYERS:
Fernando Rodney
,
Jose Molina
,
James Shields
,
Joe Maddon
,
David Price
,
Matt Moore
,
Jeremy Hellickson
,
Alex Cobb
,
Jeff Niemann
,
Roberto Hernandez
,
Cesar Ramos
,
Ben Zobrist
,
Adam Jones
,
Shane Victorino
TEAMS:
Tampa Bay Rays
,
Baltimore Orioles
,
Kansas City Royals
,
Boston Red Sox
,
Toronto Blue Jays
PORT CHARLOTTE, Fla. There is little that seems improbable for Fernando Rodney as a countdown continues toward Opening Day. His World Baseball Classic display of force is a point of nationalistic pride for the native of Samana, Dominican Republic, but its also a warning salvo to the rest of the American League East about what could come if his health cooperates. About a minute into speaking for the first time at Charlotte Sports Park since arriving back from his final moon shot in San Francisco, Rodney slipped on a red-and-blue Dominican Republic cap, tilted the bill to his left and spoke about how what occurred in his countrys colors could be a preview. If results similar to his WBC production follow in a Rays uniform, the right-handed closers season will be another blockbuster: He appeared in all eight of the Dominican Republics victories, earning seven saves and striking out eight in 7 13 innings. Rodney's unknown ahead: How will the WBC cameo affect his play for Tampa Bay? He, predictably, insists that his short absence from southwest Florida wont be an issue. For now, the Rays have reason to be eager about what his mastery of international competition could mean for them. Still, exercising caution would be wise. Im ready to go right now for the season, Rodney said Thursday, before the Rays 3-1 loss to the Toronto Blue Jays. I feel good. I started (preparing) last year, in November. I started working because I wanted to represent my country 100 percent. I feel ready to go. Theres not much room to argue with him. Appropriately, the WBCs final seconds Tuesday night morphed into a team-wide tribute to Rodney. After the closer struck out Puerto Ricos Luis Figueroa on an 83-mph changeup, clinching a 3-0 victory, teammates poured onto AT&T Parks mound to shoot the moon with a player whose game is peaking less than two weeks before the season opener against the Baltimore Orioles. Study of Rodney goes beyond magic plantains (@Magic_Plantain) and other hocus pocus. Were observing a renaissance, uncommon focus from someone who has rejuvenated his career. Rodney, in a somewhat surprising turn, appears to have enjoyed an ascent with age. The 36-year-old posted career numbers in 76 appearances last season a 0.60 ERA with 48 saves in 74 23 innings and it will be curious to see if he can push past those totals in his second season with the Rays. He was tough to everybody, said Rays catcher Jose Molina, part of a Puerto Rico team that lost three times to the Dominican Republic in the WBC. He pitched well. He showed it last year, and he continued to improve. I dont see him backing down. If he doesnt, Tampa Bay will benefit. Theres uncertainty about how the Rays will replace former workhorse James Shields rotation-high 227 23 innings from last year, so a consistent option on the mound with a lead late will make quality starts more valuable. Yes, a trusted closer is a security blanket. But hes also a license to have peace of mind, which manager Joe Maddon could use as his process sorts out life without Big Game James. Along the way, the task for David Price, Matt Moore, Jeremy Hellickson, Alex Cobb, Jeff Niemann andor Roberto Hernandez will be simple: Do whats necessary to place the ball in Rodneys skilled hand then watch one of the games most disciplined minds on the mound work. Nothing different than what we saw all of last year, said Rays reliever Cesar Ramos, who pitched for Mexico in the WBC. He was just himself. We saw him throw the arrow 40-something times last year. I guess hes pretty warmed up and ready to start launching it this season. Perhaps, but theres still a potential pitfall after Rodneys WBC effort. Arms can be finicky tools, their margin for error at times small, and wear on Rodney is a legitimate worry for Maddon and his staff as the season progresses. The manager emphasized the issue earlier this week, telling reporters weve got to watch him and that a physical impact from Rodneys WBC performance is probable. Certainly, responsibility for keeping Rodney healthy will fall on Maddon and his staff. (The Rays have planned a five-to-six-day break for Rodney.) But part of the watch, believe it or not, will fall on Rodney as well. No, I dont feel any problems, Rodney said, when asked if hes worried about problems late in the season. I feel great. I dont think about September. I think about staying healthy. For the Rays, a healthy Rodney in a pennant race would be a formidable weapon. Ben Zobrist saw as much during the WBC, in the bottom of the ninth inning of the Dominican Republics 3-1 second-round victory over the United States on March 14, when he was called out on strikes in a seven-pitch sequence after a crisp 96-mph fastball from his Tampa Bay teammate. That night, the most impressive part about Rodneys showcase was this: He had Zobrist beat mentally before the first pitch. On Thursday, the Rays infielderoutfielder admitted that he knew it would be difficult for Team USA to score at least two runs on the closer in that situation. Rodney, composed and confident, responded in predictable fashion by retiring Adam Jones (fly out) and Shane Victorino (pop out), in addition to dispatching Zobrist. Hes been phenomenal for anybody that he puts a jersey on for lately," Zobrist said.Right now, after a WBC display of force to remember, that development bodes well for the Rays. However, results of his true test durability, sustainability in what could be a tight AL East race wont be known for months. Stay tuned. You can follow Andrew Astleford on Twitter @aastleford or email him at aastleford@gmail.com.
Original Story:
http://www.foxsportsflorida.com/mlb/t...
THE BACKYARD
BEST OF MAXIM
RELATED ARTICLES
AL BEast Notebook – March 20 - Rays closer Fernando Rodney saved the eighth and his seventh game for the Dominican Republic as the DR beat Puerto Rico in the World Baseball Classic Championship on Tuesday night. Rodney gave up just one hit in those seven scoreless performances. - The starting rotation is starting to shape up. Pitching prospects Chris Archer and Jake Odorizzi were...
I want to read a redemption story about Josh Lueke.  I do. Most of my friends and colleagues would rather never hear or read his name again, and I get that, and honestly, I'd be more than okay with that. But a redemption story would be pretty cool.  I mean, a real one. Not this *********.  The thing is: what we know of the available evidence pretty strongly suggests...
PORT CHARLOTTE, Fla. The time for a decision is drawing close, and right-hander Roberto Hernandez knows each outing with be inspected with careful attention. He remains in a race for the fifth rotation spot with right-hander Jeff Niemann, the innings for both gaining more importance with each day. On Thursday, in the Tampa Bay Rays 3-1 loss to the Toronto Blue Jays, Hernandez made...
BRADENTON, Fla. (AP) -- Ben Zobrist homered leading off a three-run sixth inning Friday for Tampa Bay, but Stefan Welch hit a three-run homer in his first spring training at-bat to help the Pittsburgh Pirates beat a split squad 6-4. Welch, a third baseman who played last season at Double-A, hit a towering shot to right field off Dane De La Rosa. The Rays scored three runs to take...
PORT CHARLOTTE, Fla. (AP) -- Jonathan Schoop, still fresh off his stint with the Netherlands in the World Baseball Classic, went 3 for 4 with three RBIs, including a go-ahead two-run home run in the sixth, to lead the Baltimore Orioles to a 6-3 victory over a Tampa Bay Rays split-squad on Friday. Rays third baseman Evan Longoria continued his spring surge with a bases-clearing double...
Jeff Niemann thinks people get the wrong idea about the kind of pitcher he is. Because he is a very large man who drew attention in college for throwing mid-90s out of the Rice bullpen, he is often perceived as a power arm forced down a few miles per hour after shoulder surgery. However, Niemann said that was never him. He believes that even in his college days, he was his most...
Ben Zobrist homered leading off a three-run sixth inning Friday for Tampa Bay, but Stefan Welch hit a three-run homer in his first spring training at-bat to help the Pittsburgh Pirates beat a split squad 6-4. Welch, a third baseman who played last season at Double-A, hit a towering shot to right field off Dane De La Rosa. The Rays scored three runs to take a 4-3 lead in the sixth...
Robinson Cano, Jose Reyes and Fernando Rodney of the champion Dominican Republic have been chosen to the all-World Baseball Classic team. The squad was announced Wednesday. Fans and media combined to pick the team sponsored by MetLife. Cano hit .469 and was the tournament MVP. The New York Yankees' second baseman hit two homers and drove in six runs as the Dominicans went 8...
The Dominican Republic has prevailed against team Puerto Rico to win their first World Baseball Classic. They became the first team to go completely undefeated during the tournament and were utterly dominant. Closer Fernando Rodney pitched in every game and didn't give up a single run, recording 8 saves. Two Indians started in this game with Mike Aviles going 1/4 as Puerto Ricos...
MLB News

Delivered to your inbox

You'll also receive Yardbarker's daily Top 10, featuring the best sports stories from around the web. Customize your newsletter to get articles on your favorite sports and teams. And the best part? It's free!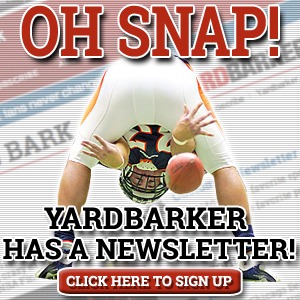 Latest Rumors
The Backyard

Today's Best Stuff

For Bloggers

Join the Yardbarker Network for more promotion, traffic, and money.

Company Info

Help

What is Yardbarker?

Yardbarker is the largest network of sports blogs and pro athlete blogs on the web. This site is the hub of the Yardbarker Network, where our editors and algorithms curate the best sports content from our network and beyond.