Found January 26, 2013 on NorthWest Sports Beat:
PLAYERS:
Josh Hamilton
,
Nick Swisher
,
Justin Upton
,
Mike Cameron
,
Ken Griffey
,
Russell Branyan
,
Raul Ibanez
TEAMS:
Seattle Mariners
,
Los Angeles Angels
,
Cleveland Indians
,
Atlanta Braves
,
Boston Red Sox
,
New York Yankees
Northwest C-R-A-P It is no secret that the Mariners need a lot of crap to pull together a respectful season.  Actually, crap is the one thing that they don't need at all.  The Mariners have been a crappy ball club for the past decade. Some of the only quality stuff they have put out there are their commercials.  And last year, even that was debatable. It was encouraging early in the offseason to hear the Mariners being touted as the favorites in the pursuits for high profile difference makers like Josh Hamilton, Nick Swisher and Justin Upton. However with only a few more weeks left until the Mariners hit Peoria, all that have arrived are a bunch of veteran risks. For the first time I think that General Manager Jack Z had the backing of the ownership group to spend some legitimate money to pull in someone that could indeed make the difference that they needed.  But nothing happened. I don't think it's his fault. Free agents don't want to play for Seattle. Do you know why? 1. Seattle is stuck in the past. While every club praises their best performances of the years, the Mariners gravitate to those moments as if they happened yesterday.  The truth is that the magic season of 1995 was 12 years ago and the Mariners haven't been a legitimate threat since they won 116 games in 2001. Most of the players coming into the major leagues now aren't even old enough to remember a time Seattle was good.  They don't want to be a part of a painful past.  They want to be a part of a legend. Seattle is shrouded in the clouds of rain and doubt. That is something Seattle doesn't even look close to offering. 2. Seattle is kinda bleh. Even though Seattle is a beautiful city, it is shrouded in the clouds of rain and doubt.  This is both literal and metaphoric.  The local weather is a challenge and so is the ownership group.  The majority owner has never even seen his team play. (Even when they traveled to the other side of the world and played in his native Japan.)  Who wants to be a part of an organization that is gray and dreary all the time?  Case in point. Almost every veteran that has come through here watches his numbers plummet.  This could be the ballpark dimensions, but I think most players see it for what it is beyond that. Instability in leadership that affects the mental game. 3. Seattle doesn't pay The Mariners lose out on chances to sign the difference makers because they can't compete with the other teams offering up the moon for mediocre players.  The Angels are the worst at this at the moment.  Unfortunately, the Mariners are living in their shadow, and will continue to be a plaything for the rest of the division if they don't do something soon. All thats left for Jack Z? Players that know the team and don't have all these preconceived notions what the Seattle club really is.  Those that have played here before genuinely feel attached to the fans and the organization.  Mike Cameron loved Seattle so much he signed a one day contract to ensure he could retire as a Mariner. But here is the thing. If all Jack has to really work with are those players in the league that give a crap then that means he would only be left with the shells of former good athletes such as: Ken Griffey Jr (2009) Russell Branyan (2010) Miquel Olivo (2011) George Sherill (2012) Raul Ibanez (2013) Does that crap sound familiar? No wonder free agents don't want to come here.  No one wants to smell like crap. CLICK HERE TO CHECK OUT THE SEATTLE MARINERS CLUBHOUSE AT NWSB!
Original Story:
http://www.nwsportsbeat.com/mariners/...
THE BACKYARD
BEST OF MAXIM
RELATED ARTICLES
A Mariners Legend Earlier this week, the Seattle Mariners released the news that Ken Griffey Jr. would be added to the Mariners Hall of Fame.  Griffey will be the seventh member of the most elite members of the Seattle franchise. The Mariners Hall of fame was formed in celebration of the club's 20th anniversary in 1997.  Since that time, other members have slowly been added...
Not long ago, the rumors began to swirl about a possible four-year contract extension for Seattle Mariners ace Felix Hernandez.  After his dominating performances over the last few seasons, it would make sense for the Mariners to try to lock him up for as long as possible.  However, Hernandez may not be interested in such an extension. Jon Heyman of CBS Sports says Hernandez...
The Seattle Mariners have imported a number of players who could see time at first base this season: Kendrys Morales, Raul Ibanez and Mike Morse. Plus, holdover Mike Carp has spent the bulk of his career as a first baseman. Most of the playing time, however, will go to the man who was the opening day first baseman last year, Justin Smoak. Manager Eric Wedge said he sees Smoak...
The Seattle Mariners have started to address one concern before to spring training by signing catcher Ronny Paulino to a minor league deal with an invite to the major league camp. The Mariners announced the deal Friday. Paulino is the 19th invite to major league spring training on top of the 40-man roster. Paulino, 31, spent last season in Baltimore, playing 20 games with the Orioles...
While 2012 was a frustrating year for the Seattle Mariners, it was also necessary. Jack Zduriencik and Eric Wedge are committed to this young Mariners team and they believe that championship level success is right around the corner. The playoffs may be hard to attain this year, but here are 5 reasons why this club will be much more formidable this year.  1. Offseason acquisitions...
Contract talks between the Seattle Mariners and their star pitcher, Felix Hernandez, have stalled, according to CBS Sports. Hernandez still has two years left on his current contract but both sides want to extend the deal. Seattle is reportedly looking to give Hernandez four additional years while Hernandez is seeking a six-year extension. A six-year deal would likely make Hernandez...
The Seattle Mariners and their ace pitcher, Felix Hernandez, have been dancing around the idea of extending the 26-year-old's contract another four years for $100 million. That would make King Felix the highest paid pitcher in baseball (CC Sabathia's contract also calls for a yearly pay of $25 million, but that doesn't kick in until [...]
MLB News

Delivered to your inbox

You'll also receive Yardbarker's daily Top 10, featuring the best sports stories from around the web. Customize your newsletter to get articles on your favorite sports and teams. And the best part? It's free!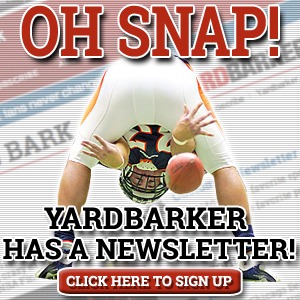 Latest Rumors
Best of Yardbarker

Today's Best Stuff

For Bloggers

Join the Yardbarker Network for more promotion, traffic, and money.

Company Info

Help

What is Yardbarker?

Yardbarker is the largest network of sports blogs and pro athlete blogs on the web. This site is the hub of the Yardbarker Network, where our editors and algorithms curate the best sports content from our network and beyond.