Found January 04, 2013 on World Series Dreaming:
We had our first official round table discussion with most of the crew this past Thursday. We have a lot to get to so let's just jump right in. Topic 1: What are realistic expectations for the Cubs in 2013? Anno Catuli: Well, I expect the Cubs to be better than they were last year. Hard not to considering we will have a full year of Rizzo and a much better starting rotation that is actually about secen men deep that being said, do not expect miracles, though in the NLC anything is possible Rice Cube: I think it would be statistically impossible to lose 100+ games two years in a row, but the Astros seem to have done it…the Cubs should be able to avoid losing 100+, anything else is gravy. The RLYW guys used CAIRO to project the Cubs at around 71 wins but that doesnt' take into account recent signings as well as the eventual midseason trades assuming the Cubs aren't within a few games of the second wild card. Should be better overall, but I doubt the Cubs win more than 75 games Gunther Dabynsky: I can't shake the feeling that this is a .500 ballclub as it sits right now. There is a ton of variance with this roster because no one can accurately predict what Matt Garza and Scott Baker are going to give you, especially at the beginning of the season. But the Cubs got a ton of ridiculous terrible outcomes from players last year, and the increased depth could make this a surprise team. However, just like last year a majority of draws could go against the club resulting in another 90+ loss season. That says nothing about the fact that the offseason isn't over. JosMin: As the roster is currently constructed, I'd say 75 wins would be a rousing success. The Cubs have some depth in terms of starting pitching. That is going to keep them in some games. Offense is still going to be a huge question mark, especially if the Cubs ship out Soriano. I'm most excited about a full year of Rizzo. One of the members noted he could transform into a left-handed Derrek Lee. If that happens, I'd be ecstatic. Ultimately, if Rizzo improves on last year and we get more sound production from Soriano, Castro and company, 75 wins doesn't seem far-fetched. Keep in mind — the offseason still isn't over. More moves could feasibly happen. Ivy: Overall this should be a better season than last. I don't expect anything great but I do see a better result. The starting pitching is definitely better and see that as being our strong point, not sure offensively, that is a toss up, players starting slow and so on… Jackson Scofield: Not .500, not 100 losses either. Another long season, except this time we won't have any big prospects coming up besides perhaps a resurgent Jackson or Vitters and of course Vizcaino. The biggest things to watch this year will be (obviously) the development of Castro, Rizzo, Samardzija, and Jackson, the pitching staff as a whole, and specifically Garza to see if he can regain some stock and net a good haul of prospects in a trade. Beyond that, the minor leagues should be more exciting with the now-local single-A affiliate in the Kane County Cougars, the Big 3 of Baez, Almora, and Soler, and the number 2 pick in the draft. I chimed in with some thoughts that echoed what everyone said here. There is a surprising amount of optimism, and the optimism itself is also rather curious. There doesn't seem to be a thought that the Cubs will realistically compete in 2013. This is the correct way to think about it. But there's also not a real strong sense that they are going to be flat out awful again. I think given the improvement in the run prevention department we can see real improvement in the club, albeit one that is capped by how many runs they can score. Overall, this is the level of optimism we are all working with: Anno Catuli: 2013 is going to be another long year. But with the pain, we should have some joy. Look the Chicago Blackhawks. As I am sure Ivy will agree, while the Championship was great, the best part of the Championship was watching the players grow before our eyes. I think we have the same treat in store for us with the Cubs Moving on… We discussed what Castro's upside is as a major leaguer. Anno Catuli: When it comes to Starlin Castro, we saw him take a step back offensively but make a few strides with his glove. The man can get to anything hit his way, his problem has always been this throws. I think he needs to stay at SS. At the moment he is an above average SS, because of his bat and his glove. If you move him to SS, you take away the above average at a position to move him someplace where he will be average. Not worth the change IMO Rice Cube: I got roped into a quick game of Clue so I'll just post mine: I imagine he'll have slightly better plate discipline, he'll learn more from his experience in the first few seasons, he'll be better on defense, and he sticks at defense because nobody who is close now is going to push him off of SS for now (not Junior Lake, and Baez too far away) Gunther Dabynsky: Castro has shown the various abilities needed to post an .850 OPS out of the SS position. The improvement of Castro on defense trhoughout the season, along with Soriano's, has to be the biggest feather in Sveum's managerial cap last year. I think he sticks at SS in the near future, but eventually he will have to move off the position. I just think that move happens a decade from now and not the near future. JosMin: People need to remember that Castro isn't even 23 yet and already has three full seasons under his belt. While his batting average dipped last season, he still hovered around .300, all while making a small step forward defensively. Still, he's a liability in the field. I expect him to once again sniff .300, while increasing his walks a bit. JosMin's offensive breakthrough for Castro? How about a 25/25 season. I think he very well could get it. Ivy: For Castro its more of a mental development. I think that working with Barney will help him inmensly. He was better in 2012, and definitely showed improvements from 2011. Jackson Scofield: I expect a "bounce-back" (though it really wasn't all that bad in 2012) season with more plate discipline, less aggressive approach, and more power. It is hard to talk about his potential when his ceiling is almost non-existent, we very well COULD be looking at a future hall of famer here. Regardless, we are looking at a guy who has been a two-time all-star in two full MLB seasons, and has yet to turn 23. Should be a perennial all-star. And yes, he will stick at shortstop, he has better range than almost anybody else in the league, and just needs to work a bit on concentration as the errors come mostly on "easy" plays. He also seems to be motivated by his mistakes sometimes, seeking redemption. I recall one play at Minnesota this season where he made an error, but then threw a runner out at home on the same play, actually putting us in a better position. (Understand the extremely small sample size of that, but worth a mention as a specific example). Josmin nailed it. Castro is a young dude and has shown a lot of ability to hit Major League pitching at a young age. He's a really talented player that still is learning because he has a lot to learn. Major League pitching is a *****. There were some interesting exchanges about what slash line values he should get to in order to be a valuable player, go and read it if you have the chance. It's after all the Robyn videos. We got into some of the Cuban guys that are making their way stateside: Jackson Scofield: If we were to theoretically sign both Diaz and Alvarez, we'd be looking at a farm like this: 1) Baez 2) Soler 3) Almora 4) Diaz 5) Vizcaino 6) Jackson 7) Vogelbach 8) Alvarez 9) Johnson 10) Maples 11) Szczur 12) Vitters Very deep JosMin: Well, value has been the theme of this offseason for the Cubs. As Anno pointed out, very low-risk, high-reward. Both of these guys have questions — neither are major league ready and are older than most prospects. From what I've read, Diaz's offense is 'almost there.' MRubio52: I think the important thing to remember if the Cubs do get Diaz is that he isn't a SS and it's almost a certainty that he shifts to third or plays a corner OFMRubio52: I think the important thing to remember if the Cubs do get Diaz is that he isn't a SS and it's almost a certainty that he shifts to third or plays a corner OF We hit up on some minor CBA stuff as well but it was mainly a mini scouting report on the players and what kind of money we think the Cubs are comfortable giving these guys. We got into some trade stuffz: Anno Catuli: Realistic trades will likely include seeing us send out Alfonso Soriano, Matt Garza and likely David DeJesus for young prospects. Not sure who the Cubs will get back for these guys, but I fully expect Theo to shop them to the highest bidder. Gunther Dabynsky: I think Garza to Texas makes the most sense once he shows he is healthy. I think getting one top prospect (Olt or Perez) would be a huge coup, but I have a real hard time pegging the value of Garza with the health questions. Jackson Scofield: Garza could net an Olt of Perez if healthy, otherwise maybe another high-risk type like Vizcaino. Soriano for Brown as has been proposed seems about right. DeJesus and Marmol could get us value, but nothing great. Baker is pretty much the same story It's pretty clear that Matt Garza is the most likely trade scenario. The Cubs acquired a lot of pitching this offseason and it just makes sense. JosMin: I think a team who didn't make a huge splash in free agency and really needed to (Baltimore, Seattle, Texas, among others) will look hard at what the Cubs have. Texas lost Hamilton — that's huge. What if they called about wanting to replace that offense (Soriano) and put another hammer behind Darvish (Garza)? They very well could land an elite prospect like Olt. For me, that'd be a home run for the Cubs. That's the most likely scenario IMO. We touched up a bit on whether or not the Cubs should trade Jeff Samardzija as well. Jackson Scofield:  It depends on if you expect Samardzija to continue to improve or if his perception around baseball is at its peak right now Anno Catuli: I think that teams are leary about him, since he has only had one full year of success as a starter. Might take one more year to gain any true value Gunther Dabynsky: There is a solid chance his value is at its highest right now, but I think unless you are blown away with an offer you have to roll the dice on him putting it all together JosMin: ****, I'd take Upton for Samardzija straight up…. We had this question: Comment From Tony Leva Which of the Cubs' big three prospects…Soler, Baez or Almora….would you like most to hit his ceiling as a player? The answer is Baez. And we had some bonus discussion about what a true ace is. Go and read it if you're interested. Thanks to all that participated, this was fun! We plan on doing another one next month.
Original Story:
http://worldseriesdreaming.com/2013/0...
THE BACKYARD
BEST OF MAXIM
RELATED ARTICLES
In 2002 the Cubs traded Dontrelle Willis, Julian Tavarez and two minor leaguers for Antonio Alfonseca and Matt Clement.11 years later, they get Willis back. What does it mean in the cosmic scheme?The big picture?The Cubs got Alfonseca and Clement for Tavarez!And that is crafty, my friend.A deal made in the 4th dimension.Way back when, I took a class called "3-D Design&quot...
When the offseason began, it was no mystery as to what the Chicago Cubs hoped to achieve. After watching their rotation completely fall apart after a couple of mid-season trades and injuries, they hoped to build up their rotation. And by all accounts they have done exactly that. The Cubs have built up a rotation that now goes seven deep, having signed four free agent pitchers....
The 2013 ZiPS projections have begun to come out at their new home on FanGraphs, and the Cubs projections were posted today.  The ZiPS projections are unique in that they not only project the major league roster, but also prospects as they would be in the major leagues if they were called up this year and recently retired players.  Most projections account for a full season of...
Dan Szymborski's ZiPS projections, which have typically appeared in the pages of Baseball Think Factory, will be released at FanGraphs this year. Below are the projections for the Chicago Cubs. Szymborski can be found on Twitter at @DSzymborski. Other 2013 Projections: Astros / Athletics / Giants / Nationals / Phillies / Rangers. Batters The Cubs are projected by ZiPS to have,...
The Chicago Cubs and right-handed pitcher Edwin Jackson have agreed to terms on a four-year contract.  A Cubs source said that the deal is for $52 million; including an $8 million signing bonus with annual salaries of $11 million per year. Jackson, 29, has pitched all or part of the last 10 major league seasons with the Los Angeles Dodgers (2003-05), Tampa Bay (2006-08), Detroit...
A person familiar with the situation says the Chicago Cubs are closing in on a minor league deal with left-hander Dontrelle Willis. The person, who spoke Friday on condition of anonymity because the agreement has not been finalized, says the deal does not include an invitation to major league camp for spring training. Willis, who turns 31 on Jan. 12, did not appear in a major league...
Matt Garza was oh-so-good in 2011. It wasn't the first time he'd had a strikeout rate over 8.00 K/9 or a walk rate under 3.00 K/9, but it was the first time he'd done them both in the same season. Toss in a career-best 46.3 GB% and you have the recipe for a banner season, and that's exactly what we saw with Garza and his 3.32 ERA. Last year he kept the strikeouts and ground...
And so begins the Edwin Jackson era. The Chicago Cubs held a press conference at the wintry confines of Wrigley Field yesterday to present their newest addition.  The 29-year old righty was handed a 4-year, $52-million contract, including an $8 million signing bonus. Looks more like Santa Theo left a huge gift under Jackson's [...]
A person familiar with the situation says the Chicago Cubs are closing in on a minor league deal with left-hander Dontrelle Willis. The person, who spoke Friday on condition of anonymity because the agreement has not been finalized, says the deal does not include an invitation to major league camp for spring training. Willis, who turns 31 on Jan. 12, did not appear in a major league...
It looks like Dontrelle Willis may not be retired after all.  The Chicago Cubs have signed the left-handed pitcher to a minor league contract.  Willis has not pitched in the Majors since 2011, and he recently announced his retirement.  However, it looks like that retirement was short-lived. According to Jon Heyman of CBS Sports, the Cubs signed Willis to a minor league deal...
The Chicago Cubs agreed to a minor league deal with left handed pitcher Dontrelle Willis according to Jon Heyman of CBSSports. Heyman adds that Willis has an invite to the Cubs' minor league camp, but if he's trowing well he could get a chance to pitch in the Majors. Willis, 30, went 0-3 with 8.53 ERA, 3.83 FIP, 5.7 K/9, 5.7 BB/9 and 0.0 HR/9 in 6.1 innings for the Orioles...
Scott Hairston, Vernon Wells, and Alfonso Soriano. Those appear to be the options the Phillies are now pursuing to upgrade the outfield. Not exactly Hamilton, Bourn, or Swisher, but when the hottest girls already have prom dates, you have to take whatever scraps are left. The Phillies want another right-handed outfield bat, but here are some reasons why these scraps are not worth taking.
MLB News

Delivered to your inbox

You'll also receive Yardbarker's daily Top 10, featuring the best sports stories from around the web. Customize your newsletter to get articles on your favorite sports and teams. And the best part? It's free!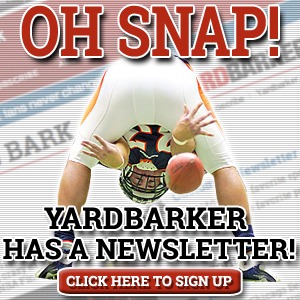 Latest Rumors
Best of Yardbarker

Today's Best Stuff

For Bloggers

Join the Yardbarker Network for more promotion, traffic, and money.

Company Info

Help

What is Yardbarker?

Yardbarker is the largest network of sports blogs and pro athlete blogs on the web. This site is the hub of the Yardbarker Network, where our editors and algorithms curate the best sports content from our network and beyond.