Found January 09, 2013 on Obstructed View OLD:
This is a fairly stat-heavy post, so please feel free to ignore it if that's not your bag. If you don't want to learn about stats, but still want to learn, this is a really cool site. This defies description. I trust that most people have realized at this point that a team's W-L record doesn't tell the whole story. A great case is this year's Colts; they scored fewer points than they allowed yet carried an 11-5 record. It's a part of baseball and life that sometimes things don't turn out the way statistics say they should (and in fact, it's much more interesting that the better team doesn't always win, or that the Orioles are allowed to make the playoffs once a decade).  There are many attempts to synthesize a more accurate rating system for a team. You've likely heard of Pythagorean W-L, in which a teams runs are taken to some exponent and divided by that same number plus that team's runs allowed to the same exponent. This is generally a pretty good way to get closer to a team's true W-L record. Clay Davenport has done some good work on this subject in the past. However, my problem with the stat is that it just isn't intuitive. It makes sense from an esoteric standpoint, but there don't seem to be baseball reasons why 1.73 is a better exponent to use than 1.78, except from a baseball fit standpoint. There are also regression models that one can use: for instance; the formula for a team's winning percentage last year was .500057 + .098455*RDPG (Run Difference Per Game) (current to 07/26 of last year, I gave up after the Cubs were so awful. Suffice to say, it does not change much). The Adjusted R-square for this formula was .732398. This is around as accurate a formula as I've found (I do the regressions in excel), but it's actually more esoteric. Eventually, I decided to come at it from a different angle. I asked myself what would happen if I compared the Cubs' run total game by game with how many runs they allowed in every game? First, an obvious caveat. What happens in game 52 is more-or-less dependent on what has already happened in game 52. While a bunt/sac fly is clearly not optimal in every case, in some cases it is more optimal then others, and so it may not be fair to compare game 52′s 4 runs with game 107′s 5 runs allowed (as those runs may have been reached in much different ways).  That being said, I think it does a pretty good job of telling you what a team's true talent level is. Essentially, you record the number of times a team has scored and allowed each number of runs. You then compare the two columns to see how often each run total would have won or lost. Then, once you have a winning percentage based on how many times each run total exceeded the number of runs allowed (in ties, you win 50% of the time), you calculate expected wins from the number of times each scenario actually occured.  For example: 2012 Cubs Scored Allowed Win% EffWins 0 16 9 0.028 0.4 1 24 19 0.114 2.7 2 16 20 0.235 3.8 3 25 23 0.367 9.2 4 25 16 0.488 12.2 5 24 17 0.590 14.1 6 8 8 0.667 5.3 7 8 18 0.747 6.0 8 7 10 0.833 5.8 9 2 9 0.892 1.8 10 1 7 0.941 0.9 11 1 3 0.972 1.0 12 3 1 0.985 3.0 13 1   0.988 1.0 14 1   0.988 1.0 15   1 0.991 0.0 16     0.994 0.0 17   1 0.997 0.0   162 162   68.2 The Cubs scored 0 runs a staggering 16 times. They obviously could only win a game in which their opponent scored 0 as well: that happened 9 times, so they win 4.5 of those games. 4.5/162 is a winning percentage of 2.8% (5.6% of the time your opponent will score 0 runs at the "end of regulation," and 50% of the time you win those games if you score 0 runs too), and 2.8% * 16 (the number of times this scenario occured) is ~ 0.4 Effective Wins. When the Cubs score 1 run, they usually don't win…but they would have any time they allowed 0 (and again, half of the times they allowed 1). The 24 times they scored 1 run resulted in around 2.7 Effective Wins. When you've solved that for every total the Cubs reached this year, you add up all the Effective Wins and get a reconstituted record. In this case, the Cubs were 68.2 and 93.8. That means they were unlucky last year, to the tune of 7.2 wins. This is where that caveat comes in. First, it's difficult to attribute all of those 7.2 wins to luck, because in many cases (where close games are concerned) bullpens and other circumstances have a much greater leverage than they would otherwise: in those cases, it might be disingenuous to assume each team wins half of their ties, for instance, or even win games in which they are 1 run ahead or behind at the same rate. Perhaps that team loses (or wins) as many as 55% of those close games (this seems EXTREMELY unlikely, but not unthinkable). In that case, you can perform a similar action to see how many of these games occur: 2012 Cubs Scored Allowed Win% EffWins "Close"% Eclose 0 16 9 0.028 0.4 0.2 2.8 1 24 19 0.114 2.7 0.3 7.1 2 16 20 0.235 3.8 0.4 6.1 3 25 23 0.367 9.2 0.4 9.1 4 25 16 0.488 12.2 0.3 8.6 5 24 17 0.590 14.1 0.3 6.1 6 8 8 0.667 5.3 0.3 2.1 7 8 18 0.747 6.0 0.2 1.8 8 7 10 0.833 5.8 0.2 1.6 9 2 9 0.892 1.8 0.2 0.3 10 1 7 0.941 0.9 0.1 0.1 11 1 3 0.972 1.0 0.1 0.1 12 3 1 0.985 3.0 0.0 0.1 13 1   0.988 1.0 0.0 0.0 14 1   0.988 1.0 0.0 0.0 15   1 0.991 0.0 0.0 0.0 16     0.994 0.0 0.0 0.0 17   1 0.997 0.0 1.0 0.0   162 162   68.2 3.9 45.9 As you can see, the Cubs played in 45.9 effective games where the score difference was -1 to 1. If instead of winning "50%" of those games (which this model does not believe; it is not centered about any win percentage in games decided by precisely 1 run in either direction), you could theoretically argue up to some number 45-55% of the time. That would give you a "margin of error" of around 2.25 wins. This won't always be the case (and there isn't necessarily a good reason to believe the 45-55% number), but it's good enough for this exercise.  Bringing it all back to the Cubs, I'd say that the Cubs "deserved" to win 68.2 games, with a +/- of 2.3 taking bullpen considerations and some nebulous clutchiness into account. For reference, the Cubs had a Pythagenpat (a further developed Pyth W/L) record of 65.2-96.8 and an actual record of 61-101. I'm not certain if my system is more or less accurate than the more refined methods out there, but it DOES seem intuitive to me, and it is almost certainly better than W/L.  This is a rating system that seems pretty new to me, so it's not well-tested or even necessarily well-thought out. If you've heard of this before, please let me know, along with any critiques of the system you might have. Hopefully this has been entertaining.    
Original Story:
http://www.obstructedview.net/theory/...
THE BACKYARD
BEST OF MAXIM
RELATED ARTICLES
The Cubs have signed Luis Valbuena for $930,000, which is about $930,000 more than he deserves. Then again, the Cubs have few options at 3rd so maybe Valbuena is worth $930,000. Valbuena hit .219/.310/.340 in 303 plate appearances with Chicago this past season while playing second base and third base. The 27-year-old was first time arbitration eligible as a super two player this...
According to Patrick Mooney of CSN, the Cubs added OF Brett Lillibridge and OF Darnell McDonald on minor league deals today with spring training invites. They also agreed to a $930K contract with Luis Valbuena, thus avoiding arbitration.   Check out the left sidebar for some of the other NRI's to spring training courtesy of Arizona Awesome.   Tags: Cubs Roster Moves
Despite the trade rumors already swirling around Chicago Cubs starter Matt Garza, the 29-year old righty says he will be ready for spring training.  Garza missed most of the second half of the 2012 season with an elbow injury.  The injury kept Garza off the trading block this winter and obviously killed any possible deals leading up to the July 31st deadline last year.  Now,...
Yesterday (January 7) was Alfonso Soriano's 37th birthday, so happy birthday to him! Fantasy owners who had the pleasure of drafting or adding Soriano off free agency last year should probably get him a gift. After all, Soriano only turned in his best season since 2008, halting what had been a three-year stretch of low batting averages and modest-to-underwhelming run and RBI totals...
Details of the 2013 Cubs Convention, Jan. 18-20 at the Sheraton Chicago Hotel & Towers were announced today. The 28th Annual Cubs Convention will feature more than 100 photo and autograph opportunities, new activities and traditional favorites during the three-day event. The Opening Ceremony is scheduled to begin Friday, Jan. 18, at 5 p.m., featuring player and alumni introductions...
Former Chicago Cubs slugger Sammy Sosa is just one of the many retired professional athletes that has tried to get their name back in the spotlight by joining social media. He joined Twitter (@TheRealMr609) back in October, and he has more recently taken his talents to the popular photo sharing/social network site, Pinterest. Naturally, hearing about Sammy Sosa joining Pinterest...
Infielder Luis Valbuena has agreed to a $930,000, one-year contract with the Chicago Cubs, nearly double the $495,200 he made last year. Valbuena , who avoided arbitration with Thursday's deal, has a .224 average in five big league seasons, including three with Cleveland. He played in 90 games for the Cubs last season, batting .219 with 28 RBIs, 36 walks and 26 runs in 265 at...
Anyone who's touting Jeff Samardzija as a 2013 fantasy sleeper is a year late to the party (that said, you can probably expect a "Jeff Samardzija is a 2013 fantasy sleeper" post coming from us in the near future). Samardzija put up great numbers in 2011 that hinted at potential fantasy relevance, however those numbers came almost exclusively out of the bullpen. In fact, in...
Photo by Michael BaronReports yesterday indicated that Scott Hairston could be choosing between the two NY teams and that a decision could be made any day.  "I think he's a good fit for either team," Close said. "But there are different roles at each place and Scott is deciding which is the best option for him." source ESPN NY So the Yanks could probably...
Cubs News

Delivered to your inbox

You'll also receive Yardbarker's daily Top 10, featuring the best sports stories from around the web. Customize your newsletter to get articles on your favorite sports and teams. And the best part? It's free!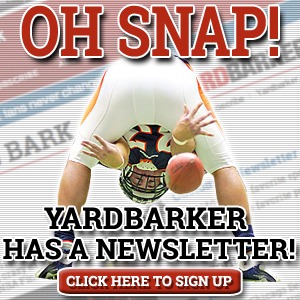 Latest Rumors
The Backyard

Today's Best Stuff

For Bloggers

Join the Yardbarker Network for more promotion, traffic, and money.

Company Info

Help

What is Yardbarker?

Yardbarker is the largest network of sports blogs and pro athlete blogs on the web. This site is the hub of the Yardbarker Network, where our editors and algorithms curate the best sports content from our network and beyond.