Found May 25, 2012 on NESN.com:
From NESN:
The Tampa Bay Rays were in the middle of a beatdown on Friday night, when the Red Sox decided to hit back -- literally.
The Red Sox and Rays got themselves tangled up in a benches-clearing brawl on Friday night, and one so exhilarating that even the bench coaches were getting all amped up.
After Dustin Pedroia was beaned in the back during the sixth inning, Red Sox pitcher Franklin Morales made a point of it to retalliate by hitting Rays DH Luke Scott. An unhappy Scott started heading towards the mound in a fit of anger but a defensive Jarrod Saltalamacchia stopped things from escalating, for the moment at least.
Both dugouts (and bullpens) cleared out onto the field with players and coaches from both teams crowded out near the pitchers mound. They continually migrated closer to home plate, as both sides did their darndest to get in a few swings.
Boston bench coach Tim Bogar was one of the more active participants in the melee. Rays center fielder B.J. Upton could even be seen mouthing off to Red Sox fans.
Warnings were issued to both teams, but nobody was ejected. The Rays went on to win 7-4, and both teams will meet again Saturday in what is sure to be a tense affair.
Also from NESN
Ex-football recruit exonerated for rape charge after 10 years
Oops! MLB makes mistake with bobblehead
Video: Umpire shows up little kid with ridiculous strikeout call
Original Story:
http://www.nesn.com/2012/05/red-sox-r...
THE BACKYARD
BEST OF MAXIM
RELATED ARTICLES
Luke Scott has become Public Enemy No. 1 in Boston on the heels of his insistence that Fenway Park is "a dump." Don't worry, though. He's sorry. "As a baseball player, going there to work, it's a dump," Scott said of Fenway back in April. "I mean, it's old. It does have a great feel and nostalgia, but at the end of the day, I'd rather...
Designated hitter Luke Scott didn't do much hitting in the Tampa Bay Rays' series opener against the Boston Red Sox. Instead, he got hit - and the benches cleared as a result. He appears to have a good chance to turn the tables given his history against Josh Beckett. Scott, Carlos Pena, Matt Joyce and the rest of the Rays will take their hacks against Beckett on Saturday...
Last night, there was another dust up between the Red Sox and Rays. It wasn't as bad as previous encounters, just some flexing and trash talk. In recent years, this has become one of the marquee rivalries. One only has to think back to last year and the Red Sox collapse that allowed the Rays to sneak into the playoffs.Let's look at some of the recent encounters.June 5, 2008...
 DATELINE: HUMOR! Bobby Valentine oversaw his team begin to brawl in the ninth inning after Luke Scott, sometime Fenway Park detractor, was hit by a pitch. Scott despises Fenway Park and gave an interview to that effect, which has ranked him at the top of the enemies list all season among the most arrogant of Boston Red Sox fans. At his postgame interview, Bobby Valentine insisted...
When have you ever seen a fight between two teams where the coaches are more heated than the players? That's exactly what happened between the Red Sox and Rays on Friday night, when Felix Doubront hit Luke Scott, prompting both benches to clear in the ninth inning. Somehow, Red Sox coaches Bob McClure and Tim Bogar found themselves in the middle of it all, and however unusual...
BOSTON –– Luke Scott stormed out of the batter's box, making a beeline for Franklin Morales. The Rays designated hitter started screaming, while Jarrod Saltalamacchia attempted to hold him back. At that point, Scott opted to unleash his frustrations on the Red Sox catcher by pushing him. In a matter of seconds, the benches cleared and tussling ensued. For a brief second,...
The Red Sox were at 500 and it seems like the idea of getting above 500 just seems like it is always just beyond our grasps.  Lester took the mound for the Sox and he definitely didn't have his ace stuff with him.  Brawl or no brawl, we ended up walking away with a loss and once again being below 500. Lester took the mound and seemed to be doing alright until he hit the 3rd...
The Boston Red Sox and Tampa Bay Rays have packed quite a bit of animosity into their 15-year rivalry, with Friday night providing the latest chapter. Following in the tradition of Gerald Williams vs. Pedro Martinez in 2000 and Coco Crisp vs. James Shields in 2008, Friday night featured another bench-clearer courtesy of Luke Scott and Franklin Morales. With bad blood lingering...
The only thing hotter than the Tampa Bay Rays bats against Boston Red Sox starter Jon Lester were the tempers of the coaches of both teams in the 9th inning of the 7-4 win by the visitors. After Franklin Morales hit Luke Scott in the 9th on the fourth pitch after throwing one behind him, another for a strike and another inside, Scott tried to make his way to the mound only to...
After every series, we'll take stock of how each individual and group performance affects their overall value. Offense Mike Aviles: Mike looked good in the first game, then trailed off in games 2 and 3. He is still doing a decent job at the top of the lineup. Dustin Pedroia: Like Aviles, Pedey had a pretty good game 1, then had a tough final two games of the series. He has...
In today's edition of Rays Roundup: Joe Maddon is furious about Luke Scott getting hit-by-pitch in ninth inning of Friday's game against the Red Sox, Matt Joyce hits his second grand slam in a week, outfielder Brandon Guyer needs season-ending shoulder surgery and Hideki Matsui is inching closer to a promotion to the big club from Durham. All of that and more inside.
MLB News

Delivered to your inbox

You'll also receive Yardbarker's daily Top 10, featuring the best sports stories from around the web. Customize your newsletter to get articles on your favorite sports and teams. And the best part? It's free!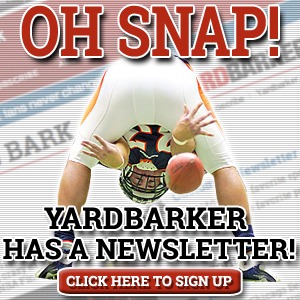 Latest Rumors
Best of Yardbarker

Today's Best Stuff

For Bloggers

Join the Yardbarker Network for more promotion, traffic, and money.

Company Info

Help

What is Yardbarker?

Yardbarker is the largest network of sports blogs and pro athlete blogs on the web. This site is the hub of the Yardbarker Network, where our editors and algorithms curate the best sports content from our network and beyond.