Found August 27, 2012 on Pirates Prospects:
Over the weekend, the Red Sox and the Dodgers completed the most expensive trade in baseball history as the Red Sox shipped Adrian Gonzalez, Carl Crawford, Josh Beckett, and Nick Punto's approximate $287M of future contracts to the Dodgers for 4 prospects and James Loney.
The Red Sox are responsible for only $11M of that $287M (roughly 3.8% of the total) commitment.  In return, they get "financial flexibility" and rid themselves of problems in the clubhouse, especially in the case of Beckett.  By all accounts Crawford was a tireless worker that had the misfortune of being injured a good portion of his tenure.  Gonzalez just never seemed to handle/want the mantle of being a team leader and got run over for it in the Boston media.
The Dodgers got back pitchers Rubby de la Rosa and Allen Webster, infielder Ivan de Jesus, and 1B/OF Jerry Sands as the longer-term pieces.  De Jesus is most likely just a utility infielder and Sands appears to be a potential Quad A player that thrived in favorable hitting environments in the minors.  That leaves de la Rosa, coming off of Tommy John surgery, and Webster as the primary hopes for this trade from a talent standpoint.
Rubby de la Rosa has a blazing fastball and a full arsenal of pitches at his disposal, but control has always been his hinderance.  If all clicks and he responds from his surgery, he's a #2 pitcher.  Webster has a more standard profile of a low 90′s/touch mid 90′s fastball, curve, and changeup.  Webster's concern is his slight build and how it may affect his long-term durability as a starter.
The general discourse nationally about this trade is that the Dodgers are going nuts on spending (as I predicted in late June, but not envisioning to this extent) and that the Red Sox are cleaning up the bad deals done by Ben Cherington's predecessor, Theo Epstein.  They are being lauded for getting out from under bad deals and infusing talent into a downtrending farm system.  Boston media is saying that these trades are refreshing and that building from within, not wildly spending on free agency, is how the top Red Sox from earlier this decade were built.
But if the Pirates offload bloated salaries or players that weren't great in the clubhouse, each trade gets accused of a salary dump and open for dissection on whether the team "won" or "lost" each individual trade.  If the Pirates do it, they're quitters.  If the Red Sox do it, they are wisely reloading their franchise.  When, or if, Webster and de la Rosa don't live up to their prospect expectations, will the trade still be viewed favorably because it was done by the Red Sox and they were able to start the payroll slate clean?
I guess it's all a matter of perspective.  And or market share and national clout.
Starting in the very near future, this blog will shift into a Baseball Business Blog that looks at economic issues and implications for the Pirates and other teams throughout MLB.  If you have any suggestions for articles, please leave them in the comments below.
Original Story:
http://feedproxy.google.com/~r/Pirate...
THE BACKYARD
BEST OF MAXIM
RELATED ARTICLES
BOSTON –– Through it all, Carl Crawford had a staunch supporter in Red Sox general manager Ben Cherington. During the 2010 offseason, the Red Sox general manager revealed that he actively pushed the front office –– under Theo Epstein's reign at the time –– to sign Crawford to a long-term deal. That's why it was bittersweet to pull the trigger in Saturday's...
BOSTON -- For seven years, Josh Beckett was a polarizing figure in Boston. Over that period, the right-handed pitcher was the poster boy for the peaks and valleys the Red Sox experienced. When the team was at the pinnacle of the baseball world in 2007, Beckett was heralded for his feats and showered with praise for posting a 4-0 record and 1.20 ERA in four playoff starts. When the...
The trade that sent Adrian Gonzalez and his Red Sox teammates west will go down as one of the biggest, craziest moves in the history of MLB -- or all of sports. Whether fans and critics think the trade was a good idea or not, what Red Sox general manager Ben Cherington pulled in dealing so many big-name stars with commensurate contracts puts him among the legends. Trades like this...
LOS ANGELES -- A bucket of fried chicken, some beer, a monumental collapse and a destructive loss on the final day of the 2011 season have potentially turned the Dodgers into a modern-day wrecking crew. All courtesy of the Boston Red Sox. You're probably saying 'Huh?' right nowbut follow along. When the Red Sox signed Adrian Gonzalez to a a seven-year, 154-million dollar...
There's failure, then there's what's been going on in Fenway Park for the last 500 or so days. Not even two full years after their stunning spending spree on the biggest names on the market in Carl Crawford and Adrian Gonzalez, the club is getting a face lift that even Harvey Dent would cringe looking [...]The post Everything Must Go: The Tragic Red Sox Yard Sale appeared first...
BOSTON -- Even in a defeat to the Royals, there was a nice sight. On a day the Red Sox cleaned house, another obscure farmhand flexed his muscle and capitalized on Adrian Gonzalez's departure -- Mauro Gomez. During his first at-bat, the new Red Sox first baseman ignited the offense with a solo shot over the Monster. It was the 27-year-old's first career home run in the big...
Adrian Gonzalez, Josh Beckett and Nick Punto were all smiles as they boarded a flight to Los Angeles in the wake of the Red Sox' blockbuster trade with the Dodgers. But at least a little part of Punto was disappointed. Punto is seen as a throw-in in the megadeal that alleviated the Sox of over $250 million in bad contracts, but the veteran infielder admits he had big things on...
On Saturday, in the wake of the Red Sox' mega-trade with the Los Angeles Dodgers, Boston made a number of corresponding roster moves to fill out its bench. Though he won't be added to the roster until Monday, count Daisuke Matsuzaka among those who will be given a chance with four players having been jetisoned to L.A. Matsuzaka is slated to start in place of Josh Beckett...
FEELING BLUE
The Dodgers took on over a quarter of a billion dollars in salary in their massive trade with the Red Sox, but given the alternatives that will be available this offseason, it may have been the right move.
MLB News

Delivered to your inbox

You'll also receive Yardbarker's daily Top 10, featuring the best sports stories from around the web. Customize your newsletter to get articles on your favorite sports and teams. And the best part? It's free!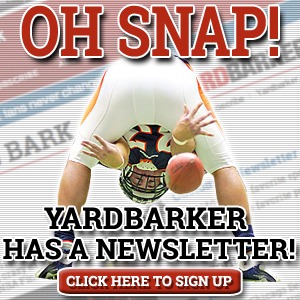 Latest Rumors
Best of Yardbarker

Today's Best Stuff

For Bloggers

Join the Yardbarker Network for more promotion, traffic, and money.

Company Info

Help

What is Yardbarker?

Yardbarker is the largest network of sports blogs and pro athlete blogs on the web. This site is the hub of the Yardbarker Network, where our editors and algorithms curate the best sports content from our network and beyond.