Found March 06, 2009 on Another Cubs Blog:
I?d meant to touch on this sooner, but hadn?t gotten around to it.  You may recall several days ago that it was reported that a rumor making the rounds was that Ricketts would like to hire Sandy Alderson when he becomes the team?s owner.  Jim Hendry would keep his job for the time being at least and Alderson would presumably take over Crane Kenney?s role.  This would be an outstanding first move for Ricketts. It won?t be the kind that the fans want to see.  It won?t be Jake Peavy or some other high profile target, but what it will be is a move that quickly legitimizes Tom Ricketts as the owner of the Chicago Cubs in my opinion.  A high profile player (or three) would certainly be nice, but Ricketts is in this for the long haul as we all have been and will continue to be.  Sandy Alderson will help improve or transform the Cubs statistical analysis department in a short period of time and I don?t think anything could be better for the Chicago National League Ball Club than this.  Over the last couple of years I have gotten greedy and am still willing to sacrifice the future for now.  I think when you are as good as the current Cubs team is you take your shot.  Obviously the goal is to be this good for a long time, but the reality is that the Cubs in 2008 and 2009 are going to be 2 of the better Cubs teams we are likely to see in our lifetimes.  I don?t agree with the people who say it?s do or die in 2009.  I don?t think the aging core of this team is such that it can?t be relatively easily replaced when needed.  In other words, I think this is a team that can contend for several years.  All organizations are going to go through ups and downs and Sandy Alderson?s Padres just had a horrific season in 2008 though he isn?t the general manager.  Hiring Alderson isn?t going to mean the Cubs will never be a terrible team under his watch.  Hiring Anderson means the Cubs will be using more information to make more informative signings, trades, and hopefully draft picks.  Many people credit Billy Beane with baseball?s increased importance in on-base skills.  This is undeserving.  I?ve talked about this before.  For sure, Beane has been a pretty good GM as far as I can tell, but the credit for the A?s importance on OBP goes to Eric Walker and Sandy Alderson.  The best way to tell you about Eric Walker is to let him tell you himself.  Walker writes the baseball site that we?ve recently discussed, Steroids, Other ?Drugs?, and Baseball.  From the bottom of the page is this: Eric Walker has been a baseball statistical analyst for 30 years. For many of those, he was a freelance baseball radio reporter; working in a two-team market, he covered a full 162 games every year. At one time he had a daily 5-minute baseball ?module? syndicated to 20 National Public Radio affiliates nationwide. Walker is also the author of a book of baseball essays, The Sinister First Baseman and Other Observations, with foreword by Frank Robinson. In addition to reporting and writing, Walker long served as a player-personnel consultant to major-league ball clubs, most notably with Sandy Alderson and Billy Beane of the Oakland A?s, as recounted in Michael Lewis?s book Moneyball and at greater length in Alan Schwarz?s book The Numbers Game, where he is credited with being the catalyst that initiated the moneyball-style analytic revolution at the A?s. George F. Will, writing in The New York Times, referred to Walker as ?the most important baseball thinker you have never heard of.? Walker maintains a general-interest blog, Is it a blog yet? which often touches on baseball matters, as well as the High Boskage House Baseball Analysis web site (which is overdue for some cleanup and refurbishing). Walker has a degree in engineering from Rensselaer Polytechnic Institute; besides his baseball work, he has designed components for satellites and spacecraft, been news director at a radio station in northern Virginia, written procedural manuals for financial institutions, co-founded the ?temp attorney? service industry, and done several other of the wildly various and improbable things expected of people who write. Eric Walker was heavily influenced by Earnshaw Cook?s Percentage Baseball.  Allow me to take a detour for a moment.  Cook was born in 1900 and became a mechanical engineer.  He was always interested in baseball and he published his studies in his book in 1964.  I mention this because the foreword Cook wrote in his book the follwowing comment, which I think sums up baseball clubs ignorance of statistics prior to this time: The general complacency of baseball people?even those of undoubted intelligence?toward mathematical examination of what they regard properly and strictly as their own dish of tea is not too astonishing. I would be willing to go as far as pretending to understand why none of four competent and successful executives of second-division ball clubs were most reluctant to employ probabalistic methods of any description ... but they did not even want to hear about them! It?s worth noting as the link (wikipedia again!) tells us that Cook?s work was mostly useless and terribly flawed.  Nonetheless, it had a great impact on many people who read the book and Eric Walker was one of them.  Walker?s first gig with an MLB team was the San Francisco Giants.  Walker grew up a New York Giants fan and had moved to San Francisco.  It lasted only 6 months as then GM Tom Haller was afraid to utilize the information provided by Walker fearing what other GMs would think about allowing an outsider?s opinions to influence baseball. Sandy Alderson wasn?t so afraid.  He was an outsider too.  Alderson graduated from Harvard Law School in 1976 after a tour of duty in Vietnam.  Alderson went to work in San Francisco and one of the firm?s partners left the firm 5 years later to become the team president of the A?s after his father-in-law bought the team.  Eisenhardt hired Alderson to be the A?s general counsel and later their general manager.  *This background of Alderson has been taken from wikipedia so we know it?s 100% accurate.  Being an outsider, it was easy for Alderson to hire another one and that?s what he did.  After hearing Eric Walker on his NPR gig, Alderson sought out Walker?s published works and he began reading Walker?s The Sinister First Basemen and Other Observations.  He couldn?t put it down.  Fortunately this happened around the same time Walker was fired by the Giants.  Walker contacted Alderson hoping the other Bay Area team would be interested in his work.  Alderson obviously was.  He hired him and paid him to write an annual report focusing on where and how the team can improve.  Alderson, unlike Haller, did most of what Walker suggested.  I briefly wrote about the quick changes the A?s made as a direct result of Sandy Alderson being influenced by Eric Walker?s advice over a year ago. In June of 1984, Mark McGwire was selected 10th overall ahead of two standouts like Shane Mack and Oddibe McDowell.  McGwire was taken for his ability to hit for serious power and take his walks.  Soon the A?s let Dave Kingman go because he couldn?t get on base despite hitting a lot of home runs.  They signed Reggie Jackson to replace him.  They got rid of Alfredo Griffin and replaced him with a young SS who had shown the ability to get on base in the minors, Walt Weis who won the Rookie of the Year the following season.  Later they traded for Rickey Henderson and Ken Phelps, both of whom are OBP machines with power. The A?s became the most successful team in baseball for this period winning 4 division titles and 3 AL pennants from 1988 to 1992. During these years, Alderson asked Walker to teach these methods and principles to a young failed shortstop.  That shortstop?s name was Billy Beane.  Walker wrote a 62-page report called Winning Baseball.  Winning Baseball stressed the importance of utilizing OBP when building a roster.  Years later, when Billy Beane became the GM, he would have this document copied and distributed throughout the organization.  While Billy Beane has no doubt had a significant impact on baseball, it was Eric Walker who introduced him to these methods and provided him with a foundation with which he could build from.  Eric Walker?s impact on baseball may not have been much of anything if it weren?t for another outsider. It was Alderson who knew the reasoning behind the studies made too much sense to ignore.  And that is why I don?t believe Tom Ricketts could make a better first sign than Sandy Alderson.  It isn?t the sexiest move he could make, but I think it might be the best available addition to the organization.  Eric Walker strongly believed that the best way to build a baseball team was to have guys who get on base and guys who can hit the ball a long way.  He long argued that on-base skills were undervalued in baseball, that fielding wasn?t yet understood, and that power was very important to a team?s success.  Alderson trusted Walker and the A?s were successful as a result.  Check out Probability and Baseball written by Eric Walker. I bring all of this up mostly because of the rumor that Ricketts may hire Alderson when the deal is finalized, but also as a reminder of how important outsiders have been to this game and always will be.  For years they were ignored and baseball teams failed to put the best product on the field as a result. Statheads are made fun of in certain circles.  This happens far less today than it has in the past and that trend will continue.  MLB clubs have, for the most part, accepted the value of advanced metrics.  It?s the old media and certain fans that have failed to do so.  This game has been improved in part because of these statheads.  Making fun of them or fighting it at this point is useless.  Whatever battle that may once have existed no longer does.  I think organizations can use these metrics more than they currently do, but these things are a process and the inevitability of baseball using more precise numbers was never a question of if, but a question of when.  This is true in every business.  When new metrics are available that proves beneficial to a product being sold (in this case a baseball team), sooner or later the improvements get made.  People are often ignorant, but they?re driven by dollars and an improved team means more dollars.  Next time you read from some journalist who makes fun of the statistically inclined, move on.  Next time you hear or read a fan?s garbage about how stats don?t do this or don?t do that, move on.  It?s an argument I?ve gotten into before, but there?s no point.  The stats are here to stay and it?s those other people who are going to have to adapt. 
Original Story:
http://www.anothercubsblog.net/index....
THE BACKYARD
BEST OF MAXIM
MLB News

Delivered to your inbox

You'll also receive Yardbarker's daily Top 10, featuring the best sports stories from around the web. Customize your newsletter to get articles on your favorite sports and teams. And the best part? It's free!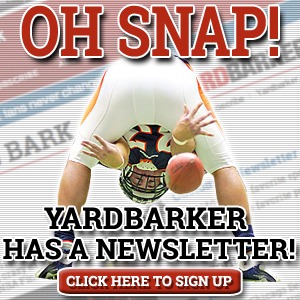 Latest Rumors
The Backyard

Today's Best Stuff

For Bloggers

Join the Yardbarker Network for more promotion, traffic, and money.

Company Info

Help

What is Yardbarker?

Yardbarker is the largest network of sports blogs and pro athlete blogs on the web. This site is the hub of the Yardbarker Network, where our editors and algorithms curate the best sports content from our network and beyond.