Found October 05, 2012 on Denver Sports Chat:
Denver, CO. The Colorado Rockies acting GM Bill Geivett will meet with manger Jim Tracy to determine whether he will return for 2013. If the Rockies choose to go a different direction they will be parting with the only person with a clue. Dan O'Dowd has proven he doesn't belong running the major league club by demoting himself to the minors with scouting responsibility. Bill Geivett is capable but is sticking his nose in too far when it comes to the in game management of the team. By putting his office right next to the club house, Geivett is just meddling and not letting Tracy do his job. Jim Tracy is not to blame for the worst season in Rockies history. Once they moved to the four man rotation, in game strategy and management was taken out of Tracy's hands. There were many occasions where Rockies pitchers could have gone longer than the 75 pitch count. Jhoulys Chacin had at least 2 games that he could have gone beyond the 75 limit pitch count but was pulled by Tracy due to Geivett's direction. In the last game of the season, Jeff Francis was pitching a very efficient game and was able to pitch a full 5 innings but was pulled due to the pitch count. As a veteran, Francis could have probably hit 100 pitch area and taken the game into the seventh inning. Needless to say it is time to put the 2012 Rockies season in the rear view mirror. With countless injuries and a mish-mash pitching staff, the Rockies need to make some changes in the off season but that does not include Jim Tracy. The Monforts should overhaul the entire management staff. O'Dowd and Geivett have worn out their welcome in the eyes of most fans and most importantly the season ticket holders. The Rockies once again will not raise season ticket prices but will likely lose many season ticket holders this off season. What will the Rockies do to entice people to buy tickets?? The only option other than free games is to fire O'Dowd and Geivett. I have been a season ticket holder since the Rockies inception and for the first time I am considering not renewing for next season. I will still go to some games, but giving the Monforts easy money is just not in the cards for this long time Rockies fan. Denver Sports Chat – Kris Loco The post Rockies potential parting with Tracy leaves wrong people in charge appeared first on Denver Sports Chat.
Original Story:
http://feedproxy.google.com/~r/Denver...
THE BACKYARD
BEST OF MAXIM
RELATED ARTICLES
Jim Tracy might be back in 2013, but it won't matter.The only reason Colorado Rockies fans were still paying attention after a brutal 2012 season was because the word was out that Jim Tracy would hear the decision on his future in a Friday morning meeting.When morning turned to afternoon, then night, no word came from the Rockies. Nothing. Finally, Troy Renck of the Denver Post...
The 2012 Colorado Rockies season came to an end on Wednesday.Congratulations! The Colorado Rockies season is over, and you made it through. It took a long time, it was painful to watch, but in the end, the Rockies avoided 100 losses and are faced with inevitable change heading in to 2013.The Rockies ended on a positive note, winning both their final game and their final road series...
Jim Tracy wants a chance to put the pieces back together. The manager of the Colorado Rockies will meet with Bill Geivett, the team's director of major league operations, Friday to discuss the direction of a club that just completed its worst season ever. The Rockies' 98-loss debacle featured a historically awful starting rotation that won just 20 games at Coors Field,...
The Colorado Rockies endured the worst season in their 20-year history and lost a franchise-record 98 games. They didn't enter the season with realistic hopes of contending after 89 losses in 2011 but expected to improve and finish with a record around .500. Instead, they regressed badly. The silver lining in this lost season was that a host of rookies and players with limited...
HAIRY SITUATION
I'm going to go out on a limb and say that's the best baseball-themed mohawk of the season. Just like FOX Sports Arizona said, "it took 162 games, but we finally have a winner for hairdo of the season." I'd love to turn this guy upside down and use him as a broom. Splendid look, splendid. And if you have any idea who this gentleman is, please email us. Go here to see all...
An awful season ended well for the Colorado Rockies and embattled right-hander Jeff Francis. Francis earned his first victory in more than a month and the Rockies used two unearned runs to beat Ian Kennedy and the Arizona Diamondbacks 2-1 on Wednesday night to conclude disappointing seasons for both teams. Francis (6-7) allowed a run on five hits in five innings in his first victory...
According to Troy Renck of the Denver Post, the Colorado Rockies are expected to shop outfielders Michael Cuddyer and Dexter Fowler. Before you get all giddy, this isn't about Cuddyer, but Fowler and what he could potentially bring to the Phillies as their new centerfielder.Is Fowler really the answer? (Coloradosportsdesk.com)Cuddyer never seemed to be a fit in Philadelphia, even...
This guy showed up for the Colorado Rockies vs. Arizona Diamondbacks game last night and clearly won the hairdo of the year.  Seriously it looks like a pro did it for him.  Not saying I would do the same thing, but damn if I don't respect it.  Not to mention the game didn't mean anything in terms of playoffs.
Rockies News

Delivered to your inbox

You'll also receive Yardbarker's daily Top 10, featuring the best sports stories from around the web. Customize your newsletter to get articles on your favorite sports and teams. And the best part? It's free!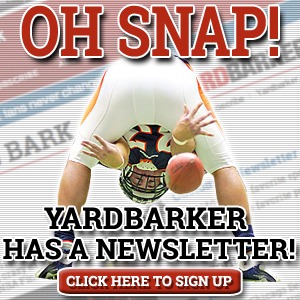 Latest Rumors
Best of Yardbarker

Today's Best Stuff

For Bloggers

Join the Yardbarker Network for more promotion, traffic, and money.

Company Info

Help

What is Yardbarker?

Yardbarker is the largest network of sports blogs and pro athlete blogs on the web. This site is the hub of the Yardbarker Network, where our editors and algorithms curate the best sports content from our network and beyond.