Found March 11, 2013 on Fox Sports Midwest:
JUPITER, Fla. If Trevor Rosenthal has any lingering disappointment from not being picked as the fifth starter, he's doing a darn good job of hiding it so far. Making his first relief appearance since being told he would open the season in the bullpen and not in the starting rotation like he had hoped, the 22-year-old flame thrower reached 100 MPH on four different pitches Sunday and struck out the side. It was just one appearance but Rosenthal looked every bit like the overpowering reliever that was nearly unhittable in the playoffs last year and the reason why the Cardinals decided to start his 2013 season back in the bullpen. "He came in her wanting to compete for a job and when it didn't happen, I'm sure it was a little bit of a hit to him," said manager Mike Matheny. "But he's saying the right things and instantly got back out on the mound and proved it. "He's an absolute weapon to be used out of the pen. I was happy to see him jump right back in there. He's another guy who has said all the right things and realizes he just has to do what he has to do for the club. I think we're better with him out there." Not many would argue based on what Rosenthal did in the postseason. After posting a 2.78 ERA in 18 relief appearances with the Cardinals during the regular season after being promoted straight from Double-A, the right-hander was even better in October. Rosenthal had 15 strikeouts to just two walks in 8 23 innings during the playoffs and allowed just two hits. He faced 30 batters. Only four reached base. After three average appearances a start and two extended relief outings - while trying to beat out Joe Kelly and Shelby Miller for the fifth spot in the Cardinals rotation, Rosenthal looked much more confident and comfortable in his one-inning stint Sunday. He had more life on his pitches. He challenged hitters. And the result was a scene that happened often last October, the three opposing hitters failing to even put the ball in play. "He looked like a different pitcher," Matheny said. "The way he's throwing right now, it makes him extremely tough to face for an inning." Said catcher Rob Johnson, who caught Rosenthal Sunday, "What impressed me is most of the time when guys have that much life behind their fastball, their off-speed suffers just a little bit. But he dropped a couple curveballs in there that were pretty dang good. It makes it a tough at-bat when the guy can throw 100 and drop a curveball and his cutter in there for strikes." Rosenthal had allowed nine hits and five earned runs in his seven spring innings prior to Sunday. He struck out just two of the 33 batters he faced. That is, until he dialed it back up against the Mets at Roger Dean Stadium. Nobody would be surprised if Rosenthal ended up being a dynamite starter in the big leagues at some point during his career. But for now his calling appears to be in the bullpen, and it doesn't seem to bother him. At least publicly. "I was never really too disappointed," Rosenthal said. "I come every day and try to work my hardest and earn a spot on the team whatever role it may be. I just put trust in their hands that they will put me in the best spot to contribute and down the line things may change but right now that's what their plans are. "It could change next week. Nothing is guaranteed in this game, so I just come in and try to keep the same mindset, work hard every day and attack every hitter." Rosenthal was a 21nd round selection by the Cardinals in the 2009 draft out of Cowley County Community College and didn't pitch higher than Low-A prior to 2012. But he had a 2.78 ERA in 17 starts with Double-A Springfield and jumped Triple-A to earn a somewhat surprising call-up last July. As is the case with most starters that move to the bullpen, Rosenthal saw his velocity jump from the mid 90's to the upper 90's and even triple digits after being called up last summer. And the velocity jump looked similar Sunday. "He looked like a different pitcher," Matheny said of his first three outings competing for a starting spot and his one-inning stint Sunday. "I think you guys saw that too. He goes out there for one inning stints and 96 is pretty good when he goes out there for three innings but when he's bumping 98 to 10, you have a little bit more room for error and it makes his breaking stuff that much better. "You could just tell the difference in his stuff." Asked about comparing how Rosenthal looked Sunday with his performances in the playoffs, Matheny said simply, "Same guy." Matheny and the Cardinals decided to move Rosenthal back to the bullpen this season in hopes of getting the same unhittable pitcher they saw last fall. If Sunday was any indication of things to come, they appear to have made the right choice.
Original Story:
http://www.foxsportsmidwest.com/mlb/s...
THE BACKYARD
BEST OF MAXIM
RELATED ARTICLES
As soon as the St. Louis Cardinals announced their signing of Allen Craig to a five-year contract with a sixth-year option, some assumed that pushed Matt Adams' time as a Cardinal to its end. The reality is that while the $31 million deal is good for Craig and good for the Cardinals, it has no impact on Adams' constricted major league opportunity at all. Here is why. Even before...
According to Derrick Goold, the Cardinals second base battle will continue into the regular season, with "performance and need dictating the starter." What does this all mean? Well, it means that what once started as an experiment to find another way to get Matt Carpenter's bat into the lineup and make him into a super utility player is quickly becoming a potential...
Trevor Rosenthal might have lost the battle for the final starting rotation spot, but the St. Louis Cardinals gained a great resource for their bullpen in 2013. Trevor Rosenthal – photo from FoxSportsMidwest The Cardinals officially said last week that Rosenthal is out of the running for the fifth spot in the rotation and will start the season in the bullpen. And while that might...
The St. Louis Cardinals completed an agreement to keep first baseman Allen Craig in tow last week, but very well may have done much more than just that. The deal is a study in the obscure: both completely team and player friendly contract that helps both parties roughly equally. But to understand this, a grasp on the first base market, the financial position of the Cardinals and...
The St. Louis Cardinals didn't get Matt Holliday back yesterday, but at least he was in the clubhouse.  The All-Star outfielder has been battling the flu, and he won't get back on the field until he's kicked it. Matt Holliday has arrived at Roger Dean but said he won't work out or do anything today. He's still dealing with the flu. — B.J. Rains (@BJRains...
The most talked about issue for the St. Louis Cardinals is what is going on at shortstop. The loss of Rafael Furcal to elbow surgery has hastened the future of the lone position on the organization's map where there is no ideal succession plan in place. It was an issue that was on thin ice all winter, and could be a focus throughout the summer and into next winter as well. The...
As I went through my final edit of my previous article about Matt Adams' playing time blockage with the St. Louis Cardinals, I expanded the section at the end just before posting. To be honest, my motive was to address several other articles I had read recently that offered up hope that the arrival of the designated hitter in the National League would occur soon enough to provide...
TAMPA, Fla. (AP) -- St. Louis Cardinals manager Mike Matheny had surgery Monday to repair a ruptured disk in his lower back. Matheny underwent the procedure in St. Louis. Before leaving the team on Sunday, Matheny said he expected to be back at spring training for Thursday's game against Atlanta in Jupiter. "As of right now, he's feeling great," St. Louis general...
Hot News for P Marc Rzepczynski
Editor's note: As part of NFL's Greatest Quarterback, fans will decide the best quarterback in team, division, conference and league history. Paul Christman: Christman played for the Cardinals from 1945 to 1949. He led the team to an NFL Championship in 1947. The team won the NFL West in 1948 under Christman as well. Christman was a two-time All-Pro with the Cardinals in 1946...
Looking at how "Super Two" arbitration eligibility may shake out for the St. Louis Cardinals ahead.
Cardinals News

Delivered to your inbox

You'll also receive Yardbarker's daily Top 10, featuring the best sports stories from around the web. Customize your newsletter to get articles on your favorite sports and teams. And the best part? It's free!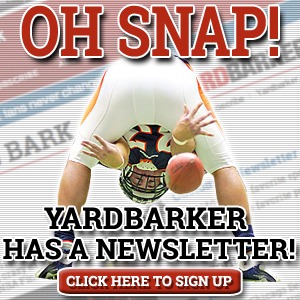 Latest Rumors
The Backyard

Today's Best Stuff

For Bloggers

Join the Yardbarker Network for more promotion, traffic, and money.

Company Info

Help

What is Yardbarker?

Yardbarker is the largest network of sports blogs and pro athlete blogs on the web. This site is the hub of the Yardbarker Network, where our editors and algorithms curate the best sports content from our network and beyond.