Found October 31, 2012 on Fox Sports Kansas City:
KANSAS CITY, Mo. Here we go again? For the second straight off-season, the Royals traded for an erratic-but-sometimes-dazzling under-30 pitcher from a West Coast team with hopes he can bolster their troubled rotation. Last year it was Jonathan Sanchez, acquired from the San Francisco Giants. This time, Royals general manager Dayton Moore traded minor-league left-hander Brandon Sisk to the Los Angeles Angels for right-hander Ervin Santana. No need to rehash how disastrous the Sanchez deal worked out, though the Royals did eventually acquire Jeremy Guthrie in a trade with Colorado for Sanchez, and they hope to re-sign Guthrie in free-agency. And to be fair to the Royals, Santana's resume is far less shaky than Sanchez's, even though Santana was only 9-13 with a 5.16 ERA last season. Moore said by teleconference call Wednesday he began working on the deal for Santana seriously about a week ago, and had no flashbacks to the Sanchez deal. We go into every deal we make confident that it will work out, Moore said. We got a young pitcher (29) who has had a lot of success and who pitched very well the last two months of last season. Our scouts did their due diligence and let it be known he was a guy who really got stronger as the season went on. True, Santana posted a 3.63 ERA in his final 10 starts and allowed just 45 hits and 16 walks over 62 innings while striking out 55. And even when Santana has struggled during his career, he has never been Sanchez-bad. The Royals knew Sanchez had command issues he had a 1.44 WHIP in 2011 before posting an astonishing 2.04 WHIP with the Royals last season. Santana had a 1.22 WHIP in 2011 and a 1.27 WHIP in 2012. Santana's best season came in 2008 with the Angels when he went 16-7 with a 3.49 ERA and a 1.19 WHIP. Moore, naturally, is hoping he has found a starter who can compete for the No. 1 spot in the Royals' rotation. We look for guys who have the mindset that they can be a No. 1 starter, Moore said. It's too early to predict where he'll fit in but he certainly has the mindset to be a No. 1. Santana agreed. If they give me the opportunity, sure I can (be the No. 1), he said. I have the tools for it. Santana, though, fell out of favor with the Angels with his erratic start to 2011 and the Angels became unwilling to offer him an extension, or pick up his 13.5 million option for 2013 a sign they are saving money to re-sign Zack Greinke. Moore confirmed that the Royals did receive some cash in the deal as they assume the option year of Santana's contract. But we will be picking up the majority of the contract, Moore said. Santana admitted he had mixed feelings about leaving the Angels, a perennial playoff contender, for a team still experiencing growing pains. A little bit, Santana said. I knew those guys for a long time. But that's baseball. They trade me and I have to accept it. But I'm excited to be going to the Royals. Santana said he has been impressed with the Royals. They have a good young team, he said. They hit, they play good defense. They're very aggressive. Santana, though, seemed cautious about his potential future with the Royals. Asked if he'd be interested in signing an extension with the Royals if it were offered, he paused and said, Yes, I would be interested. (But) I'll see how it is first and go from there. That likely will be Moore's approach, too, who said he will continue to look for ways to upgrade the rotation. We're not done, Moore said. Whether it's through another trade, or through free-agency, or internally with someone in our system or from the bullpen, we will look for ways to get better in that area. We will explore free-agency. Presumably that will start with Guthrie, now officially a free-agent. Moore has indicated the Royals are interested in re-signing Guthrie. Moore and the Royals also will have a decision to make about former closer Joakim Soria, who underwent Tommy John surgery last spring. The Royals exercised their 750,000 buyout of Soria's contract rather than pay the 8 million option year. Soria is now a free-agent, though Moore seemed guarded when asked about re-signing Soria. That's something I don't want to talk about publicly, Moore said. We love Joakim and what he has done for us and the 160 saves. We'll certainly do everything we can to stay in the game with Joakim and his free-agency.
Original Story:
http://www.foxsportskansascity.com/10...
THE BACKYARD
BEST OF MAXIM
RELATED ARTICLES
Yesterday, the Kansas City Royals traded for pitcher Ervin Santana.  Santana had spent his entire career with the Los Angeles Angels up to this point and had seen equal amounts of success and failure. He was a main part of the Angels rotation in 2011 and threw a no-hitter.  Then, in 2012, something changed.  He regressed.  There was no apparent reason for the regression.  Now...
The Royals, moving quickly to bolster their rotation, acquired right-hander Ervin Santana from the Angels on Wednesday. The Angels needed to decide by Wednesday whether to exercise Santana's $13 million option for 2013. The Royals presumably will pick up that option. It is not yet known whether the Angels are including cash in the deal to cover part of Santana's salary...
The Kansas City Royals continued their quest to build a legitimate starting rotation on Wednesday by acquiring Ervin Santana from the Los Angeles Angels.  Santana endured the worst season of his career in 2012 when he posted an ERA over 5 and gave up a league high 38 homeruns.  However, Santana is a former all-star and has proven on more than one occasion that he's capable...
Tweet     The Kansas City Royals need starting pitching help. The Los Angeles Angels had two whom they held pricey club options on for the 2013 season. Now, they have just one. Today the Angels sent 29-yeard old right-hander Ervin Santana to the Royals in exchange for left-handed pitcher Brandon Sisk and cash considerations. [...]
Be prepared for the Angels to make at least one trade this week. At this point, it will be an upset if they do not. The team, according to major-league sources, is aggressively trying to move right-handers Dan Haren and Ervin Santana before deciding on their respective -- and expensive -- club options for 2013. "I think they trade both guys," one rival executive said...
The Angels had until today to decide whether to exercise Ervin Santana's $13 million option or pay him a $1 million buyout and make him a free agent. After a miserable 2012 season, it was pretty obvious that they weren't interested in picking up the option, so today, they shipped him to Kansas City. The deal, as reported by Ken Rosenthal, is Santana and cash for LHP Brandon...
Ben and Sam discuss what the Ervin Santana trade says about the Royals` rotation and the pitching market, then talk about what Rick Hahn`s ascension to the GM role in Chicago means for the future of front offices.
The Kansas City Royals and Los Angeles Angels made the first big trade of the MLB offseason Wednesday when the Royals acquired starting pitcher Ervin Santana from the Angels for minor league left-hander Brandon Sisk. The Royals also received $1 million dollars from the Angels who exercised the $13 million dollar option on Santana's contract prior to the deal. The 29-year-old Santana...
So maybe Ken Rosenthal knew what he was talking about after all when he predicted the Angels would make a trade this week.  As it turns out, one was made within 24 hours of his prediction as Rosenthal just broke the news that Ervin Santana has been traded to the Kansas City Royals. This news momentarily got Angel fans all aflutter with visions of Eric Hosmer and Greg Holland...
Ben and Sam discuss the decisions the Angels are about to make concerning Dan Haren and Ervin Santana and talk about what their 2013 rotation will look like, then predict 2013`s division/World Series winners and last-place teams.
MLB News

Delivered to your inbox

You'll also receive Yardbarker's daily Top 10, featuring the best sports stories from around the web. Customize your newsletter to get articles on your favorite sports and teams. And the best part? It's free!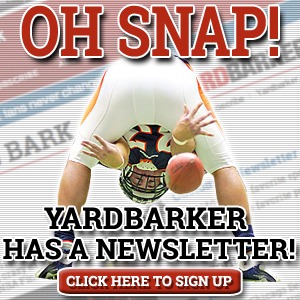 Latest Rumors
The Backyard

Today's Best Stuff

For Bloggers

Join the Yardbarker Network for more promotion, traffic, and money.

Company Info

Help

What is Yardbarker?

Yardbarker is the largest network of sports blogs and pro athlete blogs on the web. This site is the hub of the Yardbarker Network, where our editors and algorithms curate the best sports content from our network and beyond.