Found April 25, 2012 on Fox Sports Kansas City:
Could it be worse? Could anything top this disastrous start to the Royals' 2012 season? Well, possibly. My first year as a beat writer covering the Royals for The Kansas City Star was in 1992, the infamous season the Royals started 1-16. That was truly depressing, and maybe worse than this, considering that Kansas City fans hadn't become accustomed to losing yet. Brian McRae, the Royals' centerfielder then, told me after the season that most everyone in the clubhouse viewed the rest of the '92 season as toast after that 1-16 start. "Most of the time you say that two weeks can't make or break a season," McRae said. "But after that start, we were done. We didn't quit, but we knew we didn't have the type of team that could dig its way out of that." The Royals had made perhaps their most controversial trade in team history a few months before, sending Bret Saberhagen to the Mets for Gregg Jefferies, Kevin McReynolds and Keith Miller. Jefferies was a talented young switch-hitter, and Miller was a nice complementary player. But McReynolds was on the down slope of his career and worse yet, he seemed completely disinterested. Manager Hal McRae shook his head once while watching McReynolds in the batting cage that summer and whispered to me, "That swing is like a rusty old gate." To the Royals' credit, they bounced back from the 1-16 start and went 13-9 over their next 22 games. From there, they played mostly .500 ball and finished the season 72-90. The next year, of course, involved the even more infamous Hal McRae blowup. The Royals had made significant improvements during the off-season leading up to the 1993 season, adding shortstop Greg Gagne, second baseman Chico Lind, and right-hander David Cone. They dealt Jefferies for switch-hitting Felix Jose. They also picked up third baseman Gary Gaetti after the season started. This was also George Brett's final season, and he hit 19 homers. That team had fairly high expectations. But the Royals started out slow, losing nine of their first 11 games. Then and it was 19 years ago Thursday the Royals dropped a particularly stressful 5-3 game to the Tigers on a clammy night at then Royals Stadium. It had been a typical Royals' loss that April numerous scoring chances wasted as no Royal could deliver with runners in scoring position (sound familiar?). Alan Eskew, then of the Topeka Capital-Journal, and I filed into McRae's office afterward for post-game questions. The late Gib Twyman, my colleague at The Star, also was there, along with a handful of electronic media reporters. It was John Doolittle, then a sports talk-show host with KMBZ, who asked the question that set McRae off. Doolitle asked if McRae considered hitting Brett for Miller in the seventh inning. McRae, who was saving Brett to pinch-hit in the ninth, got tired of the second quessing and went off. No doubt you've seen the video at least once over the years but in case you haven't. Eskew and I headed to the back of McRae's office as he started randomly hurling objects throughout the room... An ash tray came flying at us at one point. I ducked. Eskew didn't, and he got hit in the face, drawing blood (and a stitch or two). Ironically, the beat writers got along great with McRae, and that made McRae even more sorry that Eskew was the one who got hit. Eskew shrugged off the minor injury as simply part of the job, and didn't even think an apology was necessary. The blowup didn't really have a huge impact on the team's play. The Royals won their next two but then dropped four of five. Eventually, in May, the Royals started clicking. They crawled over .500 on May 26 and never dipped below that mark again, finishing the season 84-78. Of course, if you're looking for comparisons, that was a much older and more experienced team than the 2012 Royals, who are searching for some type of leadership from someone, anyone, to lead them out of this hole.
Original Story:
http://www.foxsportskansascity.com/04...
THE BACKYARD
BEST OF MAXIM
RELATED ARTICLES
Hooray! When I arrived home yesterday afternoon, I was pleasantly greeted with my brand new "The Moose is Loose" t-shirt waiting at my door. I came across this shirt in a Twitpic (on Twitter, of course) last week, and I had to have one! I love the style. It is simple, yet creative... and features a Royals hitter batting over .300. I had to wear it right away...
Alcides Escobar should bat leadoff for the Kansas City Royals.  Immediately.  Your response may be, "WHAAAA???!!!!" or "WTF is WRONG with you?!"  Allow   me to expound before you throw me off a cliff. There are some conditions to put in place in order for this to make sense, so let's do that: 1.  Alex Gordon is going to continue hitting in the...
More bad news for the Kansas City Royals. Sure, they won 8-2 at Cleveland on Wednesday night to snap a 12-game losing streak, earning their first victory since April 10, the day center field Lorenzo Cain went out with a strained left groin. The plan was for Cain to come off the disabled list Friday at Minnesota, but he is out indefinitely. Cain, who was on a rehab assignment...
KANSAS CITY, MO (April 25, 2012) — The Kansas City Royals selected the contract of left-handed pitcher Tommy Hottovy from Triple-A Omaha today and optioned right-handed pitcher Jeremy Jeffress to Omaha. With the selection of Hottovy, who is expected to be in uniform tonight (#46) in Cleveland, the Royals 40-man roster stands at 40.  In addition, the club returned outfielder Lorenzo...
The Kansas City Royals are off to a horriffic 3-12 start and fans are demanding some answers. It is not HIS fault Nobody saw this coming. While opinions of what these 2012 Kansas City Royals would be varied some, there was nobody who believed the Royals would be this bad. And we are still less than 10% into the season, starting the season by losing your first 10 home games is no...
So I've been away for a while from the site, but i'm back now and here to urge everyone not to push the panic button quite yet. Yes, the Royals have dropped 11 in a row and a franchise record 10 in a row at home. But let's be real here, did we expect them to win 90 games and contend for the playoffs? I certainly did not. My initial prediction was 77 wins, and I stand...
The Kansas City Royals were supposed to be a dark horse contender for the AL Central this season. Instead, the dark horse is already on its way to the glue factory now that the Royals have started off the season 3-13 and are mired in an 11-game losing streak. Looking to oust a manager a mere 16 games into the season seems awfully premature, but hey, if the screaming masses in Boston...
Luis Mendoza pitched into the sixth inning and Kansas City's bullpen made a lead stand up, helping the Royals beat the Cleveland Indians 4-2 Thursday. Kansas City, which snapped a 12-game losing streak with an 8-2 victory Wednesday night, won consecutive games for the second time this season. The Indians, who were coming off a 7-2 road trip, fell to 2-6 at Progressive Field...
HENAGAR, Ala. - Heisman Trophy winner and former Kansas City Royals' All-Star, Bo Jackson and about 100 bicycle riders have started their five-day, 300-mile ride across Alabama to raise money for tornado relief in the state. A crowd of a couple of hundred people cheered Tuesday as Jackson led riders out of the tiny town of Henagar in the northeast part of the state. Celebrity...
Billy Butler hit two of Kansas City's four home runs to help the Royals snap a 12-game losing streak by beating the Cleveland Indians 8-2 Wednesday night. Butler's two-run blast off Ubaldo Jimenez (2-1) put the Royals ahead in the first. He added a solo shot in the ninth off reliever Jairo Asencio, following Alex Gordon's three-run homer against the reliever. Eric Hosmer...
As a baseball fans, you know there are those games in which your team should win but end up losing. Then there are the games that your team has no business winning, yet does anyways. Last night in front of a sparse crowd at Progressive Field, your Cleveland Indians pulled off the latter. How else can you explain the 4-3 victory in which the Tribe loaded the bases with nobody out...
By MIKE LIPKA, STATS EditorAs the two teams tied for the AL's worst record begin a weekend series, one of them is probably feeling a bit better than the other.The visiting Kansas City Royals look to win a third straight game for the first time in 2012 on Friday night while extending the Minnesota Twins' skid to six.Both of these clubs are 5-14, but the Royals are hoping...
Royals News

Delivered to your inbox

You'll also receive Yardbarker's daily Top 10, featuring the best sports stories from around the web. Customize your newsletter to get articles on your favorite sports and teams. And the best part? It's free!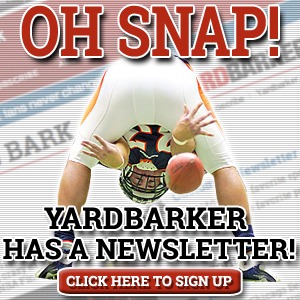 Latest Rumors
The Backyard

Today's Best Stuff

For Bloggers

Join the Yardbarker Network for more promotion, traffic, and money.

Company Info

Help

What is Yardbarker?

Yardbarker is the largest network of sports blogs and pro athlete blogs on the web. This site is the hub of the Yardbarker Network, where our editors and algorithms curate the best sports content from our network and beyond.