Found January 06, 2012 on San Francisco Giants Baseball (SF Giants...:
Ryan Vogelsong    32 – P   Position: Pitcher Bats: Right, Throws: Right Height: 6'4″, Weight: 215 lbs. Born: July 22, 1977 Place: Charlotte, North Carolina High School: Octorara Area High in Atglen, Pennsylvania College: Kutztown University Drafted By: San Francisco Giants (5th round) in the 1998 amateur draft. Signed: June 7, 1998 Major League Debut: September 2, 2000 Teams: Giants 2011-Present, Pirates 2003-2006, Pirates 2001, Giants 2000-2001 Contract: Arbitration Eligible Acquired By: Signed a minor league contract with the Giants (12/28/10). Contract was purchased by the Giants to replace the injured Barry Zito. Free Agent: 2013 MLB All-Star (2011) Willie Mac Award Winner (2011) Fun Facts Kutztown University All-American in 1998. Was inducted into Kutztown University Athletics Hall of Fame Oct 21, 2005. In 2001, the Giants traded him with Armando Rios to the Pirates for Jason Schmidt and John Vander Wal. Vogelsong's Career Stats YR TM G W L S ERA SO BB IP WHIP 2000 SFG 4 0...
Original Story:
http://www.sfgiantsbaseball.net/playe...
THE BACKYARD
BEST OF MAXIM
RELATED ARTICLES
Catching up on the Giants' transactions: a little late to these, but the Giants have made a couple more minor-league signings… According to Matt Eddy of Baseball America, the Giants signed right-hander Adam Thomas. He didn't pitch at all from 2008 to 2010, but he posted a 1.73 ERA (4.08 K/BB) in 57 innings of relief in the Atlantic League this year. He's 32 years old. According...
It's been a month or so since the Giants acquired Angel Pagan. At the time, I wasn't excited or anything…I guess I had become an Andres Torres apologist, and I was a bit worried about what the trade meant for Brandon Belt; but I liked the deal nonetheless. The idea of Melky Cabrera as a starting centerfielder was never the appealing, so it was nice to see the Giants go out...
Now that the 2011 year is over. I have been reflecting on how far SF Giants Rumors site has come in 2011. It started on a high note as in January everyone was still feeling great about the San Francisco Giants winning the 2010 World Series. The first big moment for SF Giants Rumors in 2011 was when I posted an exclusive Pablo Sandoval video of him working out on January 17, 2011...
"I'm gonna get that Weezy gnome and take a picture with it at every NL baseball park. Step 1…get that gnome." Those are the words I tweeted this evening upon seeing the highly-anticipated and much-ballyhooed Brian Wilson Garden Gnome, which was unveiled by the San Francisco Giants twitter team today (pictured below). You've seen those pictures on the Internet of gnomes...
BEARDED DWARF
Remember back in November when the San Francisco Giants announced plans to have a Brian Wilson Gnome night?Well, on Thursday, the team showed it off via Twitter.My guess is that the team is praying their colorful closer doesn't decide to shave anytime soon.So, yeah, on May 20, be one of the first 20,000 fans to see the Giants take on the Oakland A's and get your gnome. Or...
Yes, the Giants are following the lead of the Hagerstown Suns and plan to give away 20,000 of these Brian Wilson garden gnomes May 20th. Garden gnomes are nothing new in terms of baseball giveaways, but not too many are fully bearded with sunglasses like this one. Our friend Mona shared a picture of the gnome on Facebook and she plans on getting one as long as she can. I imagine...
Happy birthday to former Giants infielder (1950-'56) and manager (1961-'64) Alvin Dark, who turns 90 years old today. Dark led the Giants to the World Series in 1962. It's also Jim Lefebvre's birthday. The Giants' former hitting coach (1980-'82) turns 70 today. 1913: Future Hall of Fame first baseman Johnny Mize is born in Demorest, GA. Known as "The Big Cat...
Sergio Romo    54 – P   Position: Pitcher Bats: Right, Throws: Right Height: 5'10″, Weight: 185 lbs. Born: March 4, 1983 Place: Brawley, California High School: Brawley Union High School College: University of North Alabama and Mesa State College Resides: Mesa, Arizona Drafted By: San Francisco Giants (28th round, 852nd pick) in the 2005 amateur draft. Signed: June 9, 2005...
What's to lose?Miguel Tejada is training in Miami as he looks to make a comeback, reports Jon Heyman of CBSSports.com (on Twitter). The 37-year-old was designated for assignment by the Giants in August after hitting .239/.270/.326 in 343 plate appearances. I'd be surprised if there was no gas left in Miggy's tank.Alert readers have probably already noticed the other...
There are some things that one just should not have to suffer for a job.  Wearing the color of your rivals, every day? … In the meantime, the San Francisco Giants released a promo picture of the Brian Wilson garden gnome, and it looks… Sunglasses?  Really? I suppose it could be worse.  It is a free giveaway.  But it just looks so…cheap.  Which Brian Wilson will not...
Photo: APThe box score doesn't tell the whole story.  Statisticians point to numbers to evaluate players, but it's impossible to get a sense of the game just by looking at newspaper clippings.  August 5, 2011 was a perfect example: the Phillies demolished the San Francisco Giants 9-2, but the story line was much greater.Being on opposite coasts, the Phillies and Giants aren't...
Chris Haft fields questions from Giants fans on topics ranging from Pablo Sandoval's development to the departure of Carlos Beltran in this week's edition of the Inbox.
Giants News

Delivered to your inbox

You'll also receive Yardbarker's daily Top 10, featuring the best sports stories from around the web. Customize your newsletter to get articles on your favorite sports and teams. And the best part? It's free!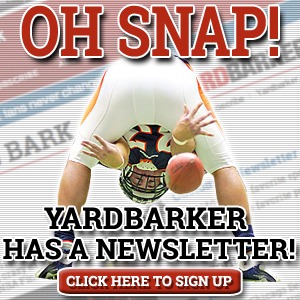 Latest Rumors
The Backyard

Today's Best Stuff

For Bloggers

Join the Yardbarker Network for more promotion, traffic, and money.

Company Info

Help

What is Yardbarker?

Yardbarker is the largest network of sports blogs and pro athlete blogs on the web. This site is the hub of the Yardbarker Network, where our editors and algorithms curate the best sports content from our network and beyond.