Found September 20, 2013 on isportsweb.com:
The San Francisco Giants are heading into the offseason with a ton of things they need to do. They need to re-sign Hunter Pence, Tim Lincecum and Javier Lopez, as well as bring back Chad Gaudin and Ryan Vogelsong. They also need to add a starting left-fielder and possibly another starting pitcher. That's a lot of things that the Giants have on their table. Whether or not they can accomplish all of these things remains to be seen, but for the sake of this article I'm going to focus on the first base and outfield options that are out there for the Giants to explore. I'm not suggesting the Giants should replace Brandon Belt, because they shouldn't and they aren't, but at the same time if the Giants can get a first baseman who can hit for power they will do that and move Belt to left field. Belt told Henry Schulman of the San Francisco Chronicle a couple of days ago that'd he'd be willing to move to the outfield if it means helping the Giants win. This is an option for the Giants, especially if they are able to sign power hitting Cuban first baseman Jose  Dariel Abreu. Abreu is the next Cuban star in line following in the footsteps of Aroldis Chapman, Jose Fernandez, Yoenis Cespedes and Yasiel Puig. Abreu has as much raw power as anybody. He was consistently hitting 30 home runs in a very competitive Cuban league as well as hitting well over 300 in the last few seasons as well. ESPN's Jerry Crasnick previously wrote an article that profiles Abreu's future in Major League Baseball. Several scouts when asked by Crasnick said that Abreu could hit 20-25 home runs in the bigs right now even though he is still really raw. That's certainly high praise and something that would help the Giants immediately in the power department. However, on the downside, Abreu will command a big contract. How big exactly? His contract could be worth more that Yasiel Puig's seven-year 42 million dollar contract with the Dodgers. Abreu's contract may be an excess of 60 million dollars. Another downside of Abreu is that he will be 27 years old next season so he's not particularly young. Other cheap veteran options at first base include Kendrys Morales and Mike Napoli. Now, if the Giants don't sign Abreu because he's too expensive there are several outfielders out there that the Giants could pursue. According to reports, some outfielders that the Giants could be looking at include Shin-Soo Choo, Jacoby Ellsbury, and former Giant Carlos Beltran. Of the three, Choo would certainly be the best fit. He has the versatility to hit anywhere in the lineup from The Giants must resign Hunter Pence this offseason leadoff to eighth. He plays good defense and is a guy who will give you good overall play as he's doing with the Cincinnati Reds this season. Choo is the only true left-fielder of the group although he can play center and left. Ellsbury is a guy who is one of the best leadoff hitters and centerfielders in baseball when he's healthy. But, that's a big if. At best, Ellsbury would probably give you between 130 and 140 games when healthy, but it's more like 100-110 as he's averaged including this season just 101 games for his big league career. Also, since the Giants have Angel Pagan they don't need a centerfielder. Finally, Carlos Beltran is an interesting case. I don't think that this is going to happen. I feel that the Giants burned too many bridges with Beltran a couple of years ago when they apparently didn't show any interest in wanting to sign him when he was a free agent. Beltran, if he chose to return, would be welcomed back by the San Francisco fans and would provide very solid play in the Giants outfield. He would certainly provide the Giants with power, speed, good defense and someone who would pair really well with Angel Pagan and more than likely Hunter Pence. On top of all this the Giants need to re-sign Hunter Pence. Pence has been making a late season salary charge recently. Pence has 25 home runs and 93 RBI'S while hitting 291. He has 21 steals on top of that. It's safe to say Pence has been the Giants best hitter this season and is a true 5 tool player that the Giants would love to keep. With the way he's playing his salary continues to go up. The Giants are already discussing a contract extension with Pence, who has said he would love to return, but also that he won't give the Giants a hometown discount. If the Giants are able to re-sign Pence and add another hitter to their lineup, they could be a really solid team again next year. The Giants have a lot to do, but these are the two biggest things the Giants need to do: either add power at first base or add another outfielder. The Giants still have questions about their pitching staff but they are banking that Cain and Bumgarner are going to be solid and that the combination Lincecum, Vogelsong, Gaudin, and Yusmeiro Petit will at least be above average. If that's the case and the Giants offense lives up to par then the Giants could be a very good team next year and return to contention.  
Original Story:
http://feedproxy.google.com/~r/isport...
THE BACKYARD
BEST OF MAXIM
RELATED ARTICLES
The San Francisco Giants chose the perfect day to pull the hazing card on their rookies. After their series with the New York Mets ended on Thursday, the Giants' veterans made their new guys dress up like New York City's infamous Naked Cowboy. That meant the rookies had to take to Times Square wearing nothing […]
Most teams use the month of September to get a good look at their rookies, but the San Francisco Giants maybe received too intimate a view of their young players. There is the time-honored tradition of Major League teams to have their rookies play dress up to entertain the veterans. Well on Thursday it was the day of reckoning for the San Francisco rookies. They were in New York...
SF Giants rookies Juan Perez, Nick Noonan, Roger Kieschnick, Johnny Monell, Ehire Adrianza, Mike Kickham, Jake Dunning and Heath Hembree dressed up (down?) like the Naked Cowboy and headed out to meet him. May be the best MLB hazing we've seen. Bravo. [LBS] **Follow us on Twitter, View via Our Mobile Site, or Return to BobsBlitz.comFollow us on Twitter. Subscribe or Return...
The San Francisco Giants are in talks with outfielder Hunter Pence about an extension, as I wrote here. The talks are in the beginning stages and no deal is imminent. Even though no deal is close, all indications are that the Giants really want to lock up their free agent to be. CBS Sports' Jon Heyman reports that the San Francisco Giants "very much" want to...
In a year of downs Madison Bumgarner has been one of the few constant ups. Now he is on the brink of a historic feat. Bumgarner struck out 10 in Thursday's 2-1 victory against the Mets to establish a career high of 199. He has one remaining start to reach 200 for the first time in the majors and become the fifth left-hander in franchise history to reach that plateau. The other...
To add to the woes of the defending World Series Champion San Francisco Giants' 2013 campaign, veteran lefty reliever Jeremy Affeldt has been sidelined for the remainder of the season due to a nagging oblique injury. Andrew Baggarly of CSN Bay Area reports that Manager Bruce Bochy stated in an interview that lack of conditioning could be at the root of Affeldt's injury...
Madison Bumgarner struck out 10 in seven innings of four-hit ball, outpitching Jonathon Niese to lead the San Francisco Giants over the New York Mets 2-1 Thursday. Juan Perez went 3 for 3 with an RBI single in his hometown, and the World Series champions won for the eighth time in 11 games. After taking two of three from the Mets, the Giants don't even have to change hotels...
Ryan Vogelsong felt he didn't have his head in this outing. Vogelsong gave up five runs, and the San Francisco Giants managed just six hits against Ivan Nova in a 6-0 loss to the New York Yankees on Saturday. ''It was upsetting for me from a mental standpoint,'' Vogelsong said. ''I didn't have a good mental game.'' Shortstop Brendan Ryan...
The Giants have had a forgettable season, but they made sure to make some memories during their swing through New York this week. In town for a couple of series against the Mets and the Yankees, the Giants decided to take the annual ritual of rookie hazing to Times Square. Newcomers Juan Perez, Nick Noonan, Roger Kieschnick, Johnny Monell, Ehire Adrianza, Mike Kickham, Jake Dunning...
In his first start at Yankee Stadium, Tim Lincecum was lifted a few pitches before the decisive blow. Alex Rodriguez set a major league record with his 24th career grand slam, passing Lou Gehrig with a tiebreaking shot in the seventh inning that sent the New York Yankees to a 5-1 victory over the San Francisco Giants on Friday night. A-Rod's drive off reliever George Kontos...
Giants News

Delivered to your inbox

You'll also receive Yardbarker's daily Top 10, featuring the best sports stories from around the web. Customize your newsletter to get articles on your favorite sports and teams. And the best part? It's free!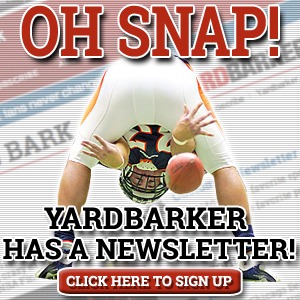 Latest Rumors
Best of Yardbarker

Today's Best Stuff

For Bloggers

Join the Yardbarker Network for more promotion, traffic, and money.

Company Info

Help

What is Yardbarker?

Yardbarker is the largest network of sports blogs and pro athlete blogs on the web. This site is the hub of the Yardbarker Network, where our editors and algorithms curate the best sports content from our network and beyond.