Found March 31, 2012 on hardballchat.com:
San Francisco Giants starting pitcher is still just 33-years-old, meaning his age should not be a factor in his level of success on the mound. If any one has proven that age is not an issue, ask the newly anointed No. 2 starting pitcher in the Colorado Rockies rotation, Jamie Moyer, who is 49-years-old as he enters the start of his 25th MLB season. Yet one could argue that Moyer is still more effective than Zito, even considering he is 16 years Zito's elder. Don't think that the Giants haven't noticed. During Spring Training, the offensively inept Giants were shut out twice by Moyer, who will turn 50 in November. Now, they will have to see a lot more of him after learning that he won a spot in Colorado's rotation. That is why they are asking their own lefty in Zito to pay attention to when Moyer pitches, and to especially watch how effortlessly he delivers to home plate. Giants pitching coach Dave Righetti wants Zito to witness just how relaxed Moyer is on the mound. The fact that he can barely hit 80 mph on the radar gun takes nothing away from his success on the hill, and Moyer won 208 games after the age of 33, which is what Zito will be to start the 2012 MLB season. While that will unlikely ever take place for Zito, the Giants are still hoping that he can turn things around after his miserable season last year in the Bay. To this point, his contract has been one of the worst in MLB history, and the Giants, while fully aware of that fact, are still hoping to cash in at least partially in their investment. This past offseason, Zito gained some weight for stability on the mound to help him adapt one fluid motion with his delivery. If he can mix his pitches while maintaining the same delivery, he stands a better chance at getting out opposing batters. If he can do that with some consistency and remain healthy, he will be a big part of the back end of the Giants' rotation in 2012. If he cannot, then it could very well be the end of the line for Zito in the big leagues.   Kelley writes for The Pigskin Report as well as Hardball Chat. You can follow him on Twitter @RobKelley24 and Like The Rob Kelley Sports Network on Facebook. Kelley is a former sports reporter for various newspapers throughout the state of Florida, and had his first book published I'm Not a Quitter after moving back to Massachusetts.
Original Story:
http://www.hardballchat.com/2012/03/s...
THE BACKYARD
BEST OF MAXIM
RELATED ARTICLES
With a win, Jamie Moyer becomes the oldest to record a W.On Friday it became official. Jamie Moyer, age 49, made the Colorado Rockies starting rotation.Moyer's presence in Rockies camp has made for more than a few jokes around baseball. The Baseball Tonight crew on ESPN routinely talks about Moyer and his quest to make the team. Jokes from fans are prevalent when the 49-year...
Jamie Moyer showed up in spring training convinced he could make the Colorado Rockies rotation. He spent the last six weeks proving his point. The Rockies announced Friday that the 49-year-old Moyer will make the team and will start the second game of the regular season, April 8, at Houston. Moyer becomes the oldest starting pitcher to make an Opening Day roster. The announcement...
Against all odds and after Tommy John surgery at age 47, Jamie Moyer has won a spot in the 2012 Colorado Rockies rotation. Moyer pitched well enough in Spring Training to make the team. If he can win a game he will be the oldest player in major league history to earn a win at age 49. Amazing that this guy just never quits. Kudos to him for preserving and not only coming back from...
Rock of ages (Photo by Christian Petersen/Getty Images) I'm 34 years old. Back in 10th grade, I had a stress fracture in my shoulder from pitching and catching…constantly. It still hurts. Side note: high school coaches…after your teenage pitches five or six innings, don't put him behind the plate and ask him to throw runners out. It typically it ends poorly. More recently...
The Colorado Rockies announced on Friday that Jamie Moyer at the ripe age of 49-years-young will make the club's starting rotation to start the season. Moyer will reportedly pitch second in the rotation, behind opening-day starter Jeremy Guthrie. Moyer is coming off Tommy John surgery that kept out for the 2011 season. "I didn't feel like anything was owed to me, I feel like...
    Jamie Moyer began his major league career in 1986 with the Chicago Cubs. In his first pitching appearance Moyer went 6 1/3 innings and picked up the victory against Hall of Famer Steve Carlton. Since then Moyer has pitched for the Texas Rangers, St. Louis Cardinals, Baltimore Orioles, Boston Red Sox, Seattle Mariners, [...]
Jamie Moyer continues to defy the odds. The 49-year-old lefthander secured a spot in the Colorado Rockies' rotation and will start the team's second game of the season against the Houston Astros. Moyer will enter his 25th campaign after beating out Tyler Chatwood and Guillermo Moscoso for the rotation slot. The latter two hurlers are a combined 50 years old. "I was...
With just a few years remaining until he can qualify for his AARP card, Jamie Moyer just completed Spring Training and has made the Colorado Rockies' roster. Moyer will start the season as the number two pitcher in the club's starting rotation. 2012 will be Moyer's 25th professional season.With his next victory, Moyer will become the oldest pitcher in major league...
Jamie Moyer pitched for the Baltimore Orioles from 1993 to '95. For much of that time, ESPN's Buster Olney was the Orioles' beat writer and I was a columnist for The (Baltimore) Sun. "Write about Moyer," Buster would tell me. "Nah," I would reply. "Nothing to the guy." Buster and I must have had an exchange along those lines a half-dozen times, almost to the...
Blanco Signed:The Phillies infield has more injuries than a MASH unit during the Korean War. Last week Joe Thurston was signed for depth and now Andres Blanco has been added as well. The 27 year old switch hitter is best suited for SS and 2nd base, but he's manned 3rd and some outfield too. In 6 seasons with the Cubs, Royals, and Rangers he's hit .255/.634 in 235 games. He...
MLB News

Delivered to your inbox

You'll also receive Yardbarker's daily Top 10, featuring the best sports stories from around the web. Customize your newsletter to get articles on your favorite sports and teams. And the best part? It's free!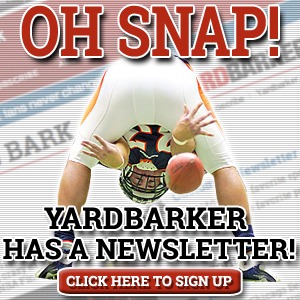 Latest Rumors
Best of Yardbarker

Today's Best Stuff

For Bloggers

Join the Yardbarker Network for more promotion, traffic, and money.

Company Info

Help

What is Yardbarker?

Yardbarker is the largest network of sports blogs and pro athlete blogs on the web. This site is the hub of the Yardbarker Network, where our editors and algorithms curate the best sports content from our network and beyond.