Found December 14, 2012 on Fox Sports:
PLAYERS:
James Shields
,
Josh Hamilton
,
Anibal Sanchez
,
Mike Trout
,
Albert Pujols
,
Austin Jackson
,
Miguel Cabrera
,
Prince Fielder
,
Torii Hunter
,
Victor Martinez
,
Justin Verlander
,
Doug Fister
,
Max Scherzer
,
Rick Porcello
,
Drew Smyly
,
Danny Haren
,
Ervin Santana
,
Tommy Hanson
,
Joe Blanton
,
Jeremy Guthrie
,
Wade Davis
,
Luke Hochevar
,
Bruce Chen
,
Jake Peavy
,
Chris Sale
,
Mike Ilitch
,
Scott Boras
TEAMS:
Kansas City Royals
,
Los Angeles Angels
,
Detroit Tigers
,
Washington Nationals
,
Chicago White Sox
This week, the American League became more competitive by the day. The Royals traded for James Shields. The Angels signed Josh Hamilton. Friday, the defending champions answered: Anibal Sanchez agreed to a five-year, $80 million contract to remain in Detroit, a major-league source confirmed to FOXSports.com. One signing didn't turn the Tigers into prohibitive favorites to return to the World Series. But it's hard to argue that any team in the AL -- yes, even the Angels -- has a better chance of getting there. Some are wondering if the Angels' 1-3-4 combination -- Mike Trout, Hamilton and Albert Pujols, in some order -- is the best ever. But the Tigers can't be too far behind with Austin Jackson, reigning MVP Miguel Cabrera and Prince Fielder. (The Angels' new trio held a narrow lead over the Tigers' group in WAR this year, 18.3-17.5, according to FanGraphs.com.) Detroit's lineup should be much improved top-to-bottom, with the addition of former Angel Torii Hunter (whose .817 OPS will be missed by his former team) and Victor Martinez, expected to return after missing all of the 2012 season with a knee injury. But the Sanchez signing was essential to preserve the Tigers' clearest advantage over their divisional foes -- and potential October opponents. Detroit's postseason rotation -- Justin Verlander, Doug Fister, Sanchez and Max Scherzer -- posted a 5-1 record and 1.02 ERA against Oakland and New York in the AL playoffs. And now no member of that group will be eligible for free agency until Verlander and Scherzer after the 2014 season. The Tigers also have two solid options for the No. 5 spot, right-hander Rick Porcello (who is about to turn 24 and still has upside) and left-hander Drew Smyly (who impressed as a rookie this year, going 4-3 with a 3.99 ERA in 99-1/3 innings). Porcello could be traded for a closer, but the better course there would be to upgrade the Tigers' defense at shortstop so his sinker-reliant repertoire generates more ground-ball outs. Detroit finished with the second-lowest rotation ERA in the American League this year, 3.76. Only the Rays were better, and they just traded Shields. It's not a stretch at all to say the Tigers, as constituted, have the league's top rotation -- certainly better than the Angels, who have replaced Dan Haren and Ervin Santana with Tommy Hanson and Joe Blanton. What was said before the 2012 season began remains true now: The Tigers have the clearest route to the postseason of any team in baseball. Their talent and payroll advantage are two reasons. Their division -- the top-heavy American League Central -- is another. The Royals are better, yes, but their rotation (Shields, Jeremy Guthrie, Santana, Wade Davis and Luke Hochevar or Bruce Chen) isn't better than Detroit's. The White Sox have had a quiet winter and are banking on Jake Peavy and Chris Sale having two excellent seasons in a row. Neither the Twins nor the Indians are ready to challenge the Tigers yet. The Sanchez signing was the latest demonstration of Mike Ilitch's legendary largesse, as the 83-year-old's desire to win a World Series burns brighter than ever. As long as Ilitch owns the team, the Tigers will make moves like this -- signing Martinez, Fielder and Sanchez to massive contracts in successive winters. The Tigers' next huge investment will need to come from within, as Verlander is staring at the possibility of becoming baseball's first $200 million pitcher. It's hard to imagine that the Tigers will be able to retain both Verlander and Scherzer (a Scott Boras client) when they hit free agency two winters from now. Eventually, they will need to make a very difficult, very expensive decision. But the calculation will become a lot easier if they win a World Series ring in one of the next two years. After keeping Sanchez, that possibility is very much alive.
Original Story:
http://msn.foxsports.com/mlb/story/de...
THE BACKYARD
BEST OF MAXIM
RELATED ARTICLES
In an unusual turn of events, Anibal Sanchez is returning to the Detroit Tigers on a 5-year, $80M deal. This move comes on the heels of the Cubs offering Sanchez a 5-year, $75M contract on Thursday. What most people didn't know was that Sanchez planned on giving the Tigers a chance to match his best offer all along. Not only did the Tigers match it, but they gave him an extra ...
Yesterday the Detroit Tigers re-signed right-hander Anibal Sanchez to a five-year, $80 million contract, as reported by Bob Nightengale of USA Today. Agent Gene Mato Sanchez agrees to 5 year,$80 million deal w #Tigers — Bob Nightengale (@BNightengale) December 14, 2012 The Tigers acquired Sanchez from the Miami Marlins last summer in exchange for prospects,...
Anibal Sanchez is staying with the Detroit Tigers. After the free-agent pitcher appeared to be on the verge of taking a lucrative five-year, $77.5 million offer from the Chicago Cubs, the Tigers upped the ante and Sanchez agreed to a five-year, $80 million contract Friday, his agent, Gene Mato, told USA Today. Sanchez, 28, came to the Tigers during the 2012 season from the Miami...
The Red Sox still need starting pitching, but it's obvious they're not willing to just throw cash around. The Tigers reportedly inked Anibal Sanchez to a five-year, $80 million deal on Friday. Before Sanchez signed the big contract, however, the Red Sox talked to the right-hander, according to CBSSports.com's Jon Heyman. The Sox reportedly weren't willing to go as high as...
The Cubs made their biggest move so far this off-season on Thursday, reportedly signing Anibal Sanchez to a five-year deal pending physical on Thursday according to reports from Bob Nightengale of USA Today.  Meanwhile, Jon Heyman of CBS Sports continues to report that Detroit is "very much in the mix". Sanchez, 28, made his debut with the then-Florida Marlins in 2006, where...
Early Thursday evening, Bob Nightengale of the USA Today tweeted that starting pitcher Anibal Sanchez agreed to sign a deal with the Chicago Cubs.  Not more than a half hour later, Nightengale and others were recanting that initial report saying that Sanchez had not yet signed the deal and that other teams, namely the Tigers, were still in play. As of Thursday night, we have learned...
Anibal Sanchez has re-signed with the Detroit Tigers. Sanchez will receive $80 million over the next five seasons. This news comes a day after reports suggested that the right handed pitcher had chosen to sign a deal with the Chicago Cubs. Those reports proved to be false. Sanchez was acquired by the Tigers at the July trade deadline from the Florida Marlins. After the trade Sanchez...
The Chicago Cubs seemed poised to sign free-agent pitcher Anibal Sanchez on Thursday afternoon, with reports surfacing that the two sides were close to a deal. However, it appeared that Sanchez was willing to give his former team, the Detroit Tigers, one more chance to one-up the Cubbies. That's exactly what the Tigers did, and on Friday, they reportedly came to terms on a new...
The Rangers still have options, the Angels have an abundance of outfielders, and Anibal Sanchez`s impending decision has multiple implications.
Despite a winding road of reports over the last two days, Anibal Sanchez will remain a Detroit Tiger after all. The club signed the 28-year-old right-hander to a five-year, $80 million deal, keeping him in Detroit through the 2017 season. Sanchez joins Justin Verlander, Max Scherzer and Doug Fister as locks for the Tigers' rotation this spring, with just one spot left for youngsters...
Mike Ilitch (center) celebrated an AL title with manager Jim Leyland (left) and GM Dave Dombrowski. Mike Ilitch wants to win a World Series. That's it. That is the beginning and the end of this debate over the justification for the five-year, $80 million deal free-agent starting pitcher Anibal Sanchez reportedly accepted Friday to stay in Detroit. Anyone expressing shock over this...
The Detroit Tigers are still serious about winning a world championship and will continue to be as long as owner Mike Ilitch is running the show. Originally reported by Bob Nightengale of USA Today and confirmed by FOX Sports' Ken Rosenthal, the Tigers signed Anibal Sanchez to a five-year, 80 million contract Friday morning. This came on the heels of a report Thursday night...
MLB News

Delivered to your inbox

You'll also receive Yardbarker's daily Top 10, featuring the best sports stories from around the web. Customize your newsletter to get articles on your favorite sports and teams. And the best part? It's free!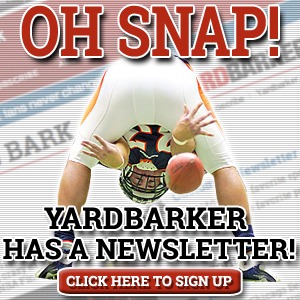 Latest Rumors
The Backyard

Today's Best Stuff

For Bloggers

Join the Yardbarker Network for more promotion, traffic, and money.

Company Info

Help

What is Yardbarker?

Yardbarker is the largest network of sports blogs and pro athlete blogs on the web. This site is the hub of the Yardbarker Network, where our editors and algorithms curate the best sports content from our network and beyond.