Found June 20, 2012 on The Nats Blog:
The lights have gone out with the Washington Nationals for a pitcher who was once nicknamed "Lights Out." On Sunday, 35-year-old former All-Star Brad Lidge was designated for assignment as a result of a rocky season and some especially poor performances after coming back from hernia surgery.
Based on the performances they have seen from him this year (he finished with a 9.64 ERA and a 2.46 WHIP), many Nationals fans might not remember that Lidge was once an award-winning pitcher whose list of accolades rivals the baseball greats.
Lidge was the Houston Astros' first round pick in 1998 draft (17th overall). In just his second Major League season, he broke the National League record for most strikeouts by a reliever in a single season (2004, 157), and he still holds that record today. In 2005 and 2008 he was voted into the All Star Game, and he won three awards in 2008 (NL Comeback Player of the Year, NL Rolaids Relief Man of the Year, DHL Delivery Man of the Year). Also in 2008, he came in eighth place for NL MVP, and in fourth place for the NL Cy Young award. He was in good company in the nomination for the Cy Young Award: that year Johan Santana came in third, and CC Sabathia was fifth. Throughout his career, Lidge has recorded 225 saves, and he contributed to the Philadelphia Phillies' winning the 2008 World Series by not blowing a save through the whole regular season and postseason (48 saves).
However, Lidge failed to produce those kinds of quality performances for the Nationals, and past awards don't win ball games today. For a team that is fighting the kind of stiff competition that the Nats are to win their division, they had little choice but to let him go.
Lidge's first two appearances of the year were solid - both times he gave up just one hit, while allowing no runs to score and fanning two batters. But, his final two outings as a National were the polar opposite of the first: he faced 10 batters and allowed five earned runs on four hits and three walks (which works out to a 45.00 ERA for anyone wondering).
Those opposite sorts of outings became a trend for Lidge this season. In five of his 11 appearances he pitched a whole inning without allowing a run and striking out one or more batters. In four other appearances he allowed at least one run to score without recording a strike out. Now while strikeouts obviously aren't the only means by which to record an out, a definite pattern emerges when looking at Lidge's stats for the year: when he was on his game, batters couldn't hit him, and when he wasn't, it was like he was pulling first base out of the ground and handing it to them.
This pattern of inconsistent quality outings defined his tenure with the Nationals. Lidge would pitch really well two or three games in a row, and then blow a save in his next appearance. Just when you thought he was getting into a rhythm, he would fall apart again. Because unreliable and closer are two words that just can't go together, Lidge forced Rizzo to make a move for the good of the team.
If Lidge had been able to perform to his career standard, he would have been a killer addition to the Nationals' already stellar pitching staff. Baseball writer Joe Posnanski speaks to what an amazing pitcher Lidge once was: "In 2004, hitters swung and missed at Brad Lidge strikes almost 42% of the time. And if the ball was out of the strike zone, forget about it, they missed more than 70% of the time. I have no doubt that Brad Lidge, that one year, was one of the most unhittable pitchers in the history of baseball."
You can see why GM Mike Rizzo wanted him to be a part of this team, but at 35, which is past prime age in the baseball world, it seems that Lidge may never return to his former glory. It is possible that another team might look back at his highlight reel of a career and offer him another chance, but it is more likely he will go by way of retirement. While it is always a little sad to see a player's career end, or at least falter, the Nationals have to keep looking towards October, and only players who can deliver post-season quality performances will be a part of their journey towards the pennant.
Original Story:
http://www.thenatsblog.com/2012-artic...
THE BACKYARD
BEST OF MAXIM
RELATED ARTICLES
(Jesus Flores and Gio Gonzalez, with fans. Wait, wasn't Stephen Strasburg Papa Smurf? Photo via @LoraGravatt) How to spend an off day in Washington, DC if you're Gio Gonzalez? Head to TopGolf in Alexandria. And if you're Gio Gonzalez, bring your battery mate Jesus Flores along with you to make you feel better about your own golf game: Befriend the Nats Enquirer...
CLOWN EXPLANATION
Bryce Harper's famous "That's a clown question, bro" quote has gone viral, and Harper finally explained the origins of it.
Ross Detwiler is replacing Chien-Ming Wang in the Washington Nationals' starting rotation. Washington manager Davey Johnson announced the move prior to Wednesday night's game against the Tampa Bay Rays. Wang had his worst outing of the season Tuesday night, lasting just 3 1-3 innings and giving up five runs on seven hits and three walks in a 5-4 loss to Tampa Bay. His record...
LIGHT ON HIS FEET
Washington Nationals third base coach Bo Porter used some acrobatics to avoid an errant throw to third by the Tampa Bay Rays, allowing Bryce Harper to score a run for the Nationals during the first inning of Wednesday night's game in D.C.. Your browser does not support iframes. With no outs and Bryce Harper on second base for the Nationals, Ryan Zimmerman hit a fielder'...
Previously on Outside the Boxscore, we featured a rather entertaining sound byte from Washington Nationals outfielder Bryce Harper as he told off a Canadian reporter with the statement, "That's A Clown Question, Bro". Well, it appears that Senate Majority Leader Harry Reid was listening and decided to pull it out during a recent press conference: To note...
WASHINGTON (AP) -- Stephen Strasburg struck out 10 to win a fast-ballers' duel with newbie Chris Archer, Joel Peralta managed to pitch without having his glove inspected, and the Washington Nationals snapped a four-game losing streak Wednesday night with a 3-2 win over the Tampa Bay Rays. Strasburg (9-1) won his sixth consecutive start by allowing five hits and two runs over...
Tune into Sun Sports at 6:30 p.m. to watch the Tampa Bay Rays take on the Washington Nationals. The NL East-leading Washington Nationals haven't won in a week, and that was also the last time they gave the ball to Stephen Strasburg. Wins have become commonplace for the star right-hander. Strasburg looks to extend the longest winning streak of his career and help the Nationals...
Unless you have been under a rock in Nats Town, you know by now that in the bottom of the eighth inning of last night's 5-4 loss to the Tampa Bay Rays, the Washington Nationals facilitated in the ejection of relief pitcher Joel Peralta in what was quite a crazy scene. Before the beginning of the inning, Nats skipper Davey Johnson asked home plate umpire Tim Tschida to take a look...
Tampa Bay reliever Joel Peralta was ejected in the Rays' 5-4 victory Tuesday night after Washington Nationals manager Davey Johnson asked the umpires to check his glove while the pitcher was warming up in the eighth inning. A quick check by umpire Tim Tschida revealed a "significant amount" of pine tar. Ideally the substance would [...]
The hit song "Boyfriend" by Justin Bieber was the walk-up song for Washington Nationals superstar Bryce Harper as he walked to the plate to bat on Tuesday night.Check out the video below as some fans in Washington are shocked and surprised by the song. You can hear one fan say "oh my god" while another one says "hell no."I'm not a big Bieber fan...
Here's Bryce Harper having a moment with Joe Theismann after batting practice prior to Thursday night's Nats win over the Rays. We're 100% certain Joe didn't tell Bryce to break a leg. (Photo via @NationalsPR) Oh, and here's Joe with Johnny Holliday, Davey Johnson, and Ray Knight. And here's Joe as seen on TV, cheering on his favorite baseball team: ...
WASHINGTON (AP) -- Carlos Pena hit a two-run homer and David Price bounced back from his worst start of the season to pitch seven strong innings, leading the Tampa Bay Rays to a 5-4 victory over the Washington Nationals on Tuesday night. Price (9-4) gave up four runs on six hits. He struck out four and walked one to help Tampa Bay win for the third time in four games. His last time...
MLB News

Delivered to your inbox

You'll also receive Yardbarker's daily Top 10, featuring the best sports stories from around the web. Customize your newsletter to get articles on your favorite sports and teams. And the best part? It's free!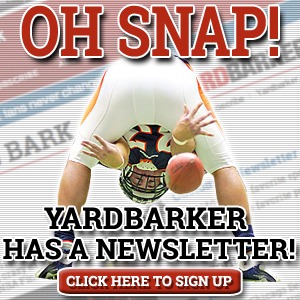 Latest Rumors
Best of Yardbarker

Today's Best Stuff

For Bloggers

Join the Yardbarker Network for more promotion, traffic, and money.

Company Info

Help

What is Yardbarker?

Yardbarker is the largest network of sports blogs and pro athlete blogs on the web. This site is the hub of the Yardbarker Network, where our editors and algorithms curate the best sports content from our network and beyond.