Found August 12, 2012 on Fox Sports Detroit:
CLEARWATER , Fla. The wincing, waiting, wondering,and deep tissue massages are just about over for Daniel Schlereth. Hehad never spent so much as two months on the disabled list. But its been nearly four months since the Tigers' left-handed relieverwent on the shelf with what has been termed left shoulder tendinitis by the club. It feels like I have not played forever, Schlereth said Friday, while standing on the top step of the dugout at Bright House Field. I want to get back to Detroit. Ive missed everybody and being around the clubhouse. I miss competing. If all goes well, Schlereth said he should be ready to return to Detroit from a rehabilitation assignment with the Lakeland Flying Tigers after pitching back-to-back, one-inning stints on Aug. 20-21. Schlereth was asked if the injury was just tendinitis. No, he said. Tendinitis does not last four months. They probably dont want me saying that. But when I could not reach back and throw 90 mph, I knew something else was wrong. I was in a lot of pain, and its hard to pitch with a throbbing shoulder. I dont know what caused it. Maybe I lifted too much in the offseason. It started in spring training, and I didnt tell our trainers I was hurt. I was stupid. I got that from my dad. We just push through things. Thats dumb on both our parts. But I was hurting the team and pitching terrible. Playing hurt is much more a part of his fathers game than it is in baseball. Mark Schlereth, now an ESPN analyst, was a two-time Pro Bowl offensive guard and won three Super Bowl rings with the Broncos and Redskins. After running up a 10.29 ERA in six games, Schlereth came clean and said he was hurt. The Tigers placed him on the disabled list April 21, and he visited a specialist at the Steadman Clinic in Colorado. All pitchers have some sort of tear in their labrum, Schlereth said. It was a rotator cuff or labrum problem and the doctor in Colorado talked to me about surgery. But he said the chances of coming back from that were not good. So, we decided to go with rest and rehab. I stayed in Colorado and got treated five days a week with heat and deep tissue massages. He had to break it up and get me functional. It worked, and in June I started throwing. Schlereth, 26, said he is throwing 92-93 mph fastballs which is a couple miles per hour off his best. But its still plenty enough to compete in the big leagues if his curve or slider is working, and if he commands his pitches. Now, I just have to watch how much I throw, Schlereth said. And once I get into games, I have to attack the strike zone. Phil Coke can play long toss every day and throw a ton in the bullpen. Hes wired differently. Ill have more success if I dont throw as much. He also mentioned working on a changeup, adding that hes never been able to make the pitch work for him. The goal is keeping the right-handed hitters, who bat .269 against him, a little more off balance. Lefties hit just .213 against him. Schlereth, a first-round pick out of the University of Arizona by the Diamondbacks in 2008, had hoped this would be the season he stuck in the majors without a trip to the minors. Instead, its been the strangest season for him. He once was looked at as a future closer, but all he wants to do is pitch in games that matter. My only goal is to get back to Detroit , Schlereth said. All I want to do is win; I dont give a crap about the rest of it. Getting knocked out of the playoffs last year still stings. He looked down at the dugout steps and shook his head. I want to win a championship, he added, and I hope thats in Detroit. We have the best group of guys in that clubhouse that you could ask for. And we have an owner (Mike Ilitch) who wants to win as bad as anyone. When we signed Prince Fielder this year, my brother-in-law told me about it in a text. I thought it was a joke. Schlereth was looking forward to this season after a strong finish for the 2011 Central Division champions. He had a 1.93 ERA for the Tigers after returning from a month with Triple-A Toledo late last July. The ball was just flying out of my hand perfectly when I came back, Schlereth said. But its always been that way for me. Im a second-half pitcher. His careerearned run averagebefore the All-Star break is 6.30, while it is 2.89 after it. Another statistic Schlereth cant explain is his career-long problem of pitching at home which reached new heights last year. He posted a 5.11 ERA in 2011 at Comerica Park , while dropping that a staggering amount to 1.85 on the road. He is a road All-Star. But at Comerica, which oddly enough is a park with dimensions favoring pitchers, he doesnt cut it. I guess I just pitch better when Im the enemy, Schlereth said. When Im on the road, I feel theyre all out to get me and respond better. Maybe Im too comfortable at home. He laughed and added, Maybe I should stay at a Holiday Inn when were in Detroit . But my wife would think thats pretty strange. Last year, in 49 appearances overall, he was 2-2 with a 3.49 ERA. He struck out 44 in 49 innings, but the 31 walks often were his downfall. Schlerethwas scheduled to pitch Saturday night and again on Tuesday. He's on a pitch count with Lakeland, and has 2 13 innings of work in three games with a 3.86 ERA, one walk and three strikeouts. The Tigers are in the hunt once again, and he longs for the opportunity to return to them. I like to compete, Schlereth said. Thats what its all about.
Original Story:
http://www.foxsportsdetroit.com/08/12...
THE BACKYARD
BEST OF MAXIM
RELATED ARTICLES
It's not a secret -- the Tigers have serious issues with their bullpen. This week saw meltdowns from just about every key reliever other than Jose Valverde, and left Tigers fans hoping that Bruce Rondon -- a name they had probably never heard until this summer -- can save the day. Valverde is never going to be Mariano Rivera and he's most likely never going to have another...
Detroit Tigers third baseman Miguel Cabrera is the best choice for American League MVP. He is the only player in the league with a distinct chance at winning the Triple Crown, and is carrying his team toward the postseason once again. In fact, the only serious MVP challengers Cabrera has right now are Rangers center fielder Josh Hamilton and Angels rookie outfielder Mike Trout...
As the Detroit Tigers picked up a big Friday night win deep in the heart of Texas, here's the latest news and information from around the web for August 11. The Tigers earned a big series opening win in Texas … Continue reading →
Tigers third baseman Miguel Cabrera is the best choice for AL MVP. He is the only player in the league with a distinct chance at winning the Triple Crown, and is carrying his team toward the postseason once again. In fact, the only serious MVP challengers Cabrera has right now are Rangers center fielder Josh Hamilton and Angels rookie outfielder Mike Trout. The choice for the leagues...
One hundred years ago today, baseball's biggest star left a carjacker dead on the streets of the Motor City. "In 1912 -- and you can write this down -- I killed a man in Detroit," Ty Cobb told his biographer. Maybe. It's been a century since the attack and over 50 years since Cobb told his life story to sportswriter Al Stump, and to this day, no one is 100 percent...
As the Tigers gave away a series with the Rangers, some talk in Detroit is that the kids of the future should start making their way up north to Detroit.  In my opinion, I say keep the kids down south. Nick Castellanos has struggled in Double-A trying to go from third base to the outfield according to Mike Cooper of the Erie News.  His .301 batting average sounds good, but he...
An older man who attended Friday night's Texas Rangers game in Arlington may have stepped over the line when he forcefully pulled Detroit Tigers star Miguel Cabrera's bat out of a younger fan's hand after it went flying into the stands. It happened in the top of the sixth inning as Cabrera swung at the first pitch and the bat went flying into the stands on the third...
Each Monday, good or bad, we'll look back at the biggest theme of the week that was for the Detroit Tigers. Even though the Tigers closed out an up and down week with two tough losses in Texas and gave … Continue reading →
61-53, 2nd place, 1 game behind CWS, .5 games behind Brandon Inge and Oakland for the WC lead (which means tied for 2nd WC spot) Last night's heart breaker ended on a Mike Olt single in the bottom of the 9th with two outs. Kid's been up for less than 2 weeks. The two walks to lead off the 9th were definitely the culprit, though Leyland's assertion that late leadoff walks have...
Russell Martin, a good baseball player having a bad year, almost poisoned the Tigers earlier this week. Martin, the New York Yankees catcher, is hitting below .200 for the season—well below his career mark (going into this year) of .272. But despite his failure to get a hit rate of over 80 percent, Martin shot the hearts of Tigers fans into their throats on Tuesday night. It was...
A shaky bullpen, runners left on base and a hapless offense doomed the Tigers in their 2-1 loss to the Texas Rangers Saturday night. After getting the bases loaded with one out in the top of the ninth the Tigers once again failed to get the go-ahead run across home plate as both Boesch and Peralta simply couldn't get the job done. In the following half inning Tigers reliever Brayan...
MLB 2012 video game pitchwoman and alleged girlfriend of Detroit Tigers pitcher Justin Verlander yes, Kate Upton has done another photo shoot that is circulating the interwebs. This time Kate Upton took it all off for Contributor magazine. See the pics after the jump Paul M. Banks is CEO of The Sports Bank.net, an official Google News site generating millions of unique visitors...
Tigers News

Delivered to your inbox

You'll also receive Yardbarker's daily Top 10, featuring the best sports stories from around the web. Customize your newsletter to get articles on your favorite sports and teams. And the best part? It's free!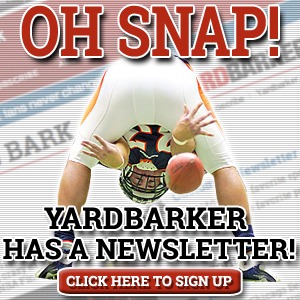 Latest Rumors
The Backyard

Today's Best Stuff

For Bloggers

Join the Yardbarker Network for more promotion, traffic, and money.

Company Info

Help

What is Yardbarker?

Yardbarker is the largest network of sports blogs and pro athlete blogs on the web. This site is the hub of the Yardbarker Network, where our editors and algorithms curate the best sports content from our network and beyond.