Found February 04, 2012 on NorthWest Sports Beat:
Predicting The Arms
The Mariners pitching staff are headed to their training complex in Peoria Arizona a full 8 days earlier than any other major league team.
The M's have a major overhaul coming to their starting rotation having lost 3 of their solid starters from 2011 due to trades, and their bullpen has a strong core, but needs a few pieces to round it off before opening day.
When you start following the Mariners this spring, start to think like a scout and see if you can predict who will make the team.
Requirements of a major league level pitcher.
Control
Mariners pitchers must be durable. If there is a hitch in their mechanics then injuries are sure to follow.
There are a lot of people that can throw the ball really hard, but there are few that can throw the ball hard as well as place their pitches.
When experts talk about Felix Hernandez the conversation always hovers around the topic of his ability to control the ball.
Consistency
Batters look for inconsistencies in a pitcher and try to exploit them.  Baseball is a mental game.  If a pitcher gets flustered their control will wain and they will end up giving up hits.
A lot of guys like Charlie Furbush and Anthony Vanquez will be left in the minors due to their inability to be consistence.
Durability
Just because a guy can throw a ball hard and with good control, doesn't mean that he is throwing it right.  Pitching is especially hard on a body as the high intensity and power needed to hurl the ball repeatedly.
If there is a hitch in their mechanics then injuries are sure to follow. 
James Paxton was shut down early last year for concerns about durability.  Hisashi Iwakuma was picked up from Japan on a dime due to durability concerns.
These issues could influence their chance of making the team.
Stamina
Individual workouts are important to build up strength to perform at a major league level.  These guys are being paid as athletes, they should be showing commitment to their career off the field as well.
As fans we can't see what is happening behind the scenes, but if we see a guy that can only face 3 batters before losing his consistency, his stamina can be a clue as to his true potential.
The Closer! League had 37 saves in 2011. He had a 2.79 ERA. He's, 28, and he signed for $5 million.
Experience
In the off season, the M's pursued a lot of veteran pitchers like George Sherill and Kevin Millwood to add to their spring training crew.
This is due to a lack of experience in the pitching staff.  Many people want the 2011 draft pick, Danny Hultzen to make the starting rotation, but aside from the Arizona Fall League – his experience in pro ball is nill.
His chances of being a starter this season are close to the same.
Even Hector Noesi who came from the Yankees has more experience and numbers decent enough to get a look.
I'd love to hear your predictions on the starting rotation, bullpen and closers.
Here are my Seattle Mariners 2012 Pitcher Predictions:
Starters
1.  Felix Hernandez
2.  Jason Vargas
3.  Hisashi Iwakuma
4.  Blake Bevan
5.  Hector Noesi
Bullpen
1.  Tom Wilhelmson
2.  Shawn Kelly
3.  Steve Delabar
4.  Chance Ruffin
5.  George Sherill
Closer
1. Brandon League
CLICK HERE NOW TO CHECK OUT THE SEATTLE MARINERS CLUBHOUSE AT NWSPORTSBEAT!
© Danny Ferguson for North West Sports Beat, 2012. | Permalink | No comment |
Follow NWSB on Twitter or join US on Facebook for real-time updates OR... | Share This on Twitter | Share NWSportsBeat.com on Facebook
Post tags:
Blake Bevan
,
Brandon League
,
Chance Ruffin
,
Felix Hernandez
,
George Sherill
,
Hector Noesi
,
Hisashi Iwakuma
,
Jason Vargas
,
Mariners baseball blogs
,
Mariners Bullpen
,
Mariners closers
,
Mariners pitchers
,
Mariners Predictions
,
Mariners preview
,
Mariners starters
,
MLB Blog
,
My Oh My
,
seattle
,
Seattle Mariners 2012
,
Seattle Mariners News
,
Seattle Mariners Pitching
,
Seattle Mariners starting rotation
,
Shawn Kelly
,
Steve Delabar
,
Tom Wilhelmson
Original Story:
http://www.nwsportsbeat.com/mariners/...
THE BACKYARD
BEST OF MAXIM
RELATED ARTICLES
Touch decisions for Wedge The Seattle Mariners have made quite a few acquisitions this offseason to compliment their already young roster. Most notably is the trade to get Jesus Montero from the Yankees. That move alone gave Mariners fans a shot of excitement and a reason to show up to Safeco Field this year. The conundrum for Eric Wedge will be how young does he want this lineup...
Seattle Predictions The Seattle Mariners are right in the midst of their organizational rebuilding process, which means that there is likely to be little difference between last year's season and this one. However, here are five things to look for to see that there is forward momentum in the franchise. 1. More Honesty. Last year, as the M's headed into spring training, General...
So many choices… The Seattle Mariners went out and stockpiled a lot of pitchers this offseason. That is on top of the slew of young talent they already have in the minors and in their current starting rotation. We saw Michael Pineda get traded away, but we also saw a big list of new names come to town to compete for spots in the Mariners starting rotation. Veterans like Kevin Millwood...
What else can baseball fans do in January but dream of October? In You May Say I'm a Dreamer, the Outside Corner staff will imagine the route to a World Series in 2012 title for all 30 teams. In 2011, the Seattle Mariners won just 67 games, and earned the number three pick in the MLB draft...a year after winning just 61 games, and earning the number two pick in the draft...
He's BACK! Infielder Carlos Guillen, who began his major-league career with the Mariners in 1998, has signed a minor-league deal with Seattle that includes an invitation to spring training. The Mariners have Chone Figgins and Kyle Seager in the utility role already don't they? The only thing I can see Guillen doing is bringing in some more power. (Much needed) ...
Interesting decision the other day by the Mariners to sign onetime Seattle infielder and longtime Detroit Tigers stalwart Carlos Guillen to a minor league deal. The Mariners, as you'd know from reading our winter meetings coverage, have been in on Guillen for quite a while. He'll earn $1 million in base salary if he makes the team plus an additional incentive bonus based...
Are you a Lefebvre Believer? Born: January 7, 1942 (age 70) Inglewood, California Manager Seattle Mariners (1989–1991) Last MLB Apperance: September 19, 1972 for the Los Angeles Dodgers All-Star selection (1966) World Series champion (1965) 1965 NL Rookie of the Year Like many American boys growing up in 1950′s Jim Lefebvre had a dream of becoming a big league ball player. Having...
Mariners News

Delivered to your inbox

You'll also receive Yardbarker's daily Top 10, featuring the best sports stories from around the web. Customize your newsletter to get articles on your favorite sports and teams. And the best part? It's free!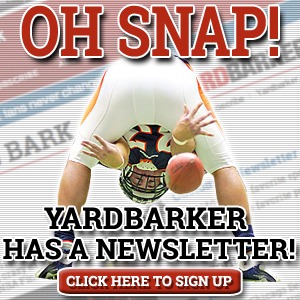 Latest Rumors
Best of Yardbarker

Today's Best Stuff

For Bloggers

Join the Yardbarker Network for more promotion, traffic, and money.

Company Info

Help

What is Yardbarker?

Yardbarker is the largest network of sports blogs and pro athlete blogs on the web. This site is the hub of the Yardbarker Network, where our editors and algorithms curate the best sports content from our network and beyond.