Found August 10, 2012 on Sports Blog Net:
PLAYERS:
Steven Baron
,
John Hicks
,
Jesus Sucre
,
Yoervis Medina
,
Dustin Ackley
,
Kyle Seager
,
Brad Miller
,
Tyler Burgoon
,
Eddie Guardado
,
James Jones
,
Mario Martinez
,
C.J. Retherford
,
Jason Mitchell
,
Jamal Austin
,
John Lannan
,
Alfredo Morales
,
Phillips Castillo
,
Reginald Lawson
TEAMS:
Seattle Mariners
,
Washington Nationals
The Big League club had the day off before heading to Los Angeles to play the Angeles. Tacoma also took the day off leaving us with six Mariners teams to analyze. There were three walk-off wins in Mariners Universe today! Thought of the day: I would love nothing more than to shake the hand of the talent scout who has been stocking our minor league system up on defensive catchers the past half decade. The Mariners have as gifted of arms behind the plate as I have seen. Steven Baron - 46% with 148 runners thrown out since 2009 John Hicks - 47% with 57 runners thrown out since 2011 (49.4% for 2012) Jesus Sucre - 42% with 170 runners thrown out since 2007 Brandon Bantz - 46% with 84 runners thrown out since 2009 Hopefully we can add Mike Zunino to this list in 2012.
To the tabs!
[tab: Generals] The Generals bullpen could not hold onto the lead on
Thursday night
as the Montgomery Biscuits took the contest 6-4 amid a 48 minute weather delay. James Gillheeny was effective through 7 innings of work allowing 4 runs (3 earned) and striking out 6 Biscuits. Yoervis Medina allowed the final two runs of the game for the Generals in the 8th inning allowing 3 hits in an inning of work. This outing was Gillheeny's first start of 2012 in AA Jackson although this level of competition is not something he is unfamiliar with. Gillheeny has been bouncing between A-Ball and AA-Ball since 2010. He has not been able to find a handle on the ball since being drafted in 2009 from the Alma Mater of Dustin Ackley and Kyle Seager; North Carolina University. He has an ERA of 4.73 in the Minor Leagues. Let's hope he gets his arm going for the club with this solid start. Brad Miller got the scoring started for the Generals in the third inning with a 2-run HR. The Mariners 2nd round selection from Clemson University was highly touted as a possible 1st round pick prior to draft day 2011. Miller eventually signed with the Mariners and hit .415 at Clinton last season post-draft. Miller continued his hot hitting posting a line of .339/.412/.524 in 97 games at High Desert in 2012. Since his call-up to Jackson he is hitting an impressive .311.
Watch here for a video
of Brad Miller graciously accepting the honor of 2011 ACC Player of the Year. The other two RBIs of the night came from Johermyn Chavez in the 6th and 8th innings; he finished up the night 1-4 with a triple. As a team the Generals were 0-12 with RISP; a dubious non-achievement for sure.
Tweet @jacksongenerals to help jump start this offense tomorrow!
[tab:Mavericks] The Mavericks closed out an exciting day of Mariners baseball on Thursday with the third walk-off win of the day;
clipping Lancaster 7-5
on a Jack Marder 2-run HR in the bottom of the 9th. Trevor Miller took the ball for the Mavericks in his first game for High Desert since being called up from Clinton. Miller pitched ineffectively last season in High Desert but looked more in command all night this time around. Miller pitched 5 strong innings with 7 Ks while allowing 2 ERs. Tyler Burgoon picked up the win out of the bullpen, after blowing the save, for his second in as many nights. I always enjoy mentioning the guys who were drafted well out of the limelight on draft day, like Trevor Miller, who was a 40th round selection in 2011 out of San Joaquin Delta College in Stockton, CA which happens to be the Alma Mater of former Mariner
Eddie Guardado
. Miller posted a solid 3.36 ERA with Clinton in 17 starts (22 appearances) while allowing only 17BBs in 120.2 IP. That computes to a walk allowed nearly every 7.1 innings; he also tossed 84Ks in those same innings. The aforementioned Jack Marder was not the only one swinging a hot bat on Thursday night for High Desert. James Jones and Mario Martinez, both putting up solid numbers in 2012 added multi-hit games. Jones stole his 23rd base of the season from the lead-off spot and Martinez added 3 RBIs to raise his total to 62 on the season. Marder was a 16th round pick out of Oregon Univeristy in the 2011 draft. His numbers in 2012 at High Desert are indiciative of where he left off last season in High Desert post-draft. Marder has hit an ASTOUNDING .362 in 63 games this season. He has also stolen 16 bases and played 3 different positions (2B, C, LF).
Here is a fantastic video
of George Horton, Oregon's head coach, referring to Marder as Bugs Bunny and having the ability to field all nine positions. Marder is only a few at-bats away from qualifying for league statistics in the Cal League and once he does he will be leading in average, on base percentage, and second in OPS (On-Base + SLG) behind CJ Retherford. I should mention that John Hicks threw out two more base runners in Thursdays ballgame bringing his totals to 40 of 81 caught stealing or 49.4% of runners. Hicks offers the kind of base path control that is hard to find.
Tweet @HDMavs to congratulate Jack Marder on his 2-run walk-off jack in the 9th!
[tab:Lumberkings] The Lumberkings were victorious in an
extra innings contest
on Thursday. Daniel Paolini waited until the 10th inning for his first hit of the night; it just so happened to be a walk-off single that put the Lumberkings up 2-1 for the victory. Kane County starter Jason Mitchell and Lumberkings starter Jordan Pries combined for 10 innings of shutout baseball with 10 Ks allowing no walks. Guess that is how an extra innings game ends in 2 hours and 31 minutes. Pries, the Mariners 11th round selection in the 2011 draft has been impressive since entering the organization last season. Pries recorded a 3.71 ERA last season at Short Season Everett with a 1.157 WHIP. Those numbers have decreased in 2012 as he has split time between Rookie League AZL (3 starts with a .75 ERA and a .667 WHIP) and the Lumberkings. Pries now has an ERA of 2.65 in 3 starts for the Lumberkings while allowing no HRs. Pries lays claim to one of the best intro songs in the Minor Leagues with 'The Stroke' by Billy Squier.
Watch a video here
of him explaining his intro music, showing off some dance moves, and reviewing a book; he seems like good positive energy for a clubhouse. Looking forward to seeing him climb the Mariners Universe ladder. Mike Dowd and Jamal Austin added multi-hit games for the Lumberkings in the victory. Dowd now has 60 hits in 60 games and has thrown out 39% of runners from behind the plate. Lack of defensive catchers in the system is not something the Mariners can claim, thankfully. Paolini, like Dowd, has as many hits as games played (88) with an impressive 42BBs to 48Ks on the season. Paolini attended Siena College in Loudonville, NY; the same Alma Mater as John Lannan from the Washington Nationals. A small college that has only sent 3 players into the Major Leagues (Lannan is the only only player to play in over 5 contests). If you enjoyed the Jordan Pries video above than watch
here for a similar video
on previously mentioned Mike Dowd explaining how his nickname Panda came about and why a large jolly man would play him on TV.
Tweet @LumberKings to congratulate Daniel Paolini on his 9th inning walk-off single!
[tab:Aquasox] The Aquasox tried their best to add a 4th walk-off to the list on Thursday but fell short,
losing 3-2
to the Boise Hawks. Steve Ewing picked up a quality start for the Aquasox throwing 6 innings with 7Ks and allowing 2 ERs. Mark Bordonaro took the loss from the bullpen allowing 1 ER in 2.0 IP. Mike Zunino and Janelfry Zorrilla make the Mariners Universe blog for the second straight day with as many multi-hit games. Marcus Littlewood also added a multi-hit game for the Aquasox in the loss. Zorrilla played four seasons in the Dominican Summer League for the Mariners organization before his call up stateside here in 2012. He has struggled between Clinton and Everett after putting up a line of .321/.405/.594 in his final Dominican season at the age of 20. Zorrilla is known a smart runner and a quick base stealer but tonight he was caught stealing 2nd and picked off 1st by Hawks pitcher Matt Iannazzo. Zunino and Alfredo Morales picking up the two RBIs for the Aquasox.
Tweet @EverettAquaSox to root for the AquaSox as they continue to hold the overall lead in their divisional standings!
[tab:RookieBall] The Pulaski Mariners overcame a 56 minute delay and a 7-run deficit early in the contest to pick up the
victory on Thursday
by the final score of 9-8. The second walk off winner of the night in Mariners Universe goes to Phillips Castillo who singled in Reginald Lawson in the bottom of the 9th. The AZL Mariners did not fare as well playing the AZL Athletics to a
final score of 9-4
. Let's talk Pulaski walk-off first. The game between Pulaski and Greeneville featured 17 runs on 30 hits. Pulaski starter Rigoberto Garcia, an 18 year old from the Dominican Republic, did not last past the 3rd inning while allowing 6 ERs, 4 BBs, and allowing 2 HRs. Tyler Marlette led Pulaski hitters going 4-5 from the plate including 3 doubles and adding 3 RBIs; Marlette raised his 2012 average from .300 to .316. Three Pulaski hitters managed to bang out 3 hits in this ballgame; Gilmer Lampe, Jordy Lara, Tyler Marlette, and Martin Peguero. The 5th multi-hit game of the night came from Reginald Lawson. This is the second straight multi-hit game for Jordy Lara and Reginald Lawson while Tyler Marlette made it onto Mariners Universe yesterday with his power. Phillips Castillo, who signed out of the Dominican Republic in 2011 for
2.2 million dollars
, was the nights hero as he delivered the walk-off winning single to seal this offensive slugfest for Pulaski. The final line of the night for the offense was 19 of 45; an average of .422. Keith Law of ESPN recently chimed in on Phillips Castillo as a possible future major league presence.
"Outfielder Phillips Castillo is several years away, but the hit tool and potential for power down the road are very enticing -- the ball comes off his bat as though he was several years older than he is (18), but he'll need development in most other areas, from pitch recognition to defense to baserunning."
Also, he appears to be a standup guy off the field as he recently went on a series of library visits, with three other Pulaski players; tailored for young children reading books in Spanish and English.
Read the article here
. Game Saquilon made the start for the AZL Mariners in Thursday's contest. He took the loss allowing 5 ERs in 3.2 innings of work after throwing tremendously so far this season. Saquilon was a 25th round selection of the Mariners in 2011; the highest drafted player from his high school in San Diego, CA. Saquilon carried an ERA of 1.80 into today's game allowing only 1 HR over 30 innings of work.
Watch here for a video
of Gabe pitching off a simulated mound uploaded to YouTube by none other than Gabe Saquilon. Christian Carmichael added his second straight multi-hit game, raising his average to .324, while Joseph DeCarlo added a multi-hit performance as well.
Tweet @PulaskiMariners to congratulate Phillips Castillo on his 9th inning walk-off single! Tweet @MinorLeagues to tell the AZL Mariners to get their own twitter account!
[tab:END] Mentioned Players on Twitter:
Brad Miller
,
Daniel Paolini
,
Mike Dowd
,
Gabe Saquilon
Mentioned Players: Johermyn Chavez, Yoervis Medina, James Gillheeny, Jordan Pries, Trevor Miller, James Jones, Mario Martinez, Tyler Burgoon, Jack Marder, John Hicks, Jamal Austin, Mark Bordonaro, Steve Ewing, Mike Zunino, Alfredo Morales, Janelfry Zorrilla, Marcus Littlewood, Rigoberto Garcia, Phillips Castillo, Christian Carmichael, Joseph DeCarlo, Reginald Lawson, Gilmer Lampe, Jordy Lara, Tyler Marlette, and Martin Peguero.
Original Story:
http://hitithereseattle.sportsblognet...
THE BACKYARD
BEST OF MAXIM
RELATED ARTICLES
Plenty of bats to go around Seattle is an organization that's been mired in hitting woes. That's why when mega prospects like Nick Franklin and Mike Zunino come along, they're all everybody talks about. Believe it or not, there are some other top bats in the farm system besides those guys. Their ceilings might not be quite as huge, but they still have the chance to become great...
What about relievers? A lot of stock is put into the Mariners Big 3 pitching prospects of James Paxton, Danny Hultzen and Taijuan Walker. With their phenomenal upsides it's hard to not get excited. That's why, to date, they've been the only three covered in this column. Today, we're taking a different path. We're going to be examining another pitching Big 3 in the Mariner's...
The Seattle Mariners had a lot of confidence before departing on their most recent road trip.  They were on a season-high seven game winning streak after sweeps of the Kansas City Royals and Toronto Blue Jays at home.  Before going on the road, they had improved to 50-57, their best mark since they went to 27-33 after their combined no-hitter over the Los Angeles Dodgers.  However...
Seattle Mariners outfielder Eric Thames caused sparks to fly, literally, as he collided with a metal garage door in the outfield fence during Wednesday night's game at Camden Yards against the Baltimore Orioles. It happened in the bottom of the third inning as Thames was chasing a foul ball in deep right field hit by Orioles batter Chris Davis. After being unable to catch...
Your browser does not support iframes. Who would have ever imagined baseball cleats could be a fire hazard? All I can say is Eric Thames is lucky there was no gasoline or dry grass under his feet during the third inning Wednesday night, otherwise he may have had to stop, drop and roll. Thames went into the right field corner to chase a foul ball during a game against the the Orioles...
This really looks like it hurt the fence. Seattle Mariners outfielder Eric Thames collided with a metal garage door in the outfield fence during Wednesday night's game at Camden Yards against the Baltimore Orioles. Here's the video. Video courtesy MLB.com.
ELECTRIC ATMOSPHERE
While chasing down a foul ball off the bat of Chris Davis during a game against the Baltimore Orioles at Camden Yards on Wednesday, Seattle Mariners right fielder Eric Thames provided a literal "spark" with his effort. After colliding with a gate in the right field corner, a cascade of sparks were clearly produced off [...]
I'm Going to Disneyland! August 10-12 The Seattle Mariners finish up their road trip and hope to regain their dignity. Pitching match ups: Game 114: Mariners RH Felix Hernandez (10-5, 2.63 ERA) vs. Angels RH Ervin Santana (5-10, 5.83) Matchup | Preview Angels Felix has faced the former National League slugger Albert Pujols for 3 at bats and he has 2 hits a strike out and a...
With just about one month of minor league action left to go -- and in advance of our post-season updated Top-50 list -- SeattleClubhouse takes a look at 10 prospects that have improved their stock and 10 that have hurt their stock with their performances in 2012 for the Mariners. The quick look at these 20 players includes profiles, stats, scouting reports and projections.
This week in Mariner-land was a time of births, plane rides, and great baseball. A bunch of good stuff happened. The Mariners first faced the Blue Jays at home, and then flew to New York to face the Yankees for the second time in as many weeks. They faced their now friendly foe, Ichiro, who has gotten a hit for his Yankees in every game that he's started for them; this week he...
Thought of the day: I wish my name rhymed with something descriptive so I could create a twitter moniker at the level that Leon Landry is on @NeonLeon6. It's been about 2 hours since the Mariners game ended on a wild pitch from Josh Kinney. This means that the alcohol I consumed post game has officially taken care of the disappointment and I am ready to type. To the tabs! ...
The Mariners Universe went 3-5 with all 8 teams playing baseball on August 8th; including the Big League squad. Let's take a look at the outcome. [tab:Rainiers - AAA] The Rainiers dropped the 119th game of their 2012 campaign (50-69 overall) 3-4 to the New Orleans Zephyrs (Miami Marlins PCL affiliate). Hector Noesi moved to 0-4 in 6 starts in Tacoma this season with an ERA...
MLB News

Delivered to your inbox

You'll also receive Yardbarker's daily Top 10, featuring the best sports stories from around the web. Customize your newsletter to get articles on your favorite sports and teams. And the best part? It's free!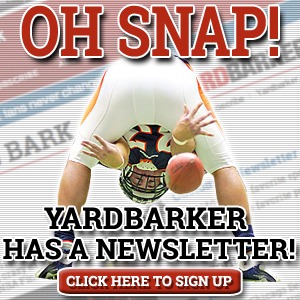 Latest Rumors
The Backyard

Today's Best Stuff

For Bloggers

Join the Yardbarker Network for more promotion, traffic, and money.

Company Info

Help

What is Yardbarker?

Yardbarker is the largest network of sports blogs and pro athlete blogs on the web. This site is the hub of the Yardbarker Network, where our editors and algorithms curate the best sports content from our network and beyond.