Found September 14, 2012 on Fox Sports Wisconsin:
MILWAUKEE The Milwaukee Brewers' shortstop position was supposed to be cut and dried. Alex Gonzalez, a 14-year veteran, was signed last offseason to provide the stability the Brewers never found in predecessor Yuniesky Betancourt. He was a plus defender with decent power. And at the very least, he was a short-lived answer to a question that had been bugging the organization for years. But as the Brewers have learned time and time again this season, nothing is cut and dried in baseball. Gonzalez tore his ACL after 24 games in a Brewers uniform, leaving a gaping hole to the right of second baseman Rickie Weeks. Since then, Milwaukee has used as many total shortstops as it has outfielders (five). The issue seemed to draw nearer to a solution when the Brewers traded Zack Greinke at the deadline for young shortstop Jean Segura, the No. 2 prospect in the Angels' organization. Soon after his trade, though, even Brewers director of pro scouting Zack Minasian admitted how hard it was to find and hit on a shortstop prospect. "Sometimes I referred to it as a wild goose chase," Minasian said in August. "There just aren't that many guys out there that can do it. So there are times I don't want our guys to focus too much on something that isn't going to happen, but we always talked about it as a group." Since being called up soon after the trade, Segura, 22, has made his mark on the position and looked like a prospect worthy of the tag "shortstop of the future." After a slow start, he's batted .241 in his time in the big leagues, with nine RBI and four stolen bases and flashed an impressive glove at the defense's most demanding position. Still, his offense is a work in progress. But since Segura started hitting, the Brewers have had a slight problem to deal with: Segura might not even be the best shortstop on the team at this juncture. That's because Jeff Bianchi, ever since notching his first major league hit Aug. 25 against the Pirates has been an even more impressive offensive option at times. Over a span of four starts at the beginning of the Brewers' amazing stretch of success in the last month, the 25-year-old tallied three home runs in 11 at-bats, all of which were in clutch situations. He's flashed a similarly impressive glove and, despite being a waiver acquisition who was never expected to be a huge part of the Brewers future, may have just played himself into a roster spot for years to come. So who deserves to play? The shortstop of the future or the out-of-nowhere guy who has done about as much as he can to match the other's production? It's a question Brewers manager Ron Roenicke has admittedly struggled with over the past two and a half weeks. "It is (a good problem to have)," Roenicke said. "The bad problem is who to play every day. (On Monday,) I sat in there and we talked about it as coaches, trying to figure out which one to play. And really, it's a difficult decision. "They're both good defensively, which really helps. Offensively, they're still learning, but they've done things that still help us. They can steal bases. They can bunt when you need them to bunt. Those little things, where they are in the lineup, are really important, and they're doing well at them." Bianchi smiled when asked whether there was a competition between him and Segura. He doesn't see himself as having already earned a spot on this team next year, and he brings up the fact that he is, indeed, just a September call-up. At this point, all he wants to show the Brewers is that he's in this to win. "(Segura and I) have been having fun together, and we both want each other to do well," Bianchi said. "We're learning from each other. It's both of our first times here, and we both want to win. That's the important thing." Both are relatively quiet in the Brewers clubhouse, choosing their spots to speak when necessary. In fact, the two seem quite similar when you ignore the scouting reports attached to them. Of course, that doesn't make Roenicke's decision any easier. In the team's last two series, Roenicke has started Bianchi in two of the series' three games. What that may mean for the rest of the season, we don't know. But one thing is certain: After having no viable shortstops three months ago, the Milwaukee Brewers are one of the few teams in baseball that now have two. Certainly, there are worse problems to have in the season's final stretch. Follow Ryan Kartje on Twitter.
Original Story:
http://www.foxsportswisconsin.com/09/...
THE BACKYARD
BEST OF MAXIM
RELATED ARTICLES
Hi. The Brewers are one game over .500 for the first time in the history of baseball (or so it seems) and are suddenly very much in the Wild Card Race. This is happening. So let's talk about betting on them to win the World Series. Brewers World Series Betting Odds (OddsShark.com) November 11, 2011: 22/1 March 6, 2012: 28/1 April 22, 2012: 35/1 May 28, 2012: 60/1 July 3, 2012...
MILWAUKEE John Axford was tired and frustrated, but he knew what came next. He had always been transparent with the media, welcoming interviews that came to his locker near the front of the Brewers clubhouse. But lately, the questions had grown tiresome. He knew he had to face up to the struggles he and the rest of his bullpen had dealt with, something hed already had to own up...
MILWAUKEE A command pitcher without grips on his command is often not a recipe for a good outing on the mound, and on Saturday night, that seemed to be the case for Brewers pitcher Shaun Marcum. Since coming back from shoulder tightness that kept him out of the rotation for around two months, Marcum has struggled mightily with his commandthe calling card that made him a top-of...
MILWAUKEE Corey Hart is clearly eager to get back in the Milwaukee Brewers lineup sooner rather than later, given the team's newfound wild-card contention. And with a rupture in his plantar fascia in the arch of his left foot, Hart said he saw "a big improvement" since Wednesday. On Friday afternoon, the Brewers first baseman took early batting practice and ran on...
LET'S EAT
As Chipper Jones continues his farewell tour across Major League Baseball, the Brewers may have given him the most unique gift he will receive.
MIAMI Yes, Giancarlo Stanton wants to one day win a home-run title. You play this game to win championships and be the best we can. So thats part of it, yep, Stanton said. But if you believe the Marlins outfielder is thinking of winning his first home-run crown this season, youd be wrong. With 34, Stanton entered Saturday four home runs behind Milwaukee outfielder Ryan Braun...
Are you out of work, behind on your house payments, the electric is about to be shut off and you need to pay for a divorce? Getting out of debt could be easy. Do you know this bank robber? Would you consider turning on your homeboy, but don't have the nerves to rat? Let us help you. We'll turn on your homeboy. And split the reward money with you! It's a win-win. mail@bustedcoverage...
Considering where they stood four weeks ago, the Milwaukee Brewers making the playoffs would be a historic achievement. So would a win Friday night. The surging Brewers have a chance to match a 33-year-old franchise record for their longest home winning streak as they face the sliding New York Mets. Milwaukee's only losses in its last 19 games at Miller Park came to Philadelphia...
The Brewers are threatening to make it into the wildcard, and their playoff hopes are still alive. The Mets are standing in their way, and a three games series with the Mets will be basically a win or go home scenario. Milwaukee sits just 3 games back of the wildcard spot, after being 12 ½ games back of that same wildcard spot just about a month ago. MLB odds are favoring the Brewers...
MLB News

Delivered to your inbox

You'll also receive Yardbarker's daily Top 10, featuring the best sports stories from around the web. Customize your newsletter to get articles on your favorite sports and teams. And the best part? It's free!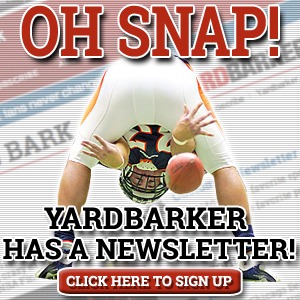 Latest Rumors
The Backyard

Today's Best Stuff

For Bloggers

Join the Yardbarker Network for more promotion, traffic, and money.

Company Info

Help

What is Yardbarker?

Yardbarker is the largest network of sports blogs and pro athlete blogs on the web. This site is the hub of the Yardbarker Network, where our editors and algorithms curate the best sports content from our network and beyond.