Found April 03, 2013 on Fox Sports Wisconsin:
MILWAUKEE When Jean Segura took his place at shortstop on Monday, he became Milwaukee's fifth different Opening Day shortstop in five years. The Brewers shipped two young shortstops away in trades and had two stopgap starters the past two years while they searched for a long term solution. When the Los Angeles Angels showed interest in Zack Greinke at least season's trade deadline, Segura was high on general manager Doug Melvin's priority list to get back in the deal. 22-years-old at the time, Segura was an extremely talented prospect that still needed some seasoning in the minor leagues. Just eight months later, and he's already flashed signs of tremendous ability at the big league level, won a batting title in winter ball and staked claim to the shortstop position for years to come. "He's probably even better than we thought when we made the deal," Melvin said. "He's gone beyond expectations. When we made the deal, I'm not sure we really thought he'd be a big leaguer at this time." As he walks through the home clubhouse at Miller Park, Segura's growth in confidence is glowing. He's relaxed. Something that wasn't always the case when he came up last August. The first 19 games were a struggle. Hits were few and far between, something that can be damaging to a young player. But then something clicked. Segura hit .309 the final month of the season and hasn't looked back. Segura went to the Dominican Winter League and won the batting title. Then came a tremendous spring training where he hit .367 in 21 games, and now Segura has four hits in his first seven at bats of 2013. Brewers manager Ron Roenicke sees a totally different offensive player than he did last August, a lot of it having to do with confidence. "It's easier when you come up during the season," Roenicke said. "He already has big league experience. If we were coming into spring training this year and he was a guy either coming out of Double A or Triple A and saying it's your job, that's a lot of pressure on a player. "This is a very confident kid right now. We're hoping we can keep him that way." Segura agreed the 45 big league games he played in last season allowed him to have the trust in his physical abilities, but more importantly learn the mental grind the Major Leagues present. "It's helped me a lot," Segura said. "When you come from the minor leagues and come to the big leagues it's way different. You have all the scouting reports and have people looking at what you do every at bat and at your position. When you come here and play every day, it makes you feel better and you know you are going to be there. "It helped my mental (ability) to play every day. I'm trying to have fun and I'm always trying to help the team to win a ballgame. As a player, I feel really good about it. This is amazing." The Dominican Winter League isn't some joke of a league. Many big leaguers participate along with young players like Segura trying to hone their skills. A player at the time three months away from his 23rd birthday winning the batting title in the league doesn't happen frequently. It was just another notch in Segura's belt, and yet another boost in confidence for the young shortstop. "The winter league helps a lot," Segura said. "It's a good league to pitch in, to play in, to practice whatever you are working on over there. Winter ball is a difficult league. Especially when young guys go over there." Without the success of the final month of last season or the batting title this winter, the Brewers might have been hesitant to hand Segura the starting shortstop job. Considering Milwaukee has its previous two Opening Day shortstops on the roster could still create mental pressure for Segura. But the Brewers see don't see Alex Gonzalez and Yuniesky Betancourt as anything other than veterans that can fill-in at multiple positions and provide insurance in case of an injury. They are committed to Segura. He hasn't just shown signs with the bat. When Segura was acquired, rumblings came he couldn't play shortstop at the big league level. Those notions have been dismissed, as Segura has showed good range and an incredibly strong arm. "It means a lot," Segura said. "They know I have the tools to be a starting shortstop every day in the big leagues. This is amazing. A couple of years ago you look back and you are in the minor leagues. For me, it means a lot." It also means he doesn't have to be looking over his shoulder. As a lot of teams continue their search to find young shortstop to build around, Melvin and the Brewers appear to have found a gem in the Greinke trade. He's still 23-years-old, and he's certainly going to make mistakes as he navigates through his first full big league season. But the talent is there, and it should be a long time before the Brewers have to trot another shortstop out on Opening Day. "I'm just trying to relax and play the game," Segura said. "I know the good moments are going to come, I know the bad moments are going to come. It's baseball. You are going to have good moments and you are going to get bad moments. It's how you handle the bad moments that will make you a better player. Follow Andrew Gruman on Twitter.
Original Story:
http://www.foxsportswisconsin.com/mlb...
THE BACKYARD
BEST OF MAXIM
RELATED ARTICLES
MILWAUKEE -- Brewers manager Ron Roenicke is in a tricky but enviable spot when it comes to his catching situation. He must find a way to keep valuable backup Martin Maldonado in a groove, but starter Jonathan Lucroy is an integral part of Milwaukee's lineup. Though it's tough to figure out a plan that works for all parties, most managers would love to have just one of the...
MILWAUKEE -- John Axford sat at his locker and even cracked a joke to lighten the mood. What he couldn't do is explain what just happened. With Thursday off, Brewers manager Ron Roenicke gave Axford work in the ninth inning with Milwaukee trailing 4-3. The Brewers' closer gave up three runs on five hits - including two home runs - while recording just two outs in Milwaukee...
Baseball lends itself very well to collectibles.  Whether the objects are baseball cards, caps, game-used bats or neon bar signs, Brewers fans have a plethora of merchandise available from MLB featuring Brewers players or logos.  I tend to gravitate to baseball caps (I have probably ten different Brewers hats) along with other various tokens, like pins.  Recently my collection...
John Axford has already allowed 3 home runs this season, 2 to Dexter Fowler.  If you own the Milwaukee Brewers closer, like I do in some leagues, don't wait to long to move on!  Axford might help you pick up some strike outs, but his 21.60 ERA and 3.60 WHIP will kill you.  His facial hair might be cool, but it can't help your fantasy team.  Maybe Ryan Braun should ask...
Well, I guess that's too late to figure out now. I traded him for Steven Strasburg. Sure, Braun was named the 2011 National League Most Valuable Player. However,Strasburg was named the Nationals' Opening Day starter. Sure, he may (or may not) have a pitch count but Ryan Braun was … connected to the Biogenesis scandal. I did not want to hedge my bets. You are talking to the...
  The Milwaukee Brewers lack elite talent in their farm system. However, after emptying the system out via promotions and trades over the past few years, they did a pretty decent job filling it back... [[ This is a content summary only. Visit my website for full links, other content, and more! ]]
MILWAUKEE -- Baseball can be bizarre. It can also be cruel. Tuesday night the seventh inning was both to the Milwaukee Brewers and left-hander Michael Gonzalez. Making his debut with the Brewers, Gonzalez got hit with the loss by allowing three runs without recording an out in Milwaukee's 8-4 loss to Colorado. In a box score it looks like a rough outing, but all he had was rough...
(AP Photo/Mark Duncan) Even as we acknowledge it's too early in the season to express panic or exuberance, there's no harm in formulating first impressions about the four new Brewers relievers after seeing them in action… Alfredo Figaro: The last pitcher to make the Brewers' roster, Figaro got the job done on Opening Day, turning in two scoreless innings of relief...
The Milwaukee Brewers seem to bring out the best in Colorado's Troy Tulowitzki. Off to a strong start after missing most of 2012 with a groin injury, Tulowitzki looks to help the Rockies to a series victory over the Brewers on Wednesday night at Miller Park. Tulowitzki played 47 games in 2012 and missed the last four months of the season with an injury that required surgery...
In the top of the sixth inning during last night's Rockies-Brewers game, Milwaukee center fielder Carlos Gomez made an amazing leaping catch at the center field wall to rob Colorado left fielder Carlos Gonzalez of a home run. It was an awesome catch that kept the Brewers' deficit at two runs for the timebeing, but ended up not meaning much in the grand scheme of things as...
Each Thursday preceding Brewers weekend home stands, Tyler Maas will help prepare fans for all elements of the upcoming series with the Homestander. Tyler prints Wisconsin-themed shirts at Forward Fabrics and contributes to such fine publications as Milwaukee Magazine and The A.V. Club Milwaukee. All views, naughty words and weirdo sentiments are his own. Follow him at @TylerJamesMaas...
After taking two of three games at home against the Cardinals, including a marathon 16-inning game Wednesday, the D-backs stay within the NL Central, this time taking on the Brewers for three games in Milwaukee. The Brewers scuffled in their opening series, dropping two of three games to the Rockies behind shaky pitching. Former Cardinal Kyle Lohse, who sat out all of spring training...
MLB News

Delivered to your inbox

You'll also receive Yardbarker's daily Top 10, featuring the best sports stories from around the web. Customize your newsletter to get articles on your favorite sports and teams. And the best part? It's free!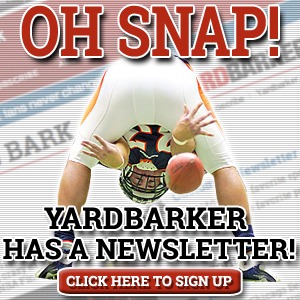 Latest Rumors
The Backyard

Today's Best Stuff

For Bloggers

Join the Yardbarker Network for more promotion, traffic, and money.

Company Info

Help

What is Yardbarker?

Yardbarker is the largest network of sports blogs and pro athlete blogs on the web. This site is the hub of the Yardbarker Network, where our editors and algorithms curate the best sports content from our network and beyond.