Found February 02, 2012 on Fangraphs:
Mike Trout is the catch of the day when it comes to center field prospects. After posting a gaudy .338/.422/.508 slash line in the minors, Trout made his big league debut this past season. Though his performance wasn't all that impressive, Trout still has one of the highest ceilings of any prospe...
Original Story:
http://www.fangraphs.com/blogs/index....
THE BACKYARD
BEST OF MAXIM
RELATED ARTICLES
GOOD EATS
Sales have slowed at the Pujols 5 Westport Grill in St. Louis since Albert skipped town, so the name will be changed to the Hall of Fame Sports Bar and Grill.
ST. LOUIS Continued anger and disappointment from Cardinals fans over the departure of slugger Albert Pujols has forced a St. Louis restaurant bearing his name to part ways. Pat Hanon, owner and founder of Pujols 5 Westport Grill, said Thursday that sales dropped so much in the recent months since the nine-time All-Star left for the Anaheim Angels that he had no choice but to end...
The February 1st, 2012 edition of daily news for the Los Angeles Angels of Anaheim including yet another Trumbo...
ANAHEIM, CA-- Growing up in Dodger and Angel territory, I collected baseball cards, ticket stubs, photographs and programs; all the things baseball-crazed youngsters live for. I was a fanatic about the game. But I was never one of the kids who wrote a letter to a player or a GM asking for an autograph or asking a question. Many of my friends did and never saw the card(s) again,...
Just when I had finally come around on C.J. Wilson as a starting pitcher, he up and leaves for a new organization. Thankfully he's moving from the hitter-friendly Ballpark in Arlington to the hitter hell that's Angel Stadium, but there are a lot of good reasons to like Wilson. He's become a 200-inning starter, and he upped his strikeout rate last season to 8.30 K/9, which was...
The February 2nd, 2012 edition of daily news for the Los Angeles Angels of Anaheim including Dipoto'...
What else can baseball fans do in January but dream of October? In You May Say I'm a Dreamer, the Outside Corner staff will imagine the route to a World Series in 2012 title for all 30 teams. Dream?  The Angels don't need no stinking dream.  Reality seems to be suiting them just fine. While I would love to dream up some fantastical scenario like we have done for many...
When will life let us move on from hearing or seeing the name "Albert Pujols"? Despite being fans of the World Series Champions, life still hates us. Any time something Albert Pujols-related comes across our eyes or ears, it feels like a continuous nightmare that we can't wake up from. Sorry for dragging you into hell with us, but check out a little bit of this song...
Here's something you don't see everyday.  And by everyday, I mean any day... ever. Any fan who has ever cared about a favorite baseball team has undoubtedly spent countless hours cooking up trades that they would like to see their team make.  It's ok, you can admit, we've all done it.  Most of us are also so certain that this trade is such a fantastic idea that...
I've never been much of a "judge a book by its cover" kind of guy...but I would have never thought that pitcher C.J. Wilson was a "Thugluv" kind of guy.But, as it turns out, the Los Angeles Angels lefty is (or at least "Christopher" Wilson was) just that.Most high school photos of anyone are pretty embarrassing, but the only thing embarrassing about...
Later this month, every team in baseball will be deploying to their Spring Training facilities to make key decisions toward their 25-man rosters. But most critical this spring for the Angels -- by far -- are the decisions Mark Trumbo and Kendrys Morales can help make for them.
Speaking from the Dominican Republic, Albert Pujols told Enrique Rojas of ESPNdeportes.com that he plans on reporting to his new club's Spring Training complex a week before position players are scheduled to, putting him in Tempe, Ariz., at or around Feb. 19.
Angels News

Delivered to your inbox

You'll also receive Yardbarker's daily Top 10, featuring the best sports stories from around the web. Customize your newsletter to get articles on your favorite sports and teams. And the best part? It's free!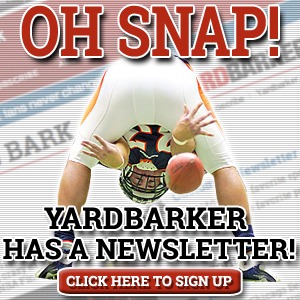 Latest Rumors
The Backyard

Today's Best Stuff

For Bloggers

Join the Yardbarker Network for more promotion, traffic, and money.

Company Info

Help

What is Yardbarker?

Yardbarker is the largest network of sports blogs and pro athlete blogs on the web. This site is the hub of the Yardbarker Network, where our editors and algorithms curate the best sports content from our network and beyond.