Found May 01, 2012 on Lady Loves Pinstripes:
Andy Pettitte pitching at Shea Stadium. (Photo credit: Wikipedia) With all the hoopla around the New York Yankees pitching, the one bright light fans are awaiting is the return of Andy Pettitte. Pettitte is one of the original 'Core Four' who decided to un-retire after leaving baseball and New York at the end of the 2010 season. Now with Michael Pineda out for the season, Freddy Garcia being demoted to the bullpen, and a floundering Phil Hughes, everyone is counting on Pettitte to be the consistently dominant starter from the past. There is no doubt that Pettitte will be an asset in the clubhouse but whether that translates on the mound is yet to be seen. Yesterday, Pettitte made another minor league start and the results were not exactly comforting. The southpaw allowed 10 hits, five earned, throwing 96 pitches in just under six innings.(...)Read the rest of Should Yankees worry about Andy Pettitte? © Kate for Lady Loves Pinstripes, 2012. | Permalink | No comment | Add to del.i...
Original Story:
http://feedproxy.google.com/~r/ladylo...
THE BACKYARD
BEST OF MAXIM
RELATED ARTICLES
From Sean Brennan:Andy Pettitte is scheduled to make at least one more minor-league start either Saturday or Sunday. Where that next start occurs and whether that will be his final tune-up before his return to pinstripes is to be determined. "They have to look at the schedule and see which town fits him the best," Joe Girardi said. "We know Scranton is on the road a lot...
From the Sporting News:Andy Pettitte on Monday declared himself ready to rejoin the New York Yankees, following a 96-pitch outing in extended spring training. The lefthander's line wasn't great—six runs (five earned), 10 hits, eight strikeouts and no walks in six innings against the Phillies—but Pettitte was more focused with how he threw. "I feel I'm strong...
They say you can never have too much pitching. In March when the Yankees announced Andy Pettitte would be coming out of retirement, many thought he would be a luxury. With the acquisitions of Michael Pineda and Hiroki Kuroda, and the resigning of Freddy Garcia in the offseason, the Yankees seemed to have too many arms and not enough spots to put them. Now just a little over 20 games...
When I heard today about how Andy Pettitte indicated that he might have, um, misremembered what Roger Clemens said about HGH, my first thought was that it was something out of a movie. The Godfather, Part II, that is!Specifically, I am referring to the infamous scene in which Frankie Pentangeli, who is set to testify as to what he knew about Michael Corleone's crimes, all of...
By FREDERIC J. FROMMER Associated Press WASHINGTON (AP) -- Andy Pettitte took the stand Tuesday in the Roger Clemens perjury trial and described how he grew up admiring the star pitcher he is expected to testify against. Under questioning from a prosecutor, Pettitte also said that Clemens became a mentor to him when the two were teammates on the New York Yankees. Pettitte, who...
Andy Pettitte looked about as enthused to be in court Tuesday as if he had just been shelled for a couple of innings and was about to hand the ball to the manager. More important for prosecutors pursuing a conviction of Roger Clemens on perjury and obstruction charges, Pettitte also appeared to be authentic and credible as he described conversations about Clemens' alleged use...
Pitcher Andy Pettitte acknowledged under cross-examination Wednesday that he might have misunderstood Roger Clemens when Pettitte said he heard his former teammate say he used human growth hormone. Asked by Clemens' lawyer if it was fair to say it was ''50-50'' that Pettitte misunderstood the conversation from about a dozen years ago, Pettitte responded, '...
Given the amount of catching prospects in the Yankees system – even with the trade of Jesus Montero to Seattle – Jeff Farnham has gone about his career as a farmhand mostly out of the spotlight. The 24-year-old , a native of Las Vegas drafted in the 27th round in 2009, is not mentioned with the likes of Austin Romine, Gary Sanchez or J.R. Murphy. Yet, when Andy Pettitte's comeback...
Famed Yankee pitcher Andy Pettitte has been sworn in, as a government witness, in the Federal Trial of famed and former Yankee pitcher Roger Clemens. Facing charges of lying to Congress, Clemens will sit and listen as his former teammate gives testimony on the government's behalf against Clemens. According to Seth Livingstone of USA TODAY, Pettitte was
Andy Pettitte and Roger Clemens sat some 20 feet apart, Pettitte on the witness stand and Clemens at the defense table trying to avoid going to jail. The topic: a remark about human growth hormone Pettitte recalled hearing from his longtime teammate, mentor and workout partner a dozen years ago. ''Roger had mentioned to me that he had taken HGH,'' Pettitte testified...
Andy Pettitte has taken the stand in the Roger Clemens perjury trial, where Pettitte is expected to testify against his former teammate.
Yankees News

Delivered to your inbox

You'll also receive Yardbarker's daily Top 10, featuring the best sports stories from around the web. Customize your newsletter to get articles on your favorite sports and teams. And the best part? It's free!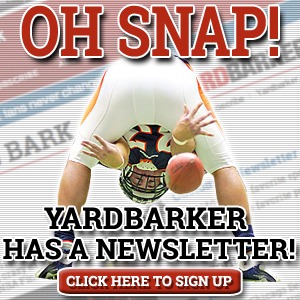 Latest Rumors
Best of Yardbarker

Today's Best Stuff

For Bloggers

Join the Yardbarker Network for more promotion, traffic, and money.

Company Info

Help

What is Yardbarker?

Yardbarker is the largest network of sports blogs and pro athlete blogs on the web. This site is the hub of the Yardbarker Network, where our editors and algorithms curate the best sports content from our network and beyond.