Found September 27, 2013 on Taking Bad Schotz:
On Wednesday, Sports Illustrated released its third annual Twitter 100, a list of the top sports accounts on Twitter that are not related to SI. The list included players, teams, analysts, a sports law professor and more. Of course, there are a lot more than 100 terrific Twitter accounts in the world of sports, and thus, a lot of great accounts did not make the cut. Here are the best accounts that did not make it, in alphabetical order. Erin Andrews (@ErinAndrews): I'm surprised Andrews, FOX Sports' popular broadcaster, did not make the Twitter 100. She takes her nearly two million followers behind the scenes of FOX features, while also constantly interacting with them. Sean Doolittle (@whatwouldDOOdo): Doolittle, an A's middle reliever, could be the next Brandon McCarthy when it comes to MLB players on Twitter. Like McCarthy, no issue is off limits with him. For example, after his teammate Yoenis Cespedes won the home run derby in July, he tweeted at ESPN and said that this was the most ESPN coverage the A's have gotten in years. He also (like McCarthy) posts many hilarious and self-deprecating tweets, including comparing Mariano Rivera's 638 saves to a tweet he wrote that got 638 retweets. He truly has something for everyone. Rich Eisen (@richeisen): NFL Network's Eisen does a great job every Sunday in keeping his followers up to date on everything going on around the NFL. In addition to NFL analysis, Eisen does a good job responding to fans, and is often heavy on Seinfeld references- a definite plus in my eyes. Bomani Jones (@bomani_jones): Jones, the co-host of Dan Le Batard is Highly Questionable and regular guest on Around the Horn, is one of ESPN's best young personalities and one of the best tweeters around. He is never afraid to speak his mind, and yet he comes off as more genuine than some of the network's other personalities. On Wednesday, he had a debate on Twitter with Doug Gottlieb on whether NCAA players should get paid, displaying a strong argument throughout. While Gottlieb did not agree with him and the fighting got intense at times, Jones said that he had nothing personal against Gottlieb, preventing long-term ill will. Jones has earned his four-year contract extension. Sean Keeley (@NunesMagician): I tried not to include local "beat writers", but Keeley has done such a great job in building a large online community of Syracuse fans. Through a combination of serious and funny tweets, Keeley's timeline keeps people up to date with all things Syracuse, and allows people to experience all the ups and downs of being a fan of the Orange. Los Angeles Kings (@LAKings): While many sports teams try to stay politically correct, the Kings' account does not. For instance, after a win against the Vancouver Canucks in the 2012 playoffs, the account tweeted: "To everyone outside of BC you're welcome." The Kings ended up winning the Stanley Cup that season, and their tweets continued to entertain. The Kings did not get as lucky in the 2012-13 season, losing to the Blackhawks in the Western Conference finals in five games. After the final game ended, they tweeted at the Pittsburgh Penguins, the Eastern Conference Finals losers, and asked if they wanted to grab a drink. While their tweets sometimes cross the line, this account is run by some of the most creative tweeters around. Randall Liu (@RLiuNFL): Liu, the NFC's assistant director of communications, is a great account to follow if you're into football trivia. Zach Lowe (@ZachLowe_NBA): SI did a good job of recognizing most of the great NBA writers, but Lowe, Grantland's basketball guru, did not make the cut. Like Eisen, Lowe does a good job combining a keen understanding of the sport, live updates, interactions with followers and interesting personal tweets. Matt Miller (@nfldraftscout): There are so many NFL reporters who could've made this list, but I went with Bleacher Report's Miller. Miller is one of the best up-and-coming football writers around. As his Twitter handle would suggest, he does a great job of scouting potential NFL Draft prospects, and even better, he owns up to his incorrect predictions. He conducts himself with the utmost professionalism, and is helping Bleacher Report become a better-respected site in the sports world. MLB (@MLB): Some people find MLB's tweets childish, but I really enjoy the account. I appreciate the constant updates and the obvious excitement displayed in the tweets. NFL Fantasy Football (@NFLFantasy): This is a must-follow for all fantasy football players. NFL Fantasy Football informs followers almost every time there is a score or a big play, which means you don't have to watch five games at once to track your fantasy team. Sports on Earth (@SportsOnEarth): Sports on Earth, a joint venture between MLB Advanced Media and USA Today Sports, is quickly becoming one of my go-to sites for sports information. With great writers spanning nearly every sport (not just baseball) and a terrific daily podcast led by Will Leitch, this Twitter feed and website will soon be on more sports fan's radars. And of course, there are the many parody accounts, such as @NotBillWalton, @FauxJohnMadden, @EvilMikeTomlin, @PeytonsHead, @TomBradysEgo and my personal favorite @OldHossRadbourn. These accounts all do a terrific job in providing humor that is not always present in real people's accounts. In particular, the Old Hoss Radbourn account hilariously portrays what a player from the 19th century would think about today's MLB, a perspective not seen anywhere else. Did I miss anyone? Let me know in the comments. -Hollenberg
Original Story:
http://www.takingbadschotz.com/?p=15672
THE BACKYARD
BEST OF MAXIM
RELATED ARTICLES
The first ALDS game the Oakland Athletics will play will be on October 4th at the O.co Coliseum. With this game coming up in about week, postseason roster predictions have been floating around the rumor mill for sometime now. Here are my predictions on what the Oakland's roster and pitching rotation might look like. Three catchers for the postseason Derek Norris Stephen Vogt, Derek...
They will have home-field advantage through the first round of the playoffs. Unlike last postseason they will also have Bartolo Colon. But will the Oakland A's have left fielder Yoenis Cespedes? That's a big question looking ahead. And for all the A's had to celebrate after Friday's 8-2 victory over the Seattle Mariners the health of Cespedes will loom large in their postseason...
Brandon Moss' 30th home run helped him reach a milestone, despite the fact that it came in a loss. Moss and Alberto Callaspo hit back-to-back homers in the seventh inning of the Oakland Athletics' 7-5 loss to the Seattle Mariners on Saturday. ''Throughout the course of a season you set your goals or you know what you are capable of doing. But a lot of it is out...
With the 2013 MLB regular season coming to an end and the playoffs about to begin, it is never too early to begin to look toward the next season.  For those of us with teams who won't be playing in the playoffs, the end of the season signifies the start of a new season: the offseason.  While this year's talent pool of free agents doesn't feature a lot of superstars and may...
There is always a bit of a lull between the end of the minor league playoffs in September and the start of the annual top prospects lists in early November. Because of that gap, I'm breathing new life into an old feature that I wrote for the site in FanGraphs' infancy back in 2008 and 2009. The series 'A Minor Review of 2013′ will look back on some of the major happenings...
Bartolo Colon outpitched Felix Hernandez to reach 18 wins for the fifth time in his career, Brandon Moss hit a three-run homer in the first inning and the Oakland Athletics beat Seattle 6-2 Friday night in the start of Eric Wedge's final weekend as Mariners manager. Wedge told his bosses he will not return for next season, saying it became obvious he did not have a future with...
A day off couldn't have come at a better time for an Oakland Athletics team that went on a tear for the last month to clinch its second consecutive AL West title while staying in the hunt for the league's best record. Manager Bob Melvin hopes the extra rest helps reverse their fortunes against the Seattle Mariners, who host Friday night's series opener seeking to beat...
Coming very soon to a ballpark near you might be the next big star from Cuba or Japan, who – outside of the United States – are the two leading baseball powerhouses around the world. Just yesterday, Cuba announced that it is changing its laws to allow professional athletes to seek employment elsewhere to further their career in their specific sport.  While that does sound great...
Athletics News

Delivered to your inbox

You'll also receive Yardbarker's daily Top 10, featuring the best sports stories from around the web. Customize your newsletter to get articles on your favorite sports and teams. And the best part? It's free!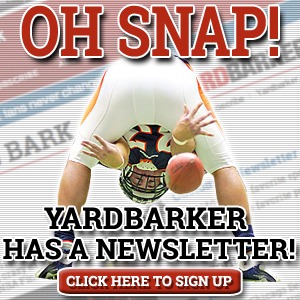 Latest Rumors
The Backyard

Today's Best Stuff

For Bloggers

Join the Yardbarker Network for more promotion, traffic, and money.

Company Info

Help

What is Yardbarker?

Yardbarker is the largest network of sports blogs and pro athlete blogs on the web. This site is the hub of the Yardbarker Network, where our editors and algorithms curate the best sports content from our network and beyond.