Found October 26, 2011 on Sports With Silverman:
Tons of action in the world of sports, so let's jump right in.
There, there, TO, everything will be OK (Photo by Tony Gutierrez/AP)
1. Where in the world did this new and improved Mike Napoli come from?!  I know everything is bigger in Texas, but the former mediocre Angel is coming up HUGE for the Rangers.  After being known for his all-or-nothing hitting for most of his career, he has transformed himself into one of the best hitters in the American League, posting career highs in hits, runs, doubles, home runs, RBI, walks, (Let me pause to breathe) average, on-base percentage, slugging percentage, and OPS.  Oh yeah, his batting average of .320 isn't only his career high, but it's almost .50 points higher than his previous high (.273), and over .80 points better than what he posted last season (.238)!  If he isn't the most improved player in the AL…then…I'm sure another worthy player will be.  Oh well, I'm sure he'll settle for a World Series ring.
2. John Lackey will miss the entire 2012 season because of Tommy John surgery.  What will the Red Sox do without him??  Win?
3. What is Terrell Owens thinking?  The former NFL superstar and current drama king held a workout on Tuesday to showcase his health and abilities, with the hopes that scouts, GMs, and owners would flock to see him.  Hmm.  I'm sure it sounded good when he laid out the plans, but once he realized that not one NFL team showed up, his feelings had to be at least a little hurt.  Poor guy.
4. Just when you think you know an NFL team, they go off and do something completely ridiculous and unexpected.  I am, of course, referring to the Ravens laying a giant egg against the hapless Jaguars.  Yes, the same Jaguars that had lost five straight, held Baltimore to just seven points, which came in the final minutes of the game.  The Ravens looked absolutely awful on Monday night, going the entire first half without a first down.  Figure it out, Baltimore.  You can't blow the easy ones if you want a chance to play the tough ones in January and February.
Seriously dude...stop crying
5. Breaking news…NBA players and owners suck.  Get a deal done, think long and hard about how to win over all the fans that no longer respect you, and start playing basketball again.  I'm not talking about world tours or charity games…I want NBA games that actually count.  If we wanted to watch a bunch of "superstars" get together and stink up the court, we would watch highlights of the 2011 Miami Heat.
6. What is going on with college football?  A couple teams decide to join a new conference and all of a sudden every team wants to find greener pastures?  With 9,315 teams, college football was already hard enough to follow.  Now that just about every team is changing conferences, I give up.  Between all of the school movement and teams wearing a different uniform every week to make a fashion statement, I don't know who is who anymore.  Remember when college football was about…college football?
C"MON MAN!
7. Watching hockey is way more entertaining than I thought it would be.  Maybe it's because I lose track of the puck a lot, but I get excited every time someone takes a shot.  When I can't find the puck, I just figure one of the happy guys with his hands in the air found the back of the net.
8. This is getting kind of uncomfortable for me.  I just want Terrell Owens to stop crying.  Will someone please give this guy a chance?
Original Story:
http://sportswithsilverman.com/wordpr...
THE BACKYARD
BEST OF MAXIM
RELATED ARTICLES
About 50,000 fans yelling "Na-Po-Li" has made an impression on the Texas catcher.
Mike Napoli's two-run double in the eighth inning gave the Rangers a 4-2 win and a 3-2 series lead over the Cardinals.
(source feed provided no summary content for this entry)
Mike Napoli remained in the game despite snapping his ankle in an attempt to slide towards the inside the of the base.
One thing: 1. Win: Darren Oliver Mike Napoli. Save: Neftali Feliz Mike Napoli. ...
Angels manager Mike Scioscia said Tuesday that personality conflicts with catcher Mike Napoli had nothing to do with the January trade that cost the Angels one of the most powerful hitters in the American League.
(source feed provided no summary content for this entry)
Another day, another Daily Friar. Mike Napoli is quickly turning into a World Series hero as Texas is now a game from winning. I for one was hoping he would be a Friar last year. Here are some links:   Heath Bell and Chase Headley talk about the front office - Bill Center (UT) "Heath Bell and Chase Headley believe the Padres' philosophy will not significantly change...
Not that Penguin. What's it take to get the Penguin, Ron Cey, in the press during this World Series? A WSJ article on the cleanup spot, which strangely is not the place in the batting order that has generated the most WS MVPs: A guy who hits eighth is on the verge of becoming World Series MVP. Which, given the inscrutable history of the award, sounds about right. From No...
The Texas Rangers are one win away from making history. After winning Game 5 of the 2011 World Series by a final count of 4-2 over the St. Louis Cardinals, the Rangers need one more victory to claim the franchise's first championship. However, the news isn't all bad for the Cardinals. Game 6 and Game 7 are both going to be played in St. Louis. In other words, if the Cardinals...
Flotsam and JetsamMiscellaneous thoughts and observations.Just as a reminder - before the season started I predicted that Mike Napoli would have a big season offensively. I predicted that he would do as well or better than Victor Martinez. I did not predict that he would be playing almost into November though... Magicians deal in sleight of hand while comedians deal in sleight of...
MLB News

Delivered to your inbox

You'll also receive Yardbarker's daily Top 10, featuring the best sports stories from around the web. Customize your newsletter to get articles on your favorite sports and teams. And the best part? It's free!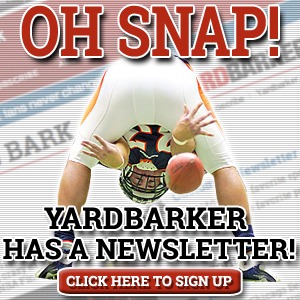 Latest Rumors
Best of Yardbarker

Today's Best Stuff

For Bloggers

Join the Yardbarker Network for more promotion, traffic, and money.

Company Info

Help

What is Yardbarker?

Yardbarker is the largest network of sports blogs and pro athlete blogs on the web. This site is the hub of the Yardbarker Network, where our editors and algorithms curate the best sports content from our network and beyond.