Found March 03, 2014 on NorthWest Sports Beat:
PLAYERS:
Nick Franklin
,
Brad Miller
,
Jack Zduriencik
,
Omar Quintanilla
,
Taijuan Walker
,
Hisashi Iwakuma
,
Dillon Gee
,
Noah Syndergaard
,
David Price
,
Jeremy Hellickson
,
Jake Odorizzi
,
Ervin Santana
TEAMS:
Seattle Mariners
,
New York Mets
,
Tampa Bay Rays
,
Kansas City Royals
Where could Franklin land and for who? Despite the fact that Seattle Mariner's skipper Lloyd McClendon has publicly stated that the shortstop competition between Nick Franklin and Brad Miller is a wide open chase, and that GM Jack Zduriencik has also stated that the loser of the competition is headed to AAA, the most common thought on the street is that the M's are trying to move Franklin. I've been steadfast in my thought that Franklin is actually a better fit for the Mariners at short right now, but the rumors overwhelmingly are against my thinking. But what fun is spring training without some wild speculation?  With that in mind, who might the M's partner with to move Franklin, if that is indeed their intent? The pickings might be thinner than you think. The New York Mets One of the teams most commonly linked with a potential Franklin deal is the New York Mets. I'm not sure there is much truth beyond these rumors however. Let's separate a little fact from fiction here. Yes, the Mets need a shortstop but let's look at the numbers here for a second. Franklin hit .225 with 12 home runs, 20 doubles and 45 RBI in 102 games played last season. The Mets' current shortstop, Omar Quintanilla put up similar numbers. Quintanilla hit .222 with two home runs, nine doubles and 21 RBI in 95 games played last season. One of these hyped up youngsters could be shown the door. (Photo: nasorb.com) In a straight up comparison these numbers are pretty much the same. The difference is that Quintanilla is a 32-year-old entering the twilight of his career and his numbers are not nearly as likely to improve as the 22-year-old Franklin's. Franklin at 22, is already showing considerably more power as well. Ok, so I can accept that Franklin is an improvement for the Mets at short. Where the deal starts to fall apart is when you look at what the Mets have to send back to Seattle. The Mariners are most likely going to demand a major league ready starting pitcher whom they can control for a few years in return for Franklin. With Taijuan Walker sitting for the next week with some soreness in his shoulder and his ability to start the season on time in doubt, starting pitchers are suddenly a major priority for the M's. Keep in mind Hisashi Iwakuma isn't even touching a baseball now for another 3 weeks at least. The Mets just don't have a starting pitcher surplus that is attractive, at least that they are willing to part with. If this discussion is actually taking place I envision the Mets trying to get away with sending someone like Jacob deGrom or Dillon Gee in exchange. Gee is probably the better of the two but both project as #4 or #5 rotation guys at best. What the Mets likely don't want to part with is a starting prospect like Noah Syndergaard. Syndergaard is a mammoth 6'6″, 240 lb power presence on the mound. He's averaged right around an even 3.00 ERA for the past few seasons in the Mets' farm system while striking out better than 1 batter per inning. This is the kind of deal that would make sense if the M's really want to go down this road. They need to be on the high end the deal, and Syndergaard is the one guy the Mets have that tips the potential deal to the M's favor. Would the Mets pull the trigger on that deal? My gut says no. They are not quite that desperate, at least not yet. The Tampa Bay Rays Rumors are swirling about a Nick Franklin move. (Photo: emeraldcityswagger.com) In all honesty, I think the only reason the Tampa Bay Rays get mentioned in Franklin trade talks is because of all the previous speculation this offseason centered around a Walker/Franklin package for David Price. If you were one of the M's fans jumping up and down for this deal to happen, STOP IT! It isn't going to happen. David Price has been very clear that he has no intention of signing an extension with Seattle. Big Jack has also said he has no desire to move Walker. Those two facts right there kill any potential move the M's could make for Price. That doesn't necessarily mean that Franklin doesn't head to Tampa Bay for someone else. The problems start with this potential matchup when you remember that Seattle is going to want a young starting pitcher in return. The Ray's just lost starter Jeremy Hellickson to injury. Now, just like the M's, they are not going to want to offer up a starter in any deal that doesn't return one. Hellickson was not a good return for the M's anyway but he did eat a lot of innings and his loss makes it tough for the Rays to give up the guy who should be the real target for the M's, Jake Odorizzi. Odorizzi is just 23 years old and has shown pretty good stuff in his young minor league career. In addition to the injury problems the Rays have at pitcher, the fact that Odorizzi is considered to be the Ray's top prospect makes this deal unlikely as well. So what will happen? I still think Franklin will wind up beating out Miller for short stop during spring training and he's going to do it with his bat, not his glove. The M's are going to have to solve their early season starting pitching injury woes another way. Ervin Santana you have a call on line three. Some guy named Jack wants to talk to you. CLICK HERE TO CHECK OUT THE MARINERS BLOG IN OUR CLUBHOUSE TODAY AT NWSB!
Original Story:
http://www.nwsportsbeat.com/mariners/...
THE BACKYARD
BEST OF MAXIM
RELATED ARTICLES
Seattle Mariners: What Robinson Cano saidWell, Robinson Cano is already making a splash in Seattle. In an interview with CBSSports.com and covered today by the popular ESPN talk show Pardon the Interruption, Cano said, ""I'm not going to lie. We need an extra bat, especially a right-handed bat. We have many left-handed hitters. We need at least one more righty." So, is Cano...
After a lost 2013 season in which he wasn't able to play a single inning of baseball, Corey Hart seems to be having a much more positive start to 2014. On Saturday, ESPN's injury expert Stephania Bell tweeted that Hart is looking good after his knee surgery and now just needs to adjust to the speed of the game, having spent such a long time out.Hart doing very well after...
Watch out, Tim Kurkjian, because Logan Morrison just took a dump on the Baseball Tonight bus. What a naughty boy.
Seattle Mariners: 3 Up and 3 Down2013 looked a lot like previous Seattle Mariners seasons. True, the addition of the Houston Astros to the A.L. West did bump them out of the cellar, but Seattle found themselves on the wrong side of .500 again at 71-91. The 71-91 mark was a drop from the previous season by four games (75-87), although it was better than 2010 (61-101) and 2011 (67...
The Seattle Mariners made some big improvements this winter but appear to have left themselves with some obvious holes as well. The biggest enhancement, of course, was signing superstar second baseman Robinson Cano, who brings the middle-of-the-order impact bat the team craved, and also maybe just a few more opinions and a little more assertiveness than is recalled from his many...
Taijuan Walker was shut down for a week due to a bursa in his right shoulder. Isn't a bursa a type of Ethiopian bread? Sounds more like Somalians are holding my beautiful, upside starting pitcher captive. Only Captain Phillips can get me out of this mess...by being taken captive for two hours of a two hour and twenty minute movie and then being saved by characters we don&...
For a 28 year old, Felix Hernandez sure has a lot of mileage on his arm — his 1740.1 IP since 2006 trail only Justin Verlander and CC Sabathia. It's no secret that his velocity is slipping, but his strikeout numbers are as strong as never. The drop in velocity should come as no surprise as it's the norm for pitchers to reinvent themselves in the middle of their career. Here's...
PEORIA, Ariz. (AP) -- Robinson Cano got two hits and made a pair of smooth plays in the field as the Seattle Mariners beat the Los Angeles Angels 5-3 on Saturday in a game shortened to seven innings because of rain. Cano struck out in the first inning against C.J. Wilson. The Seattle newcomer hit an RBI single in the third and later scored on Dustin Ackley's RBI double. Cano...
When the Seattle Mariners signed Robinson Cano to a $240 million contract, it seemed safe to assume they were not done adding pieces. You don't spend that kind of coin without a larger plan in mind. Seattle could still make some significant moves before the start of the regular season, but they really haven't done […]
MLB News

Delivered to your inbox

You'll also receive Yardbarker's daily Top 10, featuring the best sports stories from around the web. Customize your newsletter to get articles on your favorite sports and teams. And the best part? It's free!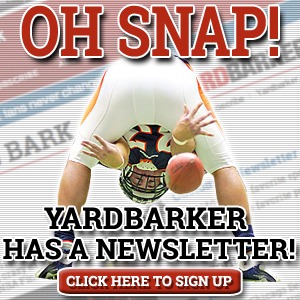 Latest Rumors
Best of Yardbarker

Today's Best Stuff

For Bloggers

Join the Yardbarker Network for more promotion, traffic, and money.

Company Info

Help

What is Yardbarker?

Yardbarker is the largest network of sports blogs and pro athlete blogs on the web. This site is the hub of the Yardbarker Network, where our editors and algorithms curate the best sports content from our network and beyond.