Found February 19, 2012 on 22gigantes:
PLAYERS:
Tim Lincecum
,
Matt Cain
,
Buster Posey
,
Bruce Bochy
,
Pablo Sandoval
,
Ivan Rodriguez
,
Victor Martinez
,
Jason Varitek
,
Johnny Bench
,
Gary Carter
,
Barry Zito
,
Ryan Vogelsong
,
Brian Wilson
,
Bobby Abreu
,
Ozzie Guillen
,
Carlos Zambrano
TEAMS:
San Francisco Giants
,
Washington Nationals
,
Detroit Tigers
,
Boston Red Sox
,
Los Angeles Angels
,
Chicago White Sox
,
Miami Marlins
What a sight for sore eyes! There he was, sitting in the squat, receiving fastballs and assorted other pitches from familiar batterymates Tim Lincecum and Matt Cain. And there he also was in the batting cage, swinging his lumber with that sweet, familiar stroke. Buster Posey looked great on Sunday, the second day of spring training. Still recovering from a trenchant leg and ankle injury that wasted most of his 2011 season, Buster reminded his teammates, coaches, a few local reporters and national media folks, and fans on hand at Scottsdale Stadium that Weebles wobble but they don't fall down. During BP, he roped pitches to left field mainly, even blasting a couple high over the fence into the lawn seats. According to Alex Pavlovic of the San Jose Mercury News, Posey looked good in all four rounds of batting practice. Behind the plate, he dug out a couple of pitches in the dirt. But no blocking yet. That's coming later, so says skipper Bruce Bochy. I think Pavlovic said everything you want to hear as a Giants fan when he wrote, "Aside from the brace on his left leg, there are no signs so far that Posey was ever hurt." Posey is pining to play in the March 3rd Cactus League opener against the D-backs and I say let him! My inside scoop, Crook, got some nice stills and shot some video of one of Posey's BP sessions and was kind enough to send it to me for your viewing pleasure: How Posey's ankle and leg respond to baseball activity remains to be seen. He told Pavlovic that his ankle is sore when he wakes up, but "after a few steps it feels normal. I'm really happy with way everything felt today." So is Lincecum, who told Comcast SportsNet's Andrew Baggarly, "it was like having the old Posey back." Of course, if things get too bad, Bochy could always toss him out in left field, like he did with Pablo Sandoval for an inning during the Taiwan tour in November. That idea wouldn't fly with Buster, though, who told reporters, "I'm too slow (to play in the outfield). Then again, Burrell played out there." Besides, Posey's intent on being a catcher. And that's it. He knows the day is coming when his body will force him to first base or SH (if he ever ends up in the American League). It's foolish to think otherwise. Ivan Rodriguez, Victor Martinez, Jason Varitek…the list of converted catchers is larger than the number of pain pills these (and most other major league) backstops have had to swallow from years of taking a beating behind the dish. But for now, he's still a catcher and still has a lot of fire in his belly to prove that his place among the Johnny Bench's and Gary Carter's of the world is secure. Posey's not the only Giant trying to work the kinks out this spring. According to Hank Schulman of the San Francisco Chronicle, pitcher Barry Zito is looking to add some velocity and more movement to his pitches by using his legs more. Schulman also noted that right-hander Ryan Vogelsong might be out a couple weeks with a strained back that he suffered while lifting weights earlier this month. An MRI confirmed the strain, similar to the one Brian Wilson showed up to camp with last year. Speaking of Wilson, he too threw off a mound today. So far, so good for B-Weez, whose right elbow flared up late last season. Sandoval has been a tweeting (and workout) fool the past couple of days. He's been working out in Miami until he and the rest of the non-injured offensive dudes show up to Scottsdale on Thursday. Most of the Panda's tweets have been centered around his workout sessions with his trainer, Greg Oliver. He did happen to toss out a tweet about a Pepsi commercial that he shot with Angels outfielder Bobby Abreu, Marlins manager Ozzie Guillen and pitcher Carlos Zambrano. Among the national media outlets at Scottsdale Stadium today: ESPN, FOX Sports, Sports Illustrated, Yahoo Sports, and USA Today. No Showtime. But you already knew that. Here are a couple of stills featuring Zito, Lincecum, Wilson and Posey, courtesy of the Crookmaster:
I hope you enjoyed reading "Spring Training recap—Day 2." I'm interested in your opinion on this article. Why not leave a comment at 22gigantes.com?
Original Story:
http://feedproxy.google.com/~r/22giga...
THE BACKYARD
BEST OF MAXIM
RELATED ARTICLES
Buster Posey said he had a hard time digesting the replays of Stephen Drews severe ankle injury. It made my stomach turn watching it, said Posey, who suffered a similar but less stressful ankle injury last May. Drew was back in his natural habitat Monday, taking grounders at shortstop on one of the Diamondbacks' practice field at Salt River Fields, the first time he has done...
San Francisco Giants manager Bruce Bochy has told catcher Buster Posey not to block home plate this upcoming season.  The Giants lost Posey for most of the 2011 MLB season last May after a collision at home plate with Marlins outfielder Scott Cousins.  Posey tore three ligaments in his left ankle and broke a bone in his lower part of his leg. According to USA Today at spring training...
After a violent collision at home plate ended Buster Posey's season in May last season, San Francisco Giants manager Bruce Bochy has instructed his All-Star catcher to no longer block home plate when a player is trying to score.
Something extremely important -- his identity as the catcher, cleanup man and quiet leader of a World Series champion -- was taken from Buster Posey in a heartbeat last May.
Buster Posey squatted into his catcher's crouch for his first spring training bullpen session and began receiving pitches from ace Tim Lincecum, then Matt Cain.
Early workload will be lighter for Posey, Wilson, Sanchez
Manager Brucy Bochy doesn't expect his stars to see much spring training action until the second week
Tim Lincecum skipped his bullpen session Tuesday because of a stiff back, but manager Bruce Bochy said it won't be a concern.
MLB News

Delivered to your inbox

You'll also receive Yardbarker's daily Top 10, featuring the best sports stories from around the web. Customize your newsletter to get articles on your favorite sports and teams. And the best part? It's free!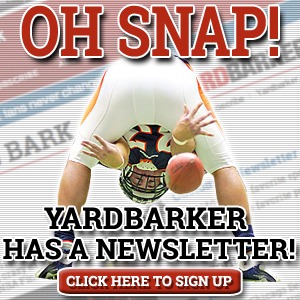 Latest Rumors
Best of Yardbarker

Today's Best Stuff

For Bloggers

Join the Yardbarker Network for more promotion, traffic, and money.

Company Info

Help

What is Yardbarker?

Yardbarker is the largest network of sports blogs and pro athlete blogs on the web. This site is the hub of the Yardbarker Network, where our editors and algorithms curate the best sports content from our network and beyond.