Found March 07, 2012 on Losers Bracket:
Randy Wolf and his buddies cannot allow more than 2 runs each game.
Beefe has boldly proclaimed that our Milwaukee Brewers will win the World Series. Could happen. So long as Ryan Braun never sees Octavio Dotel again, which is possible because he is now with Mr. Corn Row Prince on the Tigers. I will now run down the first week of spring training and some thoughts.
The Brewers cannot score runs. I was told, but our on staff Brewer expert that I am not supposed to worry about this yet. Hitters are getting their timing down and stuff I was told. Yeah, well Brauny, fresh off his roid get out of jail free, is 0-4 with 3 strike outs and still thinks Dotel is making him look stupid in the NLCS.
Dotel declined our interview stating that he is working on growing Corn Rows like Prince. He did apologize to Brauny stating "He isn't as bad as I made him look, but he did look stupid didn't he"
Yovani Gallardo, who I love to rail on, pitched lights out yesterday. The Crew needs him to be on his game this year as they wont score as many runs…..they need the pitchers to dial it up a notch.
Cory Hart………god, do you ever play a full spring. Cory is hurt…..again……and he is wearing his sunglasses at night. He has a torn meniscus or something, guess he tore it walking off the plane to Phoenix. Get well Cory, you are simply an average hitter who loves to strike out, but holy crap The Crew has nothing behind you NOTHING. They need Hart to hit 20+ homers and swing at low and away crap.
Shaun Marcum has a sore shoulder. Must have tweaked it reaching back for one of those 80 mph heaters right over the plate. Regardless, we need Marcum throughout the season, but we also need to bench him when the playoffs start…..should the Crew make the playoffs.
Randy Wolf, Greinke and Narv-Dog are dialed in early this spring. Each has thrown 2 scoreless innings along with Gallardo. This is positive stuff Losers. The Brewers will win a bunch of 2-1 thrillers this year.
All in all its early. I am sure Brauny will heat up, but it sure is fun, in the mean time, to make Octavio Dotel jokes……as in my eyes Brauny will never live down that NLCS strike out embarrassment. The Crew still needs to find some hits, find some gaps "A"….they need runs, bad.
I am not yet sold on Beefe's claim, but I do think the Crew will contend this year if they can adequately replace Corn Row Dork's missing bat.
WORD.
Original Story:
http://losersbracket.com/2012/03/spri...
THE BACKYARD
BEST OF MAXIM
RELATED ARTICLES
New Tiger Octavio Dotel Octavio Dotel takes the phrase "living out of a suitcase" literally.  Playing for 13 teams in his career, that suitcase has probably been replaced two or three times because of the wear and tear.  Dotel now finds himself in a Detroit Tigers uniform, looking to contribute to an already dominant back end of the bullpen. REGRESSION: WHIP – With TOR and...
Milwaukee Brewers left fielder Ryan Braun collected his first hit of spring training when he belted a two-run home run in Thursday's 8-6 loss to the Cincinnati Reds. Braun connected off reliever Jose Veras after an 0-for-5 start to the spring. The reigning National League MVP was the story off the offseason after he was slapped with a 50-game drug suspension, but had the penalty...
PHOENIX While the rest of the Milwaukee Brewers prepare for an exhibition contest against Oakland at Maryvale Baseball Park on Tuesday, Corey Hart will be in suburban Glendale to undergo surgery on his right knee.Meeting with reporters Monday, Hart said he thinks he may have suffered the injury Feb. 24 when he slipped while making his way to Ryan Braun's nationally televised...
PHOENIX (AP) -- Ryan Braun hit a two-run homer for his first hit of spring training Thursday. Alas,Chris Heisey had an RBI triple and Juan Francisco hit a solo homer in a four-run fifth inning to lead the Cincinnati Reds to a 7-6 victory over the Milwaukee Brewers. Reds starter Mike Leake gave up three hits in two innings, but one hit was a solo home run to Mat Gamel in the second...
Ryan Braun had a two-run home for his first hit of spring training, and Brewers manager Ron Roenicke focused on Rickie Weeks' play. Things may finally be returning to normal for Milwaukee. Braun's homer and Zack Greinke's solid start were not enough for the Brewers, who lost 8-6 to the Cincinnati Reds on Thursday. Chris Heisey hit an RBI triple and Juan Francisco had...
PHOENIX As the Milwaukee Brewers transformed from an also-ran to perennial National League Centralcontender over the last few years, they did so largely on the collective back of home-grown talent.Players like reigning National League Most Valuable Player Ryan Braun, right-hander Yovani Gallardo, right fielder Corey Hart and second baseman Rickie Weeks were all products of Milwaukee...
The tagline of the show "Mad Men,"("Where the truth lies") accurately describes the recent controversy surrounding National League MVP Ryan Braun. Did the Brewers slugger tell the truth regarding his steroid use? Or did he escape due to a testing technicality? Never mind that, Ryan should hire Don Draper to remake his image ("If you don't like what people are saying...
by: Will HicksStaff Writer Today's preview looks at the Milwaukee Brewers. The Brewers look to defend their title as the reigning NL Central champions, but may be hard-pressed to do so after dealing with a stressful off-season for the organization. As a result of the media storm that comes with a (failed?) drug test while also losing the star of your team, this season could...
MLB News

Delivered to your inbox

You'll also receive Yardbarker's daily Top 10, featuring the best sports stories from around the web. Customize your newsletter to get articles on your favorite sports and teams. And the best part? It's free!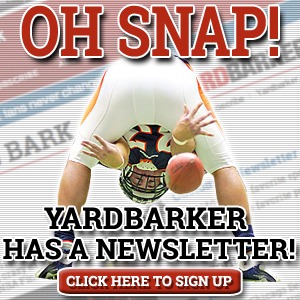 Latest Rumors
Best of Yardbarker

Today's Best Stuff

For Bloggers

Join the Yardbarker Network for more promotion, traffic, and money.

Company Info

Help

What is Yardbarker?

Yardbarker is the largest network of sports blogs and pro athlete blogs on the web. This site is the hub of the Yardbarker Network, where our editors and algorithms curate the best sports content from our network and beyond.