Found May 22, 2012 on NorthWest Sports Beat:
PLAYERS:
Kyle Seager
,
Justin Smoak
,
Brandon League
,
Miguel Olivo
,
Franklin Gutierrez
,
Alex Liddi
,
Chone Figgins
TEAMS:
Seattle Mariners
,
Los Angeles Angels
,
Boston Red Sox
,
Cleveland Indians
,
Colorado Rockies
,
Texas Rangers
,
New York Yankees
The Bitter Sweep Road Trip
Welcome to the eighth edition of the State of the Seattle Mariners update for the 2012 regular season.  In these weekly updates you will find all the information and news regarding the Seattle Mariners Baseball Franchise.
Upcoming Match Ups
The Mariners make their way back to Safeco field where they will be paired up against the Rangers and the Angels.
The M's have a chance to help shape the A.L. West with these two series.  Texas has been dominant, sitting at 26-16.
The M's had limited success against them in their last meeting in Arlington, playing well but without victory.
The  Angels are 18-24 putting them a half game BEHIND the M's despite their giant payroll.  They are likely expecting Seattle to be an easy win, but the M's need to use this opportunity to push them into the basement of the division.
Recent Results
This was a brutal road trip, home runs balls being called out, giving up leads and blowing saves.  The only consolation is that if the Mariners happen to make it into the World Series, they have shown good stuff against National League teams as they swept the Rockies in Denver.
Seattle Mariners Weekly Notebook - May 21st
The M's went 4-4 for the week.
May 13 – 5-2 Win against New York
May 14 – 1-6 Loss to Boston
May 15 – 0-5 Loss to Boston
May 16 – 3-9 Loss to Cleveland
May 17 – 5-6 Loss to Cleveland
May 18 – 4-0 Win against Colorado
May 19 – 10-3 Win against Colorado
May 20 – 6-4 Win against Colorado
The Mariners are now 19-24 for the season, which puts them a half game over the Angels in third place in the A.L. West Division.
The Good News
Kyle Seager. For someone that was hoping to make the team as the back up infielder, Seager is out-playing everyone's expectations and is leading the team in several offensive categories.  It is good to have good news.
Justin Smoak. Smoak appears to finally be warming up this season.  During the past 2 weeks, Smoak is hitting .298 (14/47) with 2 home runs.  He also has struck out 14 times.  It would be good to see his hit to strike out ratio improve a bit, getting more balls in play rather than swinging through but over all, encouraging.
Defense.  Although there were some glaringly obvious errors on this road trip, The Mariners have committed only 16 errors this season which is the best in the American League.
The Bad News
Brandon League. Even the 8 games League has earned "saves" in, the hard throwing right hander is not looking good out there this season.  He is either leaving the ball over the plate or spiking the sinker several feet in front of the plate.  I am done with League.
Inconsistent pitching. The Mariners are a club built around pitching, and while there are some good prospects on the farm, what the club has now is not good.  The Team ERA is 3.98
Roster Moves / Trades
Nothing new this week
Despite 8 saves, League is reminding fans of Bobby Ayala
Injury Report
Miguel Olivo rejoined the team from his rehab assignment but has yet to be activated off of the disabled list.  There are probably some roster moves coming to accommodate their veteran catcher's return.
Franklin Gutierrez continues to struggles and will likely have a full rehab in Tacoma before returning.
M's in the Community
The M's haven't been in the community much with their traveling schedule as intense as it is.
Gossip
Alex Liddi was used several times this week in the Left Field position, indicating the M's value his bat.  This put Chone Figgins future even more into question.  With Olivo on the mend, it is within reason that the Mariners may designate Figgins for assignment.
Division News
The Rangers are playing as expected and are likely to take the A.L. West title yet again.
The Angels have been worse than anyone predicted and are living in the basement of the division.
The Athletics are playing .500 ball which doesn't seem at all likely to continue, and the Mariners are the only unsurprising team, playing for third, exactly as was thought by everyone.
What's on tap this week? Date vs Last Meeting 5/21/12
TEX
L
3-5
4/12/12 5/22/12
TEX
L
3-5
4/12/12 5/23/12
TEX
L
3-5
4/12/12 5/24/12
LAA
L
1-3
9/7/11 5/25/12
LAA
L
1-3
9/7/11
CLICK HERE CHECK OUT THE SEATTLE MARINERS CLUBHOUSE AT NWSB!
© Danny Ferguson for North West Sports Beat, 2012. | Permalink | No comment |
Follow NWSB on Twitter or join US on Facebook for real-time updates OR... | Share This on Twitter | Share NWSportsBeat.com on Facebook
Post tags:
Alex Liddi
,
Boston Red Sox
,
Brandon League
,
Chone Figgins
,
Cleveland Indians
,
Colorado Rockies
,
Franklin Gutierrez
,
Kyle Seager
,
L.A. Angles
,
M's
,
Mariners
,
Mariners blog
,
Mariners recap
,
Mariners Rumors
,
Mariners updates
,
Miguel Olivo
,
MLB
,
New York Yankees
,
Safeco Field
,
seattle
,
Seattle Mariners
,
Seattle Mariners Blog
,
Texas Rangers
Original Story:
http://www.nwsportsbeat.com/mariners/...
THE BACKYARD
BEST OF MAXIM
RELATED ARTICLES
LOOK OUT FOR THE LUMBER!
On Monday night, Seattle Mariners third baseman Kyle Seager lost his bat after an aggressive swing at a pitch, and it was grabbed in the stands by a man and a woman who were watching the game together. Seager's bat went flying into the stands on the first-base side during his at-bat in the bottom of the third inning. Fortunately, the bat bounced in a row of empty seats before...
THAT'LL LEAVE A MARK
Another night in May, another foul ball off some guy's forehead who bought epic seats to a Mariners game and even brought his glove for last night's tilt against the Rangers. There he was, in perfect position, for a grounder down the first base line that would be the perfect opportunity to add to his douchey baseball collection. Maybe even get this one signed by Justin Smoak...
Straight outta Little League With the Seattle Mariners going for the sweep in Colorado, manager Eric Wedge decided to take a chance on a extremely delayed double steal in the 1st inning. Kyle Seager took second, and Dustin Ackley stole home. Seager then took third on the errant throw to the plate. National League managing at it's best. As they say, "when in Rome." The play...
Franklin Gutierrez has taken his first steps in coming back from a problematic foot injury that came when the Seattle Mariners center fielder was trying to recover from a strained pectoral muscle. Gutierrez took batting practice before Tuesday's game against Texas and is expected to test the plantar fasciitis in his foot by doing running and agility drills on Wednesday. Gutierrez...
On Saturday, Kevin Millwood spun a gem against the Colorado Rockies, with a 2-hit complete game shutout in hitter-friendly Coors Field. The 16-year Mariners' veteran seems like he has found his old self and his trade value will not get any higher. The Mariners are in a rebuilding year and won't be in the postseason for the tenth straight year. Millwood doesn't factor into...
SEATTLE Maybe the most entertaining thing about Monday's 6-1 loss for the Texas Rangers was Adrian Beltre's interaction with Seattle ace Felix Hernandez. The relationship between the two goes back to Beltre's playing days in Seattle. When Hernandez came up in 2005, Beltre took him under his wing. Now the two have a friendly rivalry with Beltre's goal to hit a homer...
Brendan Ryan is the best defensive shortstop in baseball, despite what Gold Glove voters want you to believe. The slick-fielding Mariner is annually snubbed, but he boasts the highest UZR at his position during the past three-plus seasons. The Fielding Bible panelists have noticed. They awarded him their own Gold Gloves in 2010 and 2011. Most Seattle fans have, as well, although...
Jesus Montero and Justin Smoak hit back-to-back home runs, Blake Beavan tied a season-high with seven strikeouts and the Seattle Mariners held on to beat the Colorado Rockies 6-4 on Sunday to complete a three-game sweep. Mike Carp also homered and Dustin Ackley had two hits for the Mariners. Carlos Gonzalez homered among his three hits and Dexter Fowler also homered for Colorado...
Big bats help Seattle complete sweep The Headline: backed by a strong offensive effort, the Seattle Mariners finish off a sweep in Colorado. Seattle Mariners 6, Colorado Rockies 4 When: 3:10 ET, Sunday, May 20, 2012 Where: Coors Field, Denver Temperature: 72 Umpires: Home — D.J. Reyburn, 1B — Laz Diaz, 2B — Mike Everitt, 3B — Paul Schrieber Attendance: 36,662 Love 'em...
SEATTLE (AP) -- Ichiro Suzuki and the Seattle Mariners chased Texas' Yu Darvish after just four innings in his shortest start of the season, and the Mariners rolled to their fourth straight win in a 6-1 victory over the Rangers on Monday night. Felix Hernandez (4-3) rebounded from consecutive poor starts to hold the top offense in baseball to one run in eight innings. Seattle...
MLB Matchup Insight Rangers vs M's Game 1 Happy Monday, Happy Felix Day. Not sure it's happy. King Felix faces a nemesis in the Rangers, who beat Hernandez all four times they faced him last year. Texas Rangers (26-16) vs Seattle Mariners (19-24) Monday May 21 Safeco Field – Seattle, WA 10:10PM Moneyline: Texas -130, Seattle +120 O/U: 6.5  Odds by Bovada *MLB Matchup...
Los Angeles Angels of Anaheim Hitters: D+. This is a subject area that the Angels were expected to ace, but instead they are bringing up the rear in the class with the second-fewest runs scored in the American League and have been shutout a league-leading eight times. The epic struggles of Albert Pujols are well documented, but several other Halos are having horrible seasons...
MLB News

Delivered to your inbox

You'll also receive Yardbarker's daily Top 10, featuring the best sports stories from around the web. Customize your newsletter to get articles on your favorite sports and teams. And the best part? It's free!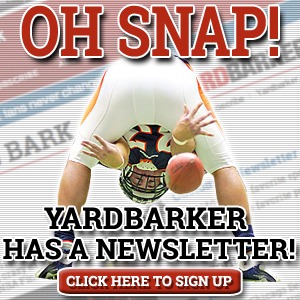 Latest Rumors
Best of Yardbarker

Today's Best Stuff

For Bloggers

Join the Yardbarker Network for more promotion, traffic, and money.

Company Info

Help

What is Yardbarker?

Yardbarker is the largest network of sports blogs and pro athlete blogs on the web. This site is the hub of the Yardbarker Network, where our editors and algorithms curate the best sports content from our network and beyond.