Found January 29, 2012 on Nationals Enquirer:
Stephen Strasburg's 2nd annual 5K took place Saturday on the San Diego State campus. Video above is Baseball Jesus speaking with Marty Caswell of xx1090 AM sports radio San Diego about the race, his recovery from TJ surgery, and the upcoming year for the Nats. What's not to love about Strasburg's answer to the final question of the interview? Caswell: "Adrian Gonzalez, Prince Fielder, Albert Pujols were all in the National League, now they're in the American League. As a pitcher how do you feel about that?"Strasburg: "Hey, you gotta face the American League in the World Series. Hopefully we can face 'em sooner or later." Perfect answer by Baseball Jesus right there. See also, the Strasburg 5K coverage on U-T San Diego dot com; that's where the title of this post originated. (Screen grab via MartyTimeTV/YouTube clip.) Befriend the Nats Enquirer on Facebook. Follow us on Twitter.
Original Story:
http://feedproxy.google.com/~r/typepa...
THE BACKYARD
BEST OF MAXIM
RELATED ARTICLES
Back on January 16, Stephen Strasburg Tweeted news of a near-miss first hole in one, missing the cup by mere inches. The next day, Washington Nationals' 2011 third round pick Matt Purke was out fine-tuning his golf game: Today, those those lessons apparently paid off -- Purke claims that he got his first ever hole in one  -- photo above via @MattPurke47:More importantly; how...
Should the Nationals hold Stephen Strasburg until mid-May in case of a postseason run, considering his innings limit? Beat reporter Bill Ladson answers this question and more in the Inbox.
Move over Michael Morse and that Curly W moped helmet. Ladies and gentlemen, Drew Storen and his custom Stanford fighter pilot helmet. Photo via Cleveland Indians reliever Chris Perez (@ChrisPerez54): Finally, a replacement for the Silver Elvis wig [see also, great moments in Silver Elvisdom]? Just 20 days until Nats' pitchers and catchers report... (H/T @AllStars_S2...
One of my favorite books of the year, Baseball America's Prospect Handbook, came out earlier this week. In my opinion, it's one of the most valuable books for a baseball fan to own each year because it gives you not just the skinny on not just he up-and-comers from around the league, but it also provides an unbiased view of the prospects of the team you care about most. ...
The Washington Nationals have never had exactly what they wanted at first base since they arrived in DC.  Nick Johnson was perpetually injured, Dmitri Young had a single incredible bounce back year, and Adam Dunn was a left fielder until the Nats made him go to first base to make room for Josh Willingham.  Dunn was also terrible defensively.  Michael Morse did a great job there...
Although Brad Lidge has closed for the vast majority of his major league career, he'll step into a setup role with the Washington Nationals in 2012. The Nats are hoping the 35-year-old veteran can help provide leadership to a promising young bullpen.
A little more than three weeks ago, on January 6th, I wrote an article exploring the options the Washington Nationals have with newly acquired third baseman Anthony Rendon.   However, I didn't mention the odd man out, another major league ready second base man, Steve Lombardozzi. Lombardozzi, 23 years old now, was drafted in 19th round of the 2008 MLB Amateur Draft by the Nationals...
(NatGio meets Sexy Rexy. Photo via @GioGonzalez47) And so, Gio Gonzalez continued his full-on embrace of all things Washington DC sports over the weekend, posing with (and endorsing) Rex Grossman at a charity bowling event in Miami Saturday night: Love the sentiment, but it would seem NatGio thinks Rex is the answer at QB? (pssst...Gio, there's a good chance Rex won...
The amount of hype surrounding the drafting and development of both Stephen Strasburg and Bryce Harper is something completely unprecedented in baseball. Some of the hysteria can be attributed to the sports media who are always looking for the next best thing and at times can embellish the potential of young stars. But most of the excitement surrounding these two standouts stems...
MLB News

Delivered to your inbox

You'll also receive Yardbarker's daily Top 10, featuring the best sports stories from around the web. Customize your newsletter to get articles on your favorite sports and teams. And the best part? It's free!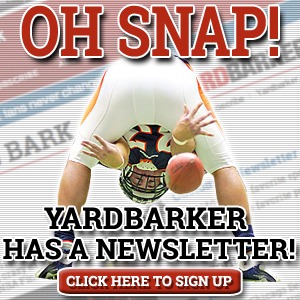 Latest Rumors
Best of Yardbarker

Today's Best Stuff

For Bloggers

Join the Yardbarker Network for more promotion, traffic, and money.

Company Info

Help

What is Yardbarker?

Yardbarker is the largest network of sports blogs and pro athlete blogs on the web. This site is the hub of the Yardbarker Network, where our editors and algorithms curate the best sports content from our network and beyond.