Found March 28, 2013 on Fox Sports Florida:
PLAYERS:
Evan Longoria
,
BJ Upton
,
Yuniel Escobar
,
James Loney
,
Kelly Johnson
,
Matt Joyce
,
Ben Zobrist
,
Luke Scott
,
Joe Maddon
,
Jose Molina
,
Jose Lobaton
,
Chris Gimenez
,
Ryan Roberts
,
Sean Rodriguez
,
Sam Fuld
,
Jose Bautista
TEAMS:
Tampa Bay Rays
,
Atlanta Braves
,
Baltimore Orioles
,
Miami Marlins
,
Boston Red Sox
,
Cleveland Indians
,
Seattle Mariners
,
Toronto Blue Jays
,
Los Angeles Dodgers
,
New York Yankees
,
Kansas City Royals
For the Tampa Bay Rays, this past offseason was one of addition and subtraction, of gains for the future and losses for the present. On the plus side, they locked up third baseman Evan Longoria with a handsome six-year, 100 million extension that solidifies the former junior college transfers place as an elite presence in the major leagues. However, they lost center fielder B.J. Upton in free agency to the Atlanta Braves after eight years with the franchise. That development leads to questions about how a lineup that ranked 18th in runs scored last season will fare without one of its most productive talents. The additions of Yunel Escobar, James Loney and Kelly Johnson are intriguing. But make no mistake: The Rays offensive threat will evolve around whether Longoria stays healthy and productive. After an offseason of gain and loss, Tampa Bay hopes to see plenty of advancement on the scoreboard.Projected lineupOF Desmond Jennings (.246 avg, 13 HR, 47 RBIs) He played a career-high 132 games last season and posted the best totals of his career. He closed tied with B.J. Upton for most stolen bases on the team with 31. OF Matt Joyce (.241 avg, 17 HR, 59 RBIs) His production dropped off slightly from career-high totals in 2011. Still, he provides the potential for power if healthy.OF Ben Zobrist (.270, 20 HR, 74 RBIs) He finished second on the team in home runs with 20 last season, behind Uptons 28. With Upton in Atlanta, he and Longoria could provide the bulk of Tampa Bays power. 3B Evan Longoria (.289 avg, 17 HR, 55 RBIs) He played in a career-low 74 games last season because of a left hamstring injury that required surgery. A wealthy extension signed in the offseason solidified his place as the franchises face of the future. DH Luke Scott (.229 avg, 14 HR, 55 RBIs) Back issues limited him to 96 games in his first season with the Rays last year after arriving from the Baltimore Orioles. Tampa Bay coaches have watched his health closely this spring. SS Yunel Escobar (.253 avg, 9 HR, 51 RBIs) Hes a controversial talent who arrived in Tampa Bay after a trade with the Miami Marlins. Manager Joe Maddon likes his potential, but he comes with risk. 1B James Loney (.249 avg, 6 HR, 41 RBIs) The former Boston Red Sox and Los Angeles Dodgers player was acquired in the offseason. He hopes to revitalize himself after posting career-low home run and RBI totals last year. C Jose Molina (.223 avg, 8 HR, 32 RBIs) With 251 appearances last season, he had his first 200-plus at-bat campaign since appearing at the plate 268 times with the New York Yankees in 2008. At 37, hes aging, but hes the Rays answer at his position for now. 2B Kelly Johnson (.225 avg, 16 HRs, 55 RBIs) The former Toronto Blue Jays player fills the Rays void at second base. Hes dependable, having played in at least 142 games in each of the past three seasons.Projected benchC Jose Lobaton (.222 avg, 2 HR, 20 RBIs) Hes the backup to Molina for now. Reserve catcher Chris Gimenez had a strong spring but was sent to Class AAA Durham on Monday. IF Ryan Roberts (.214 avg, 6 HR, 18 RBIs) Hes a versatile option who has had experience at a number of positions this spring. He appeared in 60 games last season, his fewest since 36 in 2010. IF Sean Rodriguez (.213 avg, 6 HR, 32 RBIs) He played in 112 games last season. With Johnsons signing at second base, though, hell probably see time elsewhere. OF Sam Fuld (.255 avg, 0 HR, 5 RBIs) A right wrist injury made him miss a significant chunk of last season. He only appeared in 44 games, but look for his production to rise this summer.Biggest strengthPotential for PowerIf Longoria stays healthy, theres room for this lineup to create a few dents against American League pitching. Joyce and Zobrist are proven commodities, and Johnson is intriguing. Scott missed a chance to show what he could do last season because of injury, but if he stays on the field, he may do damage as well. The absence of Upton will be the largest X-factor in this equation. Still, the possibility for power is there. Biggest questionWill there be more runs, and if so, where will they come from?Despite the Rays success last season, run production was lacking. Tampa Bay finished with 697, which ranked 11th in the American League. Only the Kansas City Royals, Cleveland Indians and Seattle Mariners were worse. The Rays ability to hit for power wasnt much better. They produced 175 home runs, a total that was good for eighth in the American League. This likely cost them a chance to reach the postseason for the third consecutive year.Of course, Longorias abbreviated season is partly to blame for those figures. Along the way this summer, Uptons absence will force the Rays to adapt. The center fielder was a valuable combination of power and speed, but with his departure to the Braves, Tampa Bay must search for new answers. Johnson could plug in nicely into this adjusted line-up. Maddon also has high hopes for Escobar, a former Johnson teammate. Wherever the production may come, the Rays must find it somewhere.Most important piece of lineupEvan LongoriaA players worth is most obvious when hes not available. Such was the case with Longoria last year, when his left hamstring injury likely cost the Rays a playoff berth. Tampa Bay went 41-44 in games he missed because of the ailment, which the power hitter has insisted this spring is healed.Certainly, the Rays hope all is clear for their marquee player as he enters his sixth major-league season. A contract extension signed in the offseason has raised his profile, and Maddon has spoken about Longorias recognition of the responsibilities that come with the financial security. Perhaps no player in the division is more valuable to his teams offensive efforts than Longoria, now that Jose Bautista has received significant help after the Blue Jays were part of an extensive offseason deal with the Miami Marlins. Before his setback last season, Longoria had hit at least 31 home runs in two of the previous three years, in addition to earning a combined 316 RBIs in that span.Final thoughtThis is Longorias team, and the upcoming season is his chance to show it. Hes one of the clubhouses most focused competitors, so missing as much time as he did last year was a nuisance for him. The extension came with a number of unseen pressures. Hell be asked to pick up some of the offensive void left in Uptons absence. Where Longoria leads, the Rays will follow.You can follow Andrew Astleford on Twitter @aastleford or email him at aastleford@gmail.com.
Original Story:
http://www.foxsportsflorida.com/mlb/t...
THE BACKYARD
BEST OF MAXIM
RELATED ARTICLES
TERRIFIC IN TROPICANA
Tampa Bay Rays pitcher David Price announced on Twitter that he'll be on the lookout for fans in Rays gear and will be giving away 100 tickets to the season opener.
The Tampa Bay Rays have awarded Roberto Hernandez the fifth and final spot in their rotation to start the season. Hernandez signed a $3.25 million contract with the team this offense which includes nearly $2 million in additional incentives. Hernandez made just three starts last season while his identify as Fausto Carmona was exposed to be a fraud. The now 32-year-old right handed...
If you don't think Rays pitcher David Price is worth way more than the one-year $10 million deal he signed to stay with Tampa Bay, you are fooling yourself. And with Justin Verlander's new contract that could exceed $202 million, the market for Price is set.  In February, Price spoke with FOX Sports about his current situation (contractually that is) with the Rays. He feels...
It's pretty sad that a perennially competitive team like the Tampa Bay Rays can't even sell out on Opening Day. Rays pitcher and last season's Cy Young award winner David Price, is doing everything within his power to ensure that his team has strong home support when they open up their season against the Baltimore Orioles on Tuesday. In a story via Yahoo Sports, Price went...
The budget-conscious Tampa Bay Rays relish the challenge of finding ways to remain competitive in the rugged AL East. Three playoff berths and one trip to the World Series over the past five seasons speak to the type of job manager Joe Maddon and executive vice president of baseball operations Andrew Friedman have done despite operating within the constraints of one of the lowest...
By ANDREW ASTLEFORDFOXSportsFlorida.com World Baseball Classic champion? Check. Premier major-league closer? Check. Someone who can cut the rug? Check. Tampa Bay Rays closer Fernando Rodney is versatile in more ways than one. Hes a force on the mound, no doubt, having earned 48 saves with a 0.60 ERA last season. His skills translate to the international stage, where he helped lead...
SARASOTA, Fla. (AP) -- It's unusual for an opening day starter to have his final outing of spring training come against the first opponent of the season. David Price, however, is not a typical pitcher. The reigning AL Cy Young Award winner breezed through four scoreless innings Thursday night as the Tampa Bay Rays and Baltimore Orioles tied 4-4 in a game called after 10 innings...
LAKELAND, Fla. (AP) -- Jeremy Hellickson has not been happy with his performance for Tampa Bay all spring. His manager is not worried. The Rays' No. 2 starter allowed eight runs --six earned -- in three innings of an 8-3 loss to the Detroit Tiger on Friday in his final tuneup before the regular season. It's been a rough camp for Hellickson, who finished with a 6.75 ERA...
Jeremy Hellickson has not been happy with his performance for Tampa Bay all spring. His manager is not worried. The Rays' No. 2 starter allowed eight runs -six earned - in three innings of an 8-3 loss to the Detroit Tiger on Friday in his final tuneup before the regular season. It's been a rough camp for Hellickson, who finished with a 6.75 ERA in Grapefruit League play...
The Rays continue to prove small market clubs can compete if they are smart; the team continues to win while not have the top picks in the draft. They are great at finding and developing talent. What will 2013 bring? Key Losses: Burke Badenhop, RHP (Brewers, Trade) Reid Brignac, SS (Rockies, Trade) Wade Davis, RHP (Royals, Trade) Derek Dietrich, Ss (Marlins, Trade) J.P. Howell,...
PORT CHARLOTTE, Fla. (AP) -- Colby Rasmus hit a grand slam that capped a six-run rally in the eighth inning off Kirby Yates and the Toronto Blue Jays defeated the Tampa Bay Rays 6-1 Wednesday. Jeff Niemann, still uncertain whether he will be in Tampa Bay's rotation to open the season, made a final statement in his favor, pitching six scoreless innings of two-hit, no-walk ball...
Our divisional previews conclude with ESPN's favorite division and the most difficult division in baseball to predict, the AL East.  Let's try to sort this out: Tampa Bay Rays Notable offseason additions:  Yunel Escobar, Kelly Johnson, Wil Myers Notable losses:  Carlos Pena, BJ Upton, James Shields Outlook:  The Rays were the best team in baseball The post NCB MLB Preview–AL...
MLB News

Delivered to your inbox

You'll also receive Yardbarker's daily Top 10, featuring the best sports stories from around the web. Customize your newsletter to get articles on your favorite sports and teams. And the best part? It's free!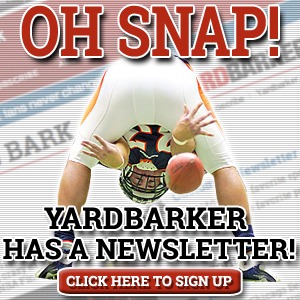 Latest Rumors
The Backyard

Today's Best Stuff

For Bloggers

Join the Yardbarker Network for more promotion, traffic, and money.

Company Info

Help

What is Yardbarker?

Yardbarker is the largest network of sports blogs and pro athlete blogs on the web. This site is the hub of the Yardbarker Network, where our editors and algorithms curate the best sports content from our network and beyond.