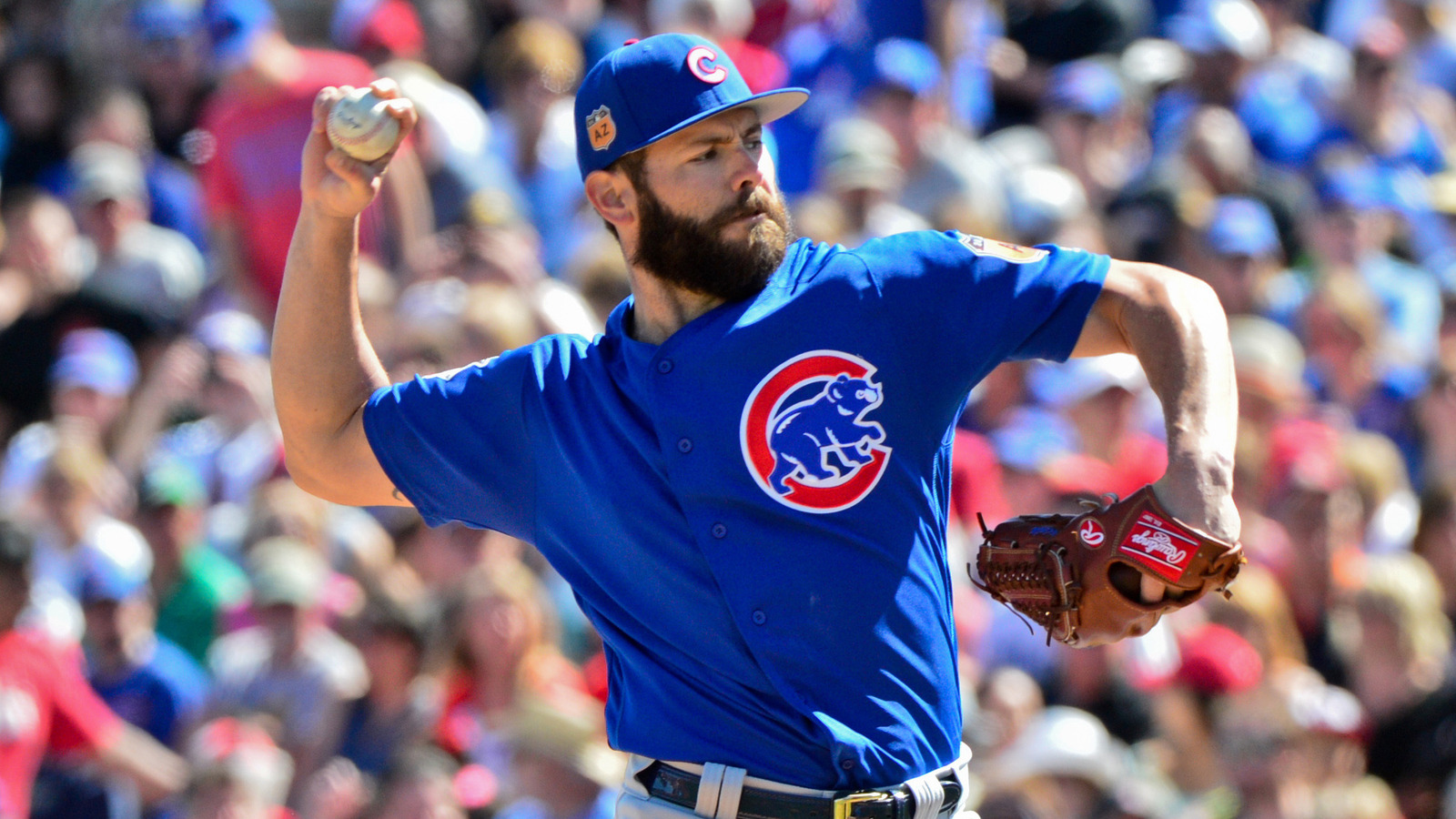 Cubs starting pitcher Jake Arrieta is a prime example how some players need a change of scenery to excel.
Matt Kartozian-USA TODAY Sports
When MLB players are drafted, it doesn't necessarily matter when they get the call. But it certainly matters how well they do when they get it.
A first-round draft pick to a team may not always be as successful as we hope. Sometimes all it takes is a trade, a change of scenery, or simply electing free agency and hoping a new team takes a chance.
From a former inconsistent pitcher in Baltimore turned Cy Young Award winner to a young Ray who is now the King of San Diego, here are 10 players that needed to be on a different team to have a breakout career.
Jake Arrieta 
Before pitcher Jake Arrieta was winning Cy Young Awards and becoming a World Series champion, he was tossing for the Baltimore Orioles.
Involved in a trade with the Cubs in 2013, the then 27-year-old was called "wildly inconsistent" during the last few seasons leading up to the time of the trade. Needless to say, he's turned things turned around since his once upon a time 1-2 record with a 7.23 ERA.
Fast forward a couple of years later to 2015 when he led the league in complete games and wins (if you're into that stat) with a 1.77 ERA and 236 strikeouts. This resulted in a National League Cy Young Award and All-Star roster spot.
Did we mention he's also a World Series champion? Did we? Well, one more reminder won't hurt.
Rick Porcello 
Before Rick Porcello was being named as an Opening Day starter for the Boston Red Sox, he was a first-round draft pick for the Detroit Tigers.
He fared well with his first team, earning a 4.30 ERA in six seasons. But it wasn't until he was traded by Detroit to the Boston Red Sox for Gabe Speier, Yoenis Cespedes and Alex Wilson that he was finally able to show off his talents.
Last season with the Sox was a career year for the 28-year-old.
Not only did he win the American League Cy Young Award, but he was also the recipient of the AL Comeback Player of the Year Award. He cut his walk rate in half after the All-Star Break and was throwing a 10.35 K/BB rate in August.
Expect another solid year for Porcello.
Wade Davis 
Wade Davis' numbers have changed dramatically since the time he played with the Tampa Bay Rays. He spent four seasons in Florida then was traded to the Kansas City Royals for a few players and Wil Myers, who will be covered later on this list.
Davis dropped his ERA from a 3.94 to a 2.94 in the time since calling Kansas City his home. He also picked up two All-Star spots and was even mentioned in MVP talks.
He's now with the Chicago Cubs and is hoping to become a dominant closer with that club. Let's hope he stays healthy.
Andrew Miller 
You know who Andrew Miller is.
If not, that's what we are here for.
The 31-year-old has worn many uniforms, but it was his recent stint with the Cleveland Indians that made him one of the most feared pitchers in the game. Much in thanks to a very impressive slider he possesses that he is now throwing more than half of the time.
Jeff Sullivan of FanGraphs talked about this slider, which evolved from his secondary pitch to his primary pitch:
"Miller threw his slider 61% of the time. It was a strike 72% of the time, and 48% of all swing attempts missed."
He received All-Star honors in 2016 and was in Cy Young Award talks. Following being named ALCS MVP Miller finished his stint with a 1.55 ERA in 29 innings pitched after being traded by the Yankees in July.
Wil Myers 
We told you we would talk about Wil Myers, so here we are.
Myers was drafted by the Kansas City Royals in 2009 and was traded to the Tampa Bay Rays.
When he was with the Rays he finished with a .259/.336/.461 slash line. It wasn't until when he was traded to the Padres as part of a three-team deal in 2014 where he not only broke out, but became a San Diego favorite. He also hit a career-high 28 balls over the fence last season and received an All-Star roster spot.
Adrian Gonzalez 
For someone who was once a first overall pick in a draft, you may not think he would need to have a breakout season. But that's what happened with Adrian Gonzalez.
The 34-year-old first baseman had a couple short stints with the Rangers and Padres where he couldn't quite find his groove at the beginning of his career. Once he was with the Padres, however, a chain reaction occurred well before he even landed on the Dodgers.
Fast forward a decade later and you get a five-time All-Star with two Silver Sluggers and four Gold Glove Awards.
He has since reached his 30's, which means his numbers have declined a bit, but they still remain above average.
Chris Davis
When slugger Chris Davis was traded with Tommy Hunter to the Baltimore Orioles for Koji Uehara, a star was born.
He has led the league in multiple hitting categories over the years, including his All-Star season in 2013 when he smacked 53 home runs and 138 RBI. He finished that year third in MVP votes for the American League.
He was recently re-signed by the Orioles, and his power at Camden Yards is only a part of why he is so phenomenal with the team.
J.D. Martinez 
All-Star outfielder J.D. Martinez was released by the Houston Astros in 2014. He then elected to hit free agency before being signed to the Detroit Tigers.
He landed his All-Star spot and Silver Slugger Award in addition to being in MVP talks during the 2015 campaign. Beyond that, his numbers changed drastically. His batting average alone raised from a .251 to .299 since switching clubs.
Comerica Park certainly is above average for right-handed hitters, but only slightly. So it seems a change of scenery was exactly what he needed.
Edwin Encarnacion
The offseason left us guessing where Edwin Encarnacion would end up. It was an interesting few winter months, to say the least, but Encarnacion landed with the World Series runner-ups heading into the 2017 season. We don't have a crystal ball, so we don't one-hundred-percent know how he will play, but Steamer does have his numbers regressing a little bit. The age and change in ballpark factor have a lot to do with it.
However, prior to his time in Canada, EE was playing for the Cincinnati Reds. In those five seasons, he slashed a .262/.345/.449 line with no recognition.
Since 2012 he's hit at least 34 home runs per season, and yes, he played for Toronto in each of those seasons. He also earned three All-Star spots with the team. It'll be interesting to see how he does with his new home in Cleveland.
Anthony Rizzo
Thanks to a hotel cocktail napkin (and a few other parts of the equation) the Chicago Cubs are now World Series Champions.
Despite a blip of a low moment during the NLDS in 2016, Anthony Rizzo managed to be one of the key components to the team's success.
Before that, he spent 49 games with the San Diego Padres. There were few games which matched the amount of impact he had on his team before he was traded to the Cubs in 2012. Since then, well, it's been rather amazing.
Three All-Star spots, a World Series championship and a career-high .292 batting average and .928 OPS in 2016. We would say he's doing pretty well for himself.
MORE FROM YARDBARKER
MLB News

Delivered to your inbox

You'll also receive Yardbarker's daily Top 10, featuring the best sports stories from around the web. Customize your newsletter to get articles on your favorite sports and teams. And the best part? It's free!