Found April 27, 2012 on The Jersey Chaser:
Texas Rangers fans Sean Leonard and Shannon Moore are caught in a pickle. At last night's Rangers- New York Yankees game, the soon-to-be married couple caught a foul ball from Rangers first baseman Mitch Moreland. But what they didn't catch was that the young toddler sitting next to them was distraught he did not catch the ball. Yankees' YES TV network chastised Leonard and Moore for taking pictures with their souvenir and paying no attention to the crying Rangers fan sitting next to them.
Now, Leonard and Moore are being called out for not giving three-year-old Cameron Shores the ball in what baseball fans say is proper etiquette. But Leonard claims he never even saw Shores. "My fiance Shannon and I were honestly unaware of the situation of the little boy sitting next to us last night since we were so caught up in the excited and moment of being at our first Ranger's baseball game together," he wrote in a statement.
Just a week before their wedding, Leonard and Moore are being harassed by fans and tormented for media interviews. "It's very hurtful, especially when you know you wouldn't intentionally hurt somebody or hurt their feelings," Moore said. "Especially when it's a little-bitty toddler."
Shores eventually received another foul ball, and the couple believe Yankees announcer Michael Kay over exaggerated the situation and want an apology. "He took an event and sensationalized it, threw it out there, never checked or validated the facts," Leonard said.
Original Story:
http://thejerseychaser.com/2012/texas...
THE BACKYARD
BEST OF MAXIM
RELATED ARTICLES
ARLINGTON, Texas One sure way to keep from hitting the ball right at people is to hit it over the fence. That's the tactic the Rangers first baseman Mitch Moreland took Wednesday night to break out of a slump. Moreland sent a blast 410 feet over the right field wall in the sixth inning of a 7-3 win over the Yankees. The homer was his second hit of the night to break out of...
 During last night's Rangers/Yankees affair, a young Rangers fan broke out into tears after not getting a baseball tossed into the crowd by Texas first baseman, Mitch Moreland. After Moreland threw the ball into the stands, a couple sitting next to the kid got the ball and proceeded to get scolded by Yankees broadcaster Michael Kay for not giving him the ball: ...
A couple of Texas Rangers fans pulled a major no-no at Wednesday night's game: They kept a foul ball from a young kid. Rangers first baseman Mitch Moreland tossed a foul ball into the stands, and the typical mad rush for the treasure unfolded. One couple came up with the ball, but they left the young child next to them in tears. According to Jimmy Traina, who shared the video...
Yesterday, we had a pretty great discussion about the young Texas Rangers fan who cried when Mitch Moreland tossed a ball into the stands and it was caught by a couple that spent the next 10 minutes taking photos of each other with that ball. Now we actually have a couple updates to that story – of which the moral was kids need to learn early that nobody likes a crybaby – that...
Let us set the scene.Last night during the Rangers, Yankees game in Arlington, Mitch Moreland tossed a foul ball into the stands near these four people.The smiling couple on the left was able to beat out the crying boy on the right for the ball which was bad enough. But the couple had to celebrate while the child wept, to make it even worse. Later in the game another nearby fan gave...
By now you have probably seen the video of that young Rangers fan crying hysterically after he failed to snag a ball that a player tossed into the stands earlier this week. Mitch Moreland threw the ball into the stands, it hit the ground, and a happy couple wound up with it. The boy, three-year-old Cameron Shores, was devastated. He soon forgot about the first ball when the...
The father of a little boy who broke down at a Texas Rangers game after not getting a foul ball said the couple who got the souvenir has been unfairly demonized. Kyle Shores' three-year-old son, Cameron, had his heart set on the ball tossed to the crowd by Rangers first basemen Mitch Moreland during Wednesday's game against the Yankees. When Sean Leonard, who was sitting...
Yo, you got any other pics of her on your phone? We've had some great conversations here in the past about baseball fan etiquette and, more specifically, what is right and wrong when it comes to little kids and foul balls. Last night in Arlington, we witnessed yet another classic "What would you do?" situation, when Texas Rangers first baseman Mitch Moreland flipped a foul...
When it comes to people I'm an optimist in that I believe that in their hearts most folks are good and decent people.  Then something like this comes along and I realize that there are those among us that have zero class or decency and I go right back to questioning humanity. A little overdramatic?  Probably, but when you watch this video and see why this little guy is crying...
MLB News

Delivered to your inbox

You'll also receive Yardbarker's daily Top 10, featuring the best sports stories from around the web. Customize your newsletter to get articles on your favorite sports and teams. And the best part? It's free!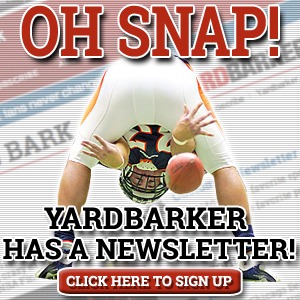 Latest Rumors
The Backyard

Today's Best Stuff

For Bloggers

Join the Yardbarker Network for more promotion, traffic, and money.

Company Info

Help

What is Yardbarker?

Yardbarker is the largest network of sports blogs and pro athlete blogs on the web. This site is the hub of the Yardbarker Network, where our editors and algorithms curate the best sports content from our network and beyond.