Found October 04, 2012 on Fox Sports Kansas City:
KANSAS CITY, Mo. Prince Fielder giggled. Then again, there was a lot of that going around the Detroit clubhouse late Wednesday night. With waves of cameras and tape recorders circling Miguel Cabrera on his historic, Triple-Crown clinching evening, a reporter approached the Tigers' burly first baseman, standing just two locker stalls away, with news: While holding down a front-row seat to watch history, Fielder had actually made a little piece of his own. "Did I really?" Fielder chuckled after the Tigers' 1-0 victory over Kansas City, the contest that saw Cabrera nab baseball's first Triple Crown in 45 years. "What did I do?" "You were the first guy since 1947 to hit regularly behind the league MVP one season, then hit behind the Triple-Crown winner the next," the reporter replied. "Wow," Fielder said, allowing himself a grin. "That's good. Sweet. Sweet. "Like I said, I'm just glad I'm able (to see it). I had the best seat in the house, so I got to watch it every night." The dude did more than watch. Miggy's numbers in 2011 before Prince: .344, 30 home runs, 105 RBI, .586 slugging, 108 walks. Miggy in 2012 with Prince as protection: .330, 44 home runs, 139 RBI, .606 slugging and just 66 walks. More chances. More swings. More pitches to hit. More mojo. "That's why Miggy has been able to have the season that he's had," Tigers pitcher Max Scherzer noted. "Because you can't just pitch around Miggy, because Prince is so good. And when Miggy gets pitches to hit, that's what he's capable of doing." Cabrera's always had the goods. But when your alternative is rolling the dice with the two-time Home Run Derby champ, kids, it's a different deal entirely. Pick your poison. Pick your pain. "I think what's happened with him is that, because Miguel had such a good year, and you have (Justin) Verlander on the club coming back as the MVP," Tigers CEOgeneral manager Dave Dombrowski said, "People don't notice what a good year he's had." They should. In his first year with Detroit, the big lug wound up leading the club in walks (85) and on-base percentage (.412) while finishing second in home runs (30) and RBI (108), the left-handed thunder to Cabrera's right-handed lightning. And the later it got, the more dangerous Miggy became. In 2011, before Prince, Cabrera hit five of 30 home runs and collected 16 of his 105 RBI in the eighth inning or later, while being walked 19 times. In 2012, with Prince on deck, Cabrera hit 11 of his 39 home runs and collected 30 of his 139 RBI in the eighth inning or later, while receiving just 13 free passes. That's the power of Prince. That's the cushion he gave Ryan Braun during the latter's MVP season with Milwaukee a year ago. And unlike the last two men to ride the Triple Crown-MVP coat-tails back-to-back Bobby Doerr behind Ted Williams in 1946-47, and Don Hurst behind Chuck Klein in 1932-33 Fielder turned the trick with two different teams, in two different leagues, behind two different bats. "That's why our team was able to have the season (that) we are this year," Scherzer continued, "because those two guys were able to produce so much offense for us." Since 1920, the end of the "Dead Ball" era, 16 batters have hit four home runs in a single game. Since 1920, 15 players have turned unassisted triple plays. Since 1920, there've been only 12 Triple-Crown winners. Twelve. Like they say, it takes village. "I wouldn't have been able to be here to see this unless he gave me the chance," Fielder said of Cabrera, who made the switch from first base over to third base when the former was signed as a free agent this past January. "And I'm very happy and fortunate that he's the kind of guy he is. "Like I said before, he didn't have to move anywhere; he just won the batting title (in 2011), and that's MIGUEL CABRERA if he doesn't want to do it, he doesn't have to do it." But he did it. Actually, they did it. Together. You can follow Sean Keeler on Twitter @seankeeler or email him at seanmkeeler@gmail.com
Original Story:
http://www.foxsportskansascity.com/10...
THE BACKYARD
BEST OF MAXIM
RELATED ARTICLES
CAN YOU DIG IT?
To commemorate Tigers slugger Miguel Cabrera winning the elusive Triple Crown, Major League Baseball is selling "Authenticated Batter Box Dirt."
Detroit Tigers third baseman Miguel Cabrera will profit greatly from his Triple Crown season. The third baseman signed a deal with autograph memorabilia firm Detroit City Sports to inscribe baseballs with the words "Triple Crown 2012," according to an ESPN.com report. The signed balls have been listed at an introductory price of $275, but Detroit City Sports owner Steve...
In the end there were no heroics on the last day of the 2012 regular season. In fact Miguel Cabrera's 2012 regular season campaign ended with somewhat of a whimper as he struck out in his only two at bats before being pulled from the game. However, he would enter the dugout, high five his teammates in the fourth inning with the knowledge that he had secured the American League...
There has been much debate over who should win the AL MVP this season. Concensus says the favorite should be Detroit's Miguel Cabrera, who is about to win the triple crown. Many say the award should go to Los Angeles' Mike Trout, who has enjoyed a rediculous rookie season. Josh Hamilton will get some votes, but is expected to fall short in the voting. Those who argue Trout...
Have you ever watched the pawn shows on TV where someone comes in and tries to pawn dirt? They typically claim it is from Ebbets Field, or the old Yankee Stadium, hoping to make a few bucks. Of course, there is no way to authenticate dirt, unless you are willing to pay $39.99. But it [...]
Tigers' Miguel Cabrera captures baseball's first Triple Crown since 1967.
WOULDACOULDASHOULDA
Yankees slugger Curtis Granderson had the chance to tie Miguel Cabrera for the AL home run lead on Wednesday but allowed himself to be pulled for a pinch hitter.
ROYAL HONOR
Miguel Cabrera became the first player to win the Triple Crown since Carl Yastrzemski did it in 1967. Read more about his feat.
Miguel Cabrera received a standing ovation after flying out and striking out in his only two at-bats Wednesday night, and leaving the Tigers' game against the Kansas City Royals in the fourth inning with the Triple Crown in sight. Cabrera high-fived his teammates as he entered the Detroit dugout, then walked back to the top step and waved his helmet as a crowd of mostly Royals...
DETROIT -- Two generations have passed since somebody last won baseballs Triple Crown. That 45-year absence since Carl Yastrzemski captured it with a long-shot champion Red Sox team has heightened the anticipation as Tigers third baseman Miguel Cabrera chases it. Yastrzemski clinched it on the same sunny Fenway Park afternoon in 1967 that his team beat the Twins to win the American...
KANSAS CITY, Mo. (AP) -- Miguel Cabrera became the first player in 45 years to achieve the Triple Crown in the AL Central-champion Detroit Tigers' 1-0 victory over the Kansas City Royals on Wednesday night. Cabrera went 0 for 2 with a strikeout, then left in the fourth inning of the regular-season finale. He received a standing ovation from the opposing fans. He finished with...
This is the first in a four-part series reviewing the Milwaukee Brewers' 2012 season and looking ahead to 2013. Thursday: Starting pitchers Friday: Relief pitchers Saturday: Outfielders Sunday: Infielders and catchers ON THE ROSTER (alphabetical order): Marco Estrada (7-6, 3.64 ERA), Mike Fiers (9-10, 3.74 ERA), Yovani Gallardo (16-9, 3.66 ERA), Chris Narveson (1-1, 7.00 ERA...
Tigers News

Delivered to your inbox

You'll also receive Yardbarker's daily Top 10, featuring the best sports stories from around the web. Customize your newsletter to get articles on your favorite sports and teams. And the best part? It's free!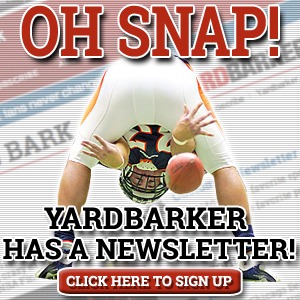 Latest Rumors
The Backyard

Today's Best Stuff

For Bloggers

Join the Yardbarker Network for more promotion, traffic, and money.

Company Info

Help

What is Yardbarker?

Yardbarker is the largest network of sports blogs and pro athlete blogs on the web. This site is the hub of the Yardbarker Network, where our editors and algorithms curate the best sports content from our network and beyond.