Found March 30, 2012 on The Sports Bank:
It's Friday, cuts have been made, dreams have been shattered, veterans have been shocked and all signs point to the Shark. Opening day is less than a week away, the roster has taken shape and it's time to play some meaningful baseball games, for a few months, at least. So, let's get to some rambling … • I have to imagine that if Mr. Wells gets back to Chicago, his alleged nightlife habits might be quite different. • Nothing can be taken for granted, especially in baseball. • I expected Castillo to get the job. My take away is that McThoyer wants Wellington playing every day and not pining away as they seem his as the starter next year. • When you compare the stats of these two from this spring, it is somewhat amazing how similar they are. Both have 12 hits in 37 at-bats with 2 homeruns, only a difference of 1 RBI. Castillo has four more strikeouts, but his OBP is 34 points higher. Just crazy similarities over the course of an entire spring. • Either way, congrats to Clevenger, jus...
Original Story:
http://www.thesportsbank.net/basewars...
THE BACKYARD
BEST OF MAXIM
RELATED ARTICLES
I'd much rather have seen Randy Wells in the Chicago Cubs rotation, but rather than bullpenning him the Cubs have at least done the only other smart thing possible by optioning him to the minors. Good call on that even if it's the result of other poor decisions. I've been saying for awhile that Steve Clevenger is the better catcher and better option to back-up Geovany...
David DeJesus, RF Darwin Barney, 2B Starlin Castro, SS Bryan LaHair, 1B Alfonso Soriano, LF Ian Stewart, 3B Marlon Byrd, CF Geovany Soto, C Ryan Dempster, P I already hate Sveum. Barney is smacking the ball in spring training, I suppose riding out the hot streak isn't that awful. O course so has Soto lately and they're burying him 8th again. The more things change something...
Player IP Matt Garza 193 Ryan Dempster 188 Paul Maholm 165 Chris Volstad 155 Jeff Samardzija 122 The Cubs opening day rotation is set with news that Randy Wells and Travis Wood have been optioned to AAA. That left Jeff Samardzija and Chris Volstad to join Ryan Dempster, Matt Garza and Paul Maholm. Using our [...]
From the Cubs ESPN website... written by Bruce Levine A few clubs, including the Braves, have watched Cubs CF Marlon Byrd all spring and approached the Cubs about a deal, according to league sources. The Cubs must decide if they are ready to start the major league clock for 23-year-old prospect Brett Jackson, who was the most impressive position player in Cubs camp this spring...
Right-hander Randy Wells was among nine players sent to the minors Thursday by the Chicago Cubs. Wells, a 12-game winner in 2009, was 7-6 with a 4.99 ERA last season when he was slowed by an early injury to his forearm. His demotion means Jeff Samardzija (suh-MAR'-juh) and Chris Volstad have made the starting rotation along with Ryan Dempster, Matt Garza and Paul Maholm. Also...
In what was one of the better performances by a Cubs starting pitcher at HoHoKam Park in quite some time, Jeff Samardzija showed Top-of-the-Rotation stuff while throwing six innings of shutout ball (67 pitches - 43 strikes), allowing just three hits and a walk while striking out five. Three relievers followed with three more shutout innings, as the Cubs blanked the Cleveland Indians...
For those of you hiding under a rock, the Cubs have been doing some off-season work in the bleachers. What they're doing is raising a section in the Right Field to make some sort of "party patio". By doing this they confidently create a spot just perfect for an "LED video board" The patio work remains under wraps, but thanks to the good work by one ...
The Chicago Cubs cut nine players today and sent them to minor league camp, reducing the Cactus League roster from 40 to 31. Cuts included Scott Maine, Travis Wood, Randy Wells, outfielder Dave Sappelt and catcher Welington Castillo, who have been optioned to Triple-A Iowa. Four non-roster invitees have been assigned to minor league camp: right-handed pitcher Blake Parker; infielders...
With Jeff Samardzija's "transformation" I thought it would be fun to find other Cubs player who have transformed this spring. Joe Mather: With a .412/.455/.745 batting line through today, he's established himself as a completely different ballplayer. We know this because he's had 55 plate appearances and that's absolutely enough to know whether or not a...
Marmol followed up his stellar 3 WAR 2010 season a much more heart-attacky 2011 season. Marmol's ten blown saves led all of baseball last year (tied with LAAoLAoDoQEoA's Jordan Walden). Marmol walks (and hits) a ton of batters, and continued that trend in 2011. However, his K/9 dropped to a "mere" 12 batters per nine, [...]
Today we went to our 6th spring training game involving the Chicago Cubs.  We sat in the back row of the grandstand, right by the Ron Santo marker.  As we looked up we were right below Len Kasper who was doing the radio broadcast today. We had a short visit with Len Kasper before the broadcast.  What a nice man.  My wife and I have spoken with him a few times; he is a gentleman...
Dee Gordon had a two-run triple in the seventh inning, leading a Los Angeles Dodgers split squad past the Chicago Cubs 6-3 Friday. Gordon, who went 1 for 3 with a walk, drove in his first runs of spring. The Dodgers leadoff hitter is batting .381 with 15 runs and 10 stolen bases. Ian Stewart homered off Dodgers starter Fernando Nieve. Alfonso Soriano had an RBI double in the eighth...
Cubs News

Delivered to your inbox

You'll also receive Yardbarker's daily Top 10, featuring the best sports stories from around the web. Customize your newsletter to get articles on your favorite sports and teams. And the best part? It's free!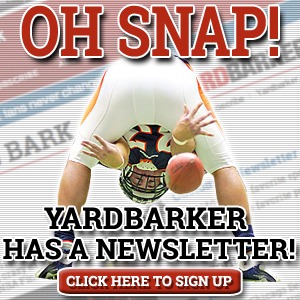 Latest Rumors
The Backyard

Today's Best Stuff

For Bloggers

Join the Yardbarker Network for more promotion, traffic, and money.

Company Info

Help

What is Yardbarker?

Yardbarker is the largest network of sports blogs and pro athlete blogs on the web. This site is the hub of the Yardbarker Network, where our editors and algorithms curate the best sports content from our network and beyond.