Found January 10, 2012 on hardballchat.com:
We continue our look at the players that fell just shy of the 75 percent needed for the Hall of Fame with Jeff Bagwell. Bagwell and Jack Morris could not be more different. Morris has been on the ballot for thirteen years while Bagwell just finished his second year. Also, few doubt his statistical qualifications. Bagwell  is one of the first of the modern players to be held up by the stain of steroids (excluding Mark McGwire of course.)
2011 Percentage: 41.7
2012 Percentage: 56.0
Difference: +14.3
Other than Barry Larkin, Bagwell had the largest increase in the vote from 2011 to 2012. That is a really positive sign for his enshrinement. Barring anything out of the ordinary, Bagwell will get in. It will take some doing to get him in next year, but he should get the call  in 2014 or 2015 at the latest. So, much of what follows is academic. The voters clearly think  he is worthy under normal circumstances.
Unfortunately, these are not normal times. I don't envy the voters in this case. They not only have to sort through the normal statistical and character concerns, they must sift through the varying shades of gray that has become the steroid era. So, while I have a lot of scorn for the writers in this case, I can't gloss over how difficult their job is. They are misapplying the curve in this case though.
Brian Kenny has a great new show on the MLB Network called Clubhouse Confidential. Kenny has always been a thoughtful journalist and a friend to sabermetrics. His new show is doing more to push the movement forward than any, but in this case he is oversimplifying an argument to the detriment of a number of great players. He characterized the writer's plight by putting them into three camps.
Exclude everyone that has been found guilty of taking PEDs, admitted to taking PEDS, or suspected of using PEDs.
Elect every player on their own merits as if PEDs didn't exist.
Consider each player on a case by case basis.
Those three seem like a good representation of where the writers are, but I put suspected in bold because that word carries with it a number of dangerous connotations. There is another group of qualifiers that need to be added to the above that put this whole situation in perspective.
Players that have tested positive, were in the Mitchell Report, or have admitted to using.
Players where there is no positive test or official stain, but where use is overwhelmingly obvious.
Players where it is reasonable to suspect use.
Players that are beyond reproach.
I would argue that the list for numbers two and four are very short. Everyone should be suspect in this era. The problem is what you do with the following information. Sammy Sosa might be the only name that truly belongs in number two. One could add Miguel Tejada and a few others, but they really don't have much of a chance anyway. So, where does Jeff Bagwell fall?
Jeff Bagwell admitted to using Andro and Creatine. Both were not banned substances at the time that he used. So, he doesn't fit into number one and there is nothing that puts him in column two. So, that puts him squarely in the third category. To make sure we are all on the same page, let's put the list of so-called charges on the table.
He began his career as a singles and doubles hitter and evolved into a power hitter. Along the way he got bigger and stronger.
He admitted to using non-banned substances that have been associated with other known steroid users.
He played with known users throughout his career and later defended those that used in public statements
I will address all of these individually, but all of them make use of what I like to call the "if..then" argument. If he got bigger and gained more power then he used. If he used non-banned substances that others that did use then he obviously used those substances as well. If he played with others than used then obviously he used.
Each of those sounds reasonable and when you put them together you get some damning circumstantial evidence, but when you take a step back you realize the holes in that case. He got bigger and hit for more power. Okay, how many players does that describe? I'm bigger than I was when I was 21, so does that I mean I used? Obviously, the body goes through a number of physiological changes naturally. One of those is that players get bigger. Speedsters that were fleet and fast often transition when they enter their late twenties and early thirties.
We've talked about those before with players that build their careers on their speed. What is good for the goose is also good for the gander. Players of this generation all use weight training to get stronger and stay healthy. It is just as reasonable to assume that Bagwell got stronger naturally. A number of the game's best power hitters did not begin that way. We don't assume all of them used.
On the second case, nearly every player uses some form of supplement to keep an edge. A lot of average people do the same. You can buy these at GNC and every club carries their own to help their players stay in top physical condition. These supplements are a part of what makes this generation of athlete stronger and faster than their predecessors. Andro and Creatine were on the edge, but they were not over the edge at the time. If you are going to suspect Bagwell of using then you have to suspect hundreds of players of doing the same.
My favorite argument is the guilt by association argument. It is the seven degrees of Kevin Bacon applied to the baseball world. Jeff Bagwell and Ken Caminiti were good friends and teammates. Therefore, Bagwell used. Does anyone see the logical leap here? Caminiti was also a heavy drinker, cocaine addict, and crack addict. Does that mean that Bagwell was snorting lines with his buddy?
The comical attachment was Jason Grimsley. It was asserted that since they were teammates and friends then Bagwell must have used. The problem is that this was not even true. Bagwell and Grimsely were not actually teammates. Grimsely came in the infamous Curt Schilling and he didn't even break camp with the team in 1992. Oops. The two may or may not be friends, but let's consider the timeline. Bagwell won the NL Rookie of the Year Award in 1991. Jason Grimsley set the National League record for wild pitches in an inning that same season. So, what is the likelihood that Grimsley was going to convince Bagwell to use? Look how well it had worked for him at that point.
At the end of the day, the evidence against Bagwell is flimsy at best. Is it possible that he used? Of course it is. Nobody in this generation should look at any player without suspected them at least a little. Given the circumstantial evidence it is reasonable to suspect. It is not reasonable to assume and that is the distinction that has to be made here. Since most of the players in the era will have to fall under the same reasonable suspicion, it is not reasonable to keep them out based solely on that suspicion.
The counter argument to that line of thinking is the idea that the voters will feel bad if they vote for someone that eventually is found out. I can understand this sentiment. Voters for Ty Cobb and Babe Ruth had to hold their nose too. Cobb was suspected of throwing games, but the voters didn't let that dissuade them. Evidence has come out that he did do some questionable things. There are a number of Hall of Famers that had damning information come out following their enshrinement. I think all of us are mature enough to understand that this is a part of life. We don't hold this against those that voted for them because we understand they didn't have that information. The same is true of today's voters. To keep the game's highest honor away from a great player because you are afraid something will come out is beyond unfair.
In addition to being the editor of hardballchat.com, Scott Barzilla is also the proud father of one and the author of four books. His books can be found at Amazon and Barnes and Noble. Barzilla's Hall of Fame Index was nominated for the Sporting News Award for statistical advancement.
Original Story:
http://www.hardballchat.com/2012/01/t...
THE BACKYARD
BEST OF MAXIM
RELATED ARTICLES
Among the players currently eligible that have not been stained with a steroid implication, only five have hit at least 400 home runs and are not yet enshrined in baseball's Hall of Fame. The other players with at least 400 home runs are either already in or are not yet eligible. This is the list of five: Fred McGriff, Darrell Evans, Andrew Jones, Dave Kingman and Jeff Bagwell...
(source feed provided no summary content for this entry)
(source feed provided no summary content for this entry)
(source feed provided no summary content for this entry)
Episode 121 FanGraphs Audio returns from its winter furlough with managing editor Dave Cameron. Among the topics discussed: the respective Hall of Fame credentials of Jeff Bagwell, Edgar Martinez, and Tim Raines. Also, for no reason whatsoever: Bryan LaHair. Music courtesy of 1970s American rock band Player. Don't hesitate to direct pod-related correspondence to @cistulli on Twitter...
Many of you have asked me this past week about the Hall of Fame commitment I made last year and yes, I did indeed change my vote this time around. I cast a vote for former Houston Astros first baseman Jeff Bagwell, but unfortunately, it was not enough to get him into Cooperstown. The one guy who did make it this year was longtime Reds shortstop Barry Larkin, who notched 86.4 percent...
At least there's a reason not to vote for Jack Morris for the Hall of Fame. It's not a good reason, but at least it's a reason. That's one more than the people refusing to vote for Jeff Bagwell have.
Another year, another victory for the anti-steroids centurions guarding the Baseball Hall of Fame's hallowed doors. Barry Larkin is headed to Cooperstown as the lone member inducted by the baseball writers in 2012. It's a well-deserved honor for the MVP shortstop, but not one that will cause much reaction outside of Cincinatti, where Larkin played out his 19-year career....
Giants News

Delivered to your inbox

You'll also receive Yardbarker's daily Top 10, featuring the best sports stories from around the web. Customize your newsletter to get articles on your favorite sports and teams. And the best part? It's free!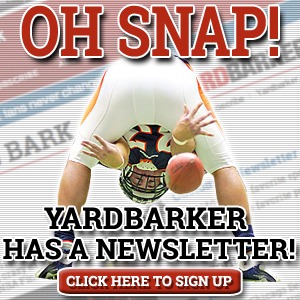 Latest Rumors
The Backyard

Today's Best Stuff

For Bloggers

Join the Yardbarker Network for more promotion, traffic, and money.

Company Info

Help

What is Yardbarker?

Yardbarker is the largest network of sports blogs and pro athlete blogs on the web. This site is the hub of the Yardbarker Network, where our editors and algorithms curate the best sports content from our network and beyond.