Found April 03, 2013 on Obstructed View OLD:
PLAYERS:
Anthony Rizzo
,
Steve Clevenger
,
Dave Sappelt
,
Esmailin Caridad
,
Yoanner Negrin
,
Chris Rusin
,
Brooks Raley
,
Nick Struck
,
Rafael Dolis
,
Barret Loux
,
Casey Coleman
,
Blake Parker
,
Jensen Lewis
,
Cory Wade
,
Zach Putnam
,
Jaye Chapman
,
Wes Darvill
,
Tim Torres
,
Josh Vitters
,
Logan Watkins
,
Brad Nelson
,
Edwin Maysonet
,
Ty Wright
,
Brett Jackson
,
Darnell McDonald
,
Brian Bogusevic
,
Ryan Sweeney
,
Shawn Camp
,
Marco Scutaro
,
Alberto Gonzalez
,
Arismendy Alcantara
,
Kevin Rhoderick
,
Dae-Eun Rhee
,
Frank Batista
,
Brian Schlitter
,
Zach Rosscup
,
Alberto Cabrera
,
Marcus Hatley
,
Kyle Hendricks
,
Trey McNutt
,
Rafael Lopez
,
Justin Bour
,
Elliot Soto
,
Christian Villanueva
,
Rubi Silva
,
Jae Hoon Ha
,
Jonathan Mota
,
Darwin Barney
TEAMS:
Chicago Cubs
,
San Francisco Giants
The minor league season begins in earnest tomorrow, and Obstructed View is going to do better than ever at covering it. DJ had been coverin the minor leagues here in the past and due to no fault of his own, dmick89 and myself have taken it over. Truthfully, dmick89 finds little else to talk about, so he felt he need to do this or risk not contributing enough. We'll have previews of each roster today (two now and two later). We'll also be posting recaps each day; I'm covering the weekends, and dmick89 is taking the weekday beat. Iowa Cubs 2012 Record: 53-87 2012 RS/RA: 613/711 Graduates: Anthony Rizzo, Welington Castillo, Steve Clevenger, Dave Sappelt The 2012 Iowa Cubs were bad, and the 2013 Cubs don't figure to be a great deal better. Still, there are a few intriguing names to be had here, and the pitching specifically is a lot higher quality than last year. The Cubs should graduate a few players to the majors this year, but probably no superstars.   Legit Prospect? Kinda-sorta? Dice Roll? Org Filler? Pitchers         RHP Esmailin Caridad No No No Yes RHP Yoanner Negrin No Yes     LHP Chris Rusin No Yes     LHP Brooks Raley No Yes     RHP Nick Struck Yes       RHP Rafael Dolis No Yes     RHP Barret Loux No Yes     RHP Casey Coleman No Yes     RHP Blake Parker No Yes     RHP Jensen Lewis No No Yes   RHP Cory Wade No No Yes   RHP Zach Putnam No Yes     RHP Jaye Chapman No Yes     RHP Drew Carpenter No Yes     Catchers         J.C. Boscan (R) No No No Yes Luis Flores (R) No No No Yes Infielders         Wes Darvill (L) No No No Yes Tim Torres (S) No No No Yes Josh Vitters (R) Yes       Logan Watkins (L) Yes       Brad Nelson (L) No No No Yes Edwin Maysonet (R) No No No Yes Outfielders         Ty Wright (R) No No No Yes Brett Jackson (L) Yes       Darnell McDonald (R) No No No Yes Brian Bogusevic (L) No No No Yes Ryan Sweeney (R) No Yes     Esmailin Caridad has been a Cub seemingly forever. He's organizational filler who might get a cup of coffee again in his life, but his situation on the 40-man (he's not on it) makes that scenario very unlikely with the Cubs. Yoanner Negrin is an enigma; he's very late to american professional baseball, but is at least a semi-prospect. He's supposedly a guy that can work in the low-90s with an array of pitches, but I'd imagine he's going to be a reliever for the Cubs if he makes it at all. He's 29 and starting his first real year as a minor leaguer; it's anyone's guess how he performs at AAA. Chris Rusin is one of a pair of fringey lefties (Brooks Raley is the other one). I don't see him as more than a AAA arm for the majority of his career, and he's almost certainly the 40th man on the 40-man. If he is a Cub at the end of this season, I'll be mildly shocked. Brooks Raley has a slight bit of upside on Rusin. He's a year younger with slightly better control. He's got another year to attempt to break in the back of the Cubs rotation, and he's got a fair chance to do so depending on his opportunities. Nick Struck is a pretty underrated prospect. His only poor performances have come during his late-season promotions; other than that, he's been an age-appropriate prospect hat has generally met expectations. He isn't someone I think is going to make an impact in 2013, but if he performs well this year he could be a 3-4 for Chicago in 2014.  Rafael Dolis might never get a handle on his slider. If he does, it's sublime, but he's like a worse version of Marmol so you can imagine how that is going to turn out. Barret Loux had an interesting line last year. He went 14-1 with a 3.47 ERA. No doubt he was lucky, but he's an interesting test case to see if winning is an innate trait. As with Struck, a 2013 promotion seems unlikely unless the team is really gutted, but he's got potential to feature in the rotation as soon as 2014. All told, he's a solid return for Soto. Casey Coleman is a fringey reliever at this point. He probably deserves a shot to stick in the bullpen, but is off the 40-man. We'll see if he gets an opportunity later this season. I think I'm being charitable when I say that Blake Parker might sorta be a prospect. He had a good year in AAA last season, but he was 27 and it was his 5th season there. That sounds like AAAA to me. Jensen Lewis was a savvy pickup at first glance, but he hasn't been effective for a couple years now. Still, there's a chance that he can contribute to the front-end of a bullpen in 2013, and no big loss otherwise. Cory Wade is a reclamation project in the same vein. He was nuts for the Yankees in 2011, and equally bad in 2012. The problem with last year was basically entirely BABIP-driven, though. His peripherals were actually very good. I like Wade a lot, and it would be more surprising than not if he wasn't valuable for the Cubs last year (even if it's a Shawn Camp type of value).  Zach Putnam is in the same boat as Casey Coleman and a hundred other relievers. Jaye Chapman is slightly better than the Colemans and Putnams of the world by virtue of his live breaking ball. He can't pitch against lefties so he only has a future as a 7th inning type.  Drew Carpenter's 3.38 ERA in AAA is way more impressive than it looks. The PCL is very hitter-friendly, and Las Vegas is where pitching goes to die. Sveum said he was next up as far as starters are concerned; I hope that's not the case, but it's hard to pitch that well in that park without at least some talent. J.C. Boscan is your typical backup-backup catcher at AAA. If he sees time on the Cubs, we're a good bet to be in serious trouble.  Luis Flores put up a .572 OPS as a 25 year backup in AA last year.  Wes Darvill is the sacrifical lamb of the Epstein Regime. He's 21 next year, but hasn't shown anything approaching talent in his 4 years with the organization. He's here purely because of the numbers; he'll be sent down in short order.  Tim Torres is what Wes Darvill sees when he looks 6 years into the future. Josh Vitters is about on his last chance. He needs to field 3B adequately to have a chance to contribute in the major leagues; his bat barely plays at 3B and has no chance at 1B, which is his future should he not perform this year. I'm higher on Vitters than most, but even I realize that the success stories for a career like Vitters' are few and far between. Logan Watkins would have been my pick to relieve Barney while he's on the DL, but instead the Cubs will wait to start his clock until next year, most likely. He's got a high floor and a relatively low ceiling; the comps to Todd Walker or Marco Scutaro seem pretty reasonable. Watkins is definitely one to watch this year.  Brad Nelson is nothing but org. filler. He has 3379 PA in AAA in his lifetime. Edwin Maysonet is a Cub killer, so we of course took him in after the season ended. He's exactly like Alberto Gonzalez in his complete non-descriptability. Ty Wright never really made it. His upside is AAAA. Brett Jackson has probably the most important season of any Cubs minor-leaguer. If he can cut down on his strikeouts, he can be a ML starter. If he doesn't, he's looking at a future as a 4th OF or worse. He'll be in Chicago probably as soon as one of the OFers are traded. Darnell McDonald and Brian Bogusevic are just org filler.  Ryan Sweeney is a late addition to the squad. He doesn't seem to have a great chance to break into Chicago unless a dude (Soriano) is traded sooner than the Cubs are comfortable having Jackson up for. Tennessee Smokies 2012 Record: 68-72 2012 RS/RA: 595/615 2012's Smokies were a pretty average unit, and they look be the same this year. Logan Watkins and Nick Struck are the main departures, but the Smokies should be an exciting place to watch baseball in the second half of the year. Both Soler and Baez will realistically end up in Tennessee at some point, and Arismendy Alcantara could end up turning a lot of heads this season. Other than that, there are a few potential pitchers in Zych and Hendricks who are interesting, and Villanueva and Szczur are names to watch on the offensive side of the ball.   Legit Prospect? Kinda-sorta? Dice Roll? Org Filler? Pitchers         RHP Kevin Rhoderick No Yes     RHP Dae-Eun Rhee No No No Yes RHP Tony Zych Yes       RHP Frank Batista No Yes     LHP Eric Jokisch No Yes     RHP Brian Schlitter No No No Yes LHP Zach Rosscup No No No Yes RHP Alberto Cabrera No Yes     RHP Marcus Hatley No No No Yes RHP Dallas Beeler No No No Yes RHP Kyle Hendricks Yes       RHP Trey McNutt No Yes     RHP A.J. Morris No No Yes   Catchers         Jair Fernandez (R) No No No Yes Rafael Lopez (L) No No No Yes Infielders         Justin Bour (L) No Yes     Elliot Soto (R) No No No Yes Arismendy Alcantara (S) Yes       Christian Villanueva (R) Yes       Outfielders         Rubi Silva (L) No No No Yes Jae-Hoon Ha (R) No Yes     Johermyn Chavez (R) No Yes     Anthony Giansanti (R) No No No Yes Jonathan Mota (R) No No No Yes Matt Szczur (R) Yes       Kevin Rhoderick is repeating AA for the second time. Drafted in the 9th in 2010, he hasn't really impressed in his 2 years with the organization.  Dae-Eun Rhee is coming up on his 5th year in the organizations. He hasn't been particularly accomplished in any of them. Tony Zych throws a 93-96 mph that he relied on to strikeout 9.4/9 last year. He's got true closer potential if he can harness his command just a touch more. He's got a promising future, and if he develops his mid-80's slider, look out. Frank Batista did really well in AA last year, and I think he's just a numbers victim. He closed at Tennessee, but didn't overpower anyone. I'm not sure how he profiles moving forward (there's not a lot of literature on him), but he's got nothing left to prove at Tennessee. Eric Jokisch has climbed the ladder and done everything he's need to. He took to starting well last year, and a good showing at Tennessee will do much to elevate his prospect status. Hopefully he regains some strikeouts; that's the only concern I've got with his line (6.5 K/9). Brian Schlitter was claimed by the Yankees, and then the Phillies, in 2011. He was returned to the Cubs because he was damaged goods. He had a good season last year but he's 27 this year so it's anyone guess if he ever smells the majors. He's exclusively a mopup type at this point. Zach Rosscup is just constantly injured. He can reclaim his status as a worthwhile prospect just as soon as he passes the 50 inning threshold in a season, which he has failed to do in any of his 4 seasons. When healthy, he's shown glimpses of being a solid lefty starter. Alberto Cabrera is being stretch out into a starter, and then he'll be promoted to Iowa. That's not going to work because Cabrera doesn't really have a playable secondary pitch; I'd be happier if they just stuck him in the pen to see if he could just throw gas in the 8th or 9th. The Cubs have a hundred back-end options for the rotation, but only a few legitimate closer candidates. Cabrera is one, so why waste it? Marcus Hatley really struggled with a midseason promotion to AAA last year. I'm not sure he's got enough control or stuff to really contribute past AA.  Dallas Beeler struck out 70 in 136 innings at AA last year. That's all I really need to say about that. Kyle Hendricks pitched 147.2 innings with the Daytona and Myrtle Beach (A+ TEX affiliate) squads last year. That's a lot of mileage for a 22-year old, but what's even more impressive that he only walked 18 people in that span, good for 1.1/9. He's going to start at AA this year, and I'm really excited to see if he can keep up his very impressive control. He's a dark-horse breakout candidate. Trey McNutt is a busted prospect. Hopefully we works out in the bullpen, but I'm really doubting it. Honestly, he's still just 23, but he hasn't had a good season over A+ and that's generally due to the fact that AA rosters are making way more contact and getting way more hits.  AJ Morris was a Gorzelanny return, but he's always been old for his level and that isn't changing here. He's 26 and he's never pitched above A+.  Jair Fernandez is on his 4th system now. He's just an org catcher, for sure. Rafael Lopez is another ultra-fringe guy. He's a 2011 draftee so he's got a leash, and there is literally no one in front of him or right behind him, so he could end up being a backup at some point. I'm not optimistic. Justin Bour is only even a fringe prospect because he has had an OPS over .800 3 consecutive years. I'm being charitable, he can only play 1B, but he's got a shot to be a backup at some point…maybe? Honestly, I thought he would be assigned to AAA this year so the Cubs probably have a lower opinion than I did. Elliot Soto is an afterthought, as many who can't outslug their OBP are. Arismendy Alcantara could explode this year. He's adding power to his arsenal as he grows up (5'10", 160lbs, so he's filling out), and another cut in his strikeouts could put him solidly in global top 100 lists. Christian Villanueva's star is fading across Cubdom. Jason Parks doesn't love his bat, and thinks he might just be a defense-first backup INF in the majors. Even if that's true, that's not the worst thing in the world. He's still 22 at AA, so he's got plenty of time left.  Rubi Silva got on base 27.7% of the time as a 23-year old in AA last year. His career line is .290/.312/.402. He's a low-level Darwin Barney who doesn't play great defense. Are you getting the message? Jae-Hoon Ha is apparently a defensive whiz…but he's getting moved off of CF. He hasn't shown the skills as of yet to bust out of AA (773 PA there), so I'm doubtful he'll ever be anything but a 5th OF, and I think the scouting might be incorrect re: defensive skills. Johermyn Chavez is working on his 3rd organization now. I've heard he has real makeup issues, but I'm not certain that's true.  He looks like a good bet to stall out in AA, but I thought he looked ok in Spring Training, so I'm oddly optimistic.  Anthony Giansanti is a nobody who can't OPS over .700 in a corner outfield position. I have no idea what to say about Jonathan Mota. Interestingly, he's pitched at least 1 game in 4 different seasons, despite being a true utilityman. He's listed as an outfielder but has way more time at SS/2B. He turned it on last year (.867 OPS) after never putting up an OPS above .722 before that, but he also only received 81 PA. This season will, incredibly, be his 9th with the Cubs organization. That's a long time to never sniff the majors.  Matt Szczur is just barely a real prospect. He's got to put together the tools at some point, because intangibles only get you so far. He's going to have every opportunity at AA to breakthrough, but he's in real danger of being passed in development by some of the more intriguing young outfield guys.  The post The Journeymen of Tomorrow: Iowa (AAA) and Tennessee (AA) Rosters appeared first on Obstructed View.
Original Story:
http://www.obstructedview.net/comment...
THE BACKYARD
BEST OF MAXIM
RELATED ARTICLES
2013 Chicago Cubs Minor League Camp drew to a close this morning, as the Iowa Cubs completed their final Spring Training work-out before flying to Albuquerque this afternnon. They willl open their PCL season versus the Isotopes Thursday night. Tags: Cubs Minor League Spring Training RecapMatt GarzaJosh ConwayJose RosarioRead more about 2013 Cubs Minor League Camp - Last Day
The Chicago Cubs get to pick second this June in the MLB Rule 4 Draft as part of their "reward" for sucking so much last season.  Unfortunately (or fortunately, I guess) they were unable to suck as much as the Astros so they might lose out on the overall best player available, unless the Astros decide to implement their Carlos Correa plan again.  Not that Correa was a terrible...
Apparently licking your fingers is the appropriate response to giving up runs in the bottom of the 9th. Since it's going to happen pretty much every night, we'll continue to highlight the ****** relief performance of the night.  (I think we need a name for it).  Tonight's winner was Carlos Marmol.  Yes, yes.  He did actually record a save.  But check out the stat line...
The Cubs minor league teams got off to an inauspicious start on opening day as all four affiliates lost. Brian Bogusevic, pictured, had three hits for the Iowa Cubs.
The Cubs are set to finish their first series of the year. They'll be looking to get back over .500. The game begins at 11:35 CT and the lineups are below.  Cubs David DeJesus, CF Starlin Castro, SS Anthony Rizzo, 1B Alfonso Soriano, LF Nate Schierholtz, RF Dioner Navarro, C Luis Valbuena, 3B Hide your kids, 2B Travis Wood, P Pirates Starling Marte, LF Russell Martin...
Chicago's starting rotation looks improved thus far, helping the Cubs to their first series win to start a season in four years. But the true test of improvement may be in the coming weeks with a challenging schedule on the horizon. Thirteen of the Chicago's next 19 games are against playoff teams from last year, beginning with Friday night's series opener on the road...
Off days suck. The traditional day off after game number one by MLB schedule makers is always one of the toughest to make it through, but fate made it an especially difficult task for Cubs fans as two nearly Cubs from a year ago showed why the front office had interest in them. Yoenis Cespedes hit a long, hard line drive homerun to dead center in Oakland last night. Cespedes has...
Cubs (1-0) at Pirates (0-1) 7:05 PM–PNC Park, Pittsburgh MLB.com Gameday TV: ROOT The Bucs look to break into the win column tonight as they take on the Cubs in the first night game of the season. Attendance will certainly be down quite a bit compared to Monday, but the team is trying its best to attract fans by maintaining this annual tradition: Coming down to PNC tonight? Remember...
MLB News

Delivered to your inbox

You'll also receive Yardbarker's daily Top 10, featuring the best sports stories from around the web. Customize your newsletter to get articles on your favorite sports and teams. And the best part? It's free!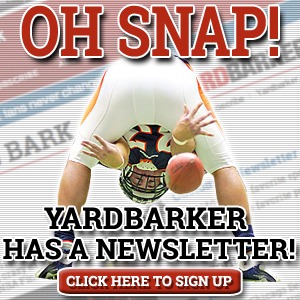 Latest Rumors
The Backyard

Today's Best Stuff

For Bloggers

Join the Yardbarker Network for more promotion, traffic, and money.

Company Info

Help

What is Yardbarker?

Yardbarker is the largest network of sports blogs and pro athlete blogs on the web. This site is the hub of the Yardbarker Network, where our editors and algorithms curate the best sports content from our network and beyond.