Found April 03, 2012 on Monkey with a Halo: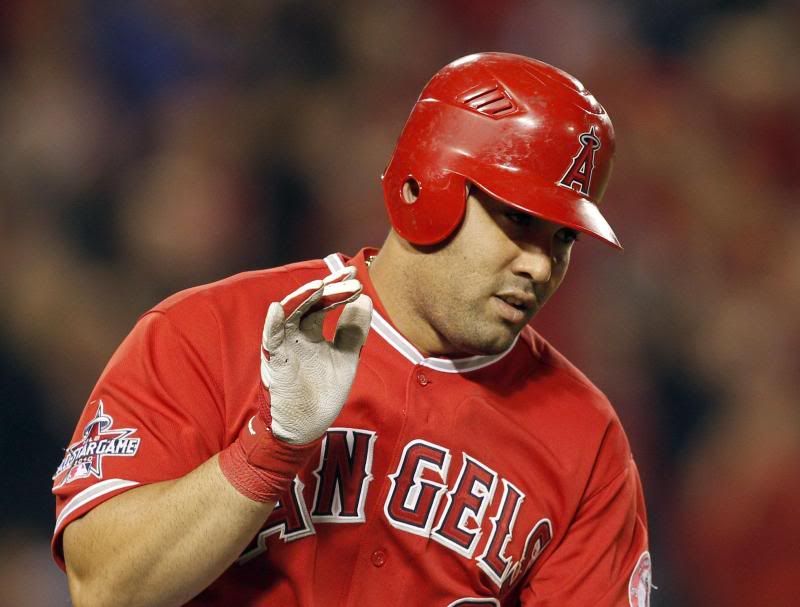 I write this article just before every season.  Each time I try and think outside the box to pinpoint the most important Angel since it isn't always the most obvious choice.  This year, I tried to do the same thing but couldn't find anything outside of the box.  No, try as I might, the answer I kept coming back to was Kendrys Morales.
Morales isn't the most obvious choice, that would be Albert Pujols.  However, Pujols really isn't the most important Angel because he is such a known quantity.  Barring an act of God, Pujols is going to be somewhere in between great and incredibly great for the Angels this season.  We know this.  What we don't know is just how good everyone around him is going to be.
Enter Morales.
With a starting rotation that is almost certainly going to be one of the league's best, the big challenge for the Halos will be to score enough runs to back up their awesome starting pitching.  In other words, it is just like every other season since 2009.  And what happened in 2009?  Kendrys Morales had his breakout season and helped the Angels set a team record for runs scored in a season.  I think you see where I am going with this.
The Angels need to score more runs than last season, probably a lot more runs.  OK, maybe not a lot, but it definitely wouldn't hurt.  Having Pujols in the heart of the lineup will certainly be a big step towards that end, but even he needs some help.
People are predicting a big year for Howie Kendrick, but he is coming off a career year, so how much bigger can his year really be?
Vernon Wells can't possibly be any worse than he was last season, but he also may not be all that much better.
Say all the nice things you want about Torii Hunter, but it isn't going to change the fact that he is 37 years old.
Maybe Mark Trumbo improves his plate discipline.  Maybe he doesn't.  The same goes for Erick Aybar.  Even if they do, what is their upside?  Can they evolve into All-Star players?  I suppose they could, but A LOT would have to go right.
If you'll forgive the comic book metaphor, what people think the Angels have in Pujols is Batman and that they need to find him a Robin.  The thing about Robin is that he was never a great hero.  He definitely had his moments, but he is ultimately just a supporting character whose main task is to hold down the fort and wait for Batman to come in and save the day.  There is a reason that there has been five different Robins and an even bigger reason that two of them have died (sort of, let's not get bogged down in nerdy details).  What the Angels really need Pujols to be is Wolverine.  Actually, Albert is a lot like Wolverine when you think about it.  Both of them are seemingly indestructible and nobody really knows how old they are.  But where they really compare is that Wolverine, as awesome as he can be on his own, has always fit in best surrounded by other top-notch heroes.  Cyclops, Gambit, Colossus, Iceman, Cypher, Beast, Storm, Jean Grey, Nightcrawler and so on (one of those was a test).  The X-Men had a number of heroes who, though not as transcendentally great as Wolverine, could save the world and carry a long story arc without Wolverine or anyone else so much as lifting a finger.  That's what the Angels need Morales to be, a hero that can stand on his own two feet... literally.
Even with an iconic hero like Pujols leading this team, he is going to need a supporting cast that is more than just eight sidekicks.  He needs a partner and Morales really is the only one with the talent to fill that role.  Of course, we don't know if he can harness that talent anymore.  As we all know, being indestructible is not one of Kendrys' superpowers. 
Maybe his fractured ankle took too much out of him and he will never be the MVP-caliber talent he was before he got hurt, in which case he is just another Robin.  In that case, the Angels are not doomed, but it puts an incredible burden Pujols.  A full-strength Morales can be the difference between the Angels being a flawed contender and an invincible World Series favorite.
Of course, you knew that already, which is why Morales is such an obvious choice for most important Angel of the year.  But at least I got to work in some comic book references.  Totally worth it.
[follow]
Original Story:
http://www.monkeywithahalo.com/2012-a...
THE BACKYARD
BEST OF MAXIM
RELATED ARTICLES
ANAHEIM - None of this really matters, at least not until Friday, but when Albert Pujols walked up to the plate with the bases loaded in the third inning Monday night, it might as well have been the real thing. The Angels brought Pujols to Anaheim and signed him for 240 million over the next 10 seasons -- for these kinds of moments. Why wait until the regular season to see how...
LOS ANGELES (AP) -- Albert Pujols put one more ball into orbit, just for good measure. Pujols hit a solo home run estimated at 441 feet with his final swing of spring training, and the Los Angeles Angels beat the Los Angeles Dodgers 8-3 Wednesday in their exhibition wrapup. Signed as a free agent, Pujols hit seven homers this spring, along with 20 RBIs and a .383 average. Mark...
The St. Louis Cardinals begin their defense of their world championship today in Miami against the new-look Marlins. The team comes into the season minus Albert Pujols who could not resist the carrot dangled by Arte Moreno. Tony La Russa has retired as manager after being an institution in St. Louis and the author of two championships. Those two losses would seem grim for just about...
Los Angeles Angels star Albert Pujols works out at Tempe Diablo Stadium in Tempe, Arizona, February 21, 2012. Pujols, a star with the World Series champion St. Louis Cardinals last season, is now with the Angels. UPI /Art Foxall For three of the past four seasons the National League has owned Major League Baseball. But after collectively opening its wallet this past winter,...
FOX Sport's first full week of Major League Baseball coverage is scheduled this week highlighted by a live, prime time Saturday telecast of the Los Angeles Angels at New York Yankees. There hasn't been this much buzz in Anaheim in a long time and the arrival of super slugger Albert Pujols is just part of the excitement. The Angels also bolstered their rotation by plucking...
Albert Pujols and Mark Trumbo hit tape-measure solo homers and C.J. Wilson pitched four scoreless innings, leading the Los Angeles Angels to an 8-3 victory over the Dodgers on Wednesday in the spring training finale for both clubs. Ryan Langerhans and Jorge Cantu also homered at Dodger Stadium, helping the Angels take the rubber game of a three-game set that included a 12-3 rout...
Only one more day until the Kansas City Royals open the 2012 season in Los Angeles (or is  it Anaheim? Who cares) against the Angels and Kansas City area native (kinda) Albert Pujols. As I mentioned before, every time I read a season preview article, it seems as though the author really likes the Kansas City Royals. Here is yet another Royals believer. This time from South...
2012 Outlook – 60 (8th) One down, 161 to go, right? I think the assumption around baseball was if Albert Pujols left the Cardinals, he would leave a husk of a team behind him. If his teammates didn't prove their worth enough throughout their playoff run in 2011, they'll get ample chance to do so in 2012. They should be up to the challenge, as this roster was especially well...
With Albert Pujols and Prince Fielder cashing in on big pay days this offseason, it became abundantly clear that Reds first baseman Joey Votto could eventually do the same. Votto is under contract through 2013 as a result of an extension he signed last winter, but the Reds clearly want to make sure the two-time All-Star stays put for the foreseeable future. That's why the Reds...
Seeing that the season is here and the top five players are almost consensus top five players, I decided to combine the top 5 into one post. Key Stats: Jose Bautista has 97 home runs in the last two seasons. That is 18 more than the next best player in baseball (Albert Pujols). He retains third base eligibility in most leagues this season and he added batting average to his repertoire...
Friends, that was a surgical deconstruction of a Marlins team that isn't as bad as they looked Wednesday night. Kyle Lohse came out dealing and went 7 innings before giving up a run. David Freese shook off a poor spring for 3 hits and 2 RBIs. The bullpen got called on and delivered, including Jason Motte who has somehow gained a bit of velocity on his fastball during the off...
48 leagues made 14,400 selections at the draft table in March. 440 different players were chosen, with 218 being selected in all leagues. Another 15 were drafted in 47 of the 48 leagues. 33 were taken in just 1 league. Last year Albert Pujols was the first choice in 37 of the 38 leagues, but this year there was a bit more variety. Miguel Cabrera led the way with 28 selections at...
Angels News

Delivered to your inbox

You'll also receive Yardbarker's daily Top 10, featuring the best sports stories from around the web. Customize your newsletter to get articles on your favorite sports and teams. And the best part? It's free!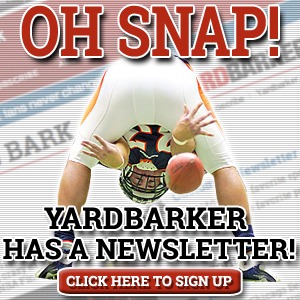 Latest Rumors
Best of Yardbarker

Today's Best Stuff

For Bloggers

Join the Yardbarker Network for more promotion, traffic, and money.

Company Info

Help

What is Yardbarker?

Yardbarker is the largest network of sports blogs and pro athlete blogs on the web. This site is the hub of the Yardbarker Network, where our editors and algorithms curate the best sports content from our network and beyond.