The Texas Rangers are quietly marching through this 2012 season ignoring every obstacle thrown their way.  They were the healthiest team in baseball until May, then the flood gates opened.  Injury after injury piled up, yet the Rangers carried on.  They have been in first place for most of the year, and they really have not been challenged until recently.  The Oakland A's are just three games back, but with just a couple weeks left in the season, three games is hard to make up.  Their success has been a testament to the role players who have stepped in to fill the voids, the All-Stars who stayed as healthy as they could, and the front office that has not relented after two-straight World Series defeats.
Neftali Feliz was the first Rangers player to hit the disabled list this season - and that didn't happen until May 19th.  They had some bumps and bruises to that point, but the team had not yet made a roster move until Feliz's injury.  Feliz was moved from the closer role he had occupied since 2010 to the starting rotation at the beginning of this season.  It was not an unusual move for the Rangers.  They had moved both C.J. Wilson and Matt Harrison from the bullpen to the rotation.  Unfortunately, Feliz broke down quickly.  He made seven starts and pitched 42 2/3 innings before being struck down with right elbow pain.  He was originally diagnosed with elbow inflammation.  However, it turned out Feliz had a torn UCL (ulnar colateral ligament), and he would need Tommy John surgery.
For the Rangers, who had lost C.J. Wilson in the offseason to free agency, the injury to Feliz would be hard to overcome.  They had taken hits to their starting rotation for the past few seasons, and now with their closer-turned-starter on the shelf, things could have gone bad.  But they didn't.
Texas went out and convinced Roy Oswalt to sign with them.  Oswalt was being very picky about the team he signed with in 2012.  He was coming off an injury that cut his 2011 season with the Phillies short, and his effectiveness was a question mark.  The Rangers took a chance though.  They signed Oswalt and sent him to the minors to prepare for the dog days of summer and the stretch run of the Major League season.  Oswalt has not quite been what the Rangers had hoped.  He has a 6.29 ERA this season, but he has filled a void and eaten some innings.
Things would only get worse for the starting rotation.  The Rangers' surprise starter from last season, Derek Holland, was struggling early this year.  In 2011, Holland posted a 3.95 ERA.  In 2012, though, he was getting hit hard.  Soon, it was revealed that Holland had shoulder fatigue and would be placed on the DL.  On June 6th, Holland became the second Rangers player to hit the disabled list.  He has since been reactivated and has pitched well.  He has lowered his ERA from a season-high 5.18 to 4.50.
Koji Uehara and Alexi Ogando were the next two Rangers pitchers to go down with injuries.  They were placed on the DL within a day of each other.  Uehara hit the 15-day DL on June 10th, and Ogando hit the disabled list on June 11th.  Ogando was sort of the opposite of Neftali Feliz.  He had started 29 games last season, but he spent most of this year in the bullpen - starting just one game.  He and Uehara were an important part of the club's relief core.
Suddenly, the Rangers found themselves without two front-line starters and two key relievers.  What did they do?  They continued winning.  From the time Feliz went down through the end of July, the Rangers went 34-27.  It was not quite the pace they had set from April through mid-May, but they were still winning games and holding off the Angels and the A's.  However, Texas wasn't content with simply maintaining.  they wanted to put some space between them and second place.  And they would be all but forced to make a move anyway.
On June 30th, the Rangers lost Colby Lewis to the DL with a torn flexor tendon in his right elbow.  They needed help, and they got it in the form of Ryan Dempster.  At the July 31st, non-waiver trade deadline, the Rangers pulled off a trade with the Chicago Cubs sending two prospects in exchange for Dempster.  Dempster, to that point, was having the best year of his career.  He has struggled in adjusting to pitching in the American League, but his 4.11 ERA since joining the Rangers still ranks him ahead of 11% of pitchers in the Majors.
The injuries did not relent.  Josh Hamilton was listed as day-to-day three different times this season.  Fortunately, he has not had to spend time on the DL.  In April, he experienced back stiffness.  In June, he had an intestinal virus.  And just recently, Hamilton left a game with a sore left knee.  Hamilton has put up MVP-caliber numbers this season, and any time he misses is crucial.  Hamilton is just one of the team's key position players to battle injuries.  Fortunately, Hamilton's injuries have been minor.  That hasn't been the case with everyone.
While the pitching staff was hit the hardest, the position players were getting nicked up too this season. Hamilton managed to stay relatively healthy, but the Rangers placed their first baseman, Mitch Moreland on the 15-day DL on June 20th with a strained left hamstring.  Moreland has been quite the offensive threat at first base.  In 97 games this season, he is hitting .282/.329/.496 with 15 home runs.  His absence from the team was tough to overcome, but they did.
Mike Napoli was placed on the 15-day DL on August 11th with a strained right quadriceps muscle.  He is expected to return to the Rangers lineup soon, but he has been sorely missed.  The Rangers' catcher/first baseman/designated hitter is hitting .223 this season, but he has maintained his power stroke.  He has 17 home runs on the year in 92 games.  He has battled minor injuries all season and saw a significant drop-off from his 2011 numbers, but his presence has been important to the Rangers' success.
Finally, both Ian Kinsler and Nelson Cruz have battled to stay in the starting lineup.  Cruz bruised his left elbow on August 28th, and Kinsler experienced lower back stiffness on September 2nd.  Kinsler and Cruz have been surprisingly durable this season, though, despite their recent minor injuries.  Kinsler has played in 138 games this year, and Cruz has played in 140 games.  They are part of the reason Texas has managed to overcome their injury concerns this season.
Texas is 85-58, and they hold a three game lead over the Oakland A's.  Despite the injuries they've suffered through, the Rangers have been one of the best team in all of baseball all season long.  They currently have the third-best record in baseball behind just the Washington Nationals and the Cincinnati Reds.  They also have the second-highest run differential at +118 in baseball.  The Nationals have a +134 run differential.  Texas has not done this by accident.  They have had players step up and fill the holes left behind by injury.  Their healthy players, like Hamilton, Cruz, and Kinsler, have had sensational seasons.  And their front office, led by GM Jon Daniels, has been aggressive in making changes when changes needed to be made.
They may be overlooked because the race in the American League East and the races in both Wild Cards are more interesting at the moment, but the Rangers have had an incredible season.  They seem destined for a third-straight World Series appearance even after losing three key starters, two important relievers, and a bevy of position players to injuries this season.  Any success they have this season should be magnified because of what they have gone through.
Follow @mlbinjurynews
Original Story:
http://feedproxy.google.com/~r/MlbInj...
MORE FROM YARDBARKER
MLB News

Delivered to your inbox

You'll also receive Yardbarker's daily Top 10, featuring the best sports stories from around the web. Customize your newsletter to get articles on your favorite sports and teams. And the best part? It's free!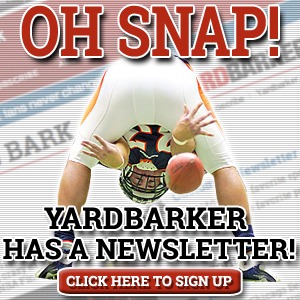 Latest Rumors
Best of Yardbarker

Today's Best Stuff

For Bloggers

Join the Yardbarker Network for more promotion, traffic, and money.

Company Info

Help

What is Yardbarker?

Yardbarker is the largest network of sports blogs and pro athlete blogs on the web. This site is the hub of the Yardbarker Network, where our editors and algorithms curate the best sports content from our network and beyond.